The Brooklyn resident who launched a petition to name a street corner after the Notorious B.I.G. has now turned his attention to another project: Getting a street corner named after the Beastie Boys. As DNAinfo New York reports, LeRoy McCarthy has started a petition to have the corner of Rivington and Ludlow streets in Manhattan officially co-named "Beastie Boys Square." The Lower East Side intersection was famously immortalized on the cover of the Beastie Boys' landmark second album, 1989's Paul's Boutique.
"I think the Beastie Boys represent New York in a certain way," McCarthy said. "They grew up here. They are New Yorkers."
So far, McCarthy has gathered nearly 20 signatures in support of the campaign, including eight of the nine businesses located on Rivington Street between Ludlow and Essex streets, as well as several apartments on the block. The 46-year-old Brooklynite hopes to present his proposal to Manhattan's Community Board 3 in the near future. As DNAinfo notes, CB3 usually only co-names a street to honor those who have done extensive community service, but sometimes exceptions are made for "exceptional and highly acclaimed accomplishment or involvement linked to Manhattan Community Board 3," according to NYC.gov.
One supporter is Vicky Dalva, the general manager and co-owner of a restaurant on the corner of Rivington and Ludlow. "When Adam Yauch passed away, people came here for three or four days putting candles and flowers out, taking photos, really mourning his death," Dalva said. "At least one person comes in each week asking if it's Paul's Boutique."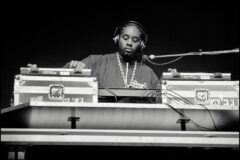 Earlier this year, a playground in Yauch's childhood neighborhood of Brooklyn Heights was named after the late MC(A).
McCarthy's plan to have Biggie Smalls memorialized with a street sign in Clinton Hill hit a detour back in October, after some residents argued that Christopher Wallace's criminal past, misogynistic lyrics, and weight issues made him an unfit candidate for the honor. That project still needs to be approved by Brooklyn's Community Board 2.
The twin petitions are part of a larger effort on McCarthy's part to bring hip-hop wider recognition across New York City. "Over the course of 40 years, hip-hop has contributed to the economy, to fashion, tourism, race relations, and New York City had projected this onto the world," he said. "Where is the recognition from New York City? Has there been any? I don't see that."