'Tis the season for year-end lists, whether naughty or nice. We showed you ours (SPIN's 50 Best Albums of 2013, SPIN's 50 Best Songs of 2013), and now various online services are starting to show us their charts of the most popular music of the past, um, 11 months plus a couple of days. And whether the list comes from Spotify, Shazam, Bing, or Yahoo!, one constant theme is emerging: Macklemore & Ryan Lewis. Er, awesome?
On Spotify's U.S. chart, Imagine Dragon's turgid mook-rock megahit "Radioactive" was the most streamed song. But the second and third? Macklemore & Ryan Lewis's "Thrift Shop," followed by Macklemore & Ryan Lewis' "Can't Hold Us." Music-recognition service Shazam's top songs people worlwide asked it to identify this year? Robin Thicke's "Blurred Lines" followed by Avicii's "Wake Me Up"… followed by "Thrift Shop" and "Can't Hold Us" ("Same Love" was No. 10 on the U.S. chart). Search engine Bing's most-searched song of 2013? "Thrift Shop." Only on Yahoo! did the duo fail to earn disproportionate representation, though among the most searched lyrics of 2013 were… you guessed it, the words to "Thrift Shop."
We've expended many 1's and 0's criticizing and then praising Macklemore & Ryan Lewis. And their sales figures already indicated they might come out near the top in 2013: In the first six months of the year, "Thrift Shop" already sold 5.6 million copies, more than any other song over that time period, ever.
As you might've gathered from the above, though, other predictable Internet lightning rods also dominated the various online lists. Spotify's other most-streamed tracks? Daft Punk's "Get Lucky," Thicke's "Blurred Lines," Lorde's "Royals," and so on. Shazam's U.S. No. 2? Lorde's "Royals." Bing's other most searched songs include Thicke's "Blurred Lines," Rihanna's "Stay," and Imagine Dragons' "Radioactive"; Beyoncé was the most-searched person. Yahoo's top search overall in 2013 was Miley Cyrus, and Thicke's unrated "Blurred Lines" video was its top searched video.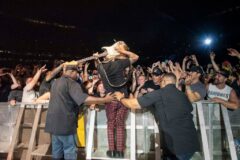 UPDATE: Tumblr, too, has posted its year-end charts, and the kids, bless 'em, might not care about Macklemore & Lewis. Among the site's users, the bulk of whom are younger than 35, Justin Bieber was the most reblogged solo artist, and One Direction was the most reblogged group. But Macklemore has a good reason for not making the top 10 of either list: He and Lewis don't have a Tumblr presence, unless you count this page, which hasn't been updated since December 2011.
If you're so inclined (or looking for a come-up), check out the full reports from Spotify, Shazam, Bing, Yahoo!, and Tumblr.