Kanye West only just received SPIN's Album of the Year honor for his thorny tangram puzzle of an excellent LP, and he's already leaking details of Yeezus' follow-up. Along with "Bound 2" video star Kim Kardashian, he attended Miami's Art Basel exhibition Wednesday night — impressively, between tour stops in Kansas City and New Orleans — and took a seat for a conversation with architecture icon Jacques Herzog. There he shed some light on his yet-untitled seventh album.
"I think my next album is going to be eight songs," West said during the chat, which revolved around his interest in the greater art world. "It's just reducing down the amount of information that you need. People say a design is the point where you can't take anything else away. [Yeezus] was very, very designed. I took a departure from radio and popular music in order to get this seat here. If I hadn't made Yeezus, I wouldn't be sitting here with this cool font at Basel right here."
As Exclaim points out, word has been circulating of late that Q-Tip and Rick Rubin have been tapped to share production duties on West's next one. The Tribe Called Quest founder himself revealed the information in a chat with Jay Z's Life+Times web hub, telling journalist Elliott Wilson, "I'm producing Kanye's new album with Rick Rubin … that's coming up." Of course, West isn't the tight-lipped type himself, and teased the idea of a fresh set in a recent radio interview.
"I haven't named my next album, but I have started on it," he told Power 99 according to NME. "I always write down philosophies all the time, so I'll just have some thoughts and every time I think of it I write, and I'm just collecting beats, I'm just constantly working. I'd like to put out more product, I'd like have another album out by next summer." Of course, he might be a little busy producing clothing for Adidas now that he's picked up that alleged $10 million deal.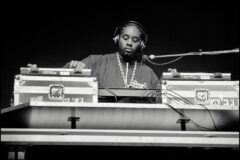 Also, the man did just tell us he's "dreaming out loud," so who knows what'll come true.
To see 49 excellent albums that couldn't beat Yeezus, check SPIN's 50 Best Albums of 2013.