The already long life of Kanye West's "Bound 2" has taken another twist. The soul-sampling closing track from Yeezus, SPIN's 2013 Album of the Year, had led to memorable performances with guest singer Charlie Wilson on Late Night With Jimmy Fallon, U.K. TV, and French TV even before the nudist-Kim-Kardashian video, which itself has yielded parodies by James Franco/Seth Rogen, South Park, and Saturday Night Live (John Mayer and Katy Perry's adorkable "Who You Love" video almost counts). Now "Bound 2" is bound for the courts.
Ricky Spicer, who sang the hook on the Ponderosa Twins Plus One's "Bound 2"-sampled "Bound" as a 12-year-old around 1970, has sued West for copyright infringement. According to a summons obtained by SPIN, Spicer alleges that West didn't ask his permission to use the sample and violated Spicer's copyright by using the material on Yeezus. Spicer is asking for a trial by jury, which he hopes will award him damages and legal fees as well as an injunction against West's further use of the copyrighted work. Roc-A-Fella, Island Def-Jam, Rhino Entertainment, and their parent company, Universal Music Group, are also named as defendants in the suit, filed in New York state court.
The suit alleges: "The chorus, which contains Mr. Spicer's lead vocal, is heard at least four (4) times throughout 'Bound 2' including the beginning, middle and end of the song. Mr Spicer's voice is sampled exactly as he recorded it and his voice, altered by the Defendants, is also heard several times."
Ohio-based Spicer, now 56, said he was shocked when he heard his voice on the radio as part of "Bound 2," according to the New York Daily News, which first reported the story. Spicer was reportedly living in an Ohio orphanage when he won a 1969 talent show and was asked to join the Ponderosa Twins, at the time made up of two sets of twins. Spicer's lawyer, Vincent Imbesi, told the Daily News, "He was their Michael Jackson." Universal didn't respond to the newspaper's requests, but given West's outspoken nature, he's (sorry) bound to comment sooner or later.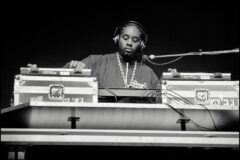 Listen to "Bound" below, and scroll down to revisit the "explicit" video for "Bound 2."
//www.youtube.com/embed/d6mGHwHMB5s?feature=player_embedded
https://cache.vevo.com/m/html/embed.html?video=USUV71302195