To finish out the year, we'll be offering the top 25 albums from various SPIN staffers. Today, Senior Writer Chris Martins.
When I first heard Yeezus, it wiped the slate clean. For a period of time that seems like months but was probably really only a few days, Kanye West's brash and surging evil opus was the only album that existed for me. In truth, six months later, it's still most of what I talk about (music or other), but I'll be damned if I didn't hear a ton of new sounds I adored in 2013.
Chance the Rapper was nothing short of a revelation — same with Laura Marling, who I only dug into for the first time this year. I own everything Bill Callahan's ever released, so that felt like a warm homecoming. And Boards of Canada occupy an equal echelon in my personal collection, so their unexpected return was … well, "warm" isn't the right word, but they had me at "—— / —— / —— / XXXXXX / —— / ——."
Also, true story: I've found myself decoding Vampire Weekend lyrics in my dreams of late. Okay, clearly I could just keep doing this until there are no records left to talk about, but that'd defeat the purpose of providing a list. Thanks, music. Good job this year.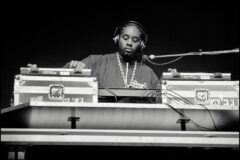 1. Kanye West, Yeezus
2. Vampire Weekend, Modern Vampires of the City
3. Bill Callahan, Dream River
4. Chance the Rapper, Acid Rap
5. Laura Marling, Once I Was an Eagle
6. Boards of Canada, Tomorrow's Harvest
7. Kurt Vile, Wakin on a Pretty Daze
8. Toro Y Moi, Anything in Return
9. Queens of the Stone Age, …Like Clockwork
10. Luke Temple, Good Mood Fool
11. Daughn Gibson, Me Moan
12. Volcano Choir, Repave
13. Colin Stetson, New History Warfare Vol. 3: To See More Light
14. 2 Chainz, B.O.A.T.S. II: Me Time
15. Rhye, Woman
16. Forest Swords, Engravings
17. Mikal Cronin, MCII
18. Youth Lagoon, Wondrous Bughouse
19. Justin Timberlake, The 20/20 Experience
20. King Krule, 6 Feet Beneath the Moon
21. Thao & the Get Down Stay Down, We the Common
22. Jim James, Regions of Light and Sound of God
23. Phoenix, Bankrupt!
24. Major Lazer, Free the Universe
25. Oneohtrix Point Never, R Plus Seven