The Beastie Boy's unforgettable "Sabotage" video has spawned countless imitators and a Halloween meme that lives on nearly 20 years later. It also inspired a feature film that never came to be. As Indiewire recalls, after making the video together the New York rap legends and director Spike Jonze repaired to Hollywood in order to write a screenplay. The Her filmmaker now reveals that the movie would have been called We Can Do This and starred the Beasties in several roles.
"The four of us wrote a script together," Jonze says. "It was called We Can Do This because it had … it was so surreal and out there and [Adam "MCA" Yauch's filmmaker alter-ego] Nathanial Hornblower was a character as the director. One of the characters from "Sabotage," Sir Stuart Wallace, was a character. Both played by Yauch and it just would've been ridiculous and fun … There were no 1970s cops in it, but it was definitely in the same spirit."
Asked for more plot, her went on, referencing both Michael "Mike D" Diamond (and his cowboy alter-ego Country Mike) and Adam "Ad-Rock" Horovitz, who acts in Noah Baumbach's upcoming feature While We're Young.
"It was about Hornblower. Mike played a Country star — those songs we wrote for the movie, actually. Adam Horovitz played this kid, Nino Vincenzi, who lived on Roosevelt Island with his dad who was a mechanic, and [he] was a little bit a John Travolta [in] Saturday Night Fever … He had all these dreams and aspirations, but he was awkward and couldn't dance. So he didn't even have that going for him. But yeah, I forget all the different characters but … it would have been funny."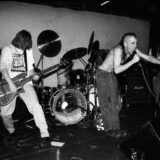 Her gets a limited release today, December 20, and goes wide January 10. To what could have been:
//www.youtube.com/embed/z5rRZdiu1UE?rel=0