Brenmar & Matic808, "High Art"
Mykki Blanco beatmaker and all-over-the-place producer Brenmar here joins Matic808, the Baltimore club kid who remixed the entirety of Kanye West's Yeezus and made it even more noisy and frenetic, for this ripped-apart remix of The-Dream's "High Art." Changing shape every 30 seconds or so, it begins as an Art of Noise "Moments in Love" homage (and adds some of Jay Z's dorky aww exhortations), then bloops and slinks along at a Terius pace, then quickly turns on the nitro-boosters Stallone-in-Cobra style and embodies big dumb corporate Bmore club by way of Las Vegas, then downshifts into a typical Bmore remix — which of course isn't typical at all, all malfunctioning stutters and apocalyptic cries. And then, just when you think you've figured out its rhythms, it stops for a moment and returns as something just shy of twerk-friendly. By the end, you've completely forgotten that this was even a remix of a song by The-Dream, or a remix at all.
Eminem, "So Far…"
Yes, last week, I declared Rick Rubin a fraud for coasting for the majority of his supposedly illustrious but actually fairly tedious career, and then compared his reduced reboot of a EDM cash-in by Linkin Park to LCD Soundsystem, so don't listen to me. But man oh man, this Marshall Mathers LP 2 track that grabs Joe Walsh's "Life's Been Good" — that obnoxious, sub-reggae whine from 1978 — is something else. Can't go as far to say that it's good, but it's a cool chin-scratcher thanks to Rubin making the on-point sonic suggestion that Walsh's lark of a hit is pretty much proto-"The Real Slim Shady." Think about it: Same sort of stupidly minimal beat, same self-deprecating white-boy blabbing and all. Em's raps here are endless, and not in a good way — more of a "Yeah, yeah, yeah, man, I got it, now get away with me, or just shut up and sit down" way that's more desperate than impressive. And it should end two minutes sooner than it does and do at least two less things: No need for that Schoolly D "P.S.K. What Does It Mean?" part to return a second time, and Eminem's recovery-fumble riff is notebook-dump-level. But hey, it kind of works?
//www.youtube.com/embed/oSEXEiY72JA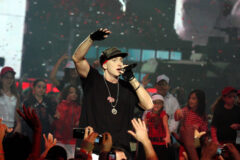 Gunplay ft. Lil Wayne and Rick Ross, "Kush"
From Gunplay's upcoming album Living Legend, and featuring actual-real-life radio-rap stars Lil Wayne (doing his sassy-draq-queen voice that we haven't heard since "I'm on One") and Rick Ross (being Rick Ross), which gives it a chance of making it onto the radio, except that, oh yeah, it's called "Kush," and its an immersive, purp-soaked slow-builder with no pop appeal, really. Typically twisty verse from Gunplay, though: "Sucker try to fuck my high up on sucker-free day / I told that sucker park your whip because this is a sucker-free lane / Harry Hoover Hussein / Kick-ass weed Wu Tang / B is for big on the Bentley can't squeeze through lanes"; "I be hippie-blitzed trippy sticks activate the vapors / And this anthrax wax give you asthma attacks / I'm a smoker, you're a choker, go on and pass that back."
//www.youtube.com/embed/W2WUYxlv3YM
Kevin 'JZ' Prodigy, "Nusery Rhymes"
Philadelphia vogue vocalist and ball performer Kevin 'Jz' Prodigy uses nursery rhymes as the jumping-off point for some out-of-the-box, off-the-dome rapping, singing, screaming, and speaking-in-tongues catharsis. And as unhinged as it seems, he's working in a fairly traditional rap template wherein an MC boxes himself in with a lyrical concept ("Write a rap with nursery rhymes kicking off each verse"), then reveals how much creativity can be derived from limitations (Joell Ortiz actually has a song called "Nursery Rhymes"). And given the "faggot"-filled rhymes of Eminem's all-spittin' MMLP2 — an inexcusable inclusion and a straight-up act of cowardice from someone who easily could've avoided this altogether, or better yet, come out against it and bravely extracted homophobia from "soft"-averse real-hip-hop macho-rap bullshit — Prodigy's equally indulgent but far more entertaining lyrical freakout feels particularly rebellious.
//www.youtube.com/embed/ed1Ajsz3bUQ
M.I.A., "Boom Skit"
Every bit as straight '88 as anything on Eminem's record, this half-a-track from M.I.A. even has LL Cool J-like stop-start rhymes, looking back to when rap was still informed by the dozens. "Brown girl, brown girl,? turn your shit down / You know America don't wanna hear your sound / Boom boom jungle music / Go back to India," she spits, zinging herself and mocking her mad-obvious detractors. She's also got some pointed words for EDM culture, which Maya herself no doubt helped move into the mainstream: "You don't get our underground /? Brofest or overground / Fist pump, eat ham, even throw your dick around." Or maybe those are just Diplo shots? The half-assed quality of this lash-out gives it a Jay Z "You only get half a bar" quality — you only get half a song, haters. Also, man, Matangi is really good! If it was released by a relative unknown on Fade to Mind, the cool kids would be going nuts over it.
//www.youtube.com/embed/K1Bdw4HJ7Z0