Pussy Riot's Nadezhda Tolokonnikova is headed to a remote prison colony in Siberia, according to her family members and lawyers. The Guardian reports that Tolokonnikova's husband, Petya Verzilov, said he has received "100 percent reliable" information that his wife is being transferred to a prison in the country's Krasnoyarsk region, which is four time zones and 2,000 miles from her family in Moscow, Russia. According to Verzilov, the move is punishment for Tolokonnikova's very public criticisms of labor conditions in prison.
"They do not have the ability to put on the usual psychological or physical pressure they can use with inmates because of the high profile of the case," Verzilov said. "So they have chosen this as the punishment instead."
As of now, it's not yet clear which facility Tolokonnikova is being relocated to, but the Guardian notes that early indications suggest the punk activist will be sent to Prison No. 50 in Nizhny Ingash, 200 miles further from the regional center of Krasnoyarsk.
Russia's Federal Penitentiary Service confirmed earlier this month that Tolokonnikova was being transferred to a new prison. The 23-year-old's family initially thought she had gone missing after her sudden disappearance from the labor camp in Mordovia where she had been serving out her two-year jail sentence. The imprisoned Riotress recently went on a nine-day hunger strike to protest inhumane treatment and alleged death threats she's suffered during her incarceration. In an open letter shared with the Guardian in September, Tolokonnikova claimed that she and other inmates were forced to work 16 to 17 hours a day in a sewing shop, with just a single day off every month and a half.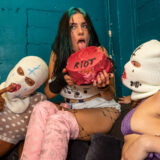 According to Russian law, relatives and lawyers of prisoners are not given any access or information during transfers, which can sometimes take days or week to complete via train. Officials reportedly told Russia's human rights ombudsman on November 5 that Tolokonnikova was in "satisfactory" health. She and her fellow Pussy Riot inmate, Maria Alyokhina, are expected to be released in early 2014.