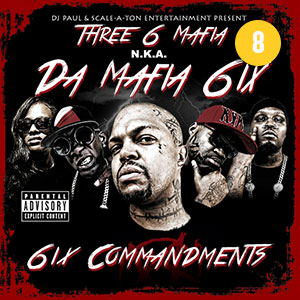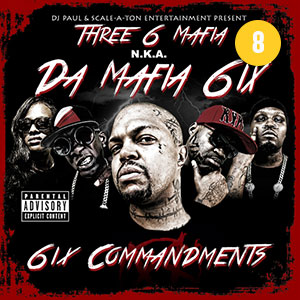 ALBUM OF THE MONTH
Da Mafia 6ix, 6ix Commandments (Hypnotize Minds)
So here's a reunion record actually worth getting behind: Da Mafia features every original member of Three 6 Mafia save for Juicy J (so DJ Paul, Crunchy Black, Koopsta Knicca, Lord Infamous, and Gangsta Boo) doing Satan-stomping beats and knives-in-their-teeth scary-movie spitting, outdoing the "evil" regional-polygot garbage that's in vogue right now thanks to A$AP Schlocky and others.
It's hard not to be moved by all these middle-aged maniacs getting back together. Even considering Juicy's mainstream coup — turning into the go-to crossover-pop rapper somehow, dirty-talking over a "Moments in Love" facsimile with Katy Perry and chilling out with Miley Cyrus — Three 6 never got to truly cash in. (Even on crunk, which they pretty much invented.) These guys — especially the bit players, all now middle-aged and frozen in 1995 for most rap fans — deserve this low-stakes second chance. Save for "Remember," a necessary throat-clearing history lesson, there's not even much that's bitter or grouchy about 6ix Commandments. DJ Paul is downright magnanimous about the past and his influence; Triple Six style-jacker SpaceGhostPurrp even appears on "Murder on My Mind" alongside Bizzy Bone and Krayzie Bone of Bone Thugs-N-Harmony, with whom Triple 6 famously beefed in the early '90s.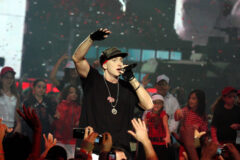 When this project was announced, it seemed like a rather pathetic attempt to glom onto Juicy's success without actually involving him, but then — spoiler alert — Juicy actually shows up! At the start of the 9-minute, 12-person posse cut "Body Parts," DJ Paul does a roll call and then yells, "And I know y'all didn't think I was gonna leave my boy Juicy J out this motherfucker!" Enter Juicy, bounding onto the track and drunkenly double-timing over a beat that pairs Wagnerian opera screeches with John Carpenter soundtrack pianos and fills out the empty space with the lo-fi, lean-damaged drums of Memphis buck music. Wow. 6ix Commandments imagines some rap rip in time where this crew never left Memphis, and never grew to hate one another, and just kept doing their thing until the rest of the world caught up.
SONG OF THE MONTH: Eminem, "So Far…"
One day Rick Rubin's driving around (or being driven around, probably), and Joe Walsh's "Life's Been Good" comes on the radio (or his iPod, probably — what does that thing look like, anyway?), and he realizes the song sounds like "The Real Slim Shady," because that's how his brain works, always making rock-rap connections. So he chops up Walsh's bratty reggae-rock, mixes in some Schoolly D, and gives it to Eminem, who talks about dropping a deuce at Mickey D's; says, "Nintendo, bitch!" like he's Jesse Pinkman; and generally just raps and raps and raps. With the petulant "Oh me oh my, fans are so fickle" whine that is Jay Z and JT's "Holy Grail" on the radio every 20 minutes, Em squawking, "I'm livin' the dream!" — sounding both pleased by his success and haunted by it — feels fucking refreshing. Em's having a lot of fun with how little fun he's having.
//www.youtube.com/embed/RTPFo-wgFT8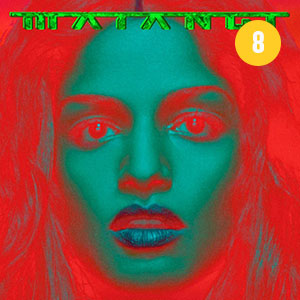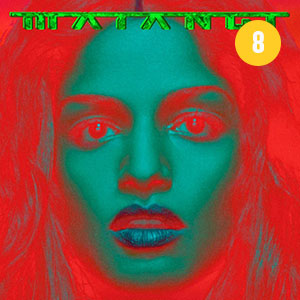 M.I.A., Matangi (N.E.E.T./Roc Nation/Interscope)
Not a rap album to most ears, but here are just a few rappity things M.I.A. does here: She takes it back to 1988 like Eminem on "Boom Skit"; ponders, Drake-style, what "connecting" and human relationships even mean anymore, maannn on "Come Walk With Me" (and then parodies Drizzy's self-justifying douchemaster mantra on "Y.A.L.A."); reinvents Timbaland in other-ing, faux-bhangra-banger beatmaking mode on "Bad Girls"; and outdoes all the dubstep-rap doofuses on "Double Bubble Trubble" (right after bemoaning "brofests" on the aforementioned "Boom Skit"). Her best album. We just don't know it yet.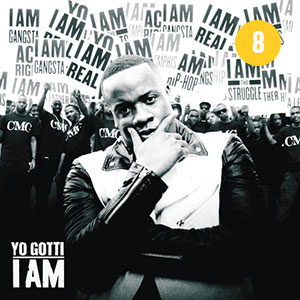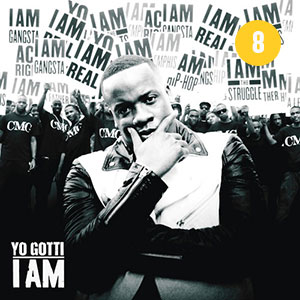 Yo Gotti, I Am (Epic)
If you're a rapper like Memphis' Yo Gotti — a hometown hero who intimately mines the tropes of trap rap to biting, occasionally affecting results — you're dead in the water in 2013. You can no longer get anywhere near the radio, because gangsta rap has been buried underground unless your name is Rick Ross (and then it's only comic-book-hero coke-dealing platitudes), which means it's pretty tough to get a record out to your dedicated fans that isn't marred by delays and compromises (see 2011's Live From the Kitchen). Where did I Am — an unhedged, mixtape-like stomp through soulful gangsta rap and skittering post-Luger punch-you songs — even come from?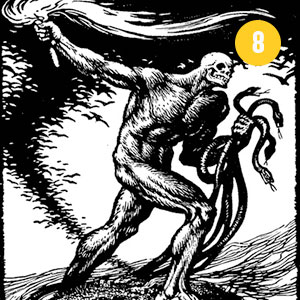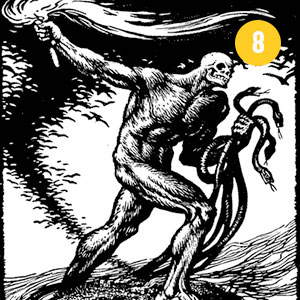 B L A C K I E, Only 4 the Real (Self-Released)
A cassette release of rarities that this Houston noise-rapper set free to the Internet late last month. "Girls in the Front" positions B L A C K I E as a feminist ally in the pit, as does the gender bends of "I Have Become Her." And if you're interested in #skillz, well, there's some speedy, breezy rapping over nuclear-meltdown air-raid pulses on "Revolutionary Party II," while "Revolutionary Party (0 Time for Fear)" slots next to Eminem's "So Far…" and M.I.A.'s "Boom Skit" in the 1988-throwback countdown. Like lyrical-molotov-cocktail-tossing H-Town heroes K-Rino or Willie D if they were raised on Rites of Spring and Suicide.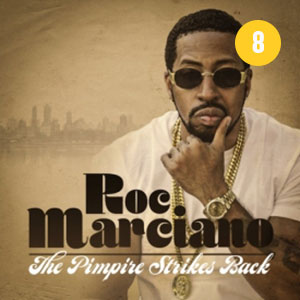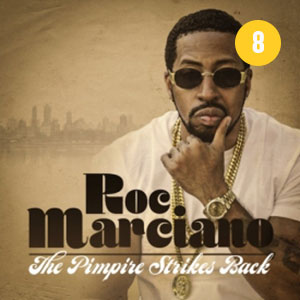 Roc Marciano, The Pimpire Strikes Back (Self-Released)
From the goofy title on down, this finds samurai-like MC/producer Roc Marciano letting a little outside air in via beats from the Alchemist, Evidence, Lord Finesse, and Madlib, as well as flaunting a slightly more low-stakes attitude (it's a free mixtape, suggesting that by Roc's high standards, he considers it a mere diversion prior to the imminent Marci Beaucoup, which drops in December). His whispering, near-ambient boom-bap has the effect of making any less-patient rapping style seem downright decadent.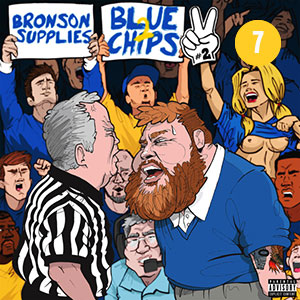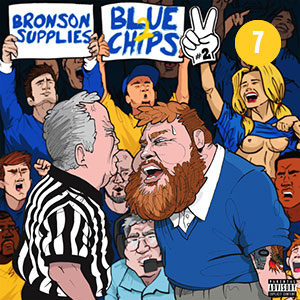 Action Bronson, Blue Chips 2 (Fool's Gold)
This is another Action Bronson record, which means he's poking multiple interconnected rap-dork pleasure zones at once: '90s sports references, '90s rap vibes, and '90s-style Reservoir Dogs-ian obnoxious Dice Clay-ish musings. You know the deal. What separates it from the other Bronsolino freebies is the role of producer Party Supplies, who doles out barely-standing I'll-sample-whatever beats ideal for Bronson's #DGAF attitude, which leads to a brutish, winking rap attack on Elton John's "Island Girl" on the intro alone. The other day, Party Supplies tweeted, "Hands down Kokomo is the best beach boys song. Pure elegance… #keylargo." It doesn't seem like he's joking. He lives and breathes this '80s baby stuff. Full review here.
]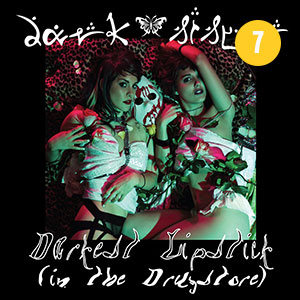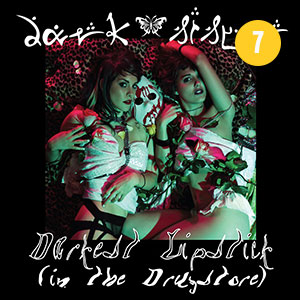 Dark Sister, DARKEST LiPSTiCK (in the Drugstore) EP (Self-released)
Four songs from two white girls from Memphis whose delivery derives from the gulping, stuttering, whispering flows of early Triple Six Mafia, and whose content is informed by occult books, bong rips, goth comics like The Crow, nü-metal middle-school memories, social anxiety, and the politics of menstruation. There is a song here called "goatse"; the final track is a cover of Korn's "A.D.I.D.A.S." In-the-red witch house synths hock loogies of electronic noise onto hypnotic, incantation-like hooks rising out of the doom-and-gloom din. You're either with this one or against it.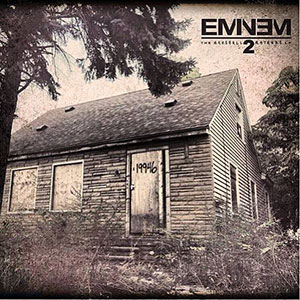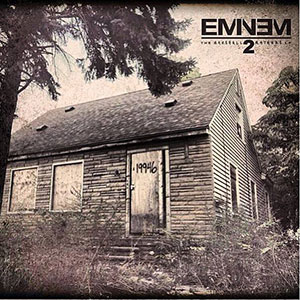 Eminem, The Marshall Mathers LP 2 (Shady/Aftermath)
Let's skip the rating, as I'm not as big of a fan as some other people around here — here's Christopher R. Weingarten's review — but I also haven't read a pan of this record that properly (or even fairly) articulates why this too-much-rapping, Rick Rubin-fronted word-nerd rage-out is supposedly such a disaster. Because look: Being "corny" means nothing in an era where Drake, the king of corn, is a hip-hop hero, and that dork from fun. singing on a song here isn't really that big of a deal post-Relapse, now is it? It's rapping-as-filibustering: a guy who's gone through it holds on to his mainstream moment and throws his monoculture weight around by never shutting the hell up.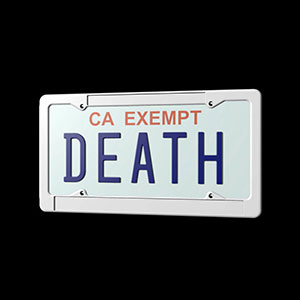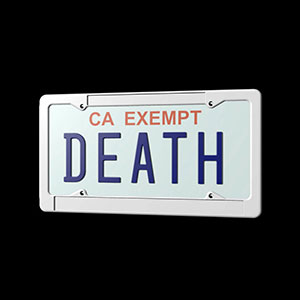 Death Grips, Government Plates (Self-Released)
Their commitment to becoming the 21st century's first corporate noise-rap group and then doing everything they could to dismantle that supposed "opportunity" is one of the most entertaining fame-flips of the Internet era, where people sell their souls for even a little blog love. Not to mention last year's The Money Store was exactly what a major-label Death Grips LP should've sounded like, and if Epic couldn't see that, well, what the hell, blow it up and start all over. These half-formed, stitched-together noise freak-outs suggest they're coasting on their avant-garde anti-grooves, rather than turning into the discordant Rap Game Hijokaidan they've forever promised to become. "Fuck your idols / Suck my dick" conflates early Sonic Youth and early Ice Cube, though, and, well, that's something. "You might think he loves for money…" and "Anne Bonny" (wherein MC Ride sounds like Ludacris) are kinda hot, too. (No rating here, either; we've got a full review coming.)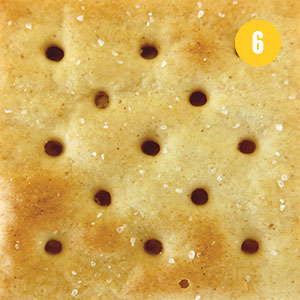 Jonwayne, Rap Album Number One (Stones Throw)
Comic Book Guy-looking L.A. rapper Jonwayne's purposefully plodding style leaves lots of room to bliss out on his 8-bit, modern-classical beats. But still, that El-P-ish chip-on-the-shoulder delivery minus El's skills is rough on the ears. Basically, all he's got is that familiar "swaggering auto-didact who reads a lot of Heavy Metal and listens to Bill Hicks" anti-appeal. The self-aware wit displayed outside of his raps — just look at that album cover, or check out his "unplugged" performance on The Eric Andre Show — needs to show up more in the music here, because dude's got potential to make the most apocalyptic-sounding MC Paul Barman record of all time. Until then, we've got enough po-faced cracker rappers around.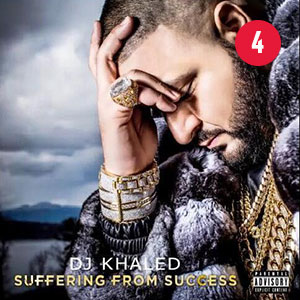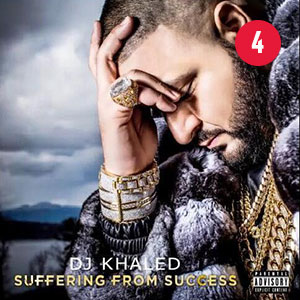 DJ Khaled, Suffering From Success (Young Money/Cash Money)
This type of compilation — in which a safe, clueless, unremarkable hip-hop personality like DJ Khaled gets a bunch of big-name beatmakers' scraps, calls in favors from all his rappin' and singin' friends, and gives just enough of a shit to get it right a couple times (sweetheart Nicki Minaj/Future radio single "I Wanna Be With You," plus the country-rap facsimile "Never Surrender") has got to go. Fifteen years ago, when these mainstreamed mixtapes entailed some tastemaking and curating, they served some kind of purpose, even if they were still pretty forgettable. But now it's just more rap-crew-as-conglomerate circle-jerking. Who cares?