The MTV European Music Awards might remind you of their American equivalent. Instead of Justin Timberlake receiving a lifetime achievement, in Amsterdam it was Eminem who took home a Global Icon trophy — the real Slim Shady stepped out of a huge boombox to perform "Berzerk" and "Rap God" from his new The Marshall Mathers LP 2, and convincingly so. Watch that above (via Rap Up).
Miley Cyrus was there, too, this time acting as if she was smoking a joint onstage in accepting a Best Video award for Bangerz' Terry Richardson ogler "Wrecking Ball," twerking with a little person during "We Can't Stop," and — shockingly — belting out "Wrecking Ball" relatively free of gimmicks, just backed by a giant video screen of herself crying (reminiscent of the video's emotional director's cut).
Katy Perry, Beyoncé, and Green Day were also among the night's winners. Perry performed Prism's "Unconditionally" while suspended from the rafters. Considering the ease with which Cyrus apparently procured marijuana, it's unlikely Perry came into the Netherlands with her own plantlife.
The official videos have geographic restrictions, so watch the lower-quality clips below while you can, and scroll down to the list of winners.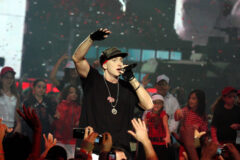 //www.youtube.com/embed/EV1ekoF4_Aw?feature=player_detailpage
//www.youtube.com/embed/u2K7cjaV63U?feature=player_detailpage
//www.youtube.com/embed/gWrmDRknAgs
//www.youtube.com/embed/ET9GyxSk910
MTV EMA 2013 winners:
BEST SONG
Bruno Mars – "Locked Out Of Heaven"
BEST VIDEO
Miley Cyrus – "Wrecking Ball"
BEST NEW
Macklemore & Ryan Lewis
BEST FEMALE
Katy Perry
BEST MALE
Justin Bieber
BEST POP
One Direction
BEST LIVE
Beyoncé
BEST HIP HOP
Eminem
BEST ROCK
Green Day
BEST ELECTRONIC
Avicii
BEST ALTERNATIVE
Thirty Seconds To Mars
BEST LOOK
Harry Styles
BIGGEST FANS
Tokio Hotel
BEST WORLD STAGE
Linkin Park – Mexico 2012
BEST PUSH
Austin Mahone – April 2013
BEST WORLDWIDE ACT
Chris Lee
GLOBAL ICON
Eminem