Pussy Riot's Nadezhda Tolokonnikova isn't missing — she's just been moved to a new prison, claim officials with Russia's Federal Penitentiary Service. The clarification came on November 2 (via the Guardian), just one day after members of Tolokonnikova's family claimed she had vanished following her sudden removal from the penal colony where she was being held.
Russia's Federal Penitentiary Service released a statement on October 18 announcing that the punk-activist's request for a transfer had been granted. The 23-year-old, who is currently serving a two-year jail sentence for "hooliganism motivated by religious hatred," recently held a nine-day hunger strike to protest inhumane treatment and alleged death threats she endured at Russia's Penal Colony No. 14.
Her father, Andrei Tolokonnikova, told BuzzFeed on November 1 that no one had heard from Tolokonnikova since October 21. "No one knows anything," he said. "There's no proof she's alive, we don't know the state of her health. Is she sick? Has she been beaten?"
Tolokonnikova's husband, Petya Verzilov, added, "This is basically the only way they have to punish Nadya… 'Let's cut her off from the outside world.'"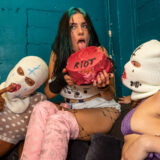 After the Russian Federal Penitentiary Service explained that Tolokonnikova had been transferred to a new colony, the organization said that family members would be notified of her whereabouts within 10 days of her move, as per regulations. Tolokonnikova and her fellow jailed Pussy Riot member Maria Alyokhina are set for release in 2014.