M.I.A.'s radical chic got a boost last night when she enlisted WikiLeaks founder Julian Assange to open her New York City show at Terminal 5, reports MusicFeeds. With his image projected onto a massive screen on stage, the embattled hacktivist joined M.I.A. via Skype from London, where he remains holed up in the Ecuadorian embassy.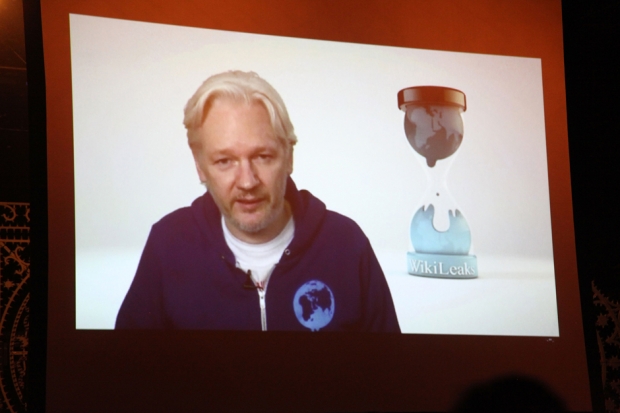 While we're still not sure what he actually said — the twitterverse is heavy on images from the event, but no quotes have surfaced — one message remains loud and clear: Holograms are so over, and dark-web TED talks are in. (Surely, somewhere right now, frantic artist managers are trying to wrangle Edward Snowden and Chelsea Manning for appearances at Coachella 2014.)
This isn't the first time the button-pushing, bird-flipping pop star has collaborated with Assange. Last year, she wrote original music for the political dissident's talk show The World Tomorrow, occasioning a flurry of mutually admiring tweets between the singer and Assange's people. ("MIA is the Julian Assange of pop music," declared WikiLeaks, which must have bummed out Thom Yorke considerably.) More recently, M.I.A. enlisted Assange's help in writing "atTENTion," from her new album Matangi. The Guardian reports, "According to Arulpragasam, after discovering that she was having difficulty coming up with words that rhyme with 'tent,' the Wikileaks founder 'came to the studio, took my computer and basically decrypted the whole of the internet and downloaded every word in the language that contained the word 'tent'.'"
If M.I.A. was feeling creatively spent (see what we did there?), it's understandable, being no stranger herself to David-and-Goliath battles with the powers that be. She's still on the hook for a $1.5 million lawsuit from the NFL, who apparently considers a fleetingly raised middle finger a greater threat to the nation's mental and emotional well-being than, you know, football's entire culture of bloodsport and brain-damaged players.
M.I.A.'s Matangi, due out November 5, is streaming in full right now. Multiple songs from the album have already premiered online, including "Come Walk With Me," "Bring the Noize," "Only 1 U," and the aforementioned "AtTENTion," an inventive banger full of unrepentant AutoTune, unrelenting breakbeats, and a typically M.I.A. mixture of torment, dissent, and pent-up rage on behalf of the 99 per cent.
Take special note of album cut "Warriors," which premiered on YouTube yesterday: As Tower of Meaning's David Balasch pointed out on Twitter, the new song samples Chimo Bayo's "Así Me Gusta a Mí," an early '90s classic from Spain's EBM-influenced mákina scene. Listeners familiar with the chorus ("Esta sí, esta no") know it as a double-entendred love letter to ecstasy, but M.I.A. passes on the drug talk and avails herself only of the pounding rave stabs of the song's introduction, which she combines with South Asian folk songs to create a trance-inducing tribute to "riders in the dance." Which, when you think of it, makes perfect sense: As Assange's appearance showed, M.I.A.'s every move is based on circuit-bending the Society of the Spectacle. She don't pop molly, she rocks Guy Debord.
//www.youtube.com/embed/0nn4kJl0n5w