How M.I.A.'s Polyglot Pop Montage Was First Hatched by Japanese Duo Frank Chickens
Behind every interesting new album is an interesting old album!
It's easy, maybe even accurate, to think of M.I.A. as the definitive musical artist of our time, in the sense that only the 21st Century's confluence of a flattening world and mash-up technology could enable someone who stirs so much multidirectional class struggle and global rhythm into the pot to achieve such a high profile, even in the xenophobic west. Dancehall, Bollywood, piracy, terrorism, dub disappearances, bootleg-tape disintegration, baile-funk booty beats, Suicide samples, Dr. Buzzard bites, bhangra, bombs, graffiti, grime, ginger genocide, guerilla warfare, refugee exile, hardscrabble riots, Nigerian rappers, didgeridoo hip-hop, kuduro, Congo, Castro, the P.L.O., purple haze, razor blades, fake passports, Elsa the Lioness, Tamil Tigers, Timbaland: A familiar roll-call, by now. With fourth album Matangi, you might even call M.I.A.'s montage downright predictable. But pre-Y2K (or maybe 9-11), nobody could have predicted it.
That isn't to say, though, that there weren't precedents. Even before she stumbled upon the genre explorations of the Clash, the abrasive barrage of Public Enemy, and the revolutionary content and/or branding of both, Maya Arulpragasam grew up in northern Sri Lanka and southwest London loving Boney M, the globally gigantic (except in the U.S.) West Indian British vocalists who co-mingled Eurodisco and reggae and myriad other musics under the tutelage of West German producer Frank Farian, who would later go on to mastermind Milli Vanilli.
M.I.A. has said that she wants to "write songs about something important and make it sound like nothing," and a lot of the time, that's exactly what Boney M pulled off: Tunes like "Belfast," "Ride to Agidir," "El Lute," "Consuela Biaz," and the Jorge Ben cover "Chica Da Silva" chronicled strife, exodus, and triumph among the underclasses of Ireland, Morocco, Spain, the Dominican Republic, and Brazil, though beneath the music's breeze and cheese, you might not have noticed. Perhaps M.I.A. did.
Boney M were influential deep into the non-western world in ways that have yet to be charted. Before M.I.A., for instance, they clearly inspired Midi, Maxi, and Efti, three teenage-girl refugees from Ethiopia and Eritrea who united in Sweden in 1992 to make a flawless bubble-dance album immersed in ragga and the savanna, with one song imagining a "Sisterhood Of Africa" that hid daily from machine-gun bullets; Columbia put the CD out in the U.S., where the single "Bad Bad Boys" snuck into the basement of the Hot 100. The radical instincts of punk and hip-hop, by that time, had meanwhile been swapping genes in the U.K. for well over a decade, since at least the Clash's Sandinista! in 1981. On 1983's Duck Rock, Malcolm McLaren — another acknowledged M.I.A. inspiration — injected square dance and Soweto into the mix. And in 1981, the collective New Age Steppers – featuring even clearer M.I.A. antecedents such as Neneh Cherry, Mark Stewart, and the Slits' Ari Up – made the first album for On-U Sound, the label started by U.K. agit-prop avant-dub collage producer Adrian Sherwood.
New Age Steppers' bass player was a bloke named Steve Beresford. In 1984, he joined forces with the British author David Toop, who that same year published Rap Attack: African Jive to New York Hip-Hop, the first great history of the genre. (The subtitle of a later expanded edition, 1992's African Rap To Global Hip-Hop, acknowledged the genre had grown into a worldwide phenomenon). Beresford and Toop produced an album by Frank Chickens — two Japanese women, Kazuko Hohki and Kazumi Taguchi, who had met as part of the Japanese-American Toy Theatre in London, which put on plays featuring robot and Godzilla figures. At least three songs on the album were explicitly indebted to hip-hop, but as a culture-jamming, continent-juxtaposing, multi-lingually nursery-rhyme-cadenced and, most of all, Asia-centric sound crash that uncannily anticipated M.I.A. in several notable ways.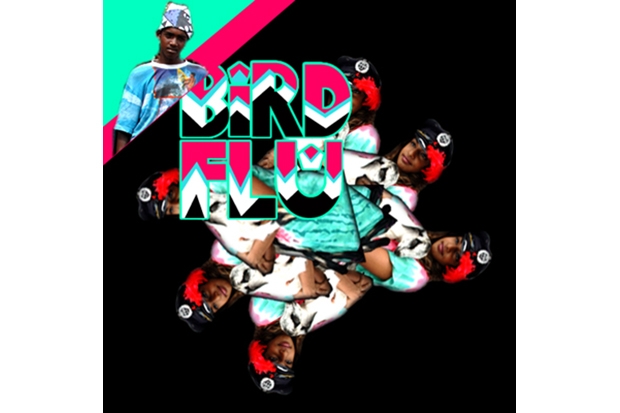 The title track, for instance – "[It's] about us — Chicken gangsters — living in garbage," the liner notes explain, a couple years before "gangsta rap" existed – features clucking sounds that could've been M.I.A.'s "Bird Flu" two decades before the fact; "We Are Ninja" has Hohki and Taguchi chopping you in two and "hiding in the drains of Yokahama" where they beat up alligators, then take a shower, all over a Mouse Trap game of poly-percussion and incidental sounds that culminates in a minefield detonating.
But the real mind-blower is album opener "Cheeba Cheeba Chimpira," incorporating hip-hop lingo way early (liner note: "slang for contraband"), but more astoundingly, building at least as dense and sinuous a metal-machine-music sensory overload as M.I.A. did with "Born Free" in 2010: skids, blurts, armor-piercing ammo, and crosstalk deep in the mix before even Public Enemy (or their crush-colliding British wannabe fellow travelers Age Of Chance) tried similar experiments. Even in a bring-the-industrial-noize realm, the song's steel-plated shocks to the system seem prescient by standards of 1984, when even Swans and Test Dept. were new at it. But the funk maintains, from bass lines at the start to huge echoing drums upon oildrums at the end, and Frank Chickens getting their rap in: "Come to London / Kickboy Face / Sent to exile / Lost in space / On the streets / Planet partners / Shadow hardnuts / Jump and cut."
If nothing else on We Are Frank Chickens is so loud or disruptive, almost every track is committed to the beat — often multiple beats simultaneously, many of them evoking the earth's more tropical latitudes. And the subject matter is off the wall, but also obliquely feminist, sometimes upending stereotypes of Asian immigrant women in London in ways M.I.A. might well appreciate: "We are ninja, not geisha — that's not what you expect."
"Mothra" is a synth-bricolaged torch tribute to the 1961 Japanese female winged-insect movie monster and a girl group called the Peanuts who she protects; "Madam Fatal" is a proto-trip-hop tale of a lady DJ "on the 14th floor / Surrounded by silver machines," using radio waves as her technological tentacles. There's a traditional enka ballad, and a cute ditty called "Green Banana" that sounds like Shonen Knife crossed with Kid Creole and the Coconuts, and a missing-woman mystery called "Yellow Detective" explained thusly in the (yes, repeatedly quotable) notes: "Life is getting hard for a lot of people. What can you do except laugh if you don't want to suffer."
The album cover shows scores of businessmen on a beach, fleeing either an erupting volcano or Mothra herself while more colorfully dressed men and women continue their oceanside holiday. On a non-album EP track the same year — four years after the well-named half-Filipino San Francisco new-wave singer Pearl Harbour revived it — Frank Chickens covered Wanda Jackson's racially insensitive 1957 rockabilly "Fujiyama Mama," either omitting or obliterating the original's line about Hiroshima and Nagasaki ("the same I did to them baby I can do to you.") And We Arealso has its own ska-oompah atomic-bomb number, "Pikadon."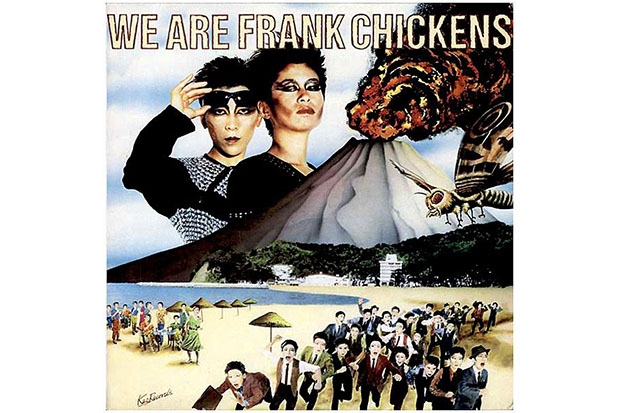 Frank Chickens wound up putting out a few more records, and doing cabaret-style shows with up to 16 members, for years. More famously, maybe, in 1989 Kazuko Hohki hosted a British TV series credited with introducing karaoke to the U.K.; she's also, according to her website, created three multimedia performances "based on her experience as a Japanese woman in the U.K.," and is now working on one concerning — no shit — "faecal incontinence." In 2010, the group won something called the Edinburgh Comedy God Award, proclaiming them funnier in the past three decades than competitors such as Eddie Izzard or Flight of the Conchords despite not actually being comedians, after a scathing Stewart Lee column in the Guardian instigated a groundswell of grass-roots voting by fans who may have never actually heard them.
How many of those casting ballots also now cherish the M.I.A. albums they prefigured has yet to be determined.