Since Lou Reed's death on October 27, the iconic singer-songwriter has been honored many times over by a slew of artists and writers. Arcade Fire, the Killers, and Twin Shadow recently covered some of Reed's most famous songs. Legendary rock critic Robert Christgau shared his thoughts on the Velvet Underground leader with SPIN. Reed's widow, Laurie Anderson, wrote two heartbreaking remembrances dedicated to her late husband, and handed roses out to grieving fans at a public memorial in New York City's Lincoln Center. Now, Manhattan's the Bowery Electric is planning a tribute show dedicated to Reed's memory.
As BrooklynVegan reports, the special showcase, dubbed "Last Great American Whale," takes place on Sunday, November 24. Artists on the bill include TV on the Radio's Tunde Adebimpe and Kyp Malone, No Wave visionary Arto Lindsay, Patti Smith Group guitarist Lenny Kaye, Light Asylum's Shannon Funchess, the Vaccines' Justin Hayward-Young, Ivan Julian of Richard Hell and the Voidoids, Grooms' Travis Johnson, Drowners, Jeffrey Lewis, Kembra Pfahler of the Voluptuous Horror of Karen Black, Hollis Brown, and the Cairo Gang's Shahzad Ismaily.
Tickets for the event are now on sale, with all proceeds going to the Ali Forney Center, an organization that "works to protect LGBT youth from the harm of homelessness in the city." Bowery Electric will also host a pre-Thanksgiving food drive for the Food Bank of New York City that night.
Don't miss SPIN's exclusive coverage of Lou Reed and his legacy: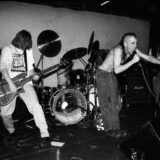 Goodbye, Lou Reed: New Yorkers Lovingly Celebrate His Life and Music
Lou Reed, R.I.P.: Hear His Legacy in 15 Tracks
Lou Reed: A Critical Discography
The SPIN Interview: Lou Reed
Lou Reed's New York City: The Velvets' Stomping Grounds, Today
Five Great Rap Songs That Sample Lou Reed or the Velvet Underground
Toesucker Blues: Robert Christgau's Farewell Salute to Lou Reed
Dave Hickey on Lou Reed: 'We Have Lost the Master of the Mundane and the Malicious'
The Little Giant: John Cameron Mitchell Remembers His Neighbor, Lou Reed
The Top 100 Alternative Albums of the 1960s