5. Gojira
French bile-groovers Gojira were making more noise than a mere four people should reasonably make. They're technically a death metal band, but they have the ugly precision of an industrial machine: We don't know if they had triggers, but drummer Mario Duplantier's snare sounded like machine gun fire, and their last note was like an 808 kick designed to approximate the smoke after a factory explosion. Of course, their brutal grooves whipped the crowd into a froth, eventually inspiring a stage-crashing mutiny as the band took turns flailing their guitars around like Cirque du Soleil clowns. One rowdy stage-crasher tried to give frontman Joe Duplantier a kiss; another just roared into the open mic. Said the singer — maybe proud, maybe annoyed — "Just a bunch of fuckin' kids, man."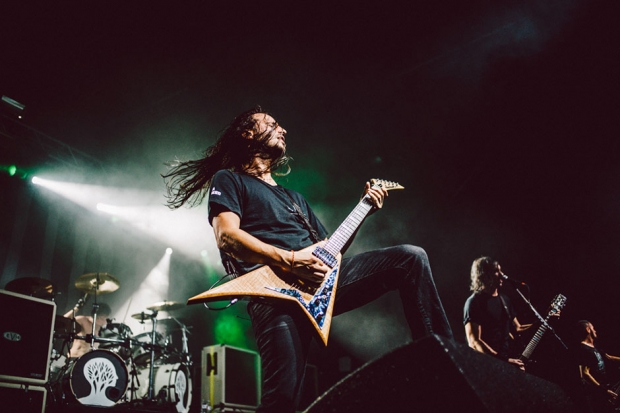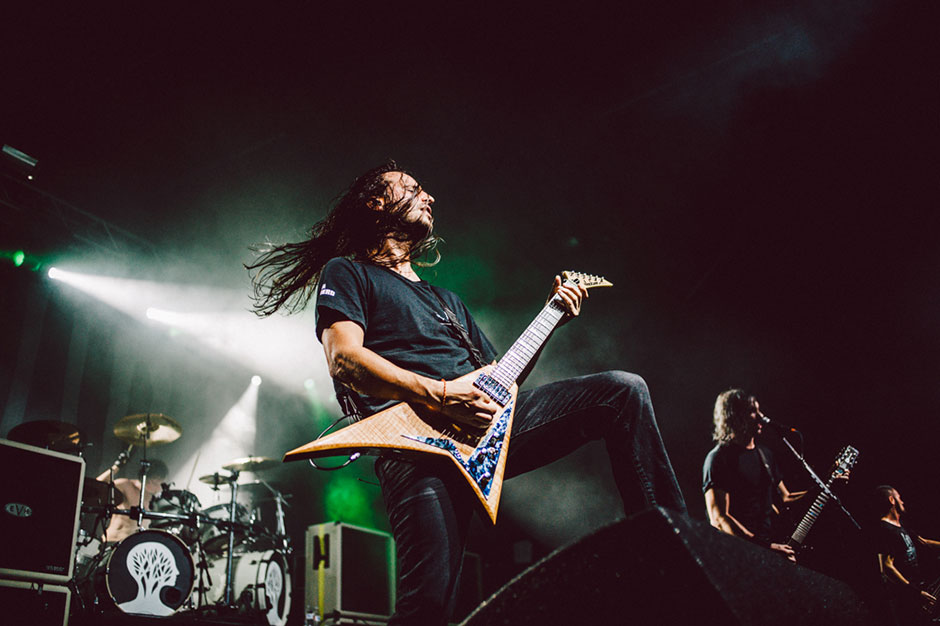 4. Deltron 3030
With an "orchestra" in tow — strings, horns, a four-person choir, live drums, guitar, etc. — hip-hop supergroup Deltron 3030 put a huge production into supporting their first album in 13 years, even though it was critically drubbed (SPIN gave it a 4) and commercially ignored (it sold about 8,000 copies its opening week). But if you can put aside the whole "2013" thing, this was a phenomenal performance. Producer Automator in a tailcoat waving a conductor's baton, Kid Koala going berserk on three turntables, and Del the Funky Homosapien liquid, tireless, and louder than a bomb. And oh yeah, the orchestra. They gave warmth to the retro-future kitsch of all those samples, and made the newer stuff sound like Italo-pop or Morricone (which went full circle when they closed with Gorillaz' "Clint Eastwood"). The original Deltron album came out in the turn-of-the-century kitchen-sink era (think Beck's Odelay, JSBX, Cornershop, Handsome Boy Modeling School), and if they could have had this ensemble together back then, it probably would've won a MacArthur Genius Grant. For now, it's just something fun you shouldn't sleep on.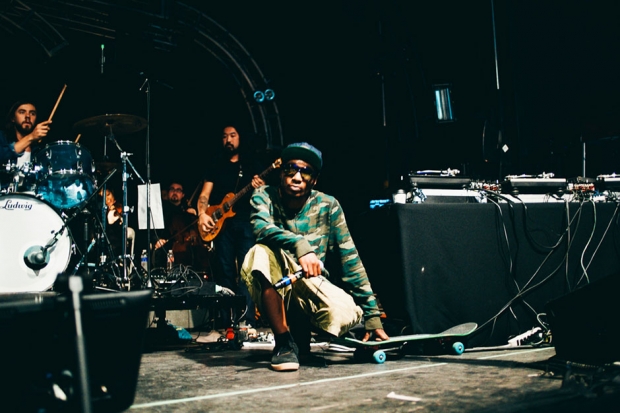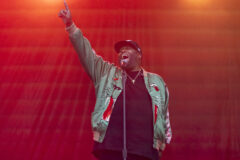 3. The Locust
Though technically in the throes of a "reunion" after five years of radio silence, don't expect the Locust, of all bands, to be looking backwards. Though fondly remembered as a costumed blur — new wave as a grindcore blurt, noise-rock as lightning rod for scene politics — their FFF performance simply picked up where they left off on their under-appreciated final records: 2005's Safety Second, Body Last EP and 2007's New Erections. This means new types of confrontation: Orthrelm-style repetition, long drones, uncomfortable silence, space doom, cymbal clutching, bleep-bloop tapping, high-pitched feedback, and anything else to deny the crowd the violent release they craved. Said some ambiguously impressed person walking away, "That's the worst use of amazing talent I've ever seen." The Devo of grindcore turned into the Residents of grindcore when no one was really watching. Let's see if we're ready now.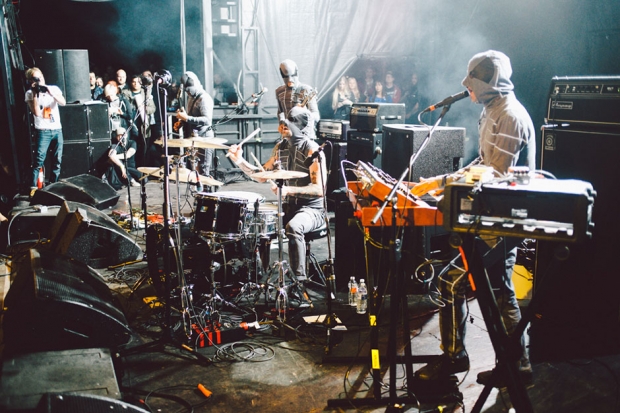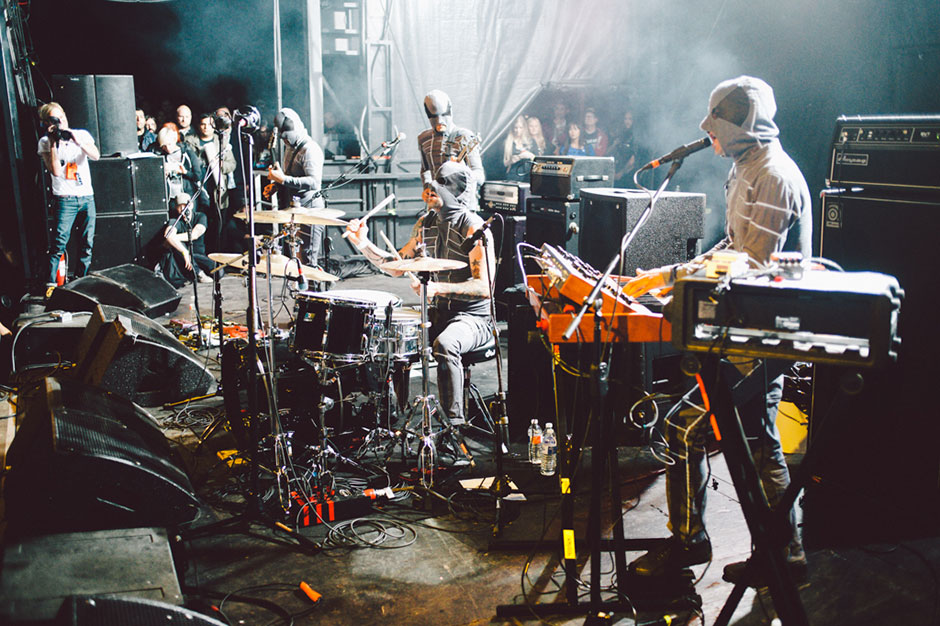 2. Killer Mike
Let it be said that Killer Mike is such an incredible performer that a Killer Mike show that doesn't even happen is better than most artists' shows that do. In a beautiful piece of stunt casting, Mike was supposed to perform atop the FFF skate ramp, although a web of technical problems — feedback, power outages, PA issues — kept that from ever occurring. Still, he treated the moment like an opportunity to try out some stand-up: "I'm fat and very high in the air. Getting up here was a hell of a show." His R.A.P. Music opener "Big Beast" went through a false start, so he just started yelling lyrics at the amassed crowd with no microphone and no music and no amplification — and of course, many in the crowd helped out. "If we had a bullhorn, I'd be rapping right motherfucking now," he said. To insure the crowd didn't murder the hapless soundman, Mike pulled him close and made everybody say, "We forgive you." He later announced a free show at Red 7 that night, but what could top that adventure?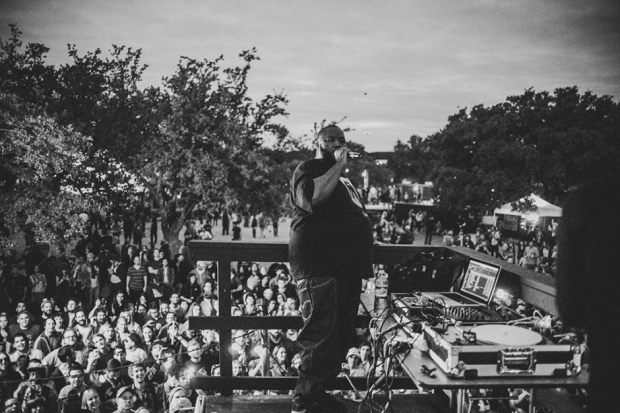 1. Jurassic 5
This band was pretty much invented for festivals, right? Their Sugar Hill-era style harmonizing, yes y'alling, scratch solos, and gymnastic rapping would be enough to rock even the most reluctant crowds. But J5, in the middle of a wildly successful reunion, is basically performing Yo Gabba Gabba for thirtysomethings — a bunch of colorful rap-centric gimmicks that are dorky but irresistible. DJ Nu-Mark punched out beats on a school desk fitted with drum pads, Cut Chemist wore a CDJ around his shoulder like a guitar, Akil took a breakdancing break, and their version of the Furious Five's "Freedom" meant playing actual kazoos and tossing them into the crowd. The pièce de résistance? The giant turntable that was part of their stage set was actually playable. Cut Chemist and Nu-Mark took turns manipulating the giant vinyl slab while the other tweaked the fader.