Eminem sat down for one of SiriusXM's "Town Hall" sessions to mark the release of his rhyme clinic of a new album The Marshall Mathers LP 2. The show aired on November 5 via SiriusXM channel Shade 45, moderated by Shade 45 host Sway Calloway, and will be rebroadcast throughout the week and weekend on the same Em-channel (see here for Em-times). SiriusXM has shared excerpts from the program — the audio of which has also surfaced online — and they reveal the Slim Shady you know and love, hate, or have a love-hate relationship with: a highly competitive rapper, a guy who might not exactly be a big social-media user, an artist who would rather "press buttons" than be taught in schools. Listen to the full 60-minute interview below, and scroll down to read the excerpts.
Eminem on the motivation behind MMLP2:
SWAY CALLOWAY: I've known you since the '90s. When you were…trying to come up in the game, still proving yourself through battling and putting out…mix tapes. I was talking with somebody earlier and they said, 'What do you think of this guy? Every year we used to see him in the news, every year, he's a controversy. Every year, this is happening.' I said, man, that dude was just a dude who wanted to be the best rapper that he can be. And listening to "Rap God" and listening to this album, reminded me of that same person I met in the late '90s who was just trying to be the best rapper he can be. Is that what your motivation was for this album?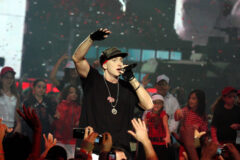 EMINEM: Absolutely. Not to sound cliché, that's my goal every album. This album … at this point where I'm at, it's all I want to do. Just rap. It's really not that deep. Just rap. I wish there was a deeper, better answer, something philosophical that I can give you. But I'm not capable of that. I just want to rap.
Eminem on social media:
SWAY CALLOWAY: Congratulations on the YouTube award. 'Artist of the Year.' How Internet savvy are you? Are you on social media platforms?
EMINEM: I am on social media all day. In front of a computer, blogging constantly. Yo, does someone got my laptop?
[Laughing]
EMINEM: I really try not to pay attention. Put it this way, I want to keep my finger on the pulse of what's going on, so I don't want to be ignorant in that sense. But at the same time, I can't pay attention to what everyone is saying. I would never be able to make music, I don't think, if I got caught up in that. Because I would probably get caught up in some ugly arguments with people. 'Yo, drive to my house now.' It would consume a lot of my time and it would be very counter-productive for me to do that. But I still do, and that's what's fucked up.
Eminem on a high school teacher referring to his lyrics in the classroom:
SIRIUSXM LISTENER: I'm a high school history teacher. I reference your work a lot in the classroom. I wonder what your feelings are as far as using lyrics that can be graphic at times, in a high school setting.
EMINEM: Well there's your first mistake.
[Laughing]
EMINEM: I don't really gear my songs for that … But … I'm in this game to press buttons … and spark conversation and to get a reaction out of people. And that's kind of how I've been from day one. You know just rapping in the hip hop shop, I want to say the lines that are going to get people's attention. And I would rather have … even if it's bad attention, then no attention at all. So I think it's cool … if my records spark conversation, or a debate, or whatever. But as far as the high school thing, man if you can get away with that, then that's cool. That's dope.