Kerry Washington, like just about everybody else this side of Kendrick Lamar, lacks Eminem's hip-hop chops. But hosting Saturday Night Live on November 2, the star of TV drama Scandal brought more sheer, shareable entertainment value to a song-based sketch with cast member Jay Pharoah than musical guest Eminem could muster in a pair of puzzlingly uninspired performances. Rick Rubin's godlike beard still put on show enough for everybody involved.
Despite Eminem's career-long ability to stir up controversy, virtually everybody agrees on his mic-slaughtering verbal agility. As SPIN's must-read review of this week's The Marshall Mathers LP 2 puts it, "If rapping were a purely athletic competition, Eminem would be Michael Phelps and Mary Lou Retton combined: pure agility and flexibility, like an unstoppable bullet with only white-hot hate in his wake." But there's not really an athletic equivalent to the way the Detroit MC deprived himself of his greatest gift on SNL. Twitter was full of commenters pointing out it sure looked like Eminem was lip-syncing, and whether he was or not, that's the real crime: Here's the guy who wins every rap Olympic gold medal, and he couldn't even convincingly appear to be swimming.
At least Eminem applied his disconnectedness to two MMLP2 rap-rock songs that knock hard on record. Pioneering producer Rubin joined him and a hard-hitting live band as a DJ on lead single "Berzerk," a punk-rap throwback that despite its un-punk lack of brevity makes a run for Killer Mike and El-P's jewels. And if Slim Shady couldn't convincingly replicate rapping, the blond, parka-coated figure still carried considerable stage presence; at one point, he made a Berzerk Face™ reminiscent of his oddball ESPN college football interview. For the anthem-aspiring "Survival," Eminem brought out frequent collaborator Skylar Grey rather than the album's guest Liz Rodrigues, and the switch-up only emphasized the hook's interchangeability.
Washington's musical moment? In a sketch titled "My Girl," she and the cast's Pharoah play a couple watching Ylvis' "The Fox" video when a suspicious text comes in on Pharoah's phone. Jealous, Washington walks out on Pharoah's family event, leaving him to perform his own version of the Norwegian viral hit, listing off what each of his family members say and then mocking his ever-questioning girlfriend. But Washington's character has the information-obtaining cleverness of Scandal's Olivia Pope, so further hilarity ensues. It's not Shakespeare, but as with "The Fox," at least you can watch it without being distracted by questions about lip-syncing. (See our feature, 120,000,000 Ylvis Fans Can't Be Wrong.)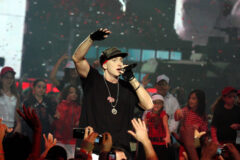 Washington also dressed up as Oprah Winfrey, Michelle Obama, and — offstage, alas — Beyoncé in a cold-open sketch taking aim at SNL's lack of diversity. At the end, the Rev. Al Sharpton showed up to introduce the episode. Watch Marshall Mathers' "Berzerk" above and "Survival" below, followed by the Washington clips.
//www.youtube.com/embed/1b98uhAptuI?list=UUTR0BOE3WIJRlns3oCCyK9A