Billy Corgan is best known as frontman for the Smashing Pumpkins, but the alt-rock icon also moonlights (bizarrely) as commissioner for Resistance Pro Wrestling, a professional wrestling company he founded in 2011. Now, it looks as though Corgan is about to throw some added muscle behind his in-the-ring ambitions. According to Alternative Nation, the 46-year-old is on the cusp of purchasing Total Nonstop Action Wrestling, the second-largest pro wrestling promoter in America.
The site reported on November 2 that a "secondhand source" who happens to be a "key figure" in the rumored TNA sales discussions said that Corgan is deep into talks to buy the company. As of now, specifics aren't clear — the source couldn't confirm what percentage of TNA Wrestling the singer is looking to purchase — but the insider insisted that the sale is pretty much a "done deal."
As Consequence of Sound points out, Lou D'Angeli, a veteran of the pro wrestling industry and friend to Corgan, added to the speculation recently by tweeting, "Is @billy set on buying @IMPACTWRESTLING??? I know he is pretty serious in at least partial, if not, majority ownership."
Other names being tossed around as potential buyers are TNA founder Jeff Jarrett and ex-World Championship Wrestling head Eric Bischoff. Sure, those guys may have a deeper history in pro wrestling, but have they ever used their wrestling credentials to sell furniture?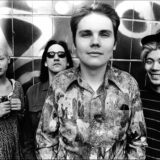 TNA Wrestling, which is a subsidiary of Panda International Energy and competing against the industry juggernaut World Wrestling Entertainment, has been fighting serious financial struggles as of late. The company has tried to resolve its money troubles by dropping athletes from its roster and cutting back on its Pay-Per-View programming. Wrestling legend Hulk Hogan was on-staff as the General Manager until this past October, when his contract expired. Currently, TNA has a number of stars under its wing, including AJ Styles, Kurt Angle, and Sting (the wrestler, of course, not the singer).
Corgan collaborated with TNA years before this rumored business deal. Stereogum notes that the Smashing Pumpkins mastermind appeared in the opening of TNA's 2009 Lockdown special, performing a spoken-word snippet of Mellon Collie and the Infinite Sadness mega-hit "Bullet With Butterfly Wings." Witness that below, and relive Corgan's glory days by reading SPIN's 1993 cover story on Smashing Pumpkins, "Billy, Don't Be a Hero."
//www.youtube.com/embed/ryYcyt8FPlg