Smoke Breaks With Satan: The Strange Days and Sinister Nights of Watain
The Devil-worshipping Swedes in Watain are responsible for some of modern metal's wildest, scariest shows. But what happens off-stage? We get underneath the corpse paint
"There is going to be a lot of blood," says Erik Danielsson, standing outside Manhattan's Irving Plaza. "It's a Watain concert."
At this point, that almost goes without saying. Over the past decade, Danielsson's band, Watain, have become infamous for their sinister, spectacular live show. In concert, Danielsson and Co. praise Satan, wear clothes Mad Max might deem déclassé, and douse themselves and audience members with putrid-smelling cow plasma, all while playing their insanely intense black metal. In a genre devoted to extremism, Watain are perhaps the most extreme band touring right now. So, naturally, we wanted to know what these guys get up to when they're not on-stage, in costume, covered in blood.
I caught up with Danielsson on a crisp October morning, when and he and his fellow Watainites have just finished scarfing down slices of pizza and are now gently unpacking large metal cages and amplifiers from a trailer behind its tour bus. All of the bandmembers are dressed in black and many are wearing Watain merch, like some unholy gang. It's the first date of their U.S. tour in support of the new The Wild Hunt, and, even though some of the musicians have been in town for a week — Danielsson explains eight members of the band and their crew sleeping on the same couch in Bushwick, Brooklyn — they greet each other as if it were a long-delayed reunion. I ask Danielsson if he's nervous about the start of the tour — mostly because he tells us his label has, lets say, strongly encouraged him to participate in this article — and he snaps at me. "I'm not nervous. I'm just stressed."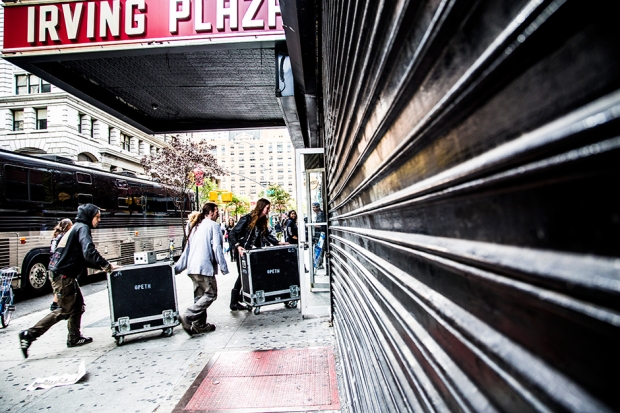 Right before the tour, Watain — a three-piece who hail from Uppsala, Sweden, which is the same hometown of the equally mortality-obsessed filmmaker Ingmar Bergman — learned that their regular touring guitarist, Set Teitan, could not join them. So they had to bring in their friend Hampus Eriksson, who plays with an Uppsala death-metal outfit called Degial. They've had only two rehearsals with this new line-up. But as the day goes on, especially after a successful soundcheck, Danielsson loosens up as he chats with his crew, fellow band members and the other bands he's touring with. He even smiles.
"Loose," however, isn't word often used to describe Watain. The group consists of three Swedes in their early 30s — vocalist-bassist Danielsson, guitarist Pelle Forsberg and drummer Håkan Jonsson — who came together in 1998 with the shared inspirations of archetypal black-metal groups like Bathory, Dissection, Mayhem and Venom. Early in their career, they developed a reputation for living up to those bands' dangerous reputations. They claimed to wear clothing that they had buried in a graveyard and spoke openly about worshipping the Devil. While some satanic bands use Lucifer as a metaphor for atheistic Bacchanalian indulgence, Watain claimed to actually pray to the dark lord.
Indeed, they call their shows "rituals" rather than "concerts," and an altar is a prominent piece of their stage set-up. The group has released five albums since forming and Danielsson has said that the title of The Wild Hunt refers to the band's history of menace. The album itself is a bit of a departure, since in addition to their usual brutal black-metal torrents, the title track is an etude in Gothic moodiness and its centerpiece, the eight-minute almost post-punk track "They Rode On," shares as much in common with groups like Joy Division as it does Mercyful Fate. Though don't think the band is interested in pandering to "cooler" musical tastes during this New York City visit.
"I think there is much more of a hipster crowd here than down south, where it's Mexicans and real metalheads," Danielsson says, seated in on the steps of Irving Plaza as the band continues to load in. "But I don't pay that much attention to who is in the crowd, as long as there is energy in the crowd. I'm not particularly bothered by hipsters, but they're perhaps not the kind of people that I would go out with after the show. It feels really awkward. I like to talk to people that bleed from the face after the show, that just collapsed in their own pile of leather and bullet belts, than a guy standing around, sipping his IPA."
The group transports its road cases to the main floor. I inquire why some of them are stamped the name of another Swedish band, Opeth, and Danielsson says he doesn't know, but does recall the fact his tour manager used to work with that band. Is Danielsson friends with the Opeth dudes? "Friends?" he asks incredulously. "We have no friends. Just these guys." He gestures at the crew setting up Watain's merch table.
I try to make small talk with some other members of the band, but they are either uninterested or unwilling to chat. Eriksson says he got into town a little later than the other members and has spent his time in New York drinking. In a separate conversation, Forsberg, too, agrees that "the best thing to do is to go to a bar" when they get to a new city. Danielsson offers that they went to see a concert by Italian prog monsters Goblin in Williamsburg, a neighborhood he likes because "strange things happen there."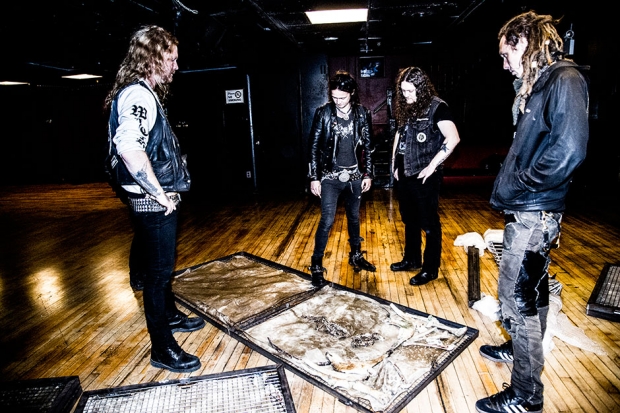 As the band unpacks, certain non-musical items catch my eyes. At the top of one case are two bull skulls. Another contains what looks like cauldrons. And then the band members begin unfolding the metal caging they so carefully removed from their trailer. When opened like a clamshell, each reveals stretched bull hides and a display of animal bones. There are six cages, and each one has the bones of animals artfully arranged into Latinate lettering: "W-A-T-A-I-N." Danielsson says the group's production company worked out all the appropriate paperwork to transport the animal parts to the States from Sweden.
"It's good that they come to use, instead of just laying around, rotting in some ditch somewhere," he exclaims about the remains. "Now they can become part of something very beautiful and sacred.
Danielsson notes "a lot of people mistake us using animal parts as some kind of animal cruelty issue. We've been having a lot of animal protesters over the past few years, but it's a very ironic thing to me. I'm the last person to advocate animal cruelty. I have quite a harsh view on that. I don't see how people make that connection to us. It's never been about abusing anything. It's about putting something in a more beautiful, sacred context. To me, that's a very honorable thing. As an animal activist, there should be far worse things to waste your energy on rather than us using a few bones."
Then Danielsson sneezes two or three times in a row. I say, "Bless you." He glares in response.
The group hangs a giant beige banner behind the drum kit depicting what looks like an infernal palace, adorned with Watain's trident logo. Next, it props up each of the animal backdrops. Danielsson is on the fence about placing some inverted crosses on the stage tonight, since they usually use them when they can use fire, which is not allowed at this venue. ("Here, in the Land of the Free, you're not allowed," he gripes to a roadie.)
Later, when the concert begins, the results of all this preparation will be somewhat difficult to make out, due to the stark washes of light that bathe the band and the haze that emanates from somewhere onstage. But when the group soundchecks, wearing street gear and no makeup, it looks downright pagan. As his bandmates test their instruments, Danielsson begins assembling his altar for tonight, placing a goblet, a goat skull, and what looks like some sort of medieval wooden paddle atop a banner that sports a sinister heptagram.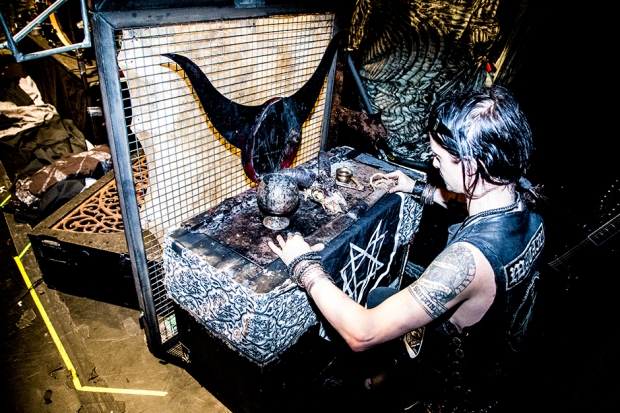 When I talk to Danielsson after Watain's soundcheck, I ask if I can observe his pre-show ritual. No dice. "I know people are very curious about these kinds of things," he explains, "but people also have to understand that there is a certain level of privacy and intimacy in Watain that is simply not meant for others to take part of. I understand that makes for more curiosity, which is absolutely intentional, but it's our way of still feeling like we have a secure area where anything can happen. We can do what we feel we need to do."
He tells me, though, that we can visit the band after the show, and I don't see him again until he's onstage.
After sets by Swedish death metallers Tribulation and classic-heavy-metal stalwarts In Solitude, Watain's stage preparations finally comes into view as a large screen is removed from the stage as the Irving Plaza PA pumps out pre-recorded sounds of thunder and inscrutable noise. The band enters, dressed in corpse paint and black leather vests. When Danielsson assumes center stage, he mouths indecipherable words at the audience and raises a hand with two fingers in the manner of a Magician figure from a deck of tarot cards. His hair is now teased out and in addition to his leather and studs, he has a long lock of what appears to be blonde hair hanging from his right wristband. His eyes look pale in the wash of red that covers the stage, which now sports two inverted metal crosses at its lip, with Danielsson's altar placed directly behind the sing. The band begin with the first two songs on The Wild Hunt, "Night Vision" and "De Profundis," the latter of which takes its name from the Bible's Psalm 130, a call to God. For Danielsson, the song is a call-to-arms: "Each mouth of Hell, scream forth that rebel yell!"
Throughout the show, he occasionally kneels before his altar on what looks like the furnace grate, his back to the audience. He swirls the lock of hair in the air. Then he turns around and lets his body tremble and shake to the music.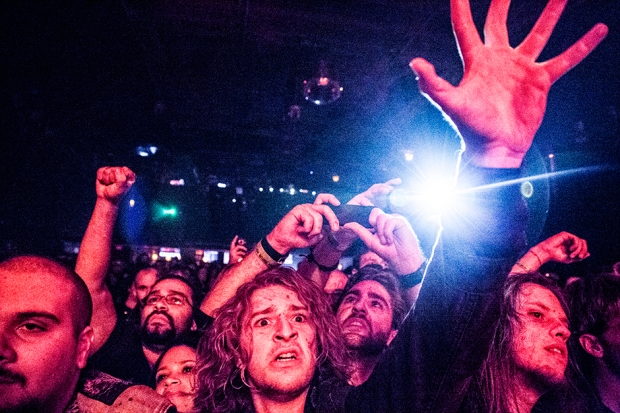 "We want to dedicate this next song to those of you who have chosen to live your life in the shadows," he says before The Wild Hunt's "Outlaw." "Those of you who have looked beyond the grace of God, to the free spirits who stand up to fuck the world with pride." The metalheads who had been moshing before the song break cheer with ardor.
As the night goes on, the stage fills with smoke, and the band charges through 14 barn burners that date back to its first full-length, 2000's Rabid Death's Curse, but draw mostly from 2007's breakthrough Sworn to the Dark. During Sworn's "The Serpent's Chalice," Danielsson turns to his altar and sets something, maybe sage, maybe incense, on fire. By the time Watain plays the aforementioned album's title track, Danielsson's spell seems to have kicked in: an ensorcelled concertgoer shouts "Hail Satan!"
During the night's malevolently lugubrious closing number, "The Wild Hunt," security staff in the balcony suddenly rushes to peer over onto the main floor, where a long-haired middle-aged man has passed out. The upstairs staffers alert two colleagues, who collect the man — carrying him by his jeans and black leather jacket — and deposit him at the back of the venue.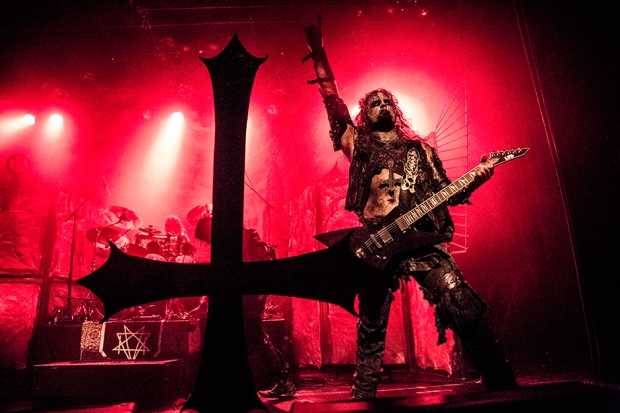 Meanwhile, an eerie fog has set upon the venue. Danielsson ends the song in a Jesus Christ pose, before holding out a ceremonial knife and kneeling before his altar. Then he slowly and purposefully bows and exits stage left to a mix of bass tones, static, and organ.
When the music ends, the cheeky house sound guy cues up My Morning Jacket's chintzy "Holdin' On to Black Metal." "It's a darkness you can't deny," coos Jim James, "but it don't belong in a grownup mind."
When I meet Danielsson backstage he's still huffing and puffing from the performance. He sits in one corner of the sky-blue room, hands on his knees. His bandmates have washed the paint off their faces and are speaking in Swedish with their In Solitude bros. Danielsson, too, has wiped the paint from his face, save a dark streak that's stuck in a deep scar on his forehead. On the floor are bloody footprints that the band has trailed from the stage. Next to the trash is a one-gallon jug of defibrinated, "salt-added," edible beef blood.
Danielsson doesn't seem particularly eager to talk to me, but pipes up after I compliment Eriksson's playing. "Not bad for only two rehearsals," he says.
To smooth over the conversational awkwardness, I tell Danielsson about a man I saw after the show. When I was washing my hands in the bathroom, this guy came up to do the same, looked in the mirror and went, "Oh, fuck!" To his surprise, his faced was splattered with dried blood. "It was the bassist," he said to me, referring to the group's Chilean-born touring member Alvaro Lillo. "He spit it out at the beginning of the show." I can't stifle my laughter.
.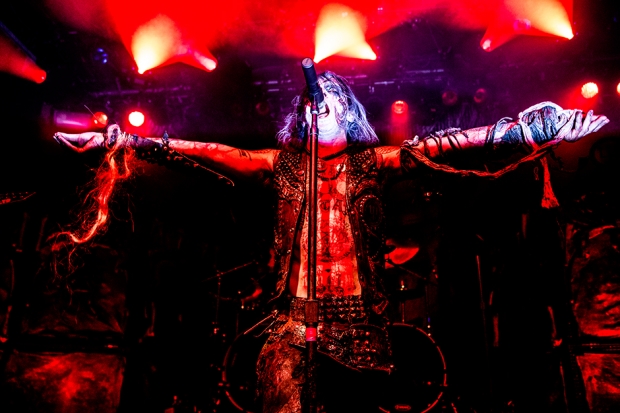 Danielsson is not amused. "What's funny?" he wonders. "I don't understand."
I let it go, and ask how he feels after the first show of the tour.
"It was a good start," he says grimly. "It felt like a funeral."