SPIN x Levi's Present: Makers at Station to Station in L.A.
"Nomadic Happening" lives up to its billing with interactive art
Station to Station, a public art project made possible by Levi's, came to Los Angeles on September 26 and brought with it a "nomadic happening" that lived up to its billing. The public art project traveled across the breadth of the contiguous United States by train, kicking off in New York on September 6 and arriving at Los Angeles' historic Union Station, the Southern California rail hub whose iconic architecture has appeared in countless films over the years.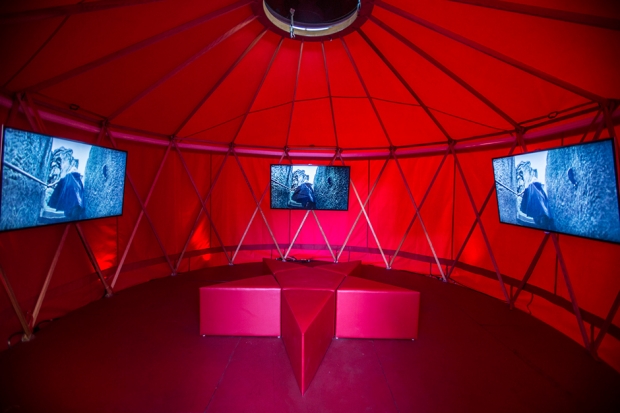 But what happened on September 26 was unique — thanks to the vision of multimedia art guru Doug Aitken and an impressive cast of music-makers, visual artists, and free-thinking tinkerers, locals attending the event were given the keys to the castle, so to speak. Those amassed for STS were able to interact with their surroundings in a manner that felt dream-like, encouraged individuality and celebrated ingenuity.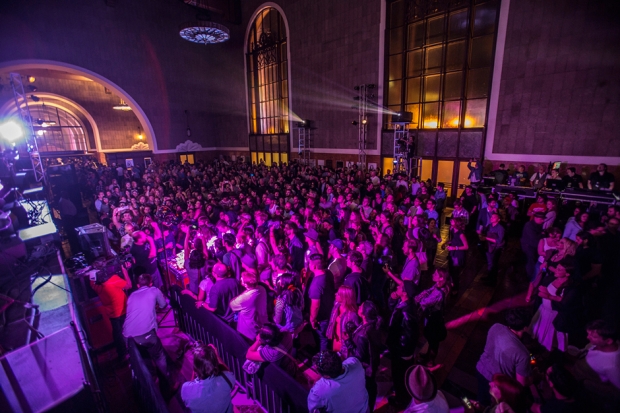 Perhaps most striking among the many attractions were the web-enabled tools found in the Levi's train car. Therein, the artists and others riding the train could engage with and contribute to familiar social media platforms in untraditional ways, which is part of the #MakeOurMark project's concept. There was a 1901 typewriter hooked up to Twitter, affixed with fancy light bulbs that counted down from "140" as you typed. There was a 1939 Graflex camera linked to Instagram, which included a slider that let you changed the filter. Alongside: a 1953 Bolex video cam with a 15-second countdown clock, also outputting to Instagram. And last but hardly least, a '52 Gibson guitar plugged right into SoundCloud — a favorite amongst the musicians who visited. It was a merging of modern technology and vintage design — accomplished by San Francisco innovators AKQA with help from the coding geniuses at Fake Love.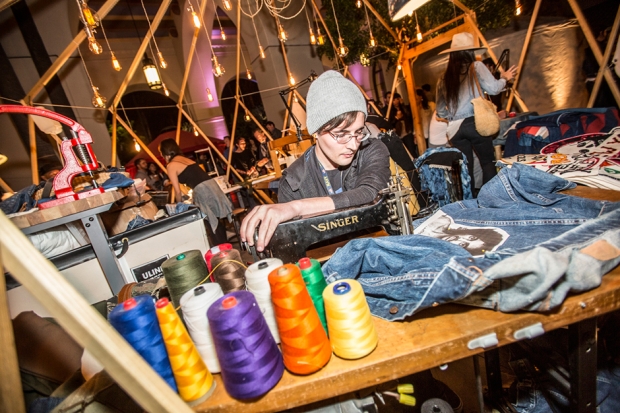 Outside, where the station's lovely courtyards had been converted into a series of surprise-filled tents and art-augmented spaces, attendees could witness a purely analog art via a pair of yurts. On the one hand, there was the sewing yurt, where artisans like Junkyard Jeans and other designers could be seen decorating classic denim Trucker jackets with their own custom creations — made using looms, sewing machines, and hand-stitching. On the other, there was the Levi's pop-up shop, which featured their wares and sold them in order to raise money for the STS Cultural Fund, which enables artists of all disciplines to produce new work meant to further the ongoing march of art and culture. At the L.A. stop of Station to Station, that advancement was not just felt, but interacted with. The lines between creator and crowd were blurred, and the result was collaboration.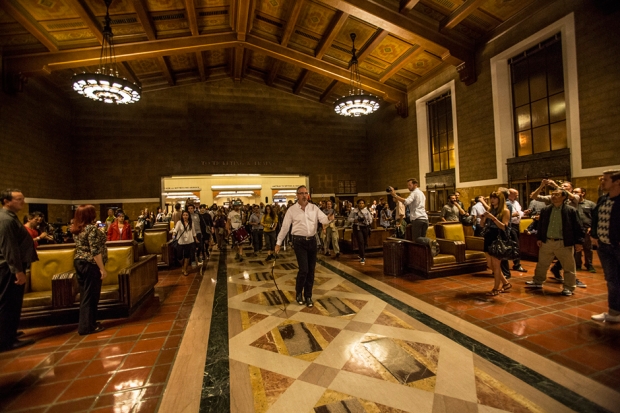 Even though the train journey has ended, you can still collaborate with artists from the train on the 4 global art projects. Explore Further: levi.com/makeourmark, and join in by adding #MakeOurMark to your own creations.