Vision Quests and Taxidermy: 36 Hours With Phosphorescent
Currently touring behind his excellent 'Muchacho,' Phosphorescent (the working name of Matthew Houck), brought his beautifully ramshackle songs to Texas for the Austin City Limits festival. We snagged photos of Houck and his bandmates descending upon the festival, taking in a flick, and, as musicians are wont to do, going wakeboarding. The singer-songwriter himself was good enough to provide the necessary (sometimes iffy) details. All images kindly provided by percussionist David Torch.
1. Vision Quests and Taxidermy: 36 Hours With Phosphorescent
1/26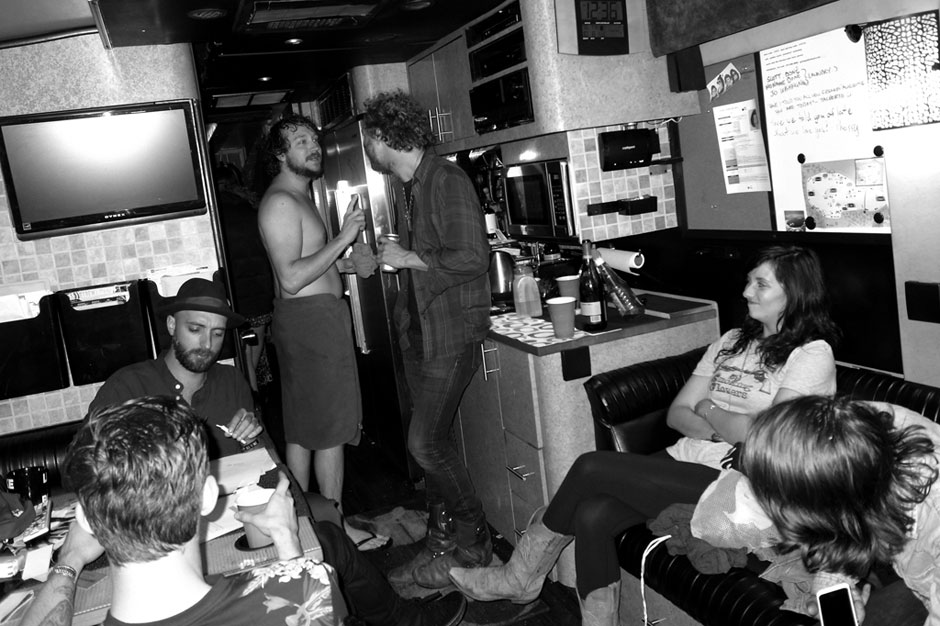 2. Austin City Limits Music Fest, Austin, Texas, Sunday, Oct 6, Noon-ish
2/26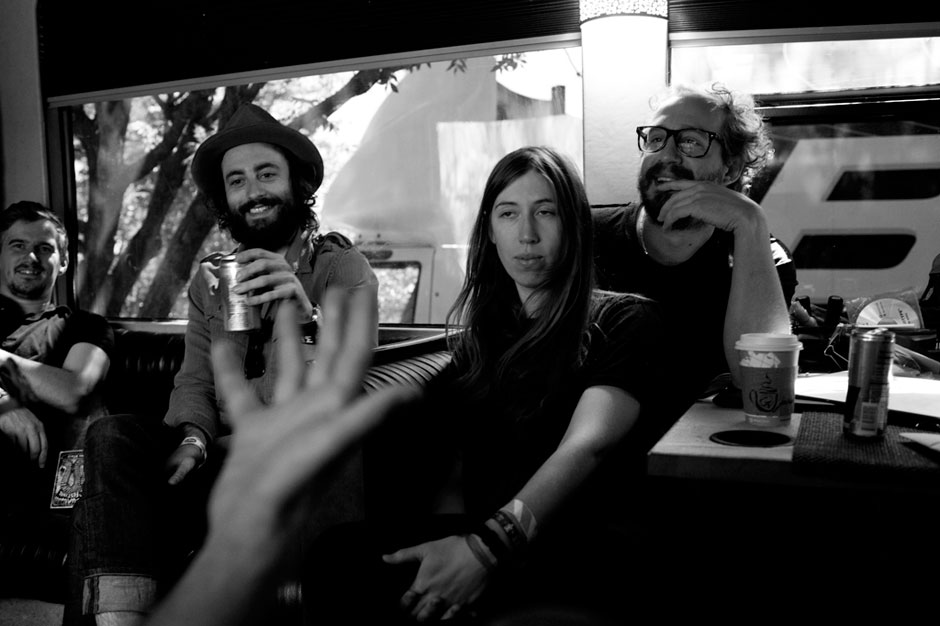 Morning time on the bus, Phosphorescent parked at the ACL festival site. Wakin it up! Six hours til our set time. Lots to do tween now and then. From left we have Scott Stapleton (piano), Ricky Ray Jackson (pedal steel), Jo Schornikow (organ), and me, Matthew Houck (the sanger), who will also be doubling as your tour guide here through these photos.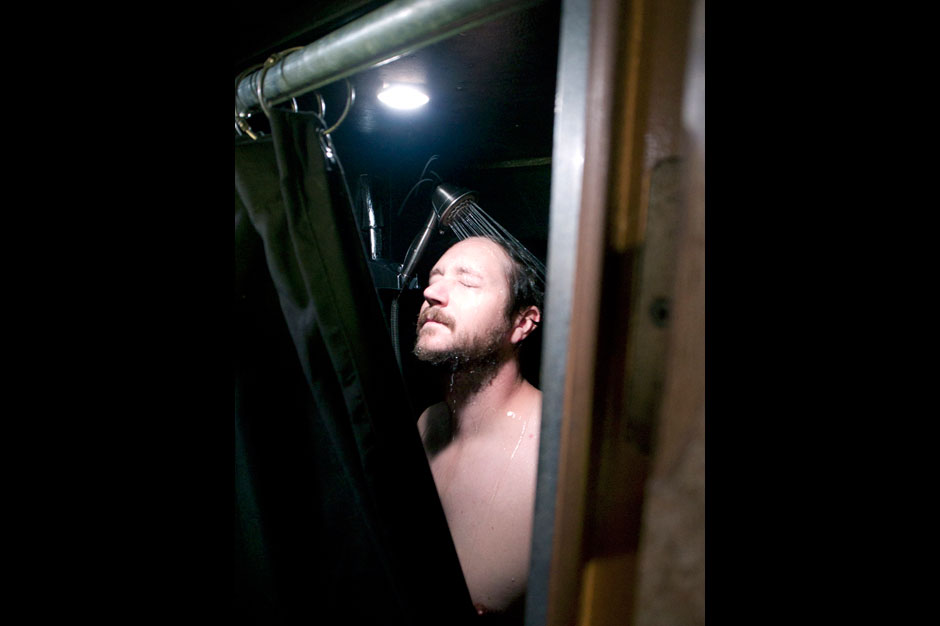 There's a shower on the bus. This is Rustine Bragaw. He plays the bass guitar. He looks beatific in there. He's cleansing his body in preparation for his personal journey that will run concurrently with that of ours.
Unloading the trailer for ACL 2013.
5. ACL, 3:00 p.m.-ish
5/26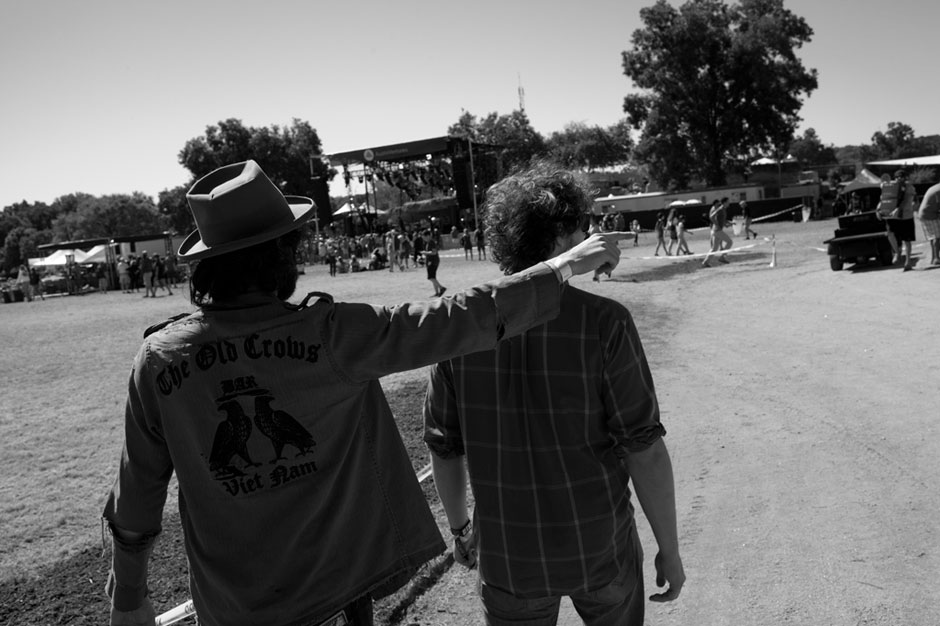 Ricky Ray and Rustine getting the lay of the land, ACL 2013.
6. ACL, 5:00 p.m.-ish
6/26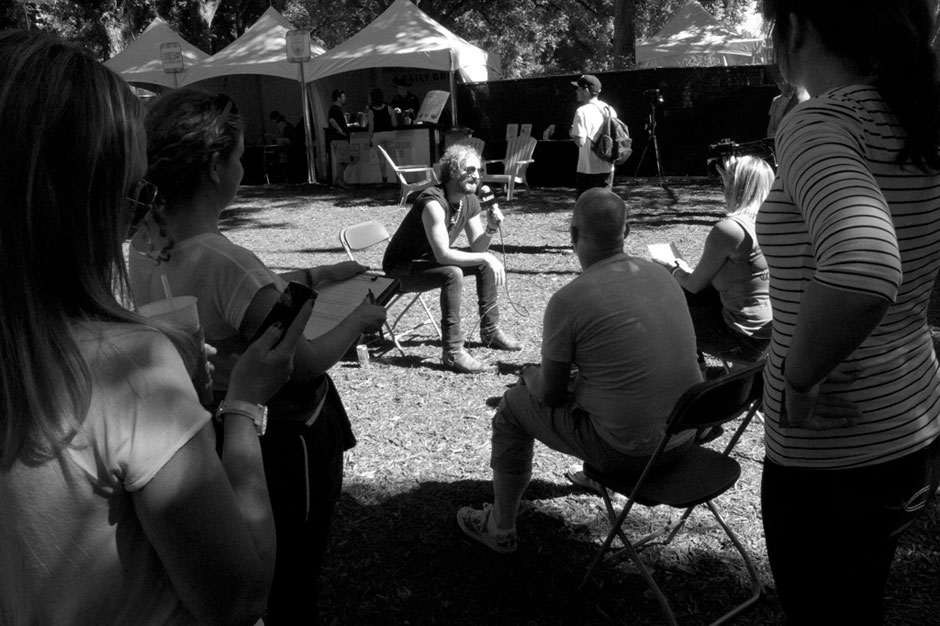 Thats me, Matthew, chattin with the lady from the teevee.
7. ACL, 5:30 p.m.-ish
7/26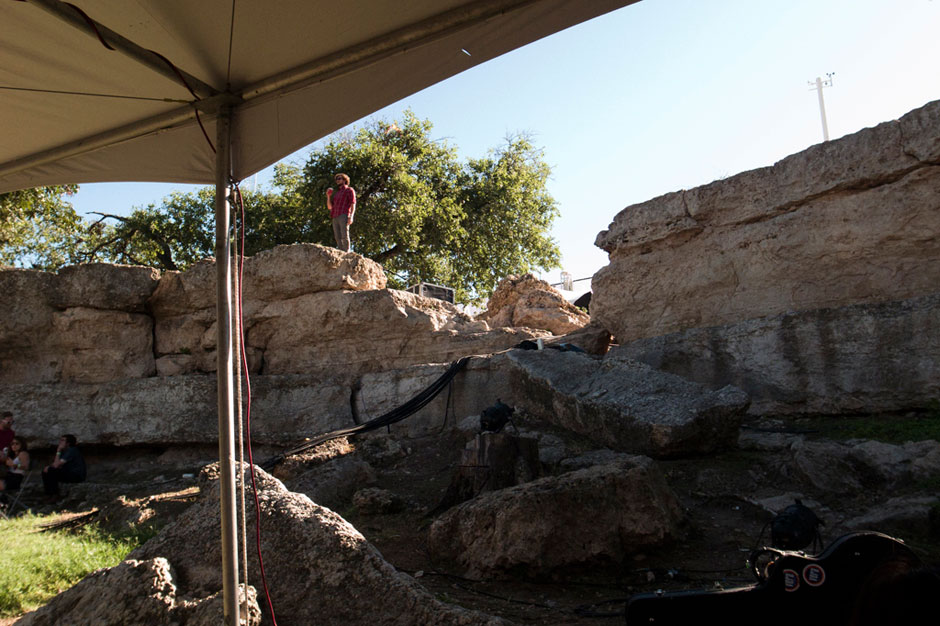 Rustine having a quiet pre-show vision quest moment backstage at the fest.
8. ACL, 5:45 p.m-ish
8/26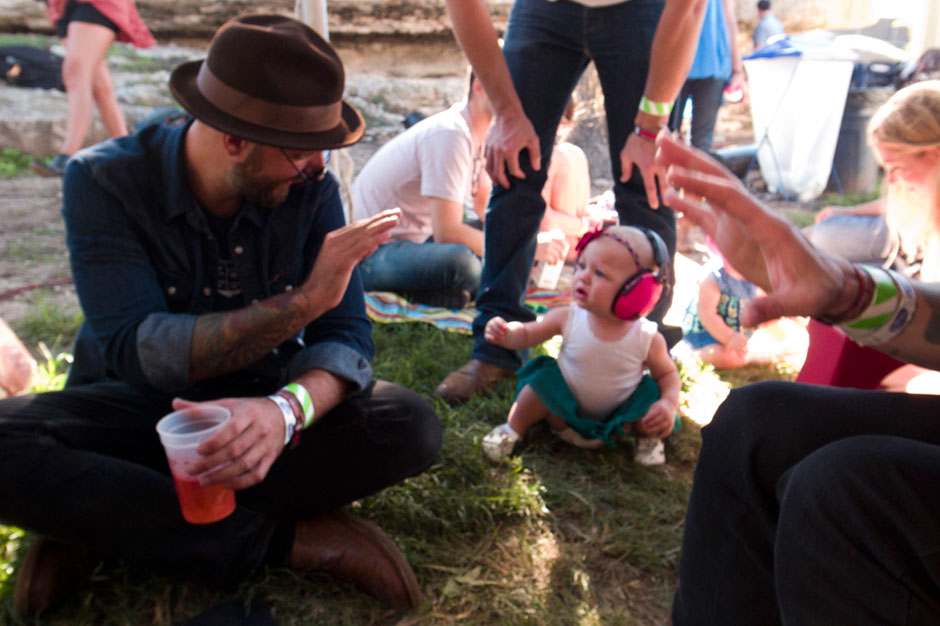 Christopher "Showtime" Marine (drums) and a local fan discussing set ideas just before set time.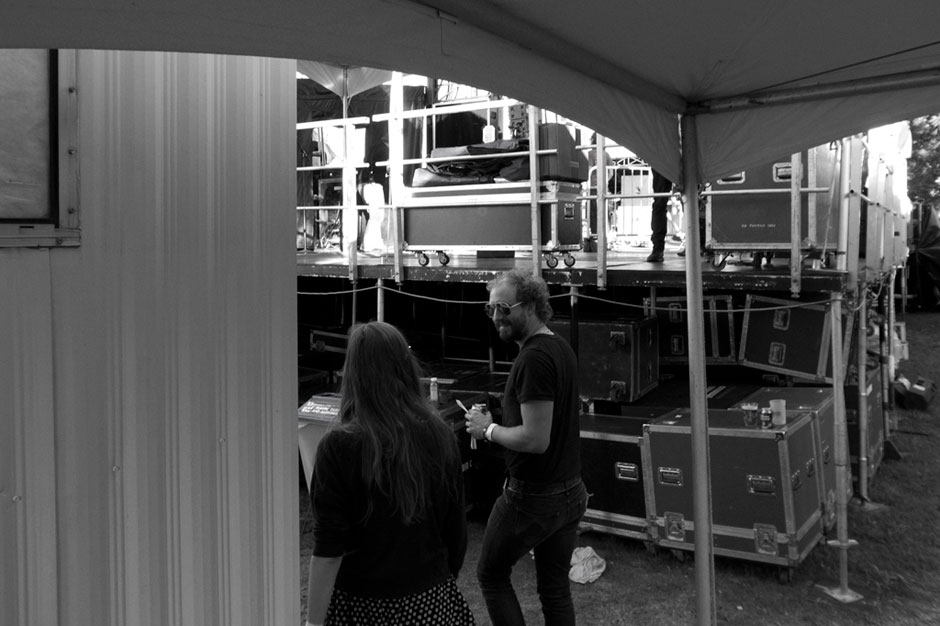 Jo and me headed to the stage. Navigating the rigging, roadcases, trailers; the eternal backstage landscape.
10. ACL, 6:15 p.m.-ish
10/26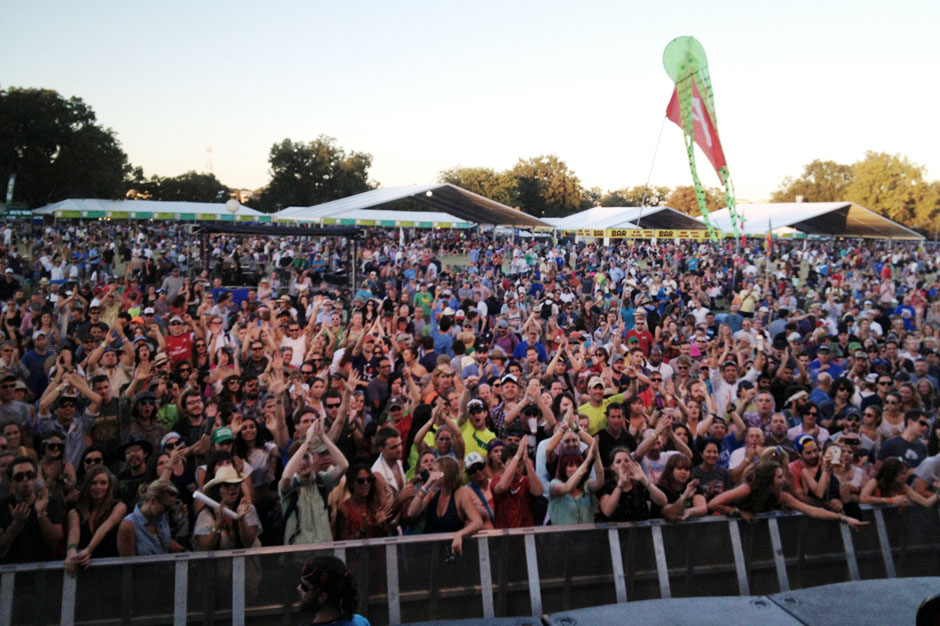 Austin City Limits 2013. Phosphorescent hitting the stage.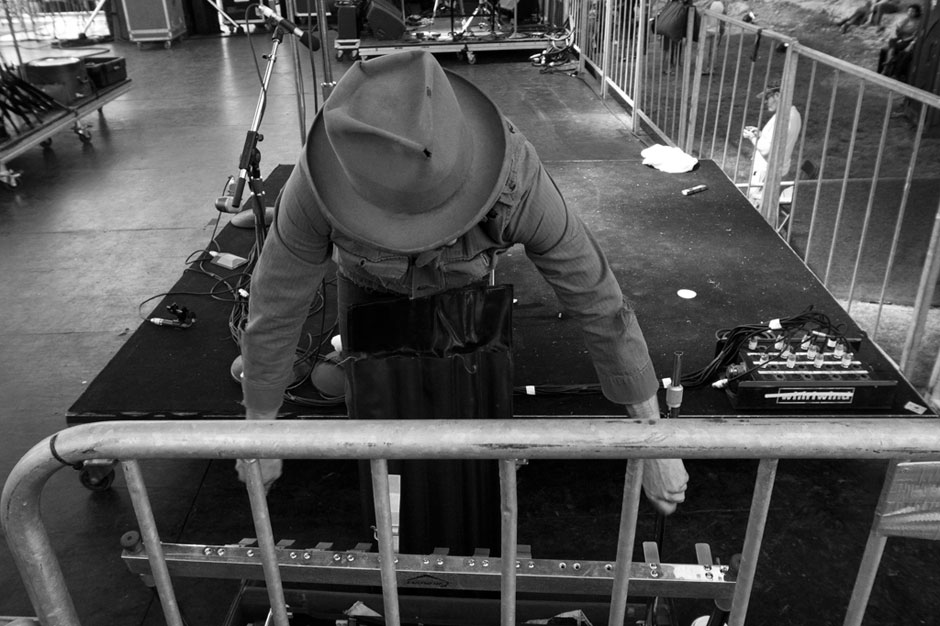 Ricky gear-wrangling post-show. Packin it up!
12. ACL, 7:30 p.m.-ish
12/26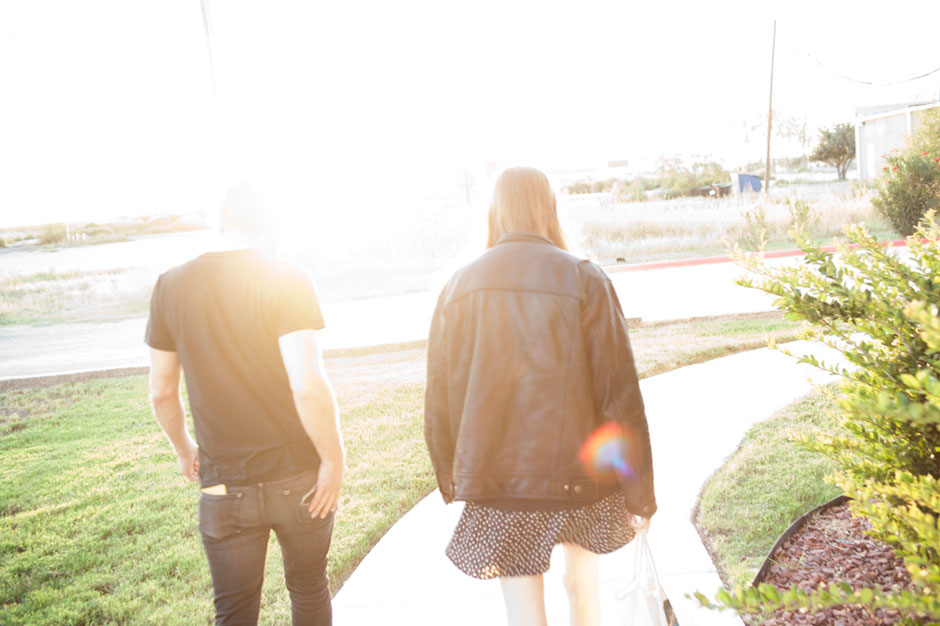 Me n Jo disappearing into the sunset.
13. ACL, Midnight-ish
13/26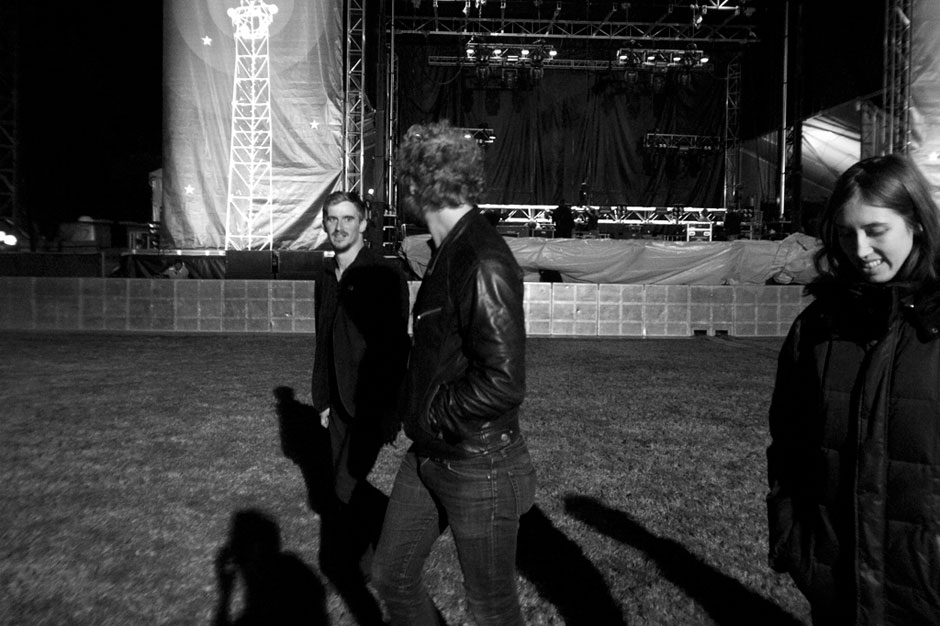 Or maybe not fully disappeared. When the sun goes down in Texas, things get chilly fast. Stuck around for Lionel Richie. Best show of the fest for me. Here we are headed back to the bus through a deserted festival grounds. If you look closely, you can see the shadow of David Torch (percussion) manning the camera. He also happens to be the esteemed photographer for all these pictures.
14. ACL, ? o'clock-ish
14/26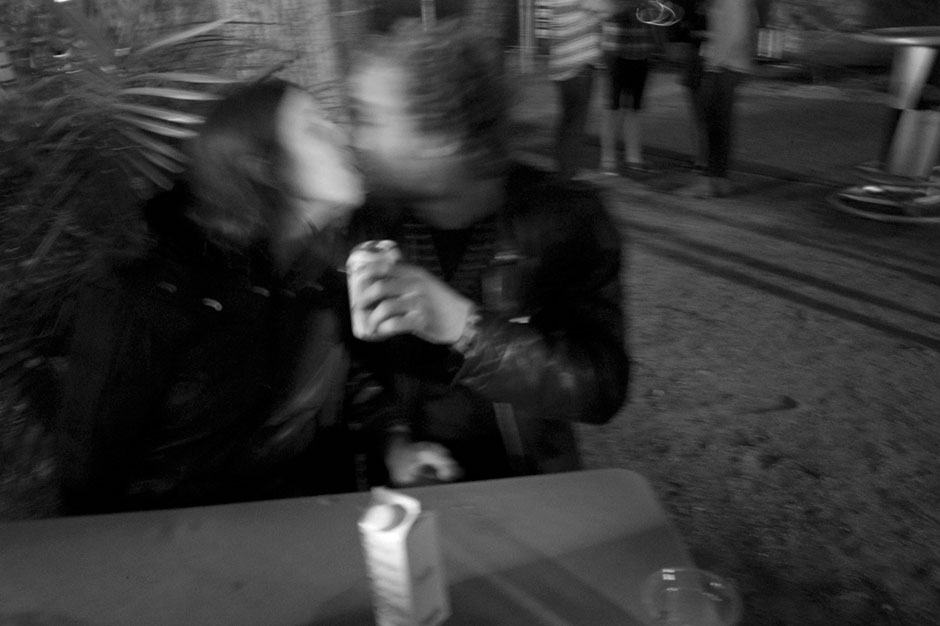 Awwwwww.
15. ACL, 1:00 a.m.-ish
15/26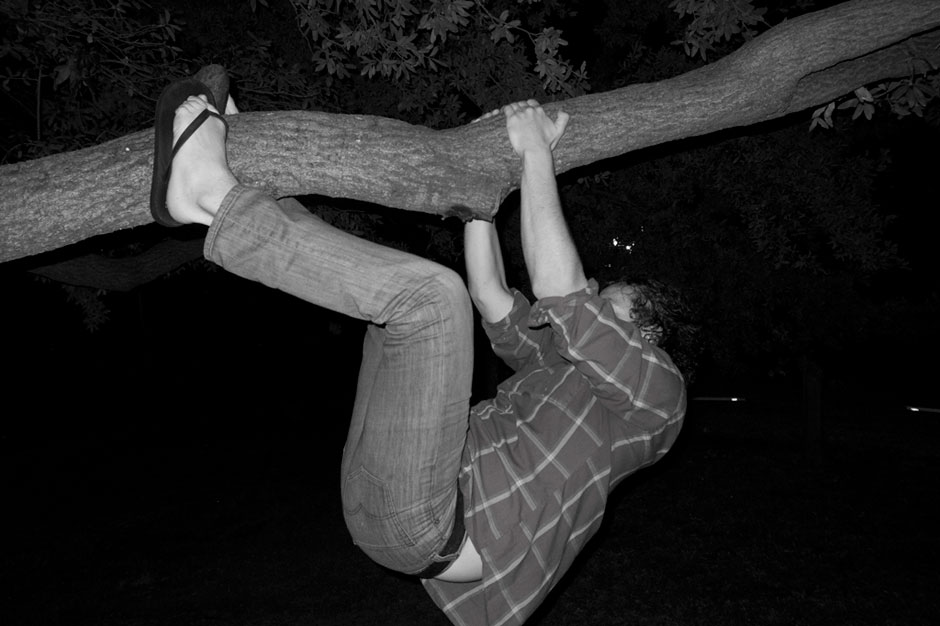 Rustine continues his vision quest.
16. ACL, 2:00 a.m.-ish
16/26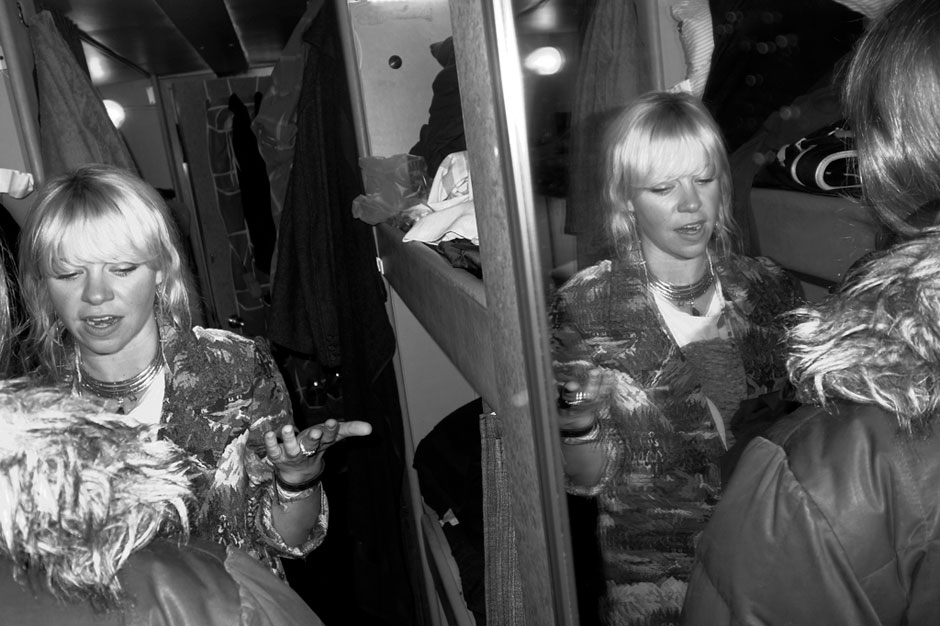 Back to the house (bus). This is Jessi Baker (merch seller extraordinaire!). An intimate moment between the ladies.
17. ACL, 2:30 a.m.-ish
17/26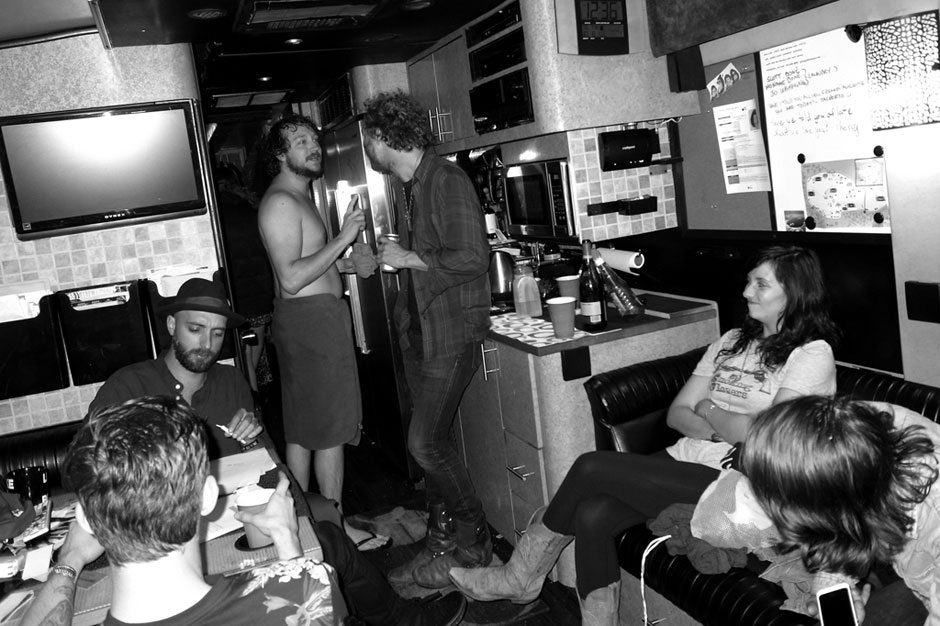 There's intimate moments between dudes too sometimes. Also, note Rustine here, continuing the quest.
18. ACL, 3:00 a.m.-ish
18/26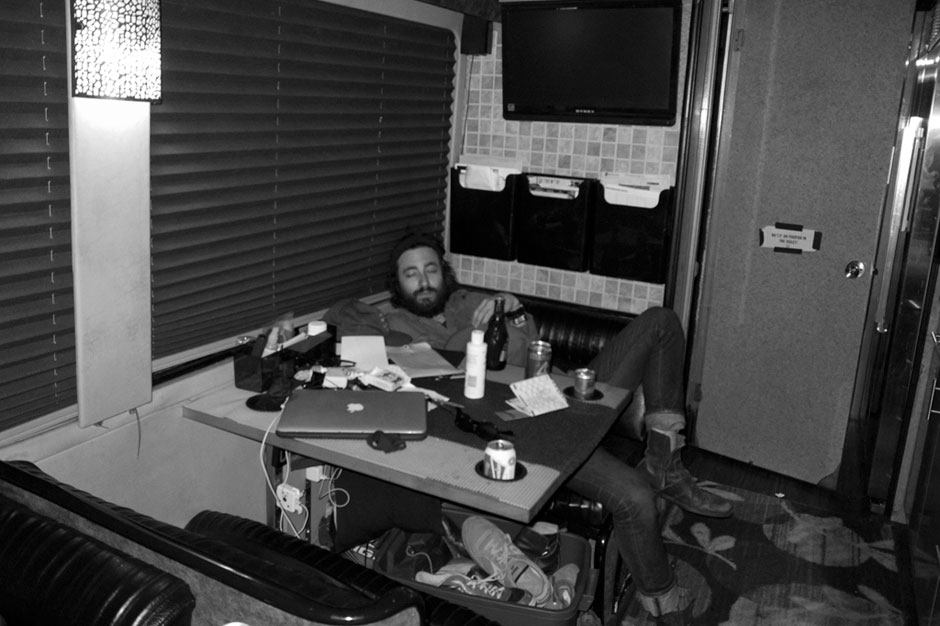 Ricky. End of his night.
19. South Congress Cafe, Austin, Texas, Monday, October 7, Noon-ish
19/26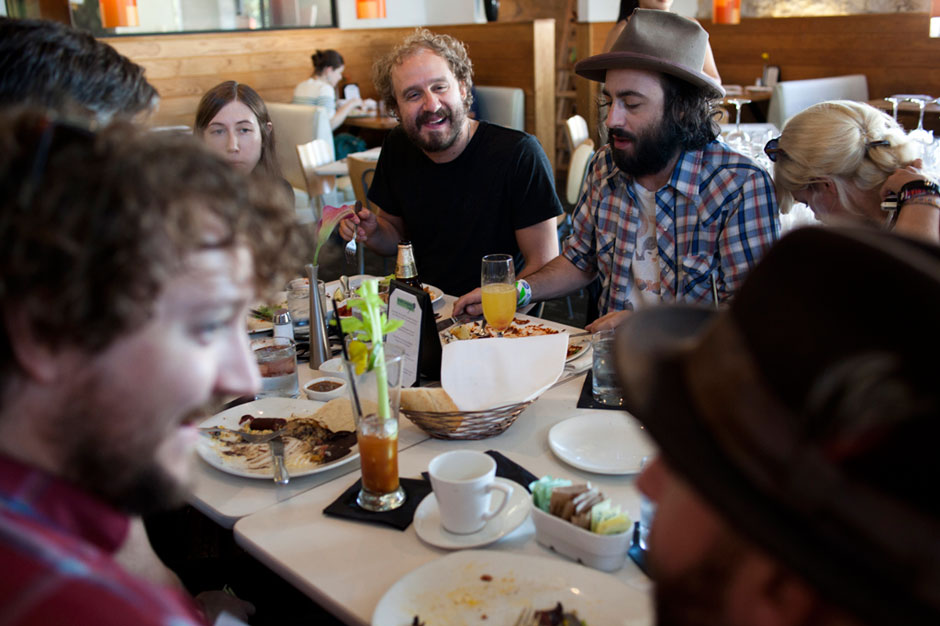 Wakin it up again. Everybody eaten an dranken together. I look particularly pleased.
20. uncommon OBJECTS, Austin, Texas, 1:00 p.m.-ish
20/26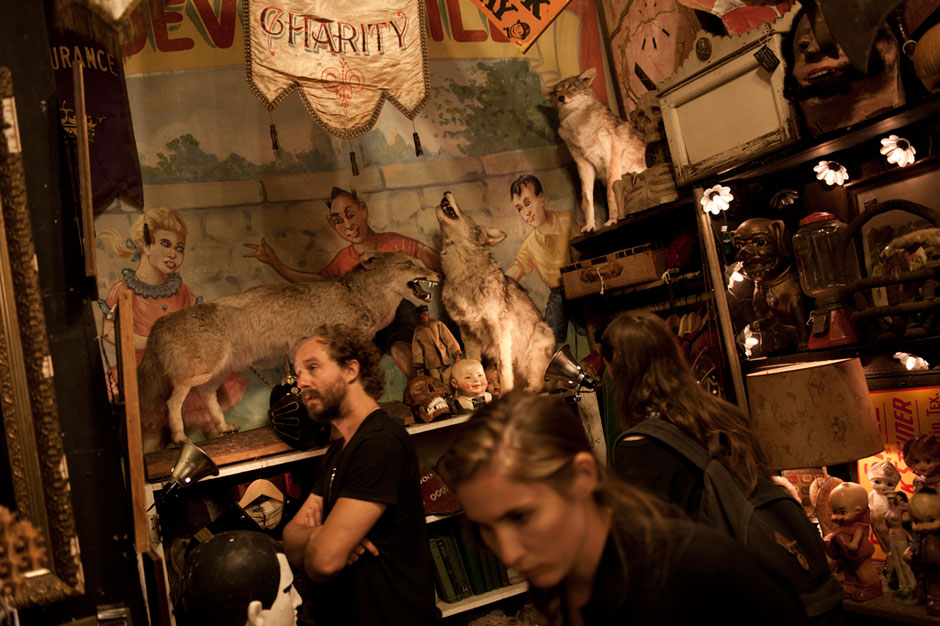 Lookin at strange things in the local trading posts.
21. New Bohemia vintage store, Austin, Texas, 2:00 p.m.-ish
21/26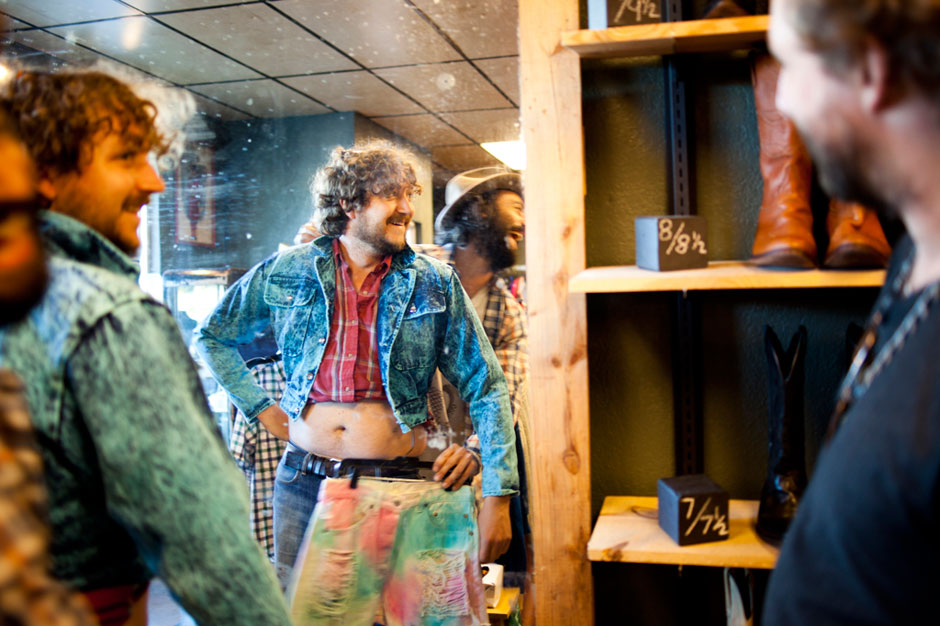 Rustine found some cool items tho.
22. Austin, Texas, dusk-ish
22/26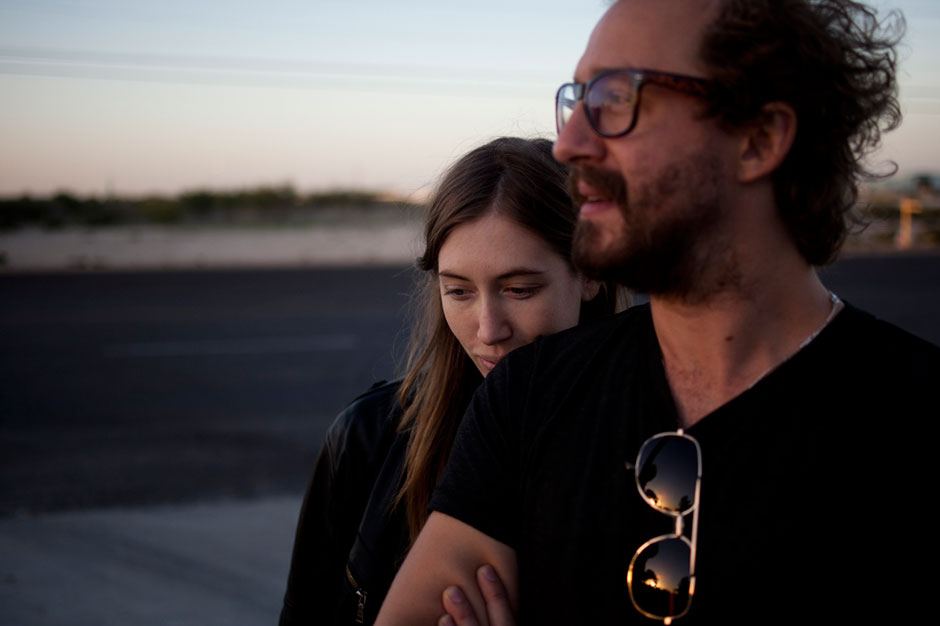 That's me n Jo again.
23. Just off the North MoPac Expressway, Texas, 7:44 p.m
23/26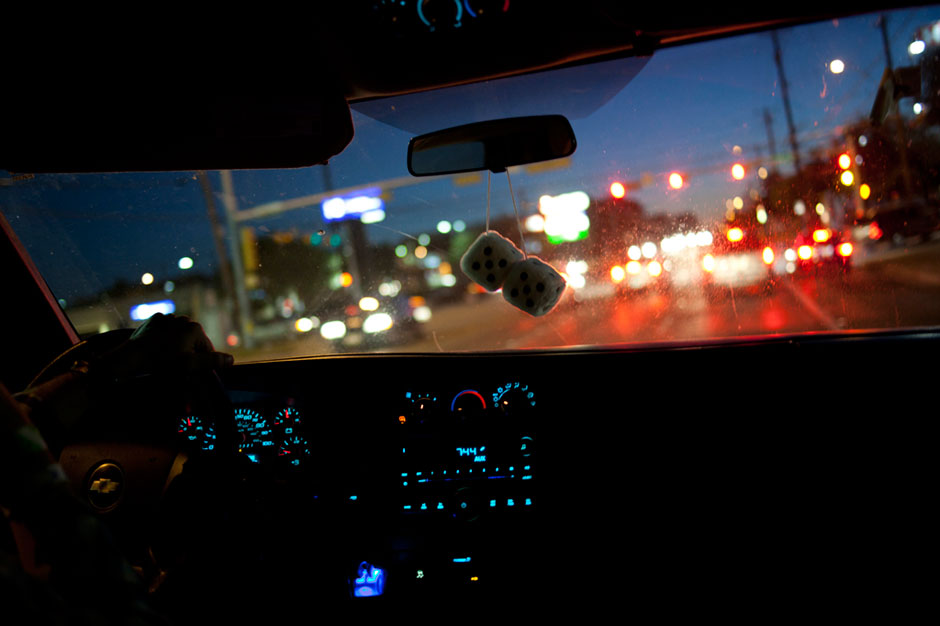 Night dice.
24. Regal Gateway Stadium 16 & IMAX, Austin Texas, 8 p.m.
24/26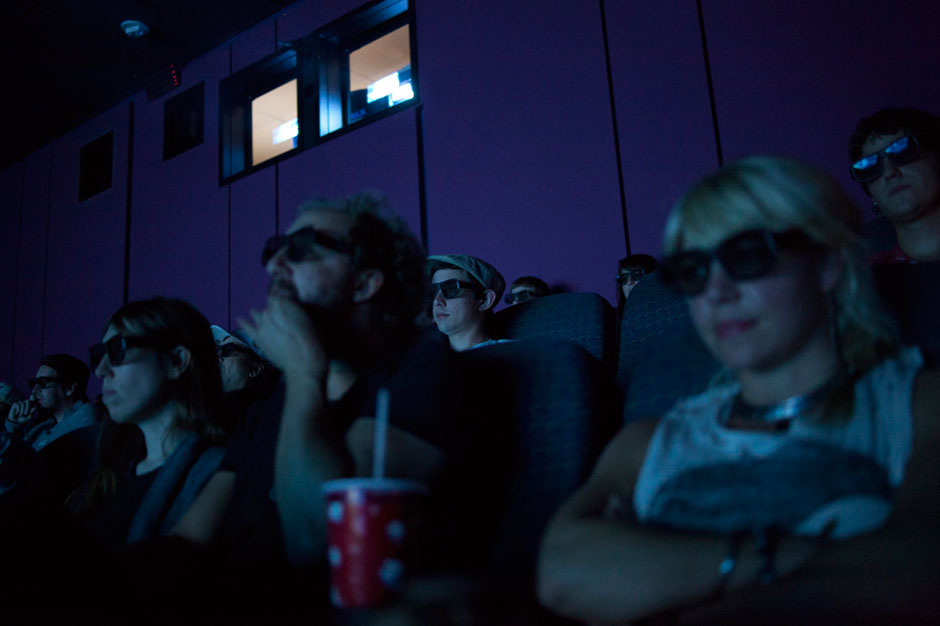 This movie, 'Gravity.' It is H E A V Y.
25. Outside of Dallas, 11:00 a.m.-ish, Tuesday, October 8
25/26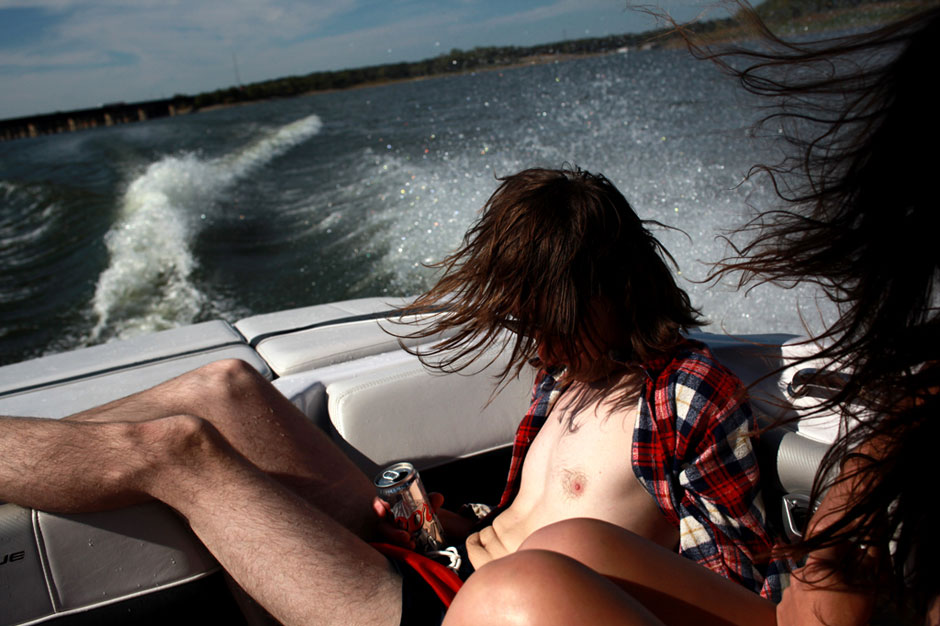 Some great folks reached out and offered to take us out on their boat for the day. We had no choice but to wake it up early and accept! That's Mike O'Neil (Tour Manager) overseeing operations as usual.
26. Outside of Dallas, 11:00 a.m.-ish, Tuesday, October 8
26/26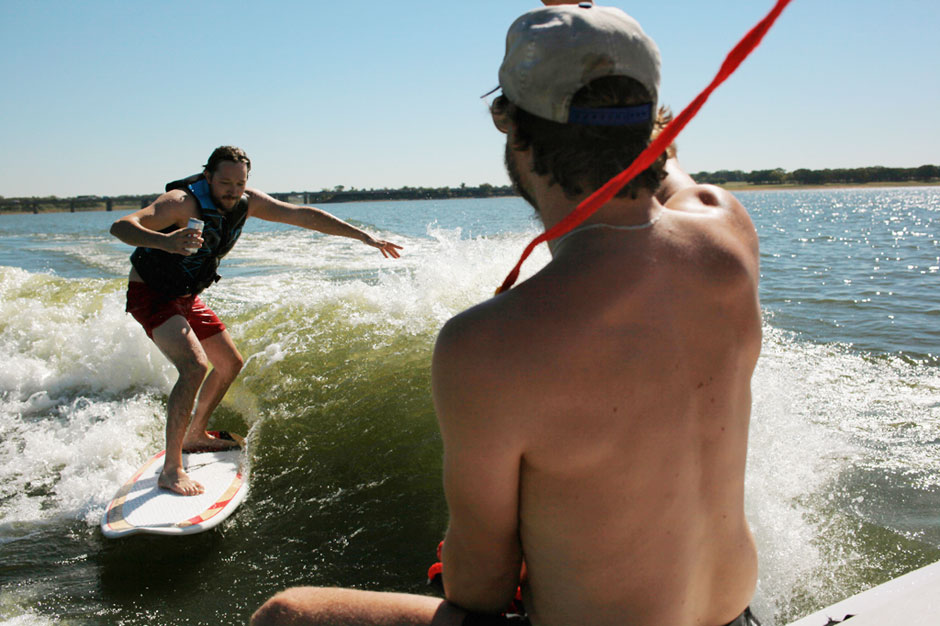 Rustine surfing the wake. Housing a beer. Vision quest complete.