The New York City heat is getting to Omar Souleyman. It's the last weekend in August and the air on this last-gasp day of summer is woolly, viscous, and smothering. For Souleyman — born and raised in Ras al Ain in northeastern Syria where August temperatures routinely top 133°F on the heat index — to break a sweat now is a testament to New York City's humidity. He sits at a picnic table in the courtyard of the non-profit art space Pioneer Works, a towering red-brick building situated on the Western edge of the Red Hook neighborhood in South Brooklyn. The Hudson River shimmers just beyond the warehouses across the street, but there's no breeze stirring off the water and the air is heavy.
In a few hours, Omar Souleyman will be clad in the more traditional jalabiya and keffiyeh, trademarks of the man headlining the ISSUE Project Room in downtown Brooklyn, where he will play an electrified form of rural folk music form called dabke before more than 700 reverent fans. The line-up for IPR's tenth anniversary celebration positions Souleyman alongside the American avant-garde, ranging from Tom Waits guitarist Marc Ribot to jazz composer and MacArthur "genius grant" recipient Ken Vandermark. It bookends an exceptional week for Souleyman, which began the previous weekend when he headlined at Los Angeles's FYF Fest, performing before some 30,000 attendees alongside the likes of Yeah Yeah Yeahs, MGMT, and My Bloody Valentine. Come October, Souleyman will release his first studio album, Wenu Wenu, produced by electronic-music icon Four Tet and released on Domino Records subsidiary Ribbon Music, making him labelmate to Franz Ferdinand, Arctic Monkeys, and Animal Collective.
It's one of the stranger success stories in indie music. Souleyman — a wedding singer from drought-riddled, war-torn Syria — and partner Rizan Sa'id have made their name with a buzz-sawing, bass-thumping reboot of an ancient folkloric musical form that sounds quaint in his homeland but avant-garde, raw, and electronic in the West. And with fans of the aforementioned acts now witnessing Souleyman in the flesh, his profile is rising. Dabke, as rendered by Sa'id and performed by Souleyman, is physically and emotionally affecting, even if few in America can make out the lyrics. Souleyman's voice is gruff and coarse, exuding a stoic strength. Yet for those who understand Arabic, his songs are plaintive, dealing mostly with love and its loss. Coming from a land where deep sectarian conflict will resonate for generations, if not centuries, Souleyman sounds at once like the most self-possessed and most heartbroken man in the world.
But to the 200 or so already gathered in Brooklyn, Souleyman looks less like an upstart star and more like a father out for an afternoon round of golf: dressed in black slacks, brown shoes, a collared shirt with a Ferrari logo, and wearing a white ball cap that looks to be three sizes to small for his head. The cap shades his ubiquitous sunglasses and manicured black moustache. Only when he draws on a cigarette can you see the worn lines along his cheek and jaw. Trailing Souleyman for a day is a difficult task — he only speaks Arabic, and is also taciturn to the point of near-silence. In the heat of the day, he remains anonymous, or as anonymous as one of two Syrian nationals can be in a crowd of Brooklyn hipsters. Without a doubt, Omar Souleyman is the most popular Syrian wedding singer in the Western world. Beyond President Bashar al-Assad, he may be the next Syrian who an American music fan could name.
Souleyman pulls out a tablet to begin shooting video of the scene around him: the hipsters swiping at ping-pong balls, drinking local microbrews, and eating lamb kebabs. Tony Conrad, minimalist composer and onetime Velvet Underground compatriot, can be glimpsed in black shorts. The no-fi rock duo 75 Dollar Bill wind through the crowd with a marching-band bass drum and a battery-powered guitar amp strapped to their backs.
Souleyman is joined by longtime partner Rizan Sa'id and recently appointed manager, Mina Tosti, and they proceed to the rooftop of Pioneer Works, where there's more of a breeze; the Statue of Liberty is luminescent green in the distance. Souleyman and Tosti discuss when he should change into his "costume." It's what, in his native country, would be standard garb, but here in the West, it speaks to Souleyman's otherness. For a generation of Americans, the jalabiya/keffiyeh combo has been portrayed in the media as a symbol of threatening villainy — from the stage antics of wrestlers the Sheik and the Iron Sheik to any number of terrorists machine-gunned to death by action heroes on film. No doubt that such a stage outfit has contributed to Souleyman's "exotic" appeal in the United States. He dons it now, and while posing for photos, there's a slight movement in his left hand: Souleyman holds a clutch of orange worry beads that he works between his thumb and forefinger.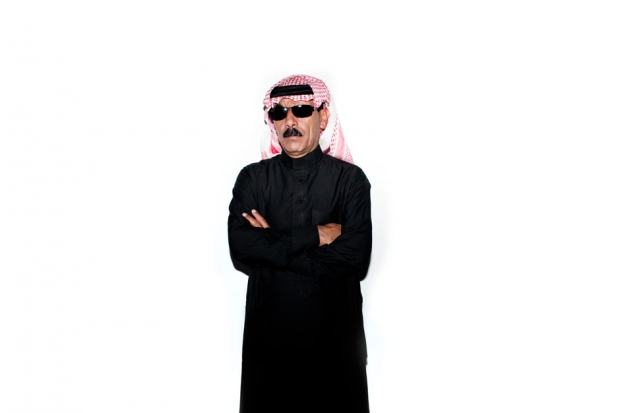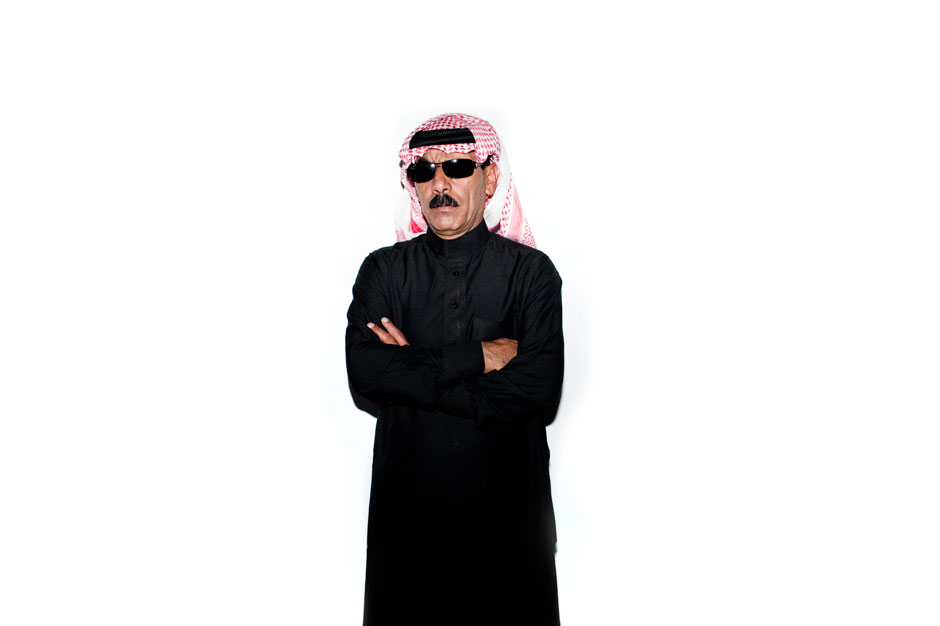 The newsstand headlines have grown more bellicose with each passing day. One day, the New York Post's cover shows a bullseye with President Assad's face in the middle; the next, a photo of dead Syrian children lined up in a row, swaddled in winding sheets, accompanied the charge that 426 kids have died as a result of Assad's forces unleashing poison gas on its own citizenry. Some three summers into a Syrian civil war, both President Barack Obama and Secretary of State John Kerry talk about red lines in a summer of blurred lines. But with both Russia and China opposed to the use of force in the region, a superpower showdown has loomed on the horizon.
"I thought it was incredibly important to present the work of a Syrian artist like Omar Souleyman in the States at this time," says Lawrence Kumpf, artistic director of Issue Project Room, who brought Souleyman to his first New York show in 2010. "On the eve of Obama announcing his plan to strike Syria, our concert felt all the more timely."
As the news pressurized, it suddenly took a surreal turn. Russian president Vladimir Putin penned an op-ed in the New York Times, taking issue with the notion of American exceptionalism: "Millions around the world increasingly see America not as a model of democracy but as relying solely on brute force… It is extremely dangerous to encourage people to see themselves as exceptional, whatever the motivation." A Facebook post attributed to President Assad's 11-year-old son taunted: "I just want them to attack sooo much, because I want them to make this huge mistake of beginning something they don't know the end of it." Meanwhile, actress Alyssa Milano resorted to posting a fake sex tape on Funny or Die attempting to educate U.S. viewers on the complicated nature of the Syrian conflict, one mired in sectarian violence between a Sunni Muslim majority and the Alawi minority that has helmed the regime since 1971, when Bashar al-Assad's father, Hafez al-Assad, took power.
In the Washington Post, a blog post showed readers where Syria was located on a map with the headline, "9 Questions About Syria You Were Too Embarrassed to Ask." First question: "What is Syria?" Second question: "Why are people in Syria killing each other?" By the fifth question, the site recommended a music break and suggested Souleyman himself. Regardless, news spread that Americans were 12 times more likely to have read about former child star Miley Cyrus's twerking capabilities than this escalating humanitarian crisis.
"Syria has been a secular country since its inception," says Mouannes Hojairi, a Lebanese historian and visiting professor at the American University in Cairo. "The Assad family arrived via un-democratic means — which is not uncommon — but the father relied heavily on the Sunni majority in the countryside for his support, building an entire network with social services to expand his base. That evaporated with his son, who shifted to the Sunni elites in the city while dismantling the network his father had built. After that, a drought and agricultural failure displaced millions of Syrians before the revolution even started. The modern Syrian state is failing and falling apart. The size of the calamity is tremendous and the repercussions for the future are immense."
Mark Gergis, the man responsible for introducing Souleyman's music to a Western audience, wrote via email from rural Thailand: "The situation in Syria is far more complex than Western media makes it out to be. I think it's possible that we are already in the midst of WWIII, but we won't realize it until it gets written that way in history."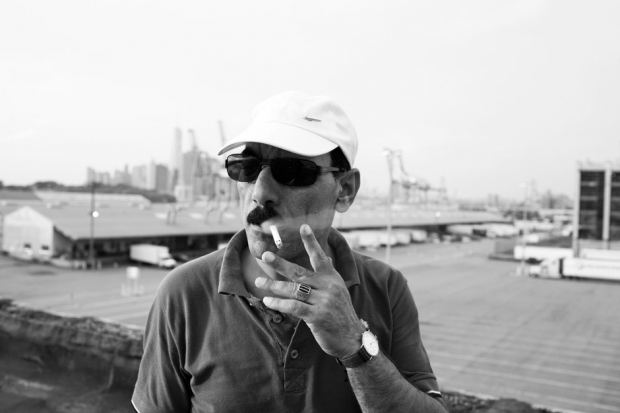 "I'm a farmer, so I'm like everyone else."
This is how Omar Souleyman presents himself about two hours after his show in Brooklyn. He's now seated on the floor of Tosti's Williamsburg apartment, partaking in his favorite American dish: hot wings and French fries. We sit in a circle with Sa'id, a translator, and Tosti. Souleyman hails from the rural part of northeastern Syria, a region known as Jazeera, which like the upstart Arabic cable news network, translates as "the Island," denoting the stretch of land in upper Mesopotamia that's situated on the left bank of the Euphrates and the right bank of the Tigris. If the region hadn't fallen into a crippling drought, Souleyman might have remained a farmer. "It's a problem in the region," he says. "Even the wells have dried up and there are many issues with bringing water to people."
"I started singing when I was seven years old, just singing by myself," Souleyman says of his start. Though wedding bands could be persuaded to let the young Souleyman sing with them for ten minutes or so, his primary trade was manual labor, be it in the fields or on construction sites. In 1994, he decided to perform professionally.
And how were his first few performances?
"From then till 2000, I literally had a party every day," Souleyman says. "There would be a waiting list for me to sing at weddings." He had a live band early on, but soon he turned to Sa'id, a musician he had known since he was a child. "We're from the same village," says Sa'id, the keyboard player and man most responsible for making Souleyman's rough-hewn dabke mesmerize the rest of the world. "My first memories, I remember Omar; I used to always go with him and be with him." As the technology improved, Sa'id began to use a Korg synthesizer to reproduce all of the sounds of the traditional dabke band in a drastically electrified fashion.
Dabke is a village line dance that purportedly was used to stomp down the thatch of straw and mud for rooftops. As Beirut-born, New York-based musician Johnny Farraj explains, dabke remains popular throughout the Eastern Mediterrean region, as well as Greece and the Balkans. It has a decidedly physical effect on its dancers: "There are some major hormones pumping, from the music, the rhythm, the physical motion, the camaraderie between dancers," says Farraj. "I only know one step, but that's enough to get me into a deep hyperactive trance state." While scoffed at in urban centers, dabke remains a tradition in the countryside.
"I made the first of many visits to Syria in 1997," says Gergis, who'd been exposed to dabke at the American wedding parties of his Iraqi family. "Once I got to Damascus, I started hearing a particular brand of incredibly fast and frenetic electrified dabke music coming from the cassette stalls." He bought a clutch of tapes, including a few by Souleyman. Such cassettes were mostly recorded live at private weddings, given to the bride and groom, and sometimes dubbed for the uninvited. "Omar's music struck me because the sound was fast, raw, coarse, and unpolished," Gergis says.
He collected more of Souleyman's prodigious cassette and VCD output (Gergis estimates to have about 350 of what he estimates to be about 550 releases), and then in 2006, he approached Seattle's Sublime Frequencies label about releasing some of the music. The hardcore Dadaist pranksters Sun City Girls (Alan and Rick Bishop) and co-founder Hisham Mayet started the label in 2003 as a tribute to Smithsonian Folkways, Nonesuch Explorer, and the like, though they were diametrically opposed to the tenets of "world music," as well as "ethnomusicology," presenting rough, lo-fi aural collages with little in the way of notes or explanation. In the midst of the Bush administration's proclamation of a new "Axis of Evil," Sublime Frequencies released audacious, frenetic, and downright "punk" recordings like Choubi Choubi! Folk And Pop Songs From Iraq and Radio Pyongyang: Commie Funk And Agit Pop From The Hermit Kingdom (i.e., North Korea). Gergis sought out Souleyman, in part, because "it felt important to try and help humanize Syria after it had suffered years of demonization. Many Americans were ignorant of the country and its culture, and I hoped by releasing Omar's music, I could help remedy this."
Gergis found Souleyman's name through an Aleppo distribution center and cold-called him. Souleyman was dubious, even as he met with Gergis in Damascus in 2006 and listened to a compilation of his own music, taken from a variety of cassettes, that Gergis had brought along. After the meeting, they agreed to an arrangement under which Sublime Frequencies would press 2,000 copies of a CD containing these tracks (most recorded off the mixing board at live events), with the title Highway to Hassake: Folk and Pop Sounds of Syria — it would be Souleyman's first release in the Western Hemisphere. If the album sold, there was the remote possibility that Sublime Frequencies might bring Souleyman to the United States. While the label had done DJ nights, their catalog contained primarily of ghosts from the past. In Souleyman, they now had a viable live act. And for a man from rural Syria whose lone brushes with American culture were the fights of Muhammad Ali and Michael Jackson's Thriller, it all seemed unreal. "Even at that point, I did not believe Mark Gergis," Souleyman says. "It was weird to think that Americans would like an Arab to sing in America."
Omar Souleyman is right: It is weird to think that Americans would get excited about rural Syrian line-dance music. The lone analogy I know of is one close to home: My family hails from the South Texas countryside, and every wedding there that I've ever attended has featured a particular folkloric line dance where everyone interlocks arms and does a syncopated step known as the Cotton-Eyed Joe. But if you've attended a professional baseball game in the past 20 years, chances are you heard the techno version recorded by the Swedish group Rednex. No matter the tradition, anything can be appropriated and turned into something exotic.
"The most newsworthy aspect of Souleyman is how successfully he has been marketed to a Western audience in that none of his fans know dabke," says Jace Clayton, a.k.a. DJ/rupture. "Although the reverse is also true. Omar's not one of many well-known national or international dabke stars. To cite a nearby example, they have no idea who he is in Brooklyn's Arabic music shops."
Zayid Al-Baghdadi, a criminal defense lawyer from Baghdad, says that neither he nor any of his Syrian friends had ever heard of Souleyman until he moved to Montreal. "When I first saw Omar perform here, I was just amazed by the cultural clash between him and the audience," he wrote via e-mail. "Here you have a middle-aged Arab man dressed in traditional bedouin clothing and a crowd of intoxicated, pot-smoking hipsters dancing frantically to his music. I think what has added to Omar's appeal in the West is the fact that his music has been slightly tweaked to better suit modern Western dance-music tastes." Bill Bragin, director of public programming at Lincoln Center, sees the root of Souleyman's success in that tweaking, as it made his listenership skew younger than the world-music audience. "It was smart building on that base through the remixes with influential indie/electronic artists like Four Tet and Björk."
"Omar unwittingly became the first-ever Syrian — or Arabic singer — to break the Western barrier on the scale he did," says Gergis. "And it wasn't the result of producers trying to add global beats and fusion into the equation. This was the real deal from rural Syria and it had a power of its own." Souleyman became a cause celebré in Europe and the U.S., appearing on festival bills curated by Pavement and Caribou, and soon he was recording with Björk and the Gorillaz.
Tosti assumed managerial duties for Souleyman in November 2010 and set about pushing his career forward. "He has a huge family and nine children that he supports with his music," Tosti says. "His country is in a state of war. He's in a lucky position that he can actually feed them through this time with his career." Tosti worked towards finding a new label and a new producer for Souleyman who might expand his audience.
"I don't know any other dabke music, but Omar's stuff is mainly the same tempo as house and techno," says Four Tet's Kieran Hebden, who produced Wenu Wenu in one three-hour studio session. "I did this because I didn't want anyone else to mess it up. I never ever want to hear an Omar Souleyman record that has somebody else's dodgy drum programming on it." Morgan Lebus, who heads the Domino Records subsidiary Ribbon Music and signed Souleyman, recalled Evan Mast from Ratatat describing him as "making what is to people from his region traditional music, yet to those of in the West a new frontier of music."
I ask Souleyman when he left war-torn Syria and he shakes his head, saying that he remains in the country, traveling between his family in Hassake and his family across the border in Turkey. He emphasizes that he has taken no side in the Syrian conflict. "Just to make it clear," he reiterates, "I don't have a problem with anyone over there. My actual movement isn't affected because of the war, but psychologically…" He pauses. "It is distressing and there are a lot of sectarian issues in Syria now. It's not only me. Every single Syrian is distressed nowadays because of the violence, all of the killings."
He is grateful for his American audience, their support and energy at his shows. But even for him, he wonders if his new audience truly understands what's at stake for him and the rest of the Arab world. "It's a very different culture from the U.S., where wars are not a daily occurrence," he says. "I don't think people here understand what's going on in Syria. In America, everyone has a job and life that is not war. Us, on the other hand, we're busy with all these wars and violence, and all these factions competing for power."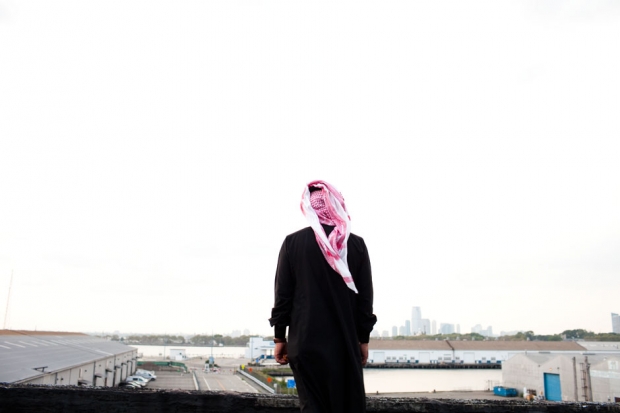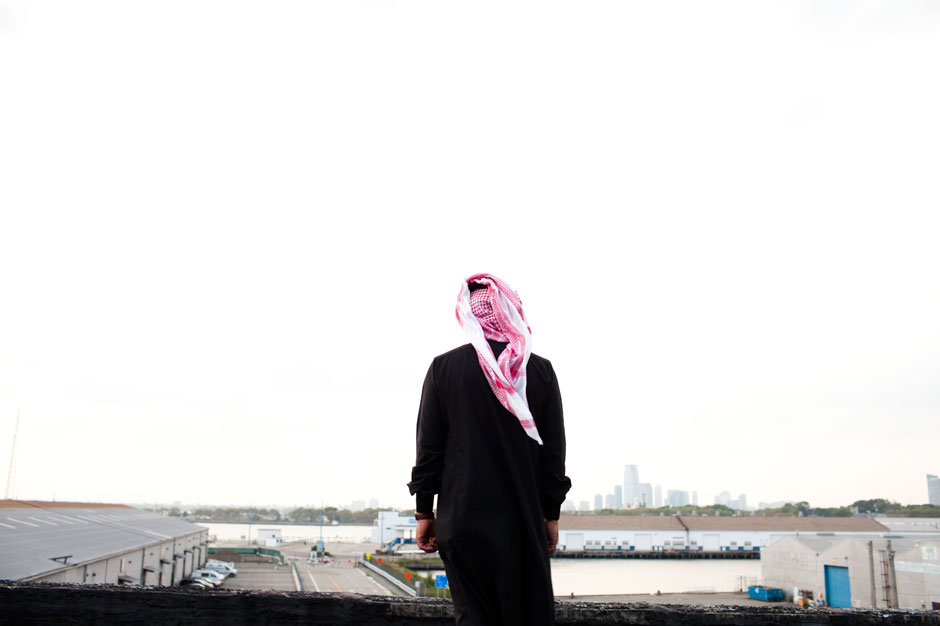 It's showtime and the star of the show moves toward the back of the stage as Rizan keys a slow, snaking melody. Souleyman's poker-faced expression conceals any emotion; it's impossible to know if he has pre-performance nerves or if his mind is thousands of miles away. He puts the microphone to his lips and an aching, slow call emerges. When he appears from behind the wall that was hiding him from the audience, a roar goes up and Rizan triggers a 128-bpm pulse punctuated by explosive triplets, the notes flanged to the point of mesmerism. Behind the stage, hundreds of dancers fill in the space and some other revelers hop onstage, surrounding Rizan and Souleyman, dancing to the ecstatic end of the set. Those not dancing turn towards the craft-services table and set about devouring all the hummus, snacks, and drinks set aside for the artists.
[UPDATE: It has come to our attention that representatives for the Sublime Frequencies label were not given an appropriate opportunity to respond to accusations made in quotes in this article. In the interest of fairness, we have removed a paragraph and significantly altered a second. SPIN regrets the error.]