On a Monday night in early September, having flown from Los Angeles back to his Atlanta hometown, Mike WiLL Made It pops into the city's three hip-hop radio stations — ratings king HOT 107.9, veteran presence V-103, and rising newcomer Streetz 94.5 — to do some convincing.
At each stop, as the evening news and Monday Night Football unfolds on studio televisions, the 24-year-old producer with Versace shades carries a studded leather backpack. From there he pulls out bottles of rosé and Patrón, plus white-label CDs of his debut single "23," featuring Wiz Khalifa, Juicy J, and the first-ever rap verse from none other than Miley Cyrus. Ostensibly, that's the main topic of conversation tonight, but at every stop he's also asked, off-air, to comment on frequent collaborator Gucci Mane's bizarre, still-unfolding Twitter tirade. "I don't know if that's him, but he talking about some real stuff," Mike says at HOT 107.9. "They got him in one spot — house arrest. That shit would drive anyone crazy. I don't know, man."
The two Atlanta rap stars are, unfortunately, heading in radically different directions. What Mike does know, fortunately, is that from his first Billboard hit (Meek Mill's 2011 banger "Tupac Back") to his latest (Cyrus' bleary party anthem "We Can't Stop"), he's divided his talents between seemingly disparate audiences — mixtape heads and radio listeners, rap and R&B, "urban" and the Hot 100. With "23," he's trying to bring all those worlds together.
Born in Marietta, Georgia, Michael Len Williams II took his moniker from a line on "Star Status," a 2008 Gucci Mane mixtape cut that he produced: "Mike Will made it / Gucci Mane slayed it." Since then, he's aligned himself with a series of boldfaced hip-hop names — everyone from Big Boi to Mannie Fresh to Gucci to Future to Young Jeezy guest on his pair of Est. in 1989 mixtapes spanning 2011-12; for one intro, Diddy offered a prophetic announcement: "Everything you hear, and everything you about to hear, and all the important shit you about to hear over the next couple of decades, Mike motherfuckin' WiLL Made It."
Since then, he's taken over the radio. Last year, Mike WiLL scored with productions for Future (the gurgling trap-pop of "Turn on the Lights") and 2 Chainz ("No Lie"), and provided a touch of hedonism for Juicy J (the strip-club smash "Bandz a Make Her Dance") and Rihanna (the "Bandz" rewrite "Pour It Up"). In 2013, he even notched a credit on Jay Z's Magna Carta Holy Grail for "Beach Is Better." He's also helped engineer sleekly updated R&B comebacks from Brandy, Ciara, and Kelly Rowland.
The tools of his sonic trade are simple: 808s, wafting filters, and an ass-churning thump. The same style he favored at 16 is what helped him team with veteran and rising artists alike, then control the direction of R&B and hip-hop in 2012. "Gucci was telling me to make bigger beats, and Waka [Flocka Flame] was just getting started," he recalls, standing in the Streetz 94.5 parking lot. "That's really what my sound signifies now: It has these really big-sounding beats, but it still has that bottom to it."
"I'll be the first to say that with the types of songs he was making, I didn't think he was suited for R&B," says JayTek, Streetz 94.5's assistant program director and former Donell Jones tour DJ. "But then I heard him, and that shit was outta here. I see him as saying, 'I am versatile, I don't have to stay in this one area. I can do more than just hip-hop beats. I can do beats for these R&B artists and still win.'"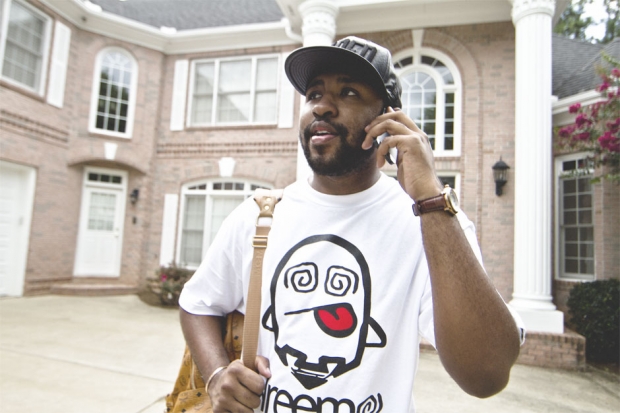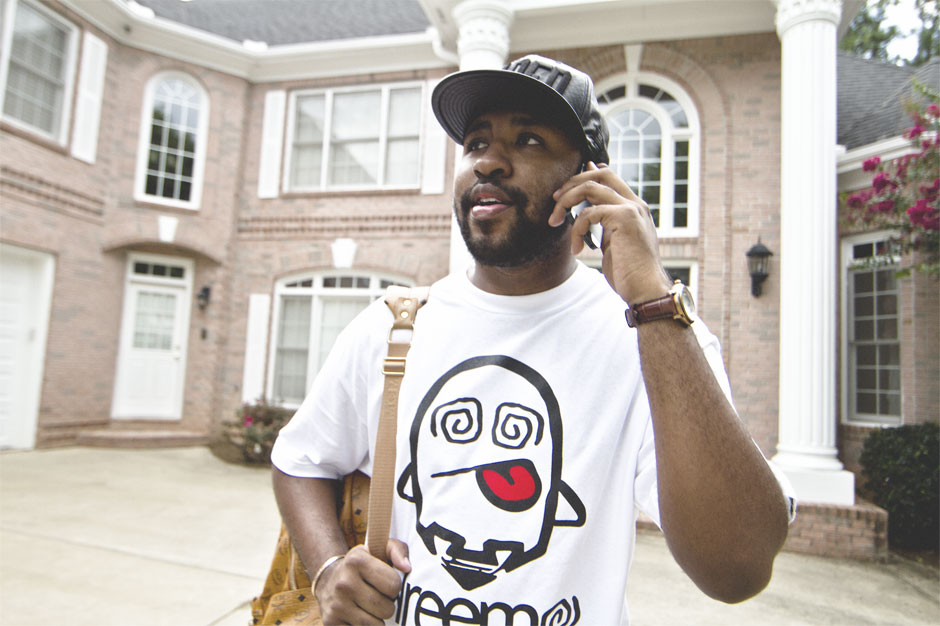 This summer, Mike had initially planned to release a five-song instrumental EP, Fuck Verses, as well as his official full-length debut, Est. In 1989 Pt. 3: The Album. But he got too busy. He inked a deal with Interscope to launch his own imprint, EarDrummers Records; musically, he mostly divided his time between albums for Future and Miley Cyrus. The latter's BANGERZ, out this week, has become the media focus: He attended this year's MTV Video Music Awards with Cyrus and her mother, Tish, and he's hungering to prove that he can keep winning with the artist formerly known as Hannah Montana.
"We brought Rihanna to the strip club, and now we gon' put Miley in urban radio right quick," he boasts to both V-103's and 94.5's DJs.
From the early evening until 10:30 p.m., Mike is accompanied on his promo duties by a ten-member entourage that includes his EarDrummers partners A-Plus, Nazty, and Marz. Another member of his retinue wears a sweatshirt modeled after Michael Jordan's Chicago Bulls jersey — a look that the boss himself would sport on subsequent interviews, in addition to rocking his Air Jordans XIs, replicas of the sneakers that MJ wore in Space Jam.
If that level of dominance and ubiquity is the goal, "23" is a strong first step. The track refuses to downplay its crossover ambitions. Cyrus raps first, dancing in Jordan Vs and getting high off purp — club-driven stakes that her collaborators see and raise. (She drinks from a bottle, so on his verse, Wiz Khalifa orders 23 more.) Sharing hook duties with Juicy J, Cyrus riles up her naturally husky voice to a girly squeak. The words themselves aren't remarkable, but the vibe is — Mike wants everyone to party in J's at the same club.
His songs speak far more forcefully for hedonistic inclusiveness than he does. Mike often mumbles, uses "You know what I'm saying?" as conversational spackle, and usually finishes his thoughts with a forceful "Word." And when asked about his desire for inclusiveness, all he says is that he wants to be like Mike: "I feel like everyone's a Jordan fan." So he's trying to make songs for everyone. Simple.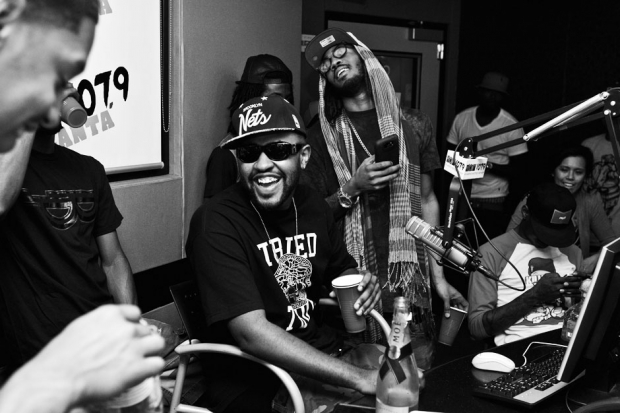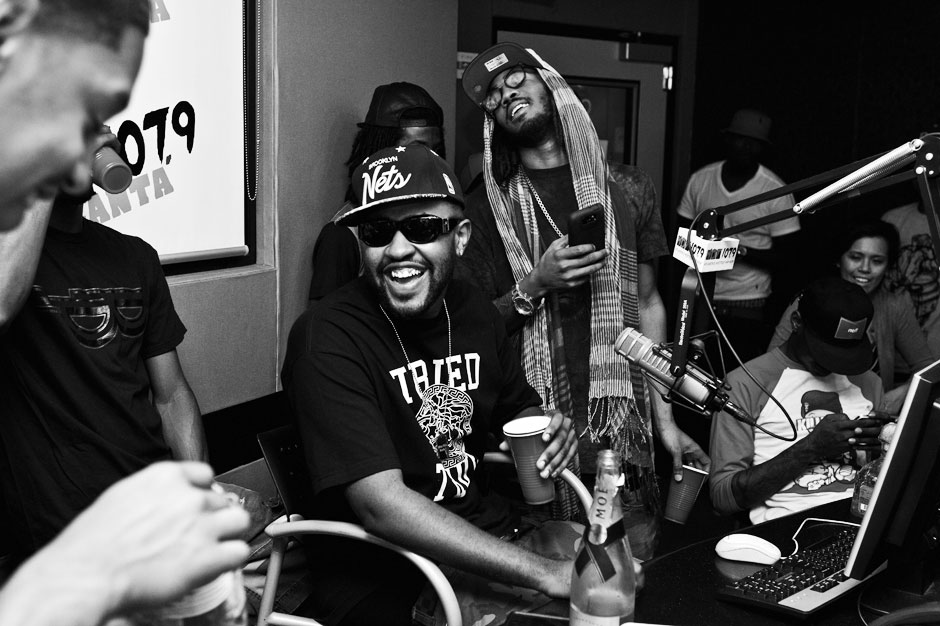 Despite being a hometown favorite, Mike gets more of a polite road-team reception during his radio tour. When HOT 107.9's Durtty Boyz premieres "23," they give it two slots on its Top 10 countdown, but offer no comment. V-103's DJ Greg Street focuses on Cyrus' controversial VMAs performance rather than the new music. "She need to come down to the A and get that booty right," says Streetz 94.5's DJ Holiday, allowing, slightly reluctantly, that he liked the track, adding little more. But Mike is optimistic, and with precedent.
"'We Can't Stop' — everyone said that it wasn't going to work on pop radio, because it didn't have an EDM-type beat," he says, still stationed in 94.5's parking lot. "But it went to No. 2 on Billboard and No. 1 on iTunes." As for "23," he got plenty of advice: "People said, 'You should put Miley last,' or 'It's not going to work on urban radio.'" But his job is to make urban radio work for him. While on-air at 94.5, DJ Holiday asks Mike to name a bucket-list collaborator — "Lady Gaga," he answers, "and any street artist I haven't met who's turnt up."
It's not just success he wants, though. Mike tells me that at 18, he wanted to name his production company G.M.P., for Get Major Paper. "Then I was like, 'Man, I don't want this shit to be about getting money. That's kinda corny.'"
He was only 15 when he met Marlon Daniel — who raps as Blaze-1 and works as an administrative assistant at Atlanta's Patchwerk Studios — through a mutual friend who was already using Mike's beats. Aspiring producers often stand outside Patchwerk and hand beat CDs to people heading inside. But as Daniel recalls, sitting in the studio's dark and plush lounge, he had a better idea for Mike: "'Come up here whenever you want to,'" he told the youngster. "Come up here and hang out with me, and if we see people, we'll just slide in the beats.'"
By then, Daniel had heard Mike rap. ("He was pretty good; his voice did sound like Kermit the Frog, though.") More importantly, he saw that the kid got shit done. "He was focused, and to be that young — he didn't have no license," Daniel says. "I don't know how he was getting here, but Mike would pop up and be like, 'What up, Blaze.' I was like, 'Man, that's what you need to make it in this business.' Or life, period."
Patchwerk engineer Kori Anders also got used to seeing "this skinny but just happy-go-lucky kid" hanging around. However, he was hesitant to introduce Mike to Gucci Mane. "You want to see him win, but you know it's not the right time," Anders says.
He and Gucci hooked up anyway. Mike declines to talk about his Patchwerk experience specifically — he was a teenager, and 15 is a lifetime away from 24 — but he does admit to having felt underestimated at times. "That's how I started Est. in 1989," he says. "I take that song that they feel is not really a hit, but I feel is a hit, and I throw it out there, and the streets end up liking it," he says. "A lot of people started to try to box me out because I was so young and so smart, and I knew what I wanted."
When pressed for details about what, exactly, he wants now — who he wants to sign and work with — Mike defaults to platitudes. "You need your swag, you need the movement, and you need talent," is how he describes his ideal collaborators. The most specific criteria that he offers is that rappers should offer street testimonials, while rock bands should be able to write catchy melodies. "I like to listen to the Police, Sting, Queen, Pet Shop Boys," he says. "What's that other group that I've been listening to? Miley put it on me, but I forget. It's a crazy group. She put me on a lot of good music."
He checks his iPhone for the band's name, yawning for the third time in 15 minutes. He snaps his fingers and groans. "Damn, I just had it." He lowers his phone and picks up where he left off: "I want to make sure that I sign dope artists, old and new, just to make sure that we come up with something new and creative."
Mike brings up Future as an example. When they first met, the Dungeon Family descendent (his cousin is Organized Noize member Rico Wade) was barking trap-pop hooks, suppressing his voice's inherent warble and still feeling obligated to keep the rapper-as–Al Capone tradition alive. But for "Turn on the Lights," a breakout for rapper and producer alike, Mike convinced Future to slur his syllables to those 808s. "Is that her in the V.I.P. line / With the Vuitton and Yves Laurent," he raps, forcing the rhyme as he nearly squeals with delight, a burbling brook of synths flowing through and colliding with the hook's plummeting low-end. It's bludgeoning and blissful at the same damn time, and according to its producer, that's the standard for Future's next album, Honest, and an upcoming collaborative collection, La Familia.
As far as Miley? He has iconic aims for her, too. "She's the new Madonna, making these dope songs and being so young, so mean," he says. "I just feel like sometimes it's on me to bring that vision to where people look at an artist in a different way. Sometimes I feel like I represent for the misunderstood."
(In the case of Miley, he may understand her more than he's implied. Less than two weeks later, rumors that the two were dating began to spread. Mike's PR rep says they're "just friends" and that their relationship is "all about the music.")
That protective, supportive attitude is why Mike is quick to back Cyrus' campy and contentious "We Can't Stop" video and subsequent VMAs performance — twerking and smacking and bears, oh my. He accuses the ensuing, quasi-apocalyptic coverage as fear-mongering, placing blame on a generation gap. ("A lot of the time the people controlling the media and these blogs are older people, so it's fucked up.") Of the VMAs controversy, he echoes Cyrus' own comments that she wanted her performance to be as memorable as the kiss between Britney Spears and Madonna, not to posit her as the white Nicki Minaj, or put on a minstrel show next to her black backup dancers, or be malicious in any way.
Either way, the public's interest in Cyrus — and Mike's role in BANGERZ — rose to a new level, at a moment when the producer has very little free time. "'We Can't Stop' was climbing, so I didn't want nothing to get in the way, and then I started working with Future," he says. "We're working on so much different shit that it's like, 'Damn, I forgot I was supposed to be doing Fuck Verses. I'm doing that this week."
There's more: "The next two weeks, I'm doing songs for Miley's album, and then I'm going to do '23' as my new single. I'm like, 'Fuck, I'm just going to put the cover out.' '23' becomes high in demand. It's like, 'Oh, shit, this has to come out. I gotta get this mixed and mastered.' I gotta mix and master a song 18 times. I'm really picky about everything. All of a sudden — 'Oh, now we talking about a deal.'"
It's a crazy time, but for one evening, at three radio stations in Atlanta, Mike WiLL is focused on hyping "23." And every time it plays, he listens closely, both to the song and to the DJs' reactions, eager for a clue that the world got his invitation and is coming to the party.