Lou Reed's New York City: The Velvets' Stomping Grounds, Today
Even though Lou Reed and the Velvet Underground are intrinsically associated with New York, the city that spawned them, Reed's lyrics are surprisingly scant on geographic specifics — locations will be mentioned in passing but rarely dwelled upon, even in his 1989 musical tribute to the city, New York. However, NYC is rife with locations where Reed and the Velvets roamed, and to commemorate Reed's passing over the weekend, we took a ride past several landmarks from the band's history (plus one from his lyrics) to see just how far they've come — or gone — in the past 40-odd years ...
1.Lou Reed's New York City: The Velvets' Stomping Grounds, Today
1/6
2.125th and Lexington
2/6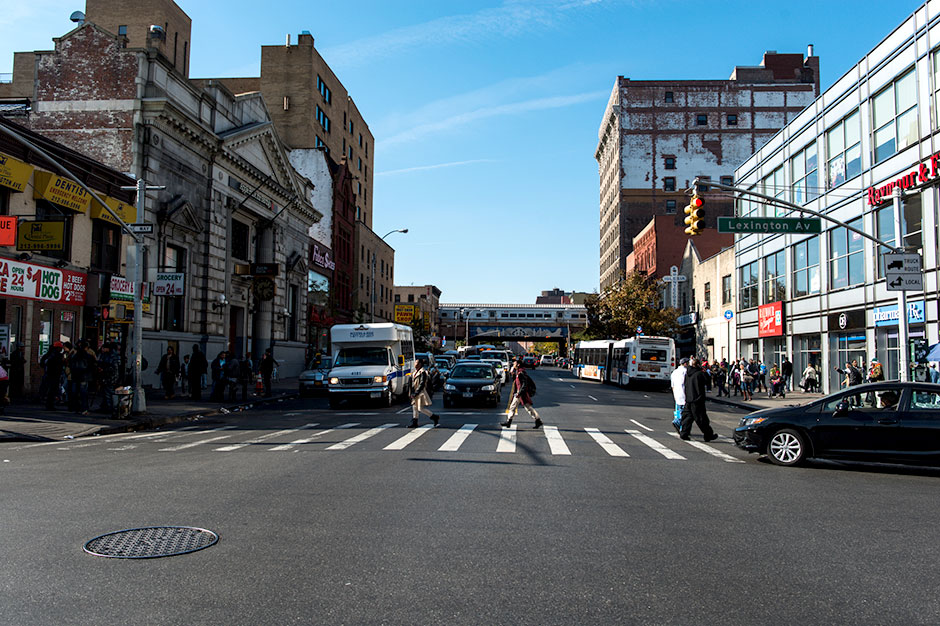 "Up to Lexington, 1-2-5 / So sick and dirty, more dead than alive." The sound and the lyrics of "Waiting for the Man," possibly the Velvets' most famous song, depict a neighborhood so seedy and dangerous you can practically smell it. (We couldn't find a Velvets-era photo of this intersection, but type "Harlem 1960s" into Google Images and you'll get the idea.) Today? Good luck finding heroin here — Bill Clinton's office is four blocks away ...
3.The Dom, 23 St. Marks Place
3/6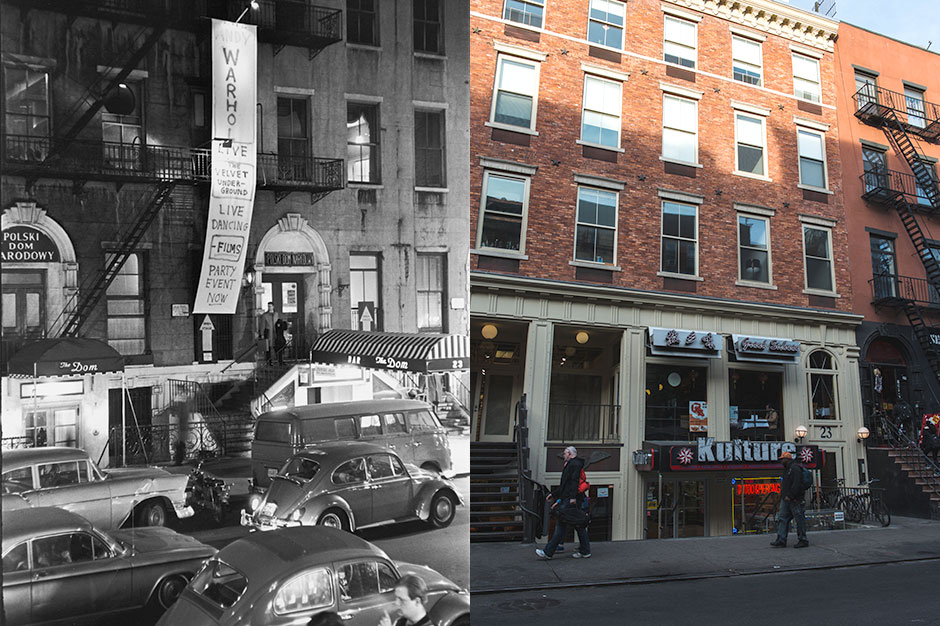 In 1966, the Velvets, abetted by patron Andy Warhol, announced themselves to the world with a series of gigs at the Dom on St. Mark's place between 2nd and 3rd Avenues (depicted in a scene in Oliver Stone's laughable Doors biopic). If those walls could talk about today, they'd probably say "Zzzzz....."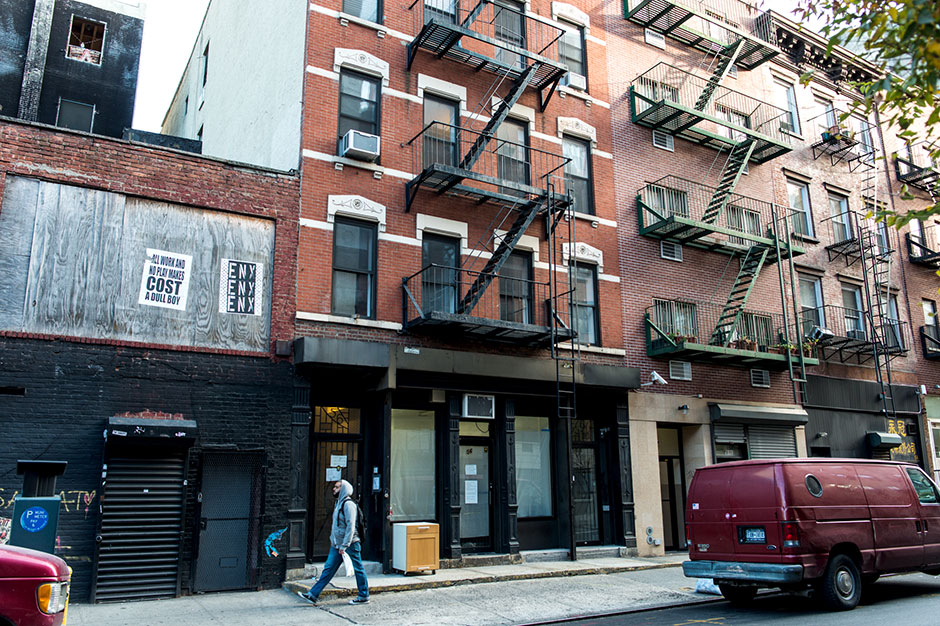 In their very early days, Lou Reed, John Cale, Sterling Morrison and original drummer Angus Maclise lived and rehearsed in an apartment in this building on the Lower East Side's now-trendy Ludlow Street, even recording one of their early demos here (featured on the box set Peel Slowly and See). Cale, who described the area in the mid-'60s as a "pretty bleak place," took a trip down memory lane earlier this year and revisited the building — for the pages of longtime Velvets supporters the Wall Street Journal, obviously enough.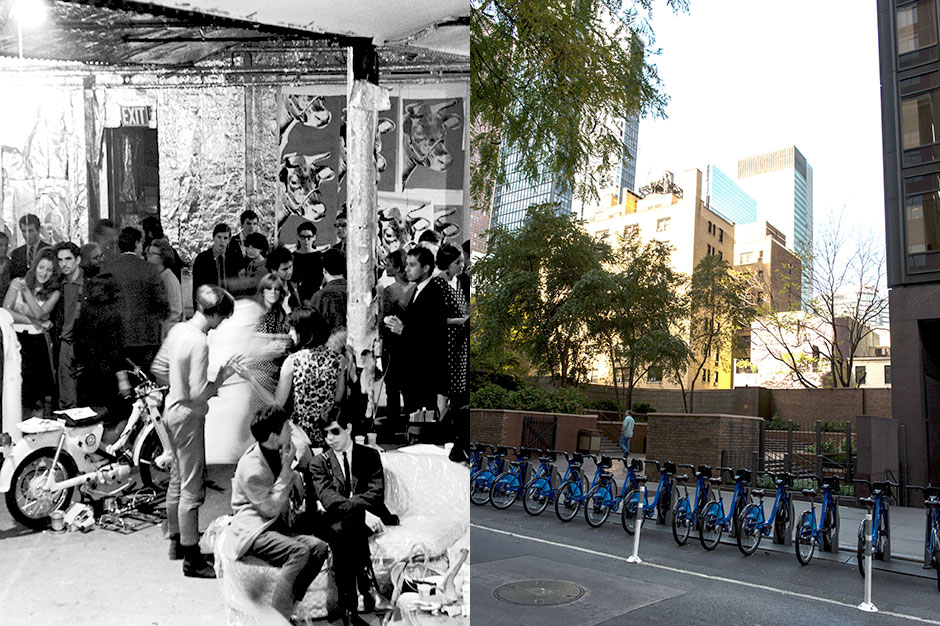 Andy Warhol's legendary Factory was actually located in three separate locations, with the first — 213 East 47th Street between 2nd and 3rd Avenues, famed for its silver walls — being the one in which the Velvets rehearsed and incubated. Warhol's troupe moved into the building, a former hat factory, late in 1963 and vacated it five years later, when it was scheduled to be torn down to make way for an apartment building. Clearly, that building met a similar fate...
6.213 Park Avenue South
6/6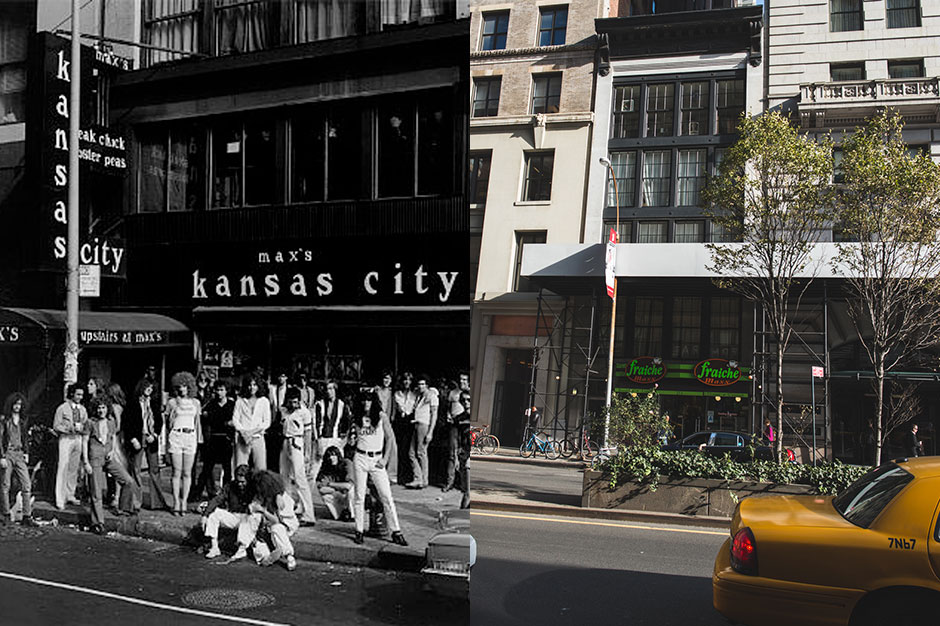 Max's Kansas City, on Park Avenue just north of Union Square, was a prime watering hole for NYC's rock fabulistas in the late '60s and early '70s — Blondie's Deborah Harry was a waitress there long before she became the Madonna of her era. The Velvets played a residency at the club in the summer of 1970 that turned out to be the group's last shows with Reed before they briefly reunited in the 1990s. Fortuitously, Warhol acolyte Brigid Polk took a tip from her mentor and recorded the final show on a cassette player; it was released in 1972 as Live at Max's Kansas City and as an expanded 2-CD set decades later. While not a definitive in-concert Velvets recording like those featured on Live 1969 or several bootlegs — drummer Maureen Tucker was pregnant; bassist Doug Yule's teenaged brother Billy played drums — the album is a fascinating document... not least for Reed's melancholy comments, and because poet/novelist Jim Carroll, who revisited Max's in his 1987 book The Downtown Diaries, can be heard ordering drinks and asking if anyone has any tuinols. Next door at the W Hotel, some 36 years later, Reed was honored by his alma mater Syracuse University at a ceremony attended by Bono, David Bowie, Laurie Anderson, poet Mary Karr and novelist Oscar Hijuelos. He made no mention of Max's.