At its Brooklyn debut in September, the Station to Station tour felt to its passengers more an idea than a reality. Made possible by Levi's, the train-as-public-art-project packed acts such as Suicide, Ariel Pink's Haunted Graffiti, No Age, the Kansas City Cobras marching band, and the Boredoms' Yoshii alongside installations that ranged from trucker jackets to quilts. Its purpose was to chug across the country, stopping along the way to perform for people in each city. But how was it all going to work? Back then, the train literally hadn't left the station.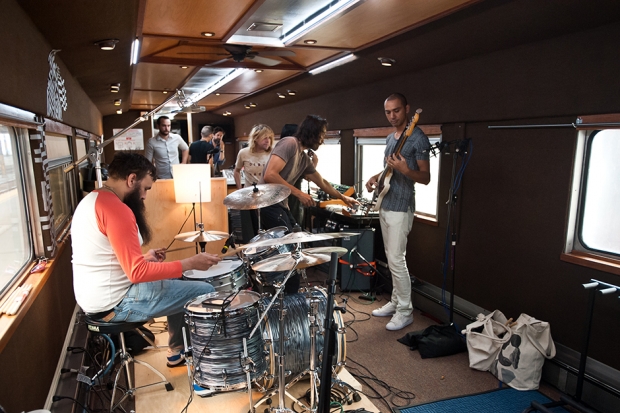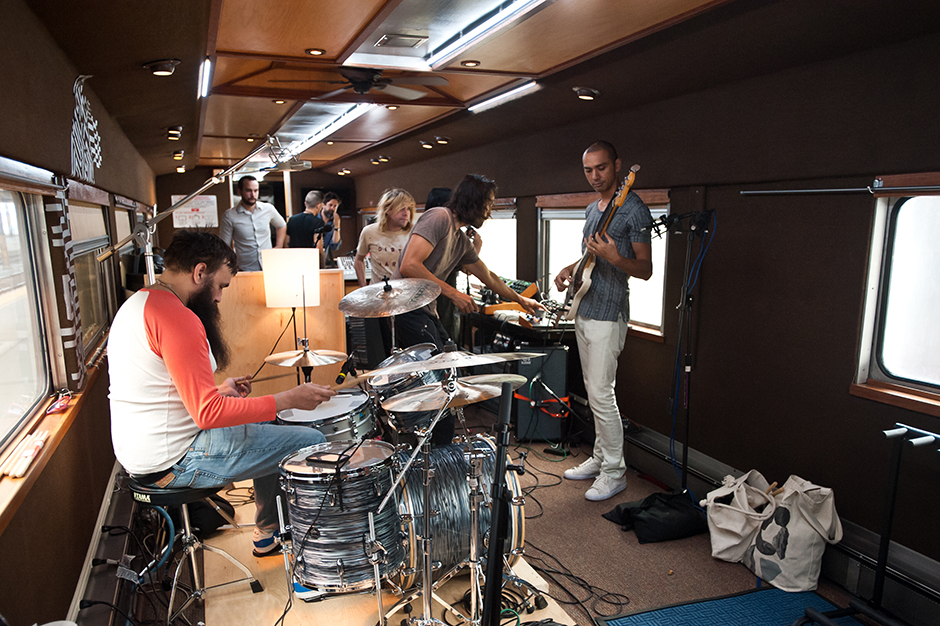 Three weeks later, that was no longer a question. A triumphant feeling of "we did it" pervaded as passengers boarded in Los Angeles, headed to the three-week-long tour's final bow in Oakland.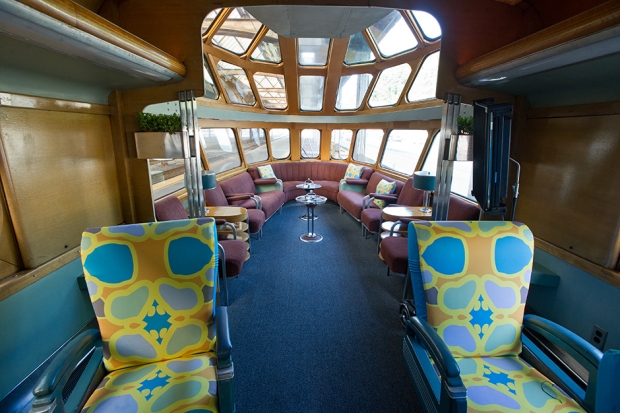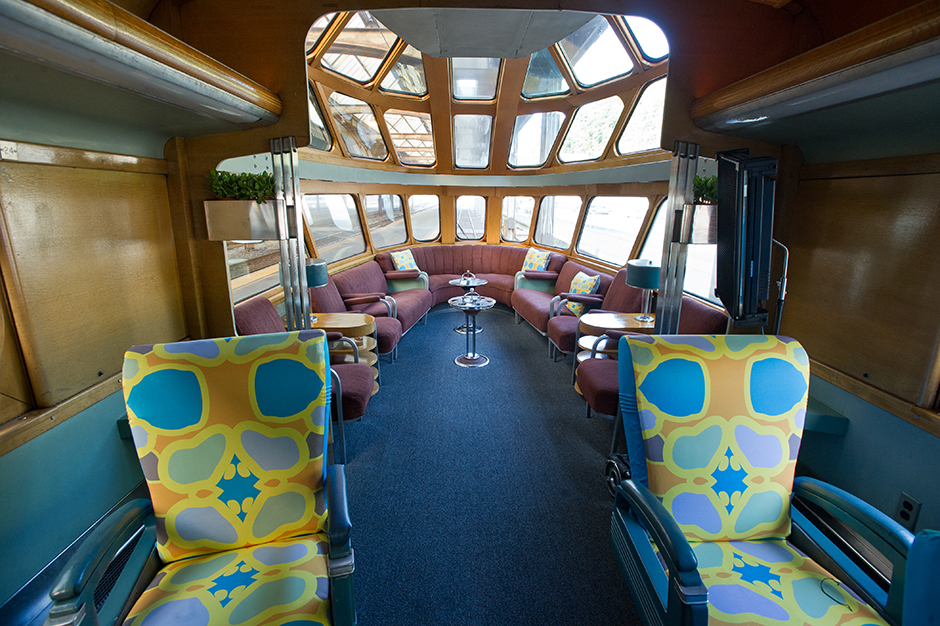 The train was a patchwork of vintage train cars connected by a funhouse of LED lights, a nomadic installation created by the project's founder and driving force, Doug Aitken. Each car contained a new surprise: an artist painting paper-mache balloons behind the half-cracked curtain of a sleeper car's bunk; Sun Araw and the Congos recording an original song; a journalist tweeting from Levi's' Twitter-hacked vintage typewriter. In one corner sat Olafur Eliasson's kinetic sculpture "Connecting Cross Country With a Line" as two artists huddled nearby, hatching their next collaboration. One of the train's biggest crowd-pleasers was The Cedar Rapids, a classic art deco lounge car that boasted a 90-foot domed glass ceiling with 360-degree views — said to be a favorite hangout of Frank Sinatra when he would ride the rails.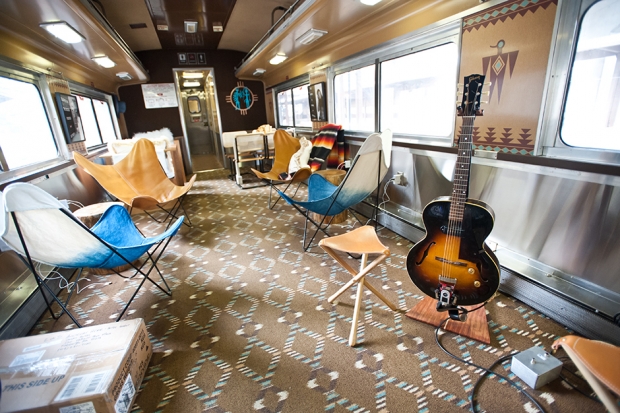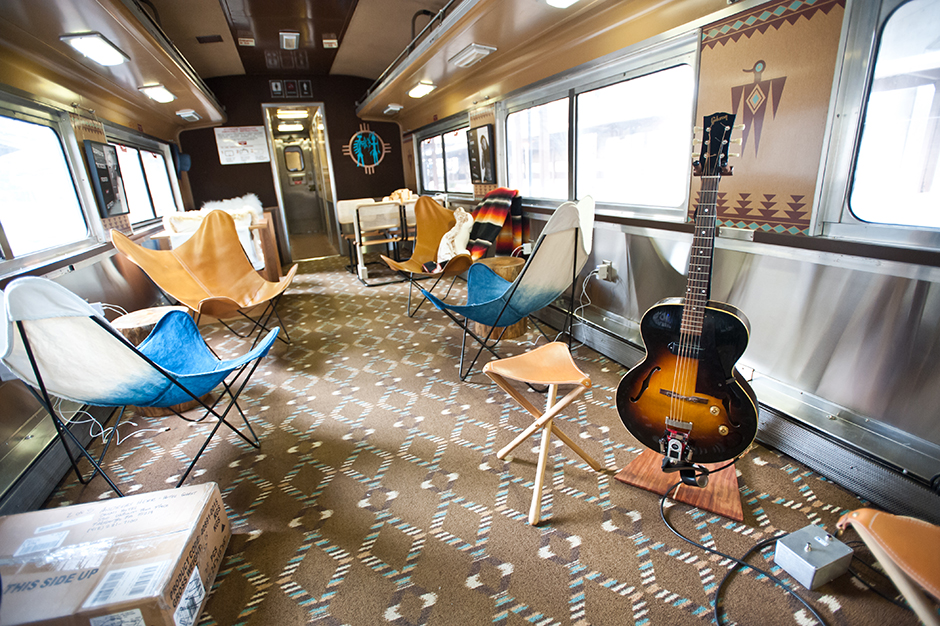 The spirit of creation is integral to the project. The Levi's car, one of the train's more rowdy hangouts, was impeccably appointed with Pendleton-esque woven pillows and blankets, stained glass feathers, and (of course) denim. Hidden among this were four unassuming objects: a typewriter, a still camera, a motion camera, and a guitar. Pretty simple? Nope: The 1901 Underwood No. 5 typewriter posts to Twitter, the 1939 Graflex camera posts to Instagram, as does the 1953 Bolex B8 video camera, and the 1953 Gibson E-125 acoustic guitar posts to Soundcloud. The technology behind the hacks is impressive: users connect using RFID bracelets linked to their individual account handles. And designers Matthew Eppler and Mark Kleback hacked ways to make the user experience more modern-world-friendly: the Bolex counts down the number of seconds you have left in your Instagram video, and three tube bulbs atop the Underwood tell you how many characters you have left in your tweet.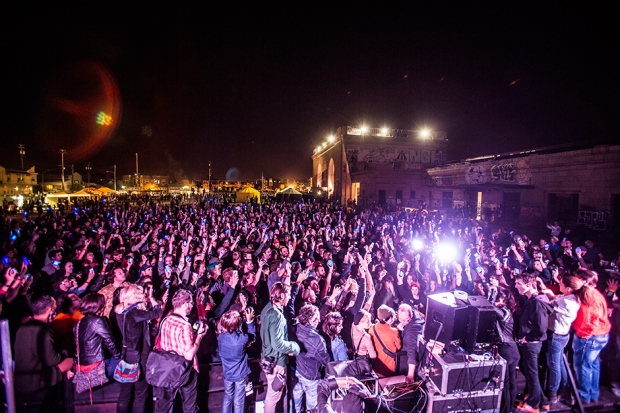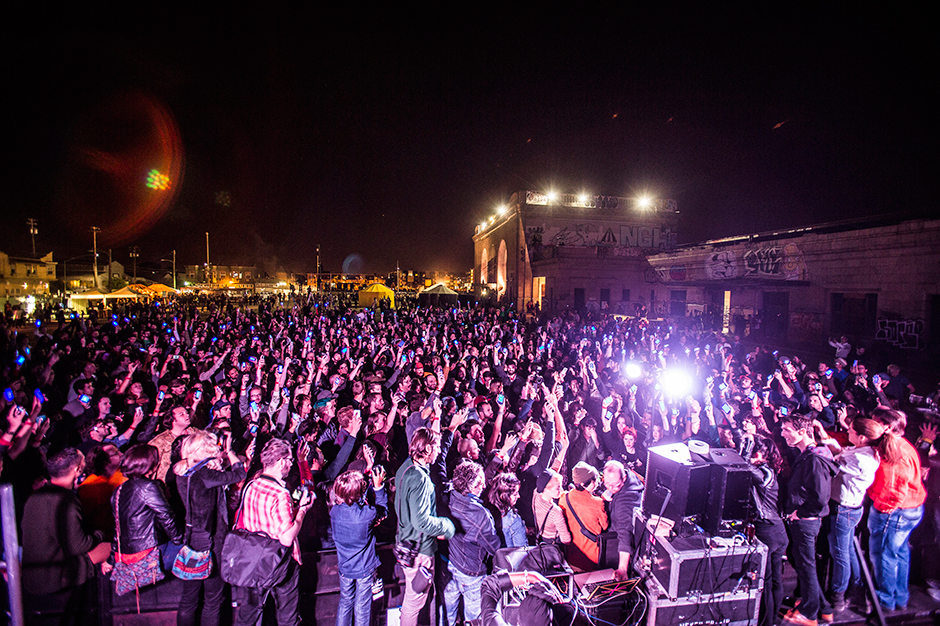 When the train pulled into Jack London Station in Oakland on Friday night, the lights of Aitken's train lit up the sky in pinks and purples, and the feeling was just as magical as when the tour took over the abandoned 16th Street train station the next night. Looking out from the accompanying Levi's Airstream trailer, we saw producer Yung Skeeter creating interactive playlists with visitors, artisan weavers crafting pieces of art that would soon adorn trucker jackets, a young choreographer performing a new dance piece in the center of a crowd of people, and a stage where No Age and Savages were about to perform. It was hard not to be dazzled by how much was happening on a dusty field and abandoned station that had been nearly empty the day before.
Even though the train's journey has ended, you can still collaborate with artists from the train on the four global art projects.
Explore Further: levi.com/makeourmark, and join in by adding #MakeOurMark to your own creations.