Kanye West will appear on Jimmy Kimmel Live on Wednesday, October 9, according to ABC. No further details were offered, so it's unclear whether or not the Yeezus MC will perform. That said, while the announcement is out-of-the-blue, there is certainly some precedent that must be addressed.
On Thursday, September 26, Kimmel aired a seemingly innocuous sketch spoofing West's very intense in-depth interview with BBC Radio 1's Zane Lowe. The segment then prompted a furious Twitter tirade (since redacted) from Ye, followed by what appears to have been the angriest phone-call of all time (from West to Kimmel), and a second run at the host via Twitter, this time using someone else's words. But make no mistake: the rapper's words were plenty powerful all on their own.
As quotes by Kimmel, the aforementioned personal call included the words, "Your life is going to be much better if you apologize," and "I am the most powerful voice in media. I am Pac … You will never be able to show your face at a 14-year-old's high school football game and be cool again." For the record, the television personality's children were born in 1991 and 1993, so we're not sure why he'd be attempting to curry favor with tweens anyhow. But hey, maybe kids are staying up later these days.
There's been talk from the beginning about the possibility that this entire thing was faked for attention — much like the ingenious and planet-punking "Worst Twerk Fail Ever" video — and this latest development certainly adds fuel to that fire. But this sort of PR stunt would be out-of-character for Kanye. And besides, here's Jimmy: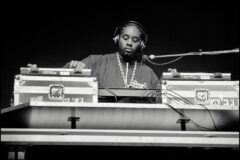 TOMORROW NIGHT, MY GUEST WILL BE @kanyewest (for real, yes and was it all a setup, no)

— Jimmy Kimmel (@jimmykimmel) October 8, 2013