During his 35 years as chief music critic at the Los Angeles Times, Robert Hilburn stood just off to the side for some of music's most electrifying moments. He tagged along with the Sex Pistols when the English punk miscreants first toured America, followed Paul Simon's Graceland tour to Zimbabwe, and was in the big house when Johnny Cash played his famous concert at Folsom Prison. That last experience lingered: Hilburn's new biography, Johnny Cash: The Life, out October 29, is a meticulously researched and narratively propulsive recounting of the Man in Black's epic story.
We spoke with Hilburn on the phone from his home in L.A., where he told us about the decision to tackle the life of an American music giant, how he did it, and the biggest misses and key comebacks of Cash's career.
There's no shortage of books about Johnny Cash, including two memoirs. What made you think there was anything left to be said?
Before I ever did the book proposal, I spent six months interviewing people. And in that period, almost every interview I did I found something that was important about his life that hadn't been told before. But even more than that, the one thing I think is missing in a lot of music biographies is that they don't spend a lot of time talking about the artistry of the person. I'm convinced Johnny Cash is going to be one of the people that will be remembered 50 years from now. I wanted to sit down and write a book like I was writing about a President or a statesman, someone who was important in society and culture.
Why was Cash important?
To my mind it's the artistry. So the question then is where does the artistry come from? At the L.A. Times I always wanted to write about artists I thought were meaningful. So I interviewed Bob Dylan, John Lennon, Bruce Springsteen, U2, Stevie Wonder, Michael Jackson, Eminem, White Stripes. And I could understand how almost everybody I interviewed had a sense of artistry. But I couldn't understand why Johnny Cash was an artist. He comes from a cotton patch in Arkansas. He goes into a field, country music, where no one else had any more impression than a hit on the jukebox. So how does this guy come in and want to write songs that have inspiration? Why did he want to inspire people to feel good about themselves, to overcome their problems? Why was there more than just a hit on the jukebox in his mind? Trying to answer those questions is what really intrigued me.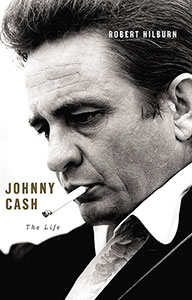 Given that there is so much information already out there about Johnny Cash, and that you presumably knew his music really well, what did you find out about him in the course of working on the book that was most surprising?
I mainly cover rock but I kept in touch with Cash over the years. I interviewed him maybe every three or four years. The final time was about six months before his death; the weekend, it turns out, before he did the "Hurt" video at the Carter family cabin in Virginia. We talked long into the night about regrets in his life and things like that. So I really thought I knew Johnny Cash. I thought I didn't need to spend a lot of time researching his life. But I wasn't within 50 miles of knowing Johnny Cash. I knew he was a good guy and a dedicated artist, but I didn't know the demons, the struggles he had in his personal life. That was the most revealing: the illness, the drug addiction and the guilt over leaving his wife and children — which haunted him his whole life. So the idea of a guy who was trying to inspire others, saying "You can achieve in your life," stumbling time after time after time in his own personal life — that was the discovery part of the book. The aim of the book was to find the artistry. The discovery was the struggle in his life and how that struggle affected his artistry.
The book is more than 700 pages long. How hard was it to decide what to leave in and what to cut?
When I first signed a contract with Little, Brown they were talking about 300 pages, which is about 125,000 words. I said, "It's going to have to be longer than that." There were two things I didn't want to do: I didn't want to under-tell the story, but I didn't want to over-tell the story either, putting things in that weren't necessary. So I kept a pretty good pace of what I wanted to say within 230, 240,000 words. But I was fascinated with the discoveries that I found. As you go through the life, he's having the artistry in the same day he's having the struggle. So you write about how the struggle affects the artistry. It was very natural to me. I was interested in him as a person as much as an artist, but I wanted to make sure the artistry was there. It had to have both.
What is overlooked about Cash's artistry?
I went through different feelings. I realized that he was a better artist than I thought he was. I'll give you an example: I started listening to Johnny Cash when I was in high school. I remember hearing "Folsom Prison Blues" come on the radio. When I was in high school in the '50s, all pop music — Elvis, Chuck Berry, Little Richard — was aimed at teenagers. I loved that stuff. Then I heard Johnny Cash singing "Folsom Prison Blues" and this is not a teenage voice. He was 22 at the time, he had an adult authoritative voice. To sing "I shot a man in Reno just to watch him die" — I didn't even know you could say that on the radio. He struck me as something different. Once he got to Columbia Records [in 1960] he started doing concept albums, Ride This Train, which is about struggle and the Old West and workingmen. He was going against his career's best interest, going against what the record company wanted. And, indeed, they were going to drop him in 1963. They gave him one more recording session to make a hit record, and he goes in and makes "Ring of Fire." At most points in his career, he was going for artistry rather than hit records. He wanted hit records, of course, but he was best when he was writing about things from his heart.
You write in the book about how, during a low point in his career, Cash had an opportunity to record the "The Gambler" but passed on the song, which then of course Kenny Rogers had a huge hit with. Tell me about that decision.
I think that decision was partially due to drugs. He was kind of surly then, in the late '70s. The song might have struck him as corny. I don't know exactly why he didn't like the song, but it's true, he didn't like the song. It was a drug period. He passed over a lot of songs. There were times when things slipped through. He wasn't perfect at picking songs. Sometimes drugs were there, and sometimes he just didn't like the song.
Cash had a long, long period of making mediocre records. Is addiction the reason for that?
There are a couple reasons. He struggled all his life and then finally became a superstar after Folsom Prison and San Quentin, and then things happened. He has a son born, he was constantly on the road, constantly battling drugs. He goes on Billy Graham crusades, he wants to turn to gospel music again, he wants to reset the priorities — gradually he didn't pay as much attention to records. That's why I think the decline came.
And it didn't stop until Rick Rubin produced American Recordings in 1994?
Well, through the '80s nobody cared about Johnny Cash. Then the two great things that happened were that U2 brought him into the studio in Dublin and recorded a song called "The Wanderer," which got great reviews on [1993's] Zooropa album. That boosted his spirits. Two months after that, Rick Rubin comes in at the Rhythm Cafe in Santa Ana to see Cash, and says I'd like to make a record with you. What they did together is so inspiring. He took Johnny Cash and rebuilt his confidence. I just love his last album, [2002's] The Man Comes Around. They both felt it would be the last record. Rick wanted to find a song that could be the crowning achievement, and Johnny wanted to write a song that would be the crowning achievement. Johnny in his mind thinks back to "The Wanderer" — a modern gospel song for a new generation — and he writes "The Man Comes Around." Meanwhile, Rick Rubin finds "Hurt."