Dan Bejar has another Destroyer EP on the way, but this one may be more direct than his last couple of extended players. Especially if you speak Spanish. "El Rito," the first taste of Destroyer's truthfully titled Five Spanish Songs, is crunchy classic rock that recalls T. Rex, Thin Lizzy, or even Kurt Vile at his most upbeat.
Like all of the songs on the EP, due out via Merge on November 26, "El Rito" is written by Antonio Luque of the Spanish band Sr. Chinarro. But the song's glammy stomp is a departure from the ambient disco of 2009's Bay of Pigs EP or the grayscale soundscapes of 2010's Tim Hecker-assisted Archer on the Beach EP. The style is also a change from the lithe soft-rock influence on Destroyer's most recent full-length, 2011's Kaputt.
Bejaf explained his decision to record a Spanish-language covers album in a somewhat cryptic statement. "It felt over for English; good for business transactions, but that's about it," he wrote. "The only other language I know is Spanish, and the only Spanish songs I really know are those of Sr. Chinarro, led by Antonio Luque. I've been a decades-long fan of how he conducted his affairs, his strange words, his melodies that have always felt so natural (this is important), his bitter songs about painting the light. Something about them, I knew I could do it…" Bejar is also planning a solo acoustic tour; scroll down for the dates.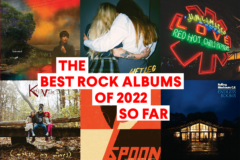 Destroyer tour dates:
November 3 – Portland, OR @ Mississippi Studios #
November 4 – San Francisco, CA @ The Independent #
November 5-6 – Los Angeles, CA @ The Masonic Lodge at Hollywood Forever #
November 7 – Chicago, IL @ Old Town School of Folk Music %
November 8 – Winnipeg, Manitoba @ Park Theatre
November 9 – Toronto, Ontario @ The Great Hall #
November 10 – New York, NY @ Bowery Ballroom #
November 11 – Washington, DC @ Sixth & I Historic Synagogue #
November 12 – Philadelphia, PA @ Johnny Brenda's #
November 13 – Allston, MA @ Brighton Music Hall #
November 14 – Montreal, Quebec @ II Motore #
November 20 – Denver, CO @ Larimer Lounge
November 21 – Columbus, OH @ Wexner Center
December 1 – Utrecht, Netherlands @ Le Guess Who?
December 2 – London, England @ Bush Hall
December 3 – Copenhagen, Denmark @ Jazzhouse
December 4 – Warsaw, Poland @ Swker
December 5 – Berlin, Germany @ Hau 1
December 6 – Lisbon, Portugal @ Musicbox
December 7 – Guimaraes, Portugal @ Centro Cultural Vila Flor
December 9 – Barcelona, Spain @ Sala Apolo
December 10 – San Sebastián, Spain @ Gazteszena
# = with Pink Mountains
% = with Azita