Darius McCall was in eighth grade the first time he rapped in front of an audience. It did not go well.
He performed "Fuck Wit Dre Day" for a talent contest at the public library in the Birmingham, Alabama, neighborhood where he grew up; but there were several factors conspiring against him. He didn't have the backing track, so he got a copy of the video and simply rapped over it. But the video version included a skit about Eazy-E smack in the middle. Stumped for what to do during the skit, McCall simply stood on stage and waited it out.
"I didn't present myself well," says McCall, sitting at a Subway sandwich shop in Falls Church, Virginia, a few blocks from where he is currently recording. "It was so embarrassing."
McCall is also deaf. With his hearing aid, he can hear some, but performing that cover of "Dre Day" back in eighth grade, his speech was slurry in a way that's common among the hearing-impaired. "Back then, I just thought I sucked and couldn't do it," says McCall, who raps under the name Prinz-D. "But now I realize I was being too hard on myself."
At 34, McCall looks a bit like a thinner, younger LL Cool J. Today, he's got on a long-sleeve black T-shirt, black pants, and shiny red high-tops adorned with short spikes that make each foot look like a blinged-out ankylosaurus. There's a hearing aid in his left ear and he's wearing two rubber wristbands inscribed with the words, "Prinz-D: The First Deaf Rapper," which also happens to be the name of the mixtape series he's recording tracks for tonight.
Like a lot of hip-hop boasts, McCall's claim to be the first deaf rapper probably isn't entirely true, but when he was starting out, there were certainly no visible role models that he could look to for inspiration. Today, the world of deaf hip-hop is still small, but it's growing. YouTube is filled with clips of aspiring deaf rappers rhyming and/or signing raps. Deaf artists like Detroit's Sean Forbes and Finland's Signmark have built considerable followings — mostly among the deaf community. But to the majority of the hearing world, these artists register only as heartwarming stories of determination, not music you want to bump in your jeep with the top down.
Prinz-D wants to change that. "In sports, there are deaf athletes and there's a little story behind them, but nobody really cares if you're not performing," he says. "All I really care about is that when people hear me, they're like, 'That's nice! He's deaf? So fucking what.'"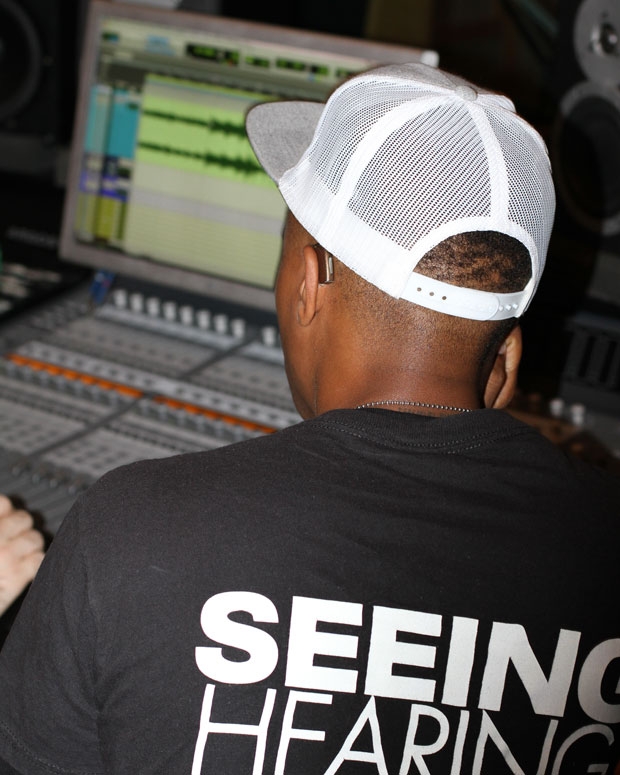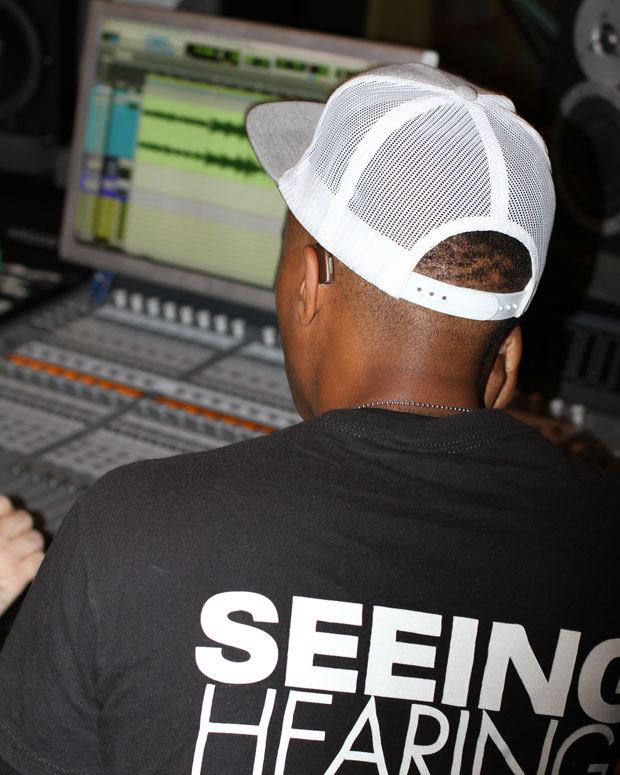 The deaf community is not a monolith and deafness itself is not a singular, static condition. It's generally categorized on a progressive scale — mild, moderate, moderately severe, severe, profound, and total — but even within these classifications, there are a range of realities. Some people can't hear high and low frequencies, others can't distinguish speech from background noise, and the experience of those who were born deaf and those who became deaf later in life are obviously quite different. As this relates to music, many deaf people have trouble hearing melodies and understanding vocals, but less trouble with the rhythmic low end. What they can't hear, however, they can often feel, which helps to explain the rising popularity of hip-hop in the deaf community.
"Hip-hop has a really large following among the deaf," says Holly Maniatty, who gained a measure of viral fame from a YouTube video of her signing along to a Wu-Tang Clan show at this summer's Bonnaroo festival. "It's very accessible to someone with hearing loss because there's a lot of bass, there are a lot of beats, and a lot of crowd interaction."
D.C.'s Warren "Wawa" Snipe, a dancer, actor, and rapper who is currently working on his second album, estimates that there are hundreds of thousands of deaf and hearing-impaired hip-hop fans. "People assume that the deaf community doesn't like music because we cannot 'hear' it," Snipe says via email. "So many of these assumptions are just crazy. I had a meeting with one of the top managers in D.C. and auditioned to see if he would represent me. Dude had the gall to tell me that the voice on the CD wasn't mine. I told him it was and his response was, 'Impossible. Deaf people don't do music.' We need to squash this kind of view of us."
Fellow D.C. resident Leyland Lyken, a DJ who performs under the name DJ Supalee, lost his hearing after almost drowning in a pool at the age of nine, near his then-home in Brooklyn. He began DJ'ing as a teenager, schooled by his father, an ex-DJ who was concerned that his son was drifting into the street life.
When Lyken started out, he DJ'd at parties around Brooklyn, occasionally backing soon-to-be-famous rappers like Jay-Z and the Wu-Tang Clan ("They liked me because I was cheap," he says.). By the early 2000s, he'd become a central figure in the deaf urban entertainment world, hosting an annual "Supafest," featuring deaf performers, as well as other deaf nightlife events nationwide. He's able to DJ and blend records with hearing aids and headphones; usually the audience never knows he's deaf and is surprised to find out.
"They're shocked," Lyken says. "Hearing people look at deaf people as inferior, not capable of rapping, DJ'ing, doing these things on the level that they could."
These attitudes make the idea of crossing over from the deaf community to the hearing world a particularly charged goal. As Snipe puts it, "The crossover is important because it proves our self-worth. We get to educate the hearing world about deaf culture and build a bridge that will close the wide gap between both cultures."
But there are differing ideas within the deaf community about how to bridge that gap. When Snipe first began rapping, the response was not what he'd hoped for among his hearing-impaired peers, many of whom viewed their deafness not as a disability but as a badge of identity.
"I was heckled big time," he says. "I was labeled 'hearing-minded' or 'trying to be hearing.' It was a huge slap in the face."
Signmark, a lanky Finnish artist who has a record contract with Warner Bros. Finland, signs his raps while a hearing collaborator actually vocalizes them. Sean Forbes, who raps and signs simultaneously, also tours with video monitors that provide phonetic captioning and special vibrating dancefloors — or "buttkickers," as he calls them — that act as subwoofers so deaf fans can truly feel the music. Forbes says these elements have helped attract both the deaf and the hearing to his shows.
"There aren't too many things hearing and deaf people can enjoy together," he says in an email. "I am one of those things."
Forbes grew up in suburban Detroit and has been profoundly deaf ever since he fell ill as an infant. Both his parents are musicians, and he took up the drums despite his hearing loss. He started getting into rap after seeing Dr. Dre and Snoop Doggy Dogg's "Nuthin' But a 'G' Thang" on MTV, when he was ten years old.
"I could feel the kick drum, the snare, and the bass," he says. "As for the lyrics, I grew up with my brothers lip-syncing songs to me, and from that I was able to understand the timing and the rhythm of when a person is going to sing or rap."
Forbes may be the most successful deaf rapper in the world. He's sold 2,500 copies of his first EP and roughly 4,500 copies of his debut album, Perfect Imperfection, which came out last fall but was re-released nationally in September. The video for his first single, "I'm Deaf," has been viewed more than 500,000 times on YouTube, and the follow-up video, "Let's Mambo," which features iconic deaf actress Marlee Matlin, has chalked up more than 250,000 views.
Forbes is on tour now, playing to crowds of about 300 a night, with a band which includes a deaf guitarist. His live show needs to be extremely tight because making any changes on the fly can cause problems. A month ago, he was four songs deep into a set, in a room of 1,000 people, when his hearing aid died.
"I couldn't hear a damn thing," he says. "But I wrote these songs, performed them many times. I know this shit inside out. So without the hearing aid, I relied on the kick drum, which I could feel onstage, and I just kept going."
During the writing process, Forbes works closely alongside his producer, Jake Bass, who is hearing.
"We can't necessarily use a talkback that most people would use in a studio," says Bass, whose father, the Grammy-winning producer Jeff Bass, was instrumental in building Eminem's career from the ground up. "I have to make sure he can see me in front of the vocal booth so he can read my lips. When he's cutting vocals, my job as his producer is to make sure he can be as articulate as possible. I have to visually show him where I need the inflections to go."
Listening to tracks like "Watch These Hands" and "Def Deaf Girls," Forbes' vocals are easy to understand, but there's no denying that he raps with what Bass calls "a deaf accent." Because he can't hear his own voice, Forbes learned to speak, like most deaf people do, by learning the mechanics of speaking — where to put his tongue, how to position his mouth, etc. The result is a rather specific pattern of speech — and in this case a flow — that often sounds a bit slurred. But, as his producer puts it, "That's what makes him who he is."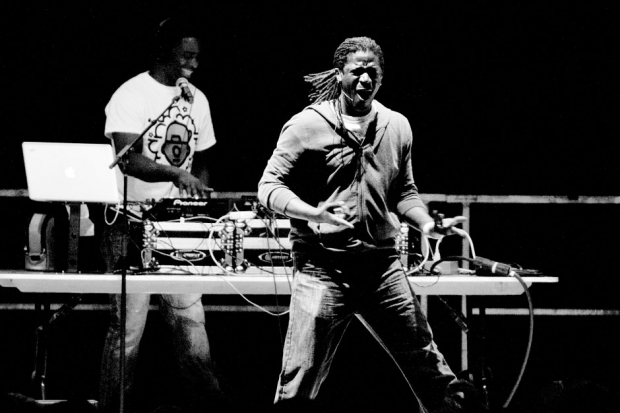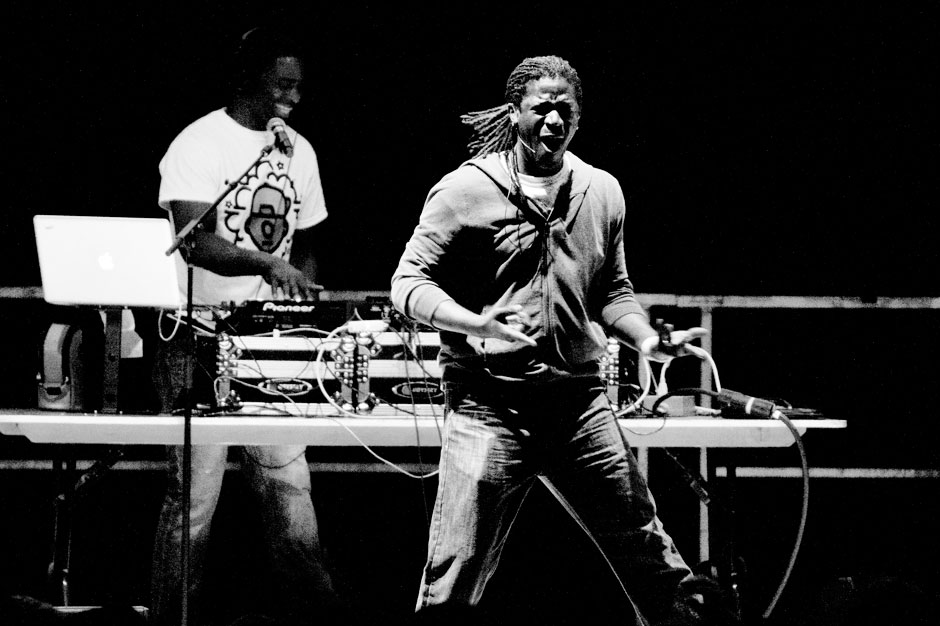 I first meet McCall and his friend/collaborator/roommate Keith "Sho'Roc" Brown outside the field house on the campus of Gallaudet University in Washington, D.C. Gallaudet is the country's first deaf university and the only college in the U.S. that caters all its programs specifically toward the deaf. Brown suggests we can talk in the library, which initially seems like a strange place for an interview until I realize that you don't really need to be quiet in a deaf library.
McCall was born deaf. His mother was a prostitute, and he never knew his father. When he was a baby, his mom left him at a friend's house when she went out to turn tricks. When she didn't return, his grandmother picked him up and brought him home to live with her. This was supposed to be a temporary arrangement, but it quickly became permanent. Throughout his youth, his mother was "all over the place," he says, and even now, he's not exactly sure where she is.
As a child, McCall had trouble connecting with other kids. There was no real deaf community where he grew up, and his hearing problem marked him as different. Like most kids in Alabama, he loved sports, especially football, but felt constantly excluded from playing.
"I always felt like hearing people were like, 'He can't do it. He can't hear. He might break that thing in his ear.'"
In ninth grade, he transferred from his public school in Birmingham to the Alabama School for the Deaf in Talladega. There, he finally learned American Sign Language, and began to indulge his twin passions – football and hip-hop. A knee injury ended his football aspirations, but during these years, he began writing his own rhymes and occasionally performing them, albeit to mixed reviews.
"One time, I got booed by my own classmates and everyone in that school [for the deaf]," he says. It wasn't that they thought his freestyle was bad — after all, many couldn't even hear it: They were angry that he wasn't signing along with his raps. He retreated to a school bathroom and punched a wall. "After I left the bathroom, I thought, 'Fuck it. I'm still not going to sign.'" This refusal to sign his raps went on for years though he's since relented somewhat. "I think I had some kind of phobia related to hearing people looking at me as a deaf person. The moment I do extra stuff, I'm thinking it's going to make me look retarded. So there was an insecurity."
McCall first met Brown when the two were students at Gallaudet. Brown, 32, is short, skinny, and sharply dressed in a red sweater vest, a white button-down shirt, black Washington Nationals hat and black-framed glasses. He grew up in Wilmington, Delaware, and was four years old before his parents discovered that he'd been born with significant hearing loss. He is considered moderately deaf, and doctors told his parents he'd never speak normally, though today, he does and on the day I met him, he wasn't wearing a hearing aid. His older brother helped him write his first rap when Brown was in high school, but he didn't start taking it seriously until he was at Gallaudet. One day, at the end of a studio session McCall had booked, Brown was coaxed into the booth to lay down a freestyle. On the way back from the studio, Brown popped the freshly recorded CD into the car's stereo.
"That's when I started hearing myself for the first time," he says. "I said, 'Oh, I've got a voice.' It was clear. A hearing person could understand it. And I was on the kick drum — right on the beat."
Together, Brown and McCall began performing as the Helix Boyz, building up a sizeable following, especially in D.C.'s large deaf community. Brown eventually moved to Hawaii for several years, effectively ending the group's run, but in 2005, McCall recorded his first solo mixtape, Southern Comfort. Those early recordings are a source of embarrassment for him now: Even though he is profoundly deaf in his right ear, severely deaf in his left and can't hear much without his hearing aid, he used to record without it. When asked why, he shakes his head.
"I felt like I wanted to be hearing a little bit," he says. "Like, 'This is what hearing people do.'"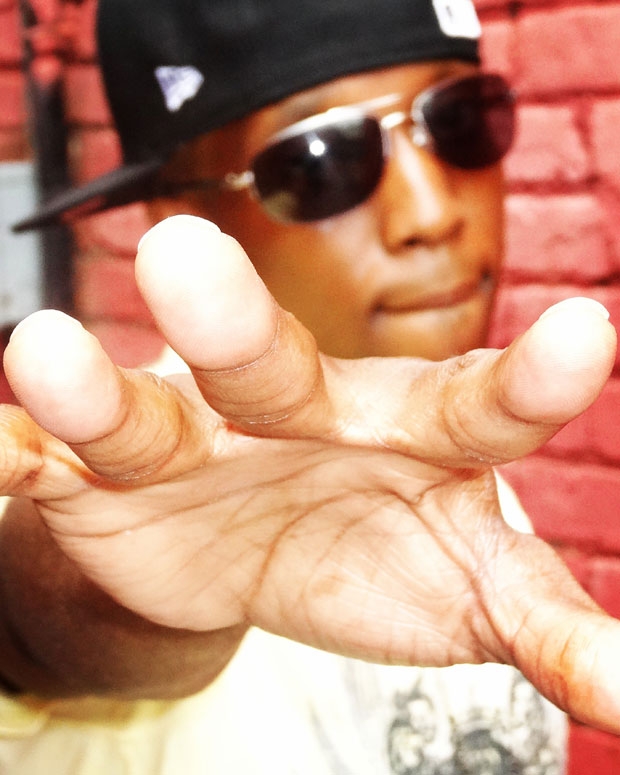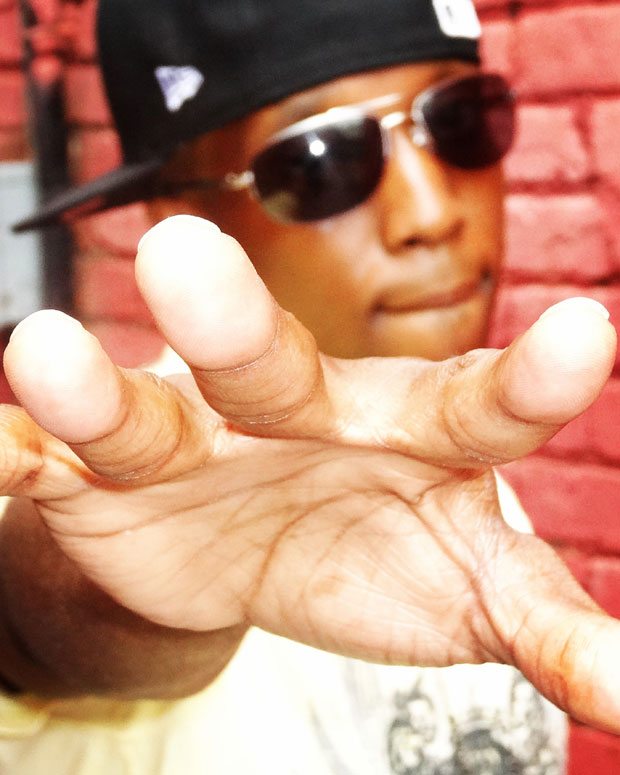 By McCall not wearing the hearing aid, the recording process became that much harder. He knew something was wrong with the results, but struggled to figure out exactly what it was. "I'm hearing what I'm hearing on the radio and I'm like, 'Why am I not rapping like them?'" he says. "I couldn't get it. Other hearing people who were brave enough actually gave me their real opinion. It was because of the enunciation behind it."
McCall began working intently on rapping crisply and clearly, trying to remove any traces of his own 'deaf accent.' By the time of 2011's Prinz-D: The First Deaf Rapper Vol. 1, he'd mostly succeeded. But the album, which leans on grimy Southern-rap conventions, is pretty rough around the edges. McCall seems to be groping for an identity: On "My Grandma," he sounds maudlin and self-pitying ("I'm so sorry I never bought her a present / Like when my mom forgot me when I was 11"), but on "I Put the House on Dat" and "I'm Prinz-D," he sounds bitter and spiteful, as he takes shots at other deaf rappers, including both Signmark ("You got hearing people spittin' your lines for your ass / Warner Bros. ain't gonna pay, you gonna owe them some cash") and Forbes ("Sean Forbes a dick 'cause he's sounding deaf mute / Got a clarinet voice, punch lines too cute").
McCall says he likes both Signmark and Forbes, and admits that the negativity he's flung toward them is largely out of jealousy. Signmark once opened for the Helix Boyz and McCall met Forbes before the latter even took up rapping. Since then, both have leapfrogged him, at least in terms of popularity within the deaf community. But the disses reveal a deeper split about what it might take for a deaf rapper to gain a following in the hearing world. McCall believes that a certain amount of assimilation is necessary: You've got to sound like the rappers on the radio if you want to join them.
By 2011, Brown had returned from Hawaii but had mostly quit rapping and remade himself as a remarkably proficient R&B and pop singer. He's currently finishing up his first album, which he hopes to complete in the next two months.
"I never really had vocal lessons, but I knew I had a singing voice," he says. "When I would hear Michael Jackson, Brian McKnight, or Maxwell, and their melodies and how they would be harmonizing on certain bars, I just understood it." Because of his deafness, it often helps to have the input of a hearing person — an engineer or simply a friend — but ultimately his sense of his own singing has more to do with feeling than hearing. "The only way I truly trust the song itself is because I feel like internally it's right. I just go by instinct."
Although Brown and McCall haven't reformed the Helix Boyz, they have continued to work closely. Some of the most impressive moments on Prinz-D's more assured 2012 release, The First Deaf Rapper Vol. 2 — such as the Flo Rida-ish "Shirt Off" and the aching rap ballad "You Were My Everything" — feature Brown crooning the hooks. But beyond the mixtape's title and a handful of almost offhand lyrical nods, there are few clues that the guy who made it is deaf. And although the part of McCall that never wanted to sign his raps, slur his words, or wear his hearing aid in the studio — the guy who dissed other deaf rappers for sounding, well, deaf — must have viewed this fact as validation, the rest of him eventually realized it was also a marketing and creative problem. While it is certainly a technical accomplishment to make music that sounds no different from his hearing counterparts, it leaves out the most compelling asset he has available to him: his own story.
"I was trying to make it universal," he says, "but I got away from the identity of who I was."
In the library, he plays a new track on his phone as an example of what he's trying to do for the third volume of The First Deaf Rapper. It's a song called "This Can't Be Life," which reworks the beat from Jay Z's Roc La Familia song of the same name, but with McCall spitting a tale of a girl growing up deaf.
"God took away the sound, can't hear the lies / This baby girl use only her eyes / To navigate through all this hate / It gets me irate but I can relate," he rhymes in a warm, empathetic flow. "This is Usher, 'Part II' of her 'Confessions,'" he continues. "Every night she battled with Smith & Wesson." When the track gets to the line, "In the schoolyard, she hear this question a million and one times / You can't hear, why you trying to rhyme?" McCall raps along with it, nodding his head. When the track ends, he puts his phone back in his pocket.
"I'm hearing-impaired," he says. "That's not a strike, that's just what God gave me. I can do hip-hop. I have to use something to get me in there and say, 'All right, this is an interesting story.' I don't want to waste that and I don't want to milk it either."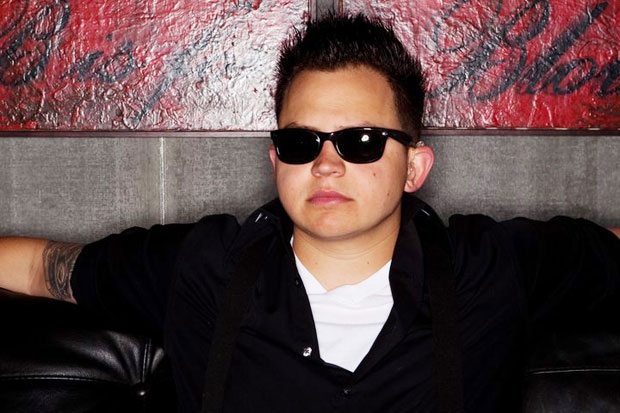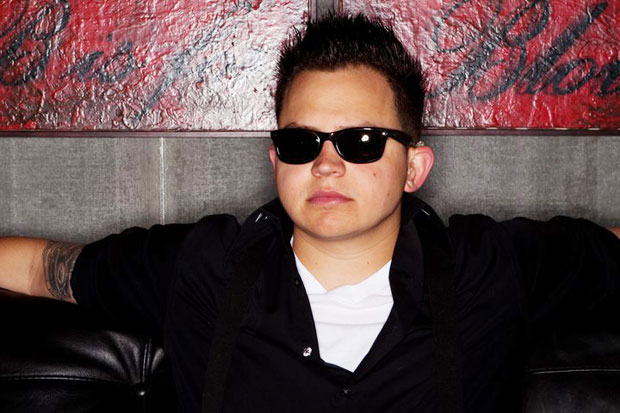 A few hours later, McCall is at the mic in the live room of Studio B at Cue Recording Studio in Falls Church. He's booked two hours to lay down two new songs, "I'm a Boss" and "Never Giving Up." Brown is in the control room on the other side of the glass sitting at the board with an easygoing, in-house engineer named Kevin Cortes. While we'd been waiting in the studio's lounge, McCall had joked, "I just want an engineer that's handicapped-accessible"; in truth, Cortes — who also has worked with Brown on his upcoming album — doesn't have to do much that's out of the ordinary.
"The first time I ever worked with Keith, I have to admit, I was a bit skeptical," says Cortes. "But then I remembered Beethoven was deaf, so I thought, 'We'll just see how this goes.' I was certain I'd have to do a great deal of pitch correction, but that wasn't the case." He says that while he's had occasional trouble communicating with Brown and McCall, recording has gone remarkably smoothly. "That's a testament to the amount of preparation Keith and Darius put in before stepping into the studio."
To be reductive, McCall sounds a bit like Lupe Fiasco or J. Cole on these new tracks, but the blood and guts he's spilling here are clearly his own. As he works through "Never Giving Up," one line jumps out: "I don't like the way I was born / Look at my ears." When asked about it later, he admits, "I felt like I was cheated out of being normal by being deaf." Clearly, he's still working out some issues, but that only makes his new music more engaging.
McCall runs through the song's two verses and chorus without a hiccup and tells Cortes he's ready to record some adlibs and an outro.
"Let's do the first part of that again," Cortes says into the control room's talkback monitor. For a moment, McCall looks confused and stares quizzically from behind the glass in the soundproof booth. Then Brown signs to McCall through the window, relaying Cortes' instructions.
"Okay, got it," he says, nodding.
McCall works through the first verse again, his left hand jabbing the air next to his body, adding emphasis to the rhymes. He finishes and asks Cortes to play back the whole track for him. As it plays, he raps along with himself, bouncing up and down, and nodding his head. When it finishes, he smiles, then raises his eyes toward the studio's control room.
"That sounds great, right?"