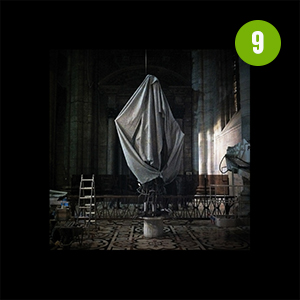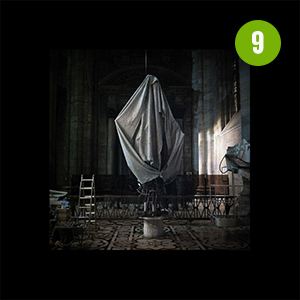 ALBUM OF THE MONTH: Tim Hecker, Virgins (Kranky)

Montreal digital taffy-puller Tim Hecker used his most anticipated record to do a complete 180. Though he's built a semblance of renown (and influence) turning the rapturous sound of church organs into foggy blurs, he returns with a odd-angled, bleak, menacing, post-apocalyptic, piston-popping churn of doom. But, as we detailed in a recent feature, "Virgins is Hecker's first time working with live players and some semblance of a score, and thus, naturally, his most human album, as you're able to locate the reedy squeak of woodwinds, violent Thelonious Monk hailstorms of piano, and what sounds like loose quarter-inch plugs straining for an input. Glacial shifts have been replaced by jarring silences; hazy drones have been replaced by desolate keys and synths that hum like choirs." The pulses are like Steve Reich phase pieces flapping on a projector; explosions glub like sinking submarines, and the occasional moment of euphoric joy arises from the muck. The harsh digital stop at the end of "Virginal I" pulls the plug on the idea that this guy makes wallpaper music.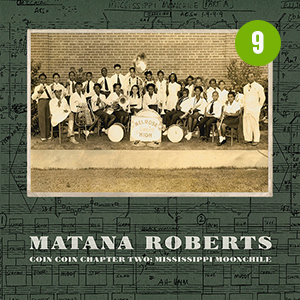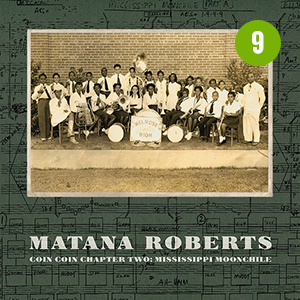 Matana Roberts, Coin Coin Chapter Two: Mississippi Moonchile (Constellation)

Much has been written about NYC avant-jazz visionary Matana Roberts' ability to weave histories —cultural and musical — through her "sound quilting" method. But this ultimately means an ability to work in multiple disciplines, and a fearless attitude towards exploring them. Blustery ecstatic jazz slowly wanders backwards into bebop; an eight-second hardcore punk explosion stumbles into a smoky cool-jazz club; a sung, sample-length snippet of a spiritual ("Sometimes I Feel Like a Motherless Child") evokes both Mahalia Jackson and Ghostface Killah; a naked gospel coda is bookended by wild, cinematic improv; a herky-jerky opera opens up into a lively 7/8 tango and then devolves back into chaos. We love this.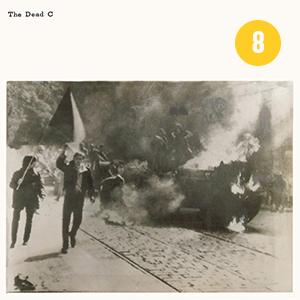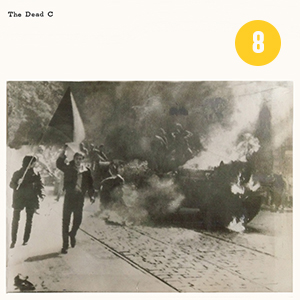 The Dead C, Armed Courage (Ba Da Bing!)

An updated version of '90s guitar implosions to compliment Body/Head's updated version of '90s guitar explosions. For the 15th album from these New Zealand noise-rock veterans, they play "rock band" in the loosest sense of the word. The guitars are just searing slabs of white-heat runoff from putting it in interstellar overdrive, surrounded by sunburned drones and morse-code panic. You can hunt for "melodies" hidden in the drums (something perfect for the Liars/Foot Village/Death Grips generation), whether it's tip-tapping tin-roof-rusted chattering or straight-up Hüsker Dü slammage.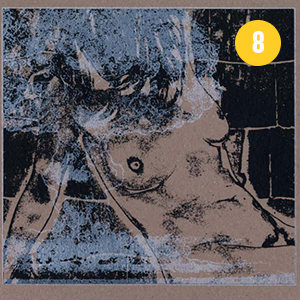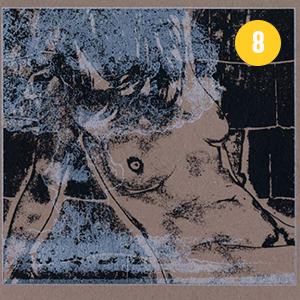 William Winant, Five American Percussion Pieces (Poon Village)
As we explained here, William Winant has been the avant-elite's go-to percussionist for more than 35 years. The list of folks he's worked with is basically an abridged history of the 20th century's back end: John Cage, Iannis Xenakis, Pierre Boulez, Terry Riley, Steve Reich, Frank Zappa, Alvin Lucier, Anthony Braxton, John Zorn, Sonic Youth, and Mr. Bungle, to pick a handful. But despite appearances on more than 200 recordings, he had never released a proper solo album, a grievous wrong long-running indie label Poon Village has finally righted. A vinyl-only compendium of Winant's disciplined precision, the result doubles as a hypnotic overview of underchampioned percussion compositions, banging and clanging through works by Lou Harrison, Michael Byron, and Alvin Currran. Using Winant reimaginings that date back as far as 1976, it veers from hypnotic snowflakes of vibraphones to cartoonish cowbell gamelans plonking and plunking. But the highlight is the brand new version of James Tenney's 1971 piece "Having Never Written a Note for Percussion," a meditative slow-burner that's basically a Richard Serra sculpture performed on a single tam-tam.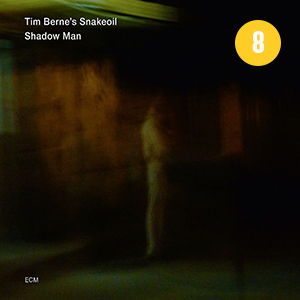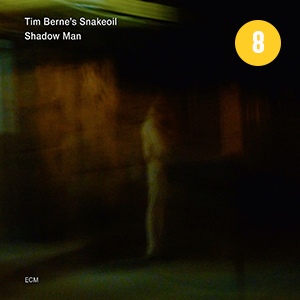 Tim Berne's Snakeoil, Shadow Man (ECM)

Alto saxophonist Tim Berne's second album with the Snakeoil quartet mixes composition with improv in a frantic way, like Boulez storming the Blue Note. He boats "a lot of sonic information — but presented with clarity," which means the four players (himself, Matt Mitchell, Oscar Noriega, and Ches Smith) make a whole lot of sound, but never an overlapping Machine Gun-style hail of bullets. As a jazz record, it's like a pointillist painting, the men playing with each other but clearly remaining in their own boundaries. As a listen, it's more like a 77-minute horror flick where piano drips from wet pipes, vibes tinkle and then turn into swarms, and cymbals crash like a cat scare.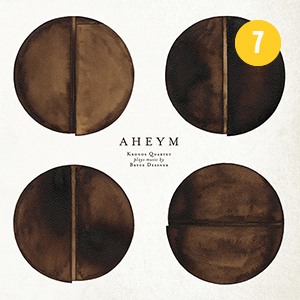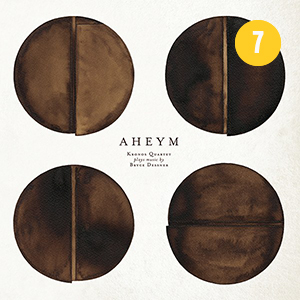 Kronos Quartet Plays Music by Bryce Dessner, AHEYM (Anti-)

When not playing in his wildly successful rock band, the National's Bryce Dessner favors rhythms that repeat and melodies that uplift (i.e., some artists that the Nat has picked to play festivals include Neu!, Boris, Tim Hecker, Tyondai Braxton, and Antibalas). As a composer, this predilection makes Dessner less like an indie-classical Nico Mulhy type and more like hypnotic pulsemaker Hauschka. Of course, Dessner lacks that composer's subtley and grace, choosing instead to paint in broad strokes: having the Kronos Quartet spank their strings, letting the Brooklyn Youth Choir chant broken Glass, and here's where the drums come in. It's basically romantic indie songs turning themselves inside-out for gorgeous, off-kilter minimalism. A cynic would call him a tourist, but hey, if the dude couldn't sell a melody, he wouldn't be playing Radio City Music Hall. A nu-compostion debut that's ballsy in its accessibility.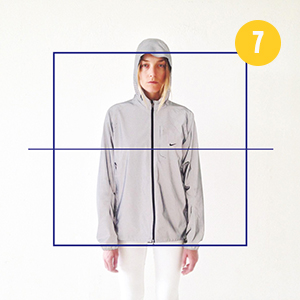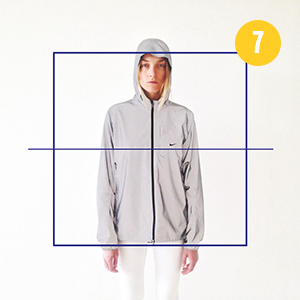 Rene Hell, Vanilla Call Option (PAN)
If Tim Hecker is too turnt down for you, California sound-hacker Rene Hell mines a similar sense of drama that's friskier. Bringing back the clips and squawks of early-'00s artists like Pita or Phoenicia (with more orchestras in stasis and ring-modulator noise), this thing runs riot on the digital soundiverse in great leaps from pop-noise ("Var_Len" sounds like Laurie Anderson vs. the robots) to nature remixed ("Unpack; Glue" might include recordings of actual thunderstorms).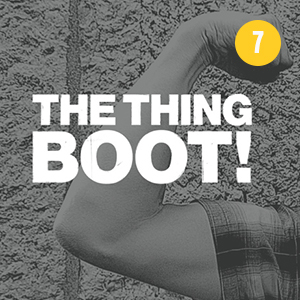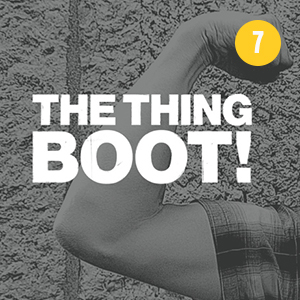 The Thing, BOOT! (The Thing Records)

Scandinavian blat-jazz heatmakers and barbecue enthusiasts the Thing are best when they walk the poles of pop song and freak-out — as evidenced by last year's excellent collabo with Neneh Cherry. The front end of sixth album BOOT! blurps and blarps and skips rocks along this swamp nicely: It's basically Man's Ruin-ready muscular sludge-rock with Mats Gustafsson getting his saxophone to crack or flop around and cry like a wounded duck. The back-end sounds alarms and revels in ick.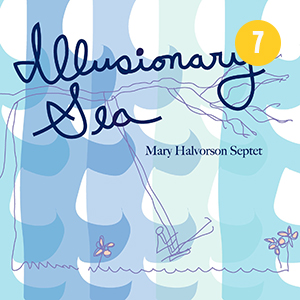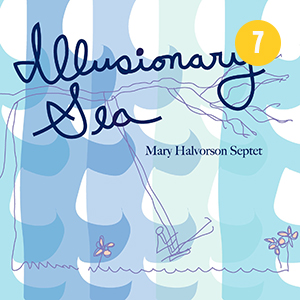 Mary Halvorson Septet, Illusionary Sea (Firehouse 12)

The intrepid New York guitarist debuts a new seven-piece — including groove-monster Ches Smith on drums and Jacob Garchick on scene-stealing trombone — that sounds like Ornette's Dancing in Your Head reworked for a late-night chill sesh. Silky, smoky moods slowly erupt through four brass players as Halvorson plucks out melodies somewhere between serial composition and Polvo. The whole thing gently herky-jerks in a seasick way, and a Robert Wyatt cover does rainy-day 8-bit backbends.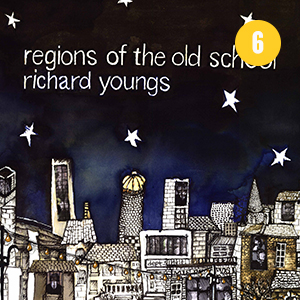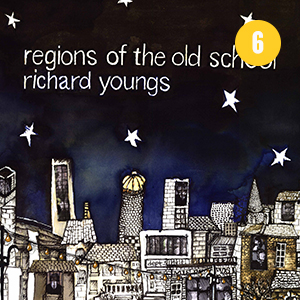 Richard Youngs, Regions of the Old School (MIE)
For his umpteenth record, the outsider king of drone-folk, folk-noise, and drone-noise goes EDM. He's emerged from laser surgery with a sound like jingling minimal techno or happy technoise or dead Sparks or a skipping Robert Wyatt record.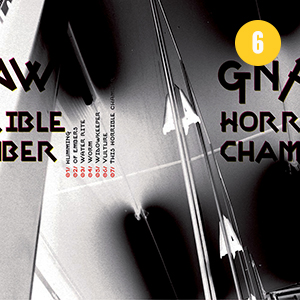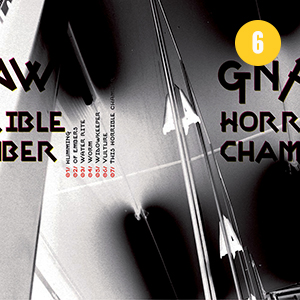 Gnaw, Horrible Chamber (Seventh Rule)
A psychosexual mood piece — sometimes a bleak doom metal dirge, sometimes bleary noise, sometimes 12 minutes of analog darkwave, sometimes just tossing junk around and yelling, "You left your window open!" Gnaw's Alan Dubin should sound familiar to anyone who remembers the tonsil-in-needlenose-pliers yarble-yowl of out-metal bands like Khanate or Old (or maybe old AC/DC bootlegs, if Bon Scott was being stretched on a rack). Their second album doesn't have the sandblasted industrial grind of 2010's This Face, opting for a more nuanced sound that's claustrophobic, and… well… more like a horrible chamber. There's an Arab on Radar, clutching-your-nuts vibe to this — he screams "humming inside," but it really sounds like "coming inside." The Eyes Wide Shut piano drags it all the way to the dungeon.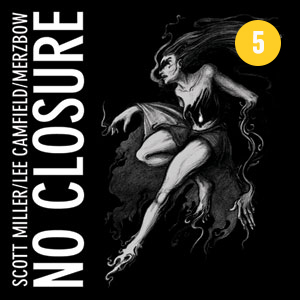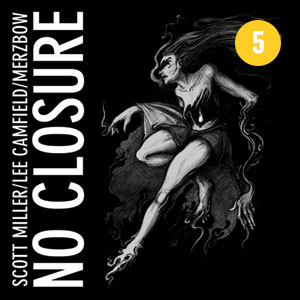 Scott Miller/Lee Camfield/Merzbow, No Closure (Cold Spring)

Two former members of blackened noise feedback-abusers Sutekh Hexen actually unplug and walk peg-legged through Tom Waits' docks and krautrock's hidden hallways. Then Merzbow reinvents the remix like a Thrill Jockey rock record with earthworms crawling on it.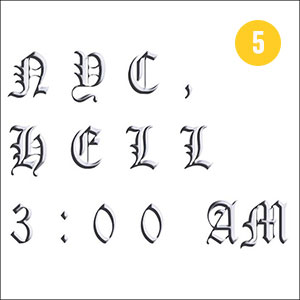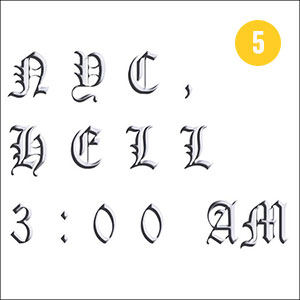 James Ferraro, HELL, NYC 3:00 A.M (Hippos in Tanks)
Some 9/11 news snippets slam into a computer voice saying, "Sex tape pixilation"; melodies emerge from slowpoke digital slurry like someone approximating poorly uploaded outsider art. Ferraro's moody sound-sculpting game is certainly smarter and more ambitious, but his "surreal psychological sculpture of American decay and confusion" still sounds like " YouTube through the looking glass."