The 15 Best Things We Saw at Voodoo Music + Arts Experience 2013
The 15th annual Voodoo Music + Arts Experience took over New Orleans last weekend, with Pearl Jam, Nine Inch Nails, Paramore, Rudimental, Bassnectar, and much more. Here are the best things we saw. For more coverage on this year's top festivals, visit ToyotaSoundwave.com.
1.The 15 Best Things We Saw at Voodoo Music + Arts Experience 2013
1/16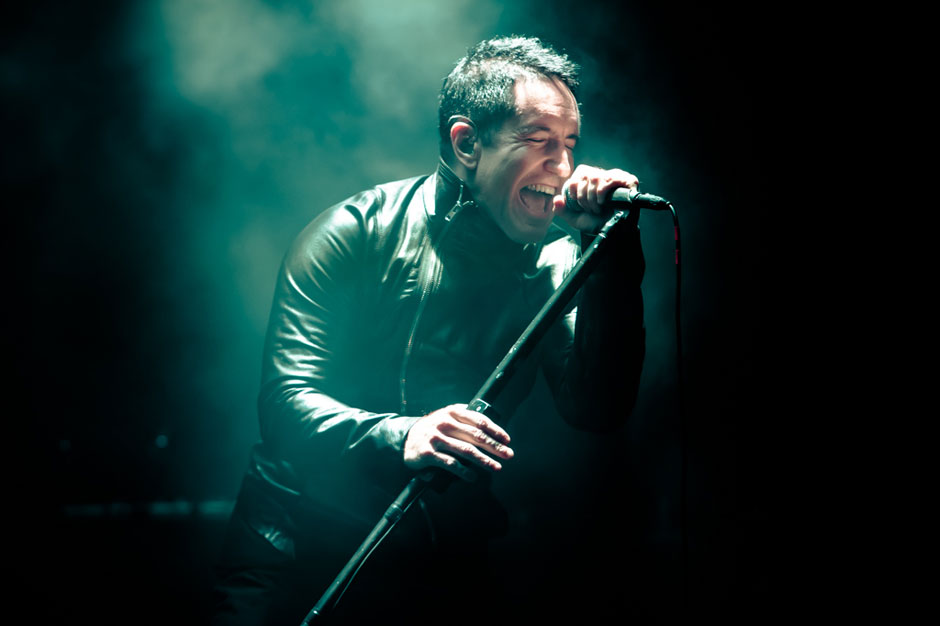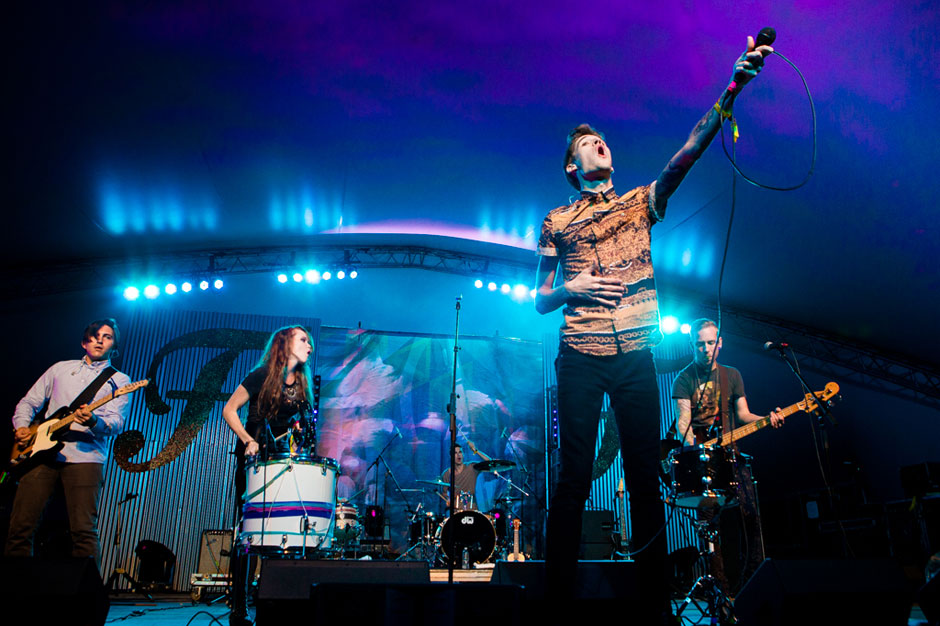 "Can you tell Macklemore to be quiet?" Royal Teeth's Gary Larsen joked between songs. Actually, Calvin Harris was the offender, but Larsen's concern over sound bleed was echoed all day long at Voodoo. But nothing could harsh Royal Teeth's buzz as they bounced, jumped, pounded on drums, and sang wordless melodies, usually with an invitation for the audience to join them. The New Orleans-based band's explosive, buzzy lightness is Mentos in a Coke bottle, though Nora Patterson's ethereal voice adds wisps of melancholy. "We try to keep our sets as upbeat as possible," Larsen said to the surprise of no one. During the set-closing "Wild" — a song currently used in two commercials — the stage couldn't contain him. The energy took him to into the photo pit, where he shot a cellphone video of the crowd singing along.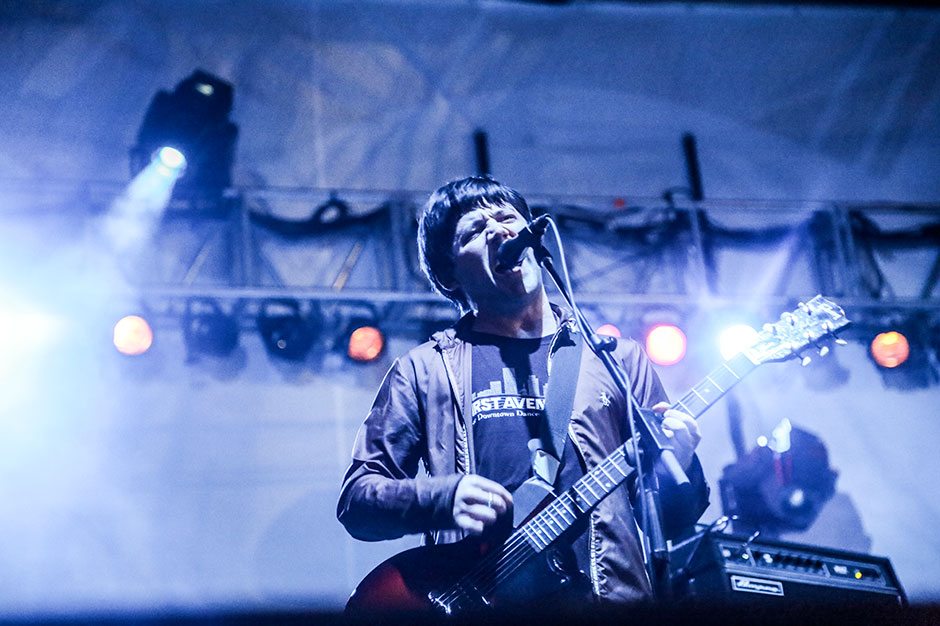 "Pretty much everything that's going to come out of my mouth is cynical or negative," Conor Oberst announced partway through Desaparecidos's thrashing set. By that point, he'd kissed off EDM — "EDM stands for Erectile Disfunction Music" — Hot Topic, and liberal politicians, and the efforts to demonize Latinos was next. "This is called 'MariKKKopa' with three Ks, son," he announced. Oberst matched the confrontational, agitprop lyrics with pissed-off musical and vocal ferocity, substituting raw intensity for nuance. Each song's explanation made it clear that the point of this batch of songs is to spread the word; the music is just the firestarter.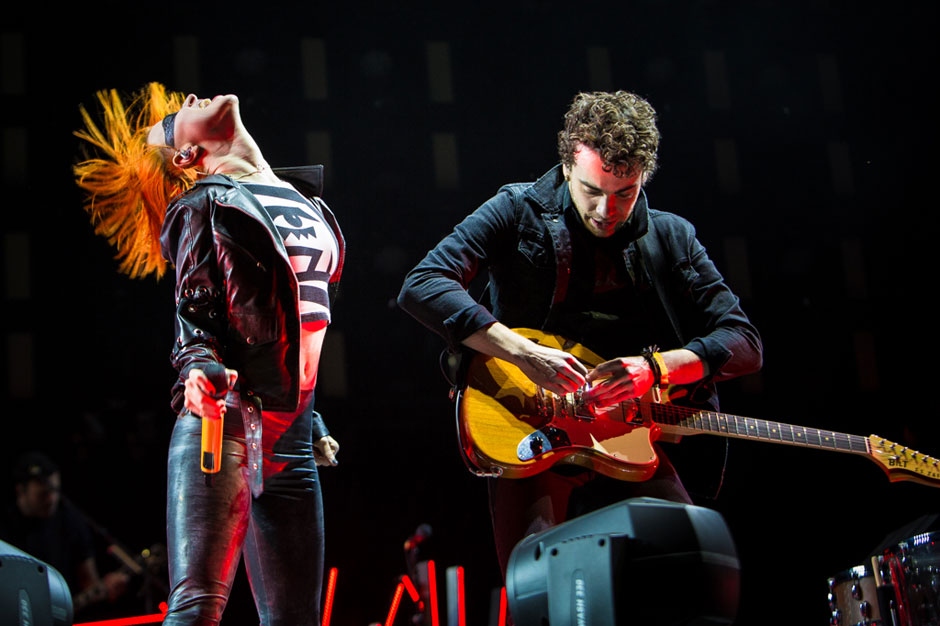 Hayley Williams bounded onstage looking like a punk-rock Pris from Blade Runner in her leathers, orange bob, and black strip of makeup across her eyes. She charged into "Fast in My Car," from the band's new self-titled album, joined at the front of the stage by bandmates Jeremy Davis and Taylor York, while two more guitarists and a drummer filled out the sound. Williams was clearly an aspirational figure for many young women at Voodoo, because for all Paramore's sonic snarl, her kicks and punches convey more fun than menace. The audience waiting for Nine Inch Nails was patient, but not terribly responsive, so enthusiasm dwindled well before you got back to the soundboard. They finished on an especially poppy note with "Still Into You," though, and from the first notes it generated the most recognition and excitement of the set.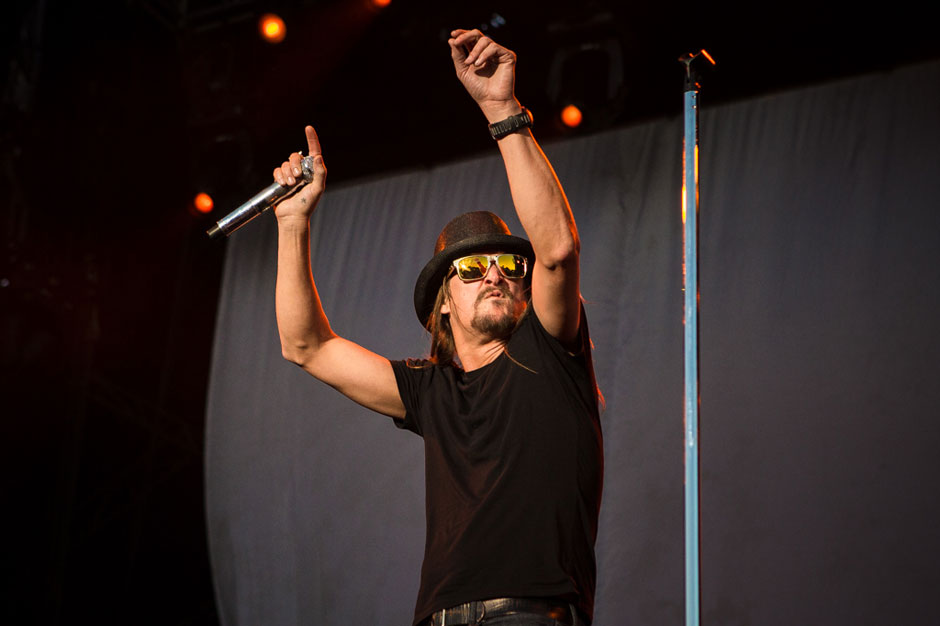 Kid Rock's set-closing "Bawitdaba" toasts "all my heroes at the methodone clinics," among others. Its celebration of the lowlife was a light year away from the pick-up-truck-commercial-style video that introduced "Born Free" minutes earlier — and that schism is part of the Kid Rock live show. His early hits are classics of wit and swagger, but much of the set these days presents him as the fan trying to walk in the footsteps of his country rock icons. His sense of humor surfaced when he started "Forever" with Rush's "Tom Sawyer," but it was A.W.O.L. for the sentimental "All Summer Long." The house video system caught a moment when, with his black straw hat half-over his eyes, he looked like Tim McGraw's trailer park brother, and the image made sense. Like McGraw, his personal charisma holds his show together. On the other hand, the video screen showed three Cure fans at the front barrier who were clearly enduring, more than enjoying.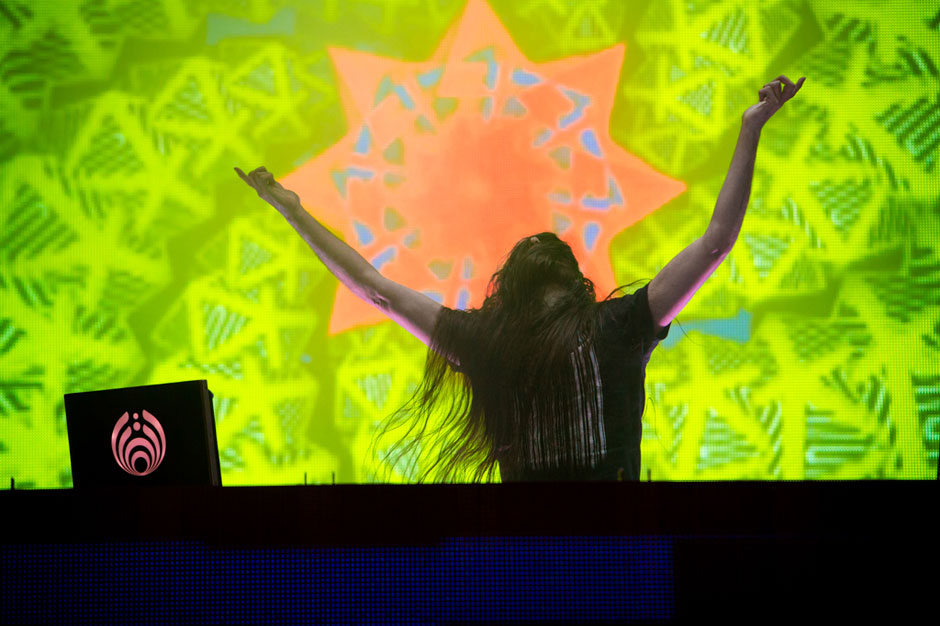 Maybe it was the see-your-breath cold or the end of a festival weekend, but Bassnectar's set at the Le Plur Stage was more hang than party. Attendance was clearly mandatory as at 7:30 on the nose, Bassnectar dropped his first drop and people watching the Cure broke off mid-moody-song to head over. Between the speakers, it was a concert with the crowd packed as tightly and locked into the stage as any audience was all Voodoo. He moved them with some of the most intense music of the weekend, but his set was often monolithic, building big sounds and big grooves that weren't necessarily propulsive, leading to far more bobbing and nodding than footwork from the dancers.
Halloween may have been Thursday, but that didn't stop a young Hunter S. Thompson look-alike from stepping aggressively to Boys Noise, whose 6:15 set should be considered the actual opening of Voodoo's EDM stage. Sure, other DJs preceded him on the Le Plur Stage, but his industrial textures and face-shaking bass frequencies brought the crowd to life for the first time. The light show reduced him to a silhouette, and he was dwarfed by the size of the low-end — but it was clear that the crowd was more interested in the sound and lights than him. While those between the speaker towers throbbed, a lot of fairy princesses, Smurfs, and commandos were content to chill on the perimeter and treat Boys Noize as the background.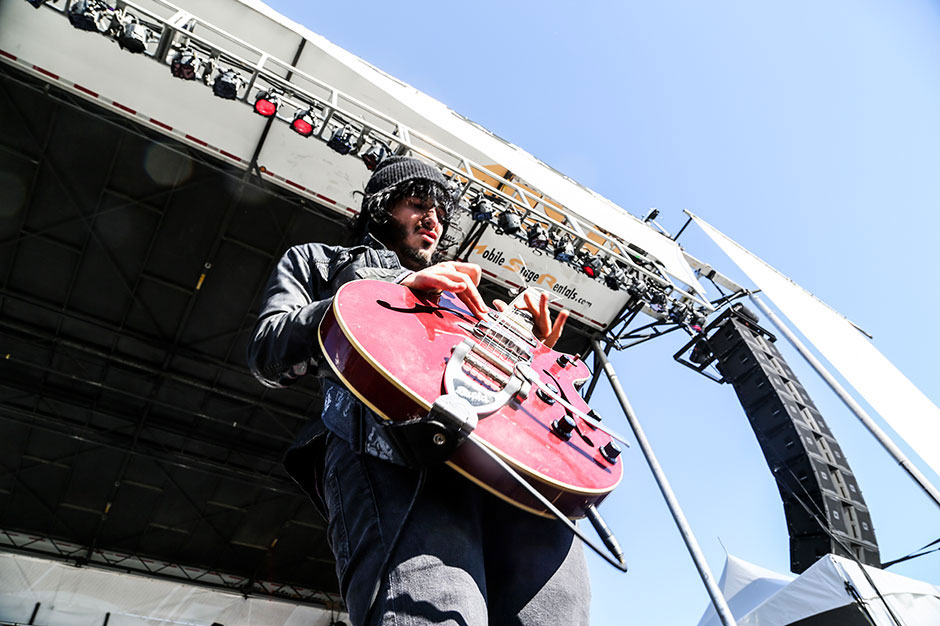 Jordan Cook walked onstage, hammered his guitar strings while twiddling the knobs, and summoned his first salvo of feedback to kick-start his axe to life. From that point on, both were in constant motion as Reignwolf played shaggy, old-school blues rock, emphasis on the rock. Cook climbed monitors and drums while coaxing heavy, very electric squeals and screams from his semi-acoustic, duct-taped Gibson; his reputation attracted former New Orleans Saints player Steve Gleason, who'd parked his wheelchair discretely by the soundboard after introducing Pearl Jam Friday night. The set included the new "Mandolin Song," which the band recorded Friday night at Ani DiFranco's house in Uptown New Orleans, and a raw solo cover of Fleetwood Mac's "The Chain," only a half-hour after Delta Rae had delivered the song more faithfully.
9.Quintron and Miss Pussycat
9/16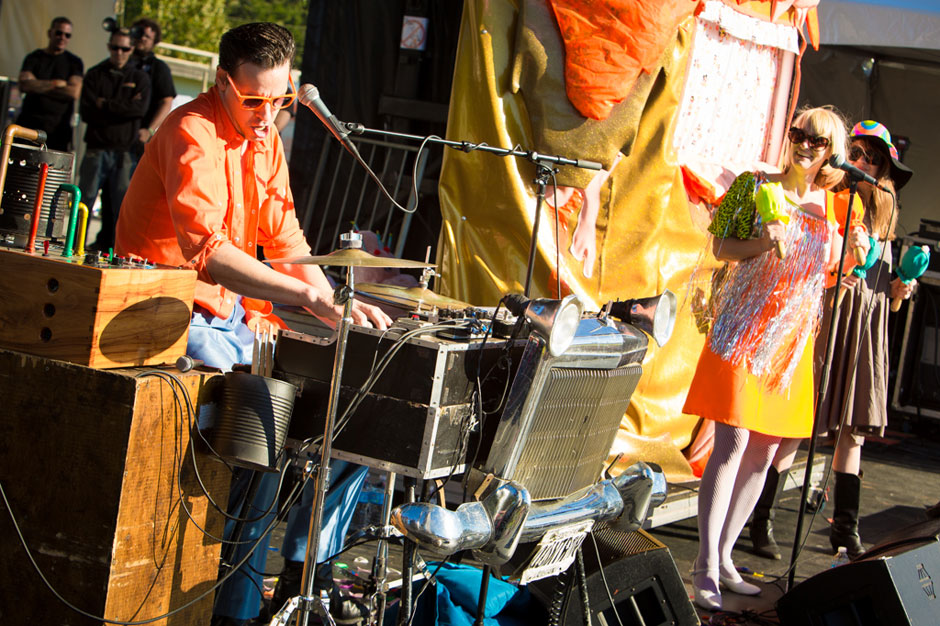 New Orleans' Quintron and Miss Pussycat have made the personal touch their calling card. She makes puppets for surreal, onstage puppet shows — such as the one involving Christmas Bear and a goblin cake that she performed last night. The show not only held the 2:30 p.m. crowd, but had them clapping when the goblin dessert won a bake-off against a smug birthday cake. Quintron's organ and Drum Buddy percussion synthesizer are also homemade, and he used them to grind out a garage-punk take on dance music. When he called for people to "jamskate tonight," his low bass pulse was the equal of any elsewhere on the grounds, but he played the organ to surge and roar with more a more human pulse.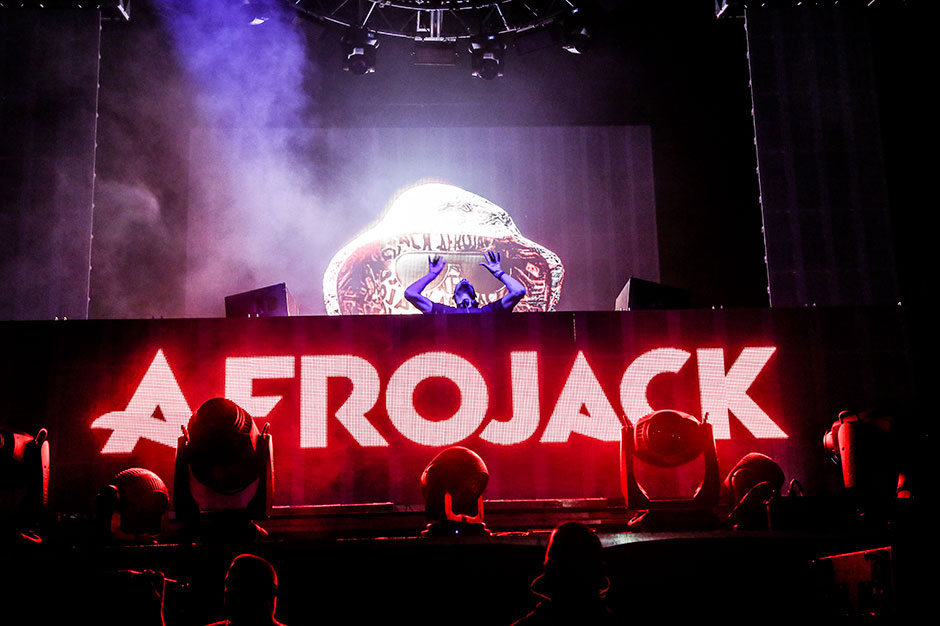 A countdown works wonders. With five minutes to go, a militaristic Afrojack computer animation graced the projection screens at the Le Plur Stage, and with it, a clock. As it counted down, people ran to get back to their friends or get in place before the timer hit zero; at that moment, instead of a face-shredding bass drop, the DJ born Nick van de Wall appeared behind the desk onstage and began exhorting the dancers, pumping his fists and gesturing animatedly to the crowd. Unlike Boys Noize Friday night, Afrojack established a track before remixing it into richly textured submission: His treatment of Keane's "Sovereign Light Café" only mildly slowed the dancers (all those words), while his own "Can't Stop Me Now" (with an absent Rihanna on the hook) sent people running to open spaces for more room to move.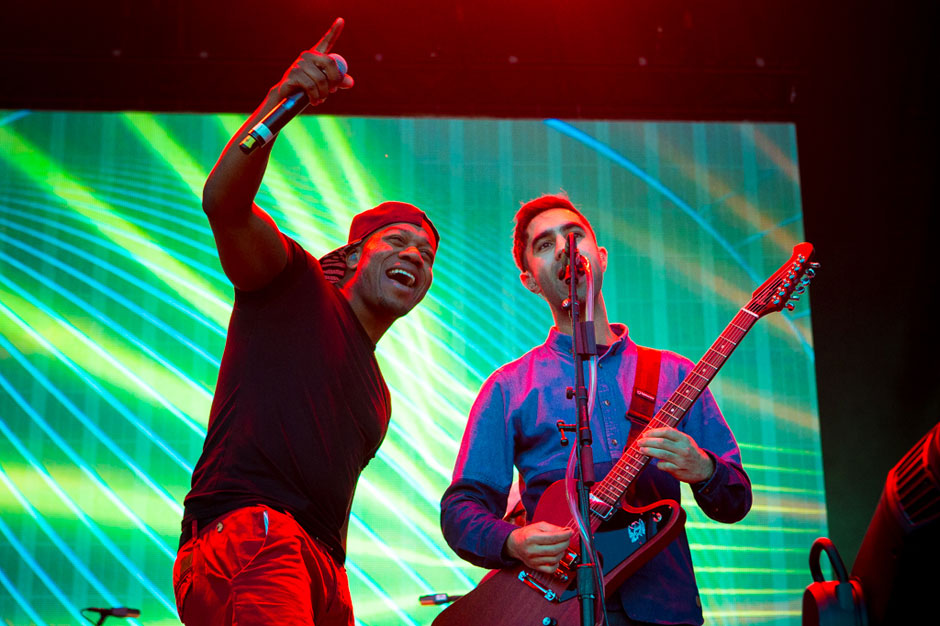 Rudimental is one of England's biggest success stories this year, but that doesn't mean the young crowd at the Le Plur Stage dancing all weekend to EDM were ready for a full band, much less one with eight members and no DJs. The stage had been dead since Dirty South couldn't make their own slot, so the band had the unenviable task of rebuilding the energy. "Baby" sounded sexy in its house simplicity, particularly next to the dubstep freakouts preceding it, but the many folded arms in the crowd suggested that a band playing jungle, drum and bass, and other less Americanized subgenres was a reach for many. Still, the response improved as the tempos sped up and the sounds got more metallic. Frontman Kwesi told the growing crowd they were free, and that he wanted to see a field full of people on each others' shoulders; he didn't get it, but the speed and enthusiasm of the response was still a clear sign that in the battle of Rudimental vs. Disaffected American Youth, the band was gaining.
12.Shovels and Rope
12/16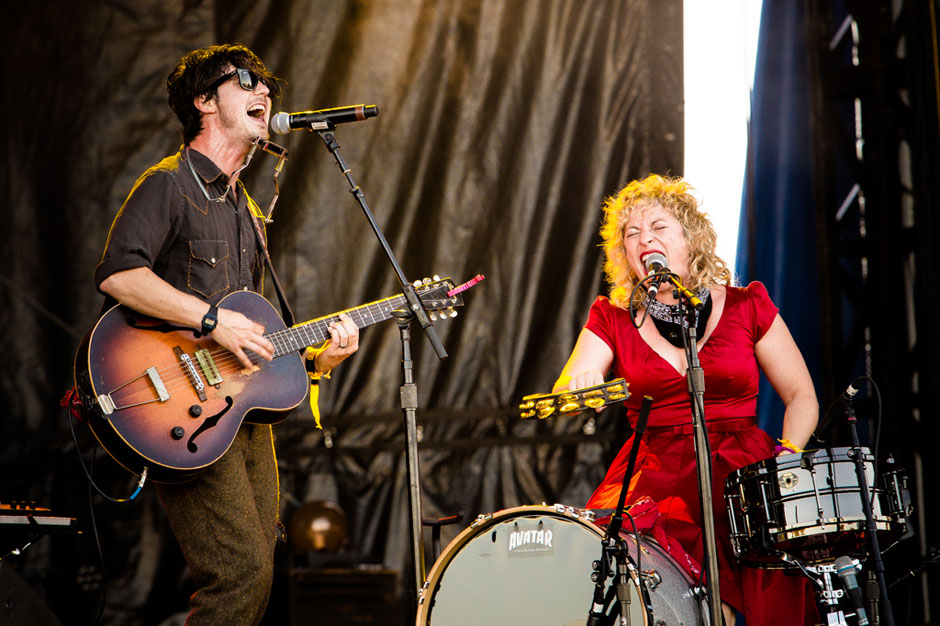 The husband and wife alt-country team Shovels and Rope made Voodoo's main stage seem as intimate as a front porch. Cary Ann Hearst and Michael Trent swapped vocals, guitars, drums, and looks, often singing into each other's eyes. The set was hardly moony, though. They play hard and rowdy, as was the case on their cover of "Little Black Star" by New Orleans' Hurray for the Riff Raff, which segued into Wreckless Eric's punk classic "(I'd Go the) Whole Wide World." The set leaned heavily on 2012's O Be Joyful, but they included a new song, "The Devil is All Around." When the duo played the cover of Bruce Springsteen's "Johnny 99" that they cut for Third Man Records, Hearst faltered and giggled, " I forgot the verse."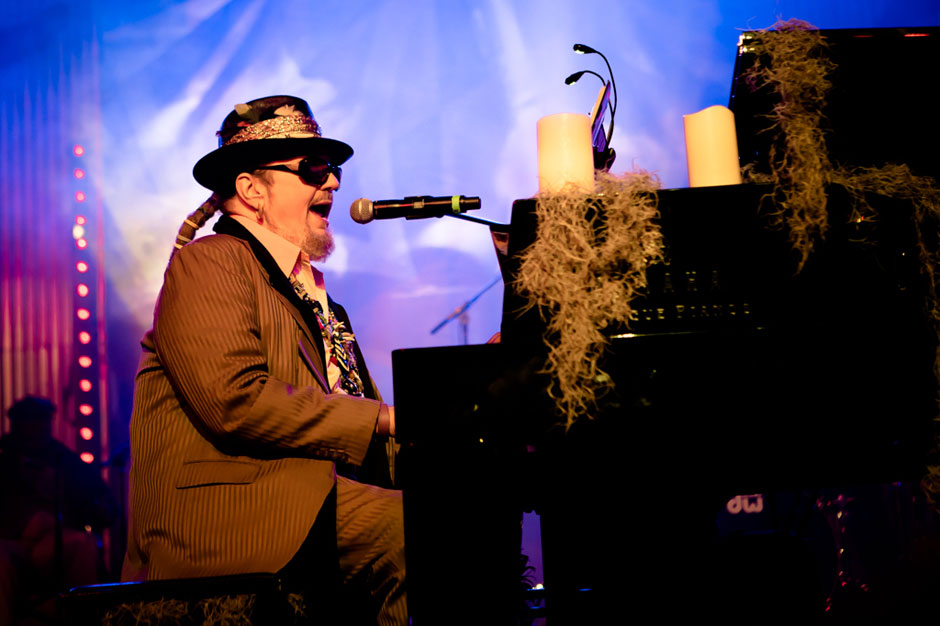 When Dr. John recorded 2012's Locked Down, the Black Keys' Dan Auerbach helped him connect to the legendary, psychedelic, voodoo-funk albums he cut in the late 1960s. Dr. John returned to those albums Sunday night with an all-star band that included Meters bassist George Porter Jr., trumpet player Nicholas Payton, and Big Chief Monk Boudreaux — and the grooves were as surprising and hypnotic as any played at EDM stage. Porter directed traffic onstage, but Dr. John was the center of attention. He began his musical career as a session guitar player, and he started the set with a Telecaster playing rhythm guitar and his own fractured, perfect solos before sitting down to the piano. Those early albums were puzzling in their moment, and the songs remained freaky on a Sunday night in 2013 as they blended urban life and hipster jive. A good crowd from across the Voodoo age spectrum crowded the Flambeau Stage for the event, and Dr. John responded with a more animated vocal growl than he has shown in recent years.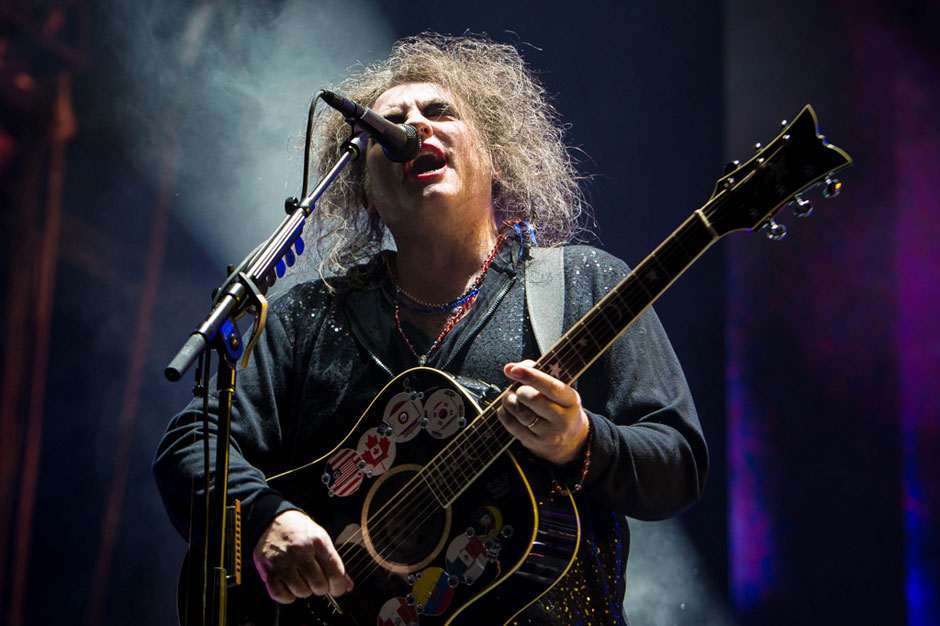 The Cure started their Voodoo-closing set with great deliberateness — not indulgently or casually, but if Robert Smith needed to change guitars, he did so at his pace and he wouldn't be hurried. Similarly, the set was not a puppy overeager to be loved. The opener "Shake Dog Shake" was well-received, but it didn't bring a roar of recognition; "Fascination Street" woke up those waiting for the hits, but Smith was in no hurry to plow into those. Guitarist Reeves Gabrels' broke into guitar heroics for the first (but not last) time for "From the Edge of the Deep Green Sea," which led Smith to a greater sense of loss as he sang about "too many tears." His tumbleweed hairdo in 2013 and sparkly black hoodie suggested at first that he might be odder than we thought, but by the last half-hour, he was a rock star fronting a roaring rock band, singing "that's the price we pay for happiness" with real bitterness in "The Hungry Ghost." The fans that stayed for the encore were rewarded with a greatest hits speedball. Hits were dotted between the album cuts that dominated the show, but "Love Cats," "Close to Me," "Let's Go to Bed," "Why Can't I Be You," and "Boys Don't Cry" sent the crowd happily into the night.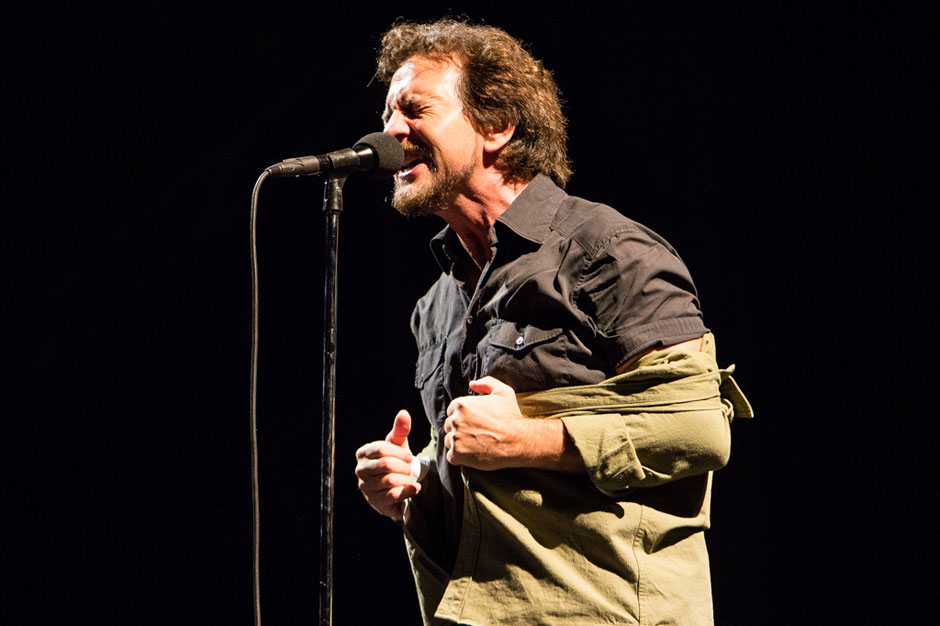 Pearl Jam's headlining set started emotionally when guitarist Mike McCready introduced Steve Gleason, the Washington state native who settled in New Orleans after his days with the New Orleans Saints ended. Stricken with Lou Gehrig's disease, the wheelchair-bound Gleason rolled to declare, in his computer-generated voice, "This is my hometown; this is my hometown band." Gleason's presence lingered throughout the show as McCready wore a Team Gleason T-shirt and Eddie Vedder, a wristband. Vedder later dedicated the show and 2006's "Inside Job" to Gleason and his family, and announced that the band let Gleason write the set list — which led to the inclusion of a quiet "Chloe Dancer" alongside a number of songs from the new Lightning Bolt.
Vedder was in a playful mood, asking the audience who'd been arrested in New Orleans, then added, "I should raise my hand," referring his own arrest for public drunkenness in New Orleans 20 years ago this week. He then gave out a phone number he said belonged to fellow Seattlite Macklemore, who opened for them tonight: "He'll pay your bail or give you $10 to buy some big, floppy, old man shoes."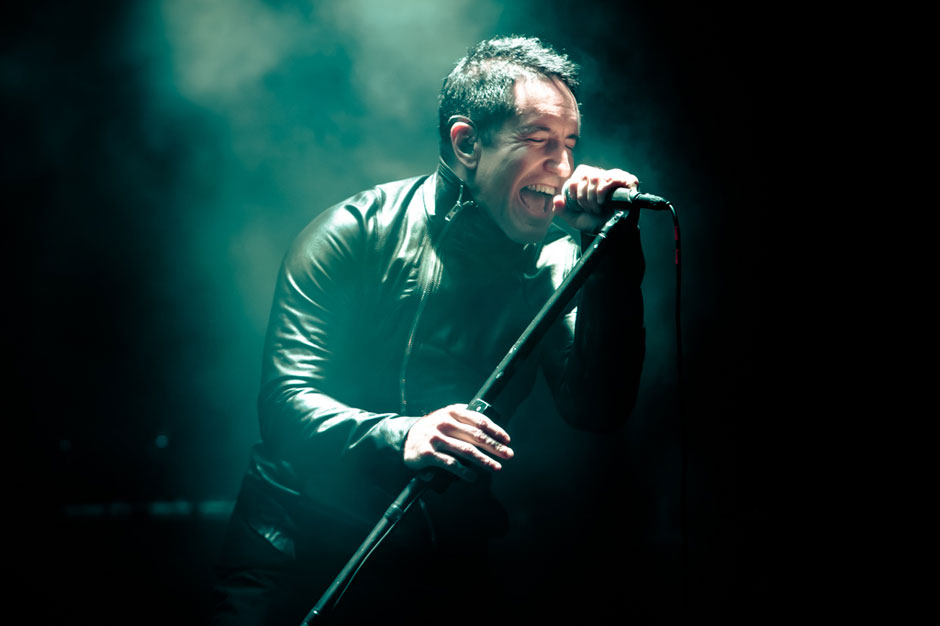 Trent Reznor didn't seem quite so tortured during NIN's third appearance at Voodoo since Hurricane Katrina. His movements were less rigid this time, and just as David Bowie used to remake his songs in the image of the album he was touring, "Sanctified" and other older favorites now morphed into glitchy electro-funk in honor of the band's new Hesitation Marks. Those that escaped the twitchy treatment took on a glam-thrash sheen: "March of the Pigs" hit hard and fast until the roar died away, leaving Reznor alone to sing, "Doesn't it make you feel better?" The simplest pleasure was a relatively faithful version of Bowie's "I'm Afraid of Americans," which Reznor himself remixed in 1997, capping a fairly user-friendly set that found fresh life in a lot of old warhorses.