In early June 2013, the digital art magazine Avant Garde Diaries released a short documentary on two African-American boys from Brooklyn who made heavy metal music. In the same month, Vice magazine published an article titled "Unlocking the Truth Is the Most Brutal Sixth Grade Metal Band Ever, Ever, Ever, Ever" and by mid-month, Gawker posted "Internet-Famous Preteen Metalheads are Being Bullied for Being Awesome."
I am at a cubicle job on Manhattan's Upper West Side, and when I read about these boys, I'm amazed. For a second, I wish it was ten years ago when I was a music journalist and my life revolved around discovering cool new bands with interesting stories, but in this decade I'm a novelist and an essayist, and now I write about Iran and 9/11 and the Middle East and not Aphex Twin or the Neptunes or their current equivalent. So I don't think of Unlocking the Truth again until early July when I see the public-radio show Studio 360 tweet: "@Drake The 3 12-year-old metalheads from Unlocking the Truth are coming on our show Friday. Could we call you to give them advice please?"
And my heart starts to race. Because I've been following the group, I know they don't like rap. (One article even has them saying rap is "wack.") And I know — because they are black and from East Flatbush, Brooklyn — some might assume they do like rap. So I tweet back to Studio 360 and tell them that these kids would not be into Drake, and that there are many other musicians who could chime in, you know, more appropriately. So the rest of my afternoon is spent contacting heavy-metal publicists and friends of friends who know people in that scene, and it's then I know I'm back to music journalism, and because of Unlocking the Truth, I have to be.
My first show is at Cameo Gallery in Williamsburg, Brooklyn. The neighborhood of my collegiate cool-kid days is no longer quite what it was: once impenetrably chic Bedford Avenue is a wasteland of recycled Urban Outfitters and American Apparel basics, the usual twentysomething trustafari, and some Gen Xers my age who are bored, old, fat, rich, and have stayed here long enough to be so post-cool that they're comfortably uncool. But Unlocking the Truth cancel out all my thoughts about the old neighborhood and its denizens. The show was more breathtaking than I imagined. Alec Atkins, 12, the lanky fauxhawked bassist, strutted around confidently in his Batman tank; drummer Jarad Dawkins, 11, wearing glasses and a "Black Nerds Unite" t-shirt (a gift from a fan, he said afterward) had the focus and control of a junior Charlie Watts; and Afro'd teen hearthrob-looking guitarist Malcolm Brickhouse, 12, managed to channel both frontman charisma and bandleader surliness, at times darting disapproving glances back to his bandmates, other times giving them affirming nods. To top it off, his arm was in a cast, but it didn't hinder his strumming one bit.
I wonder what they think of the audience—other than their parents and two other audience members, the boys are the only black people in a room packed with hooting and howling white people. The audience is mainly bros in caps and pleated pants, a few white-dreadlocked dudes in sandals and Rasta tees, plus a few more genuine-looking metalheads — though in hipster Disneyland, where Countercultural Halloween seems to be on endless repeat, it's always hard to say what is real and what isn't.
They headbang. They lean back and rage to the heavens. Malcolm and Alec jump on the drumkit, they bounce offstage and into the audience. They pace, they roam, they rock hard. They alternate between speedy, riffy Pantera-tinged groove metal to expansive, arena-metal dirges, all so studied and precise that they come off sometimes as more in-studio than "live" in person. They even cover their favorite song by Chelsea Grin, a Utah-based "deathcore" band, and it's the one instance of vocals: Alec takes the mic for a classic metal troll-growl. At one point, after Malcolm introduces the bandmembers, someone shouts, "How did you break your arm?" Malcolm squints into the crowd, sober-faced, and snaps, "Who asked that?" And then he breaks into a smile and tells it like it is: "I fell off a monkey bar."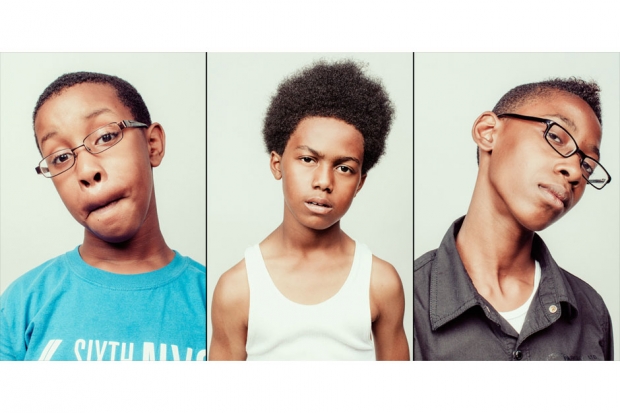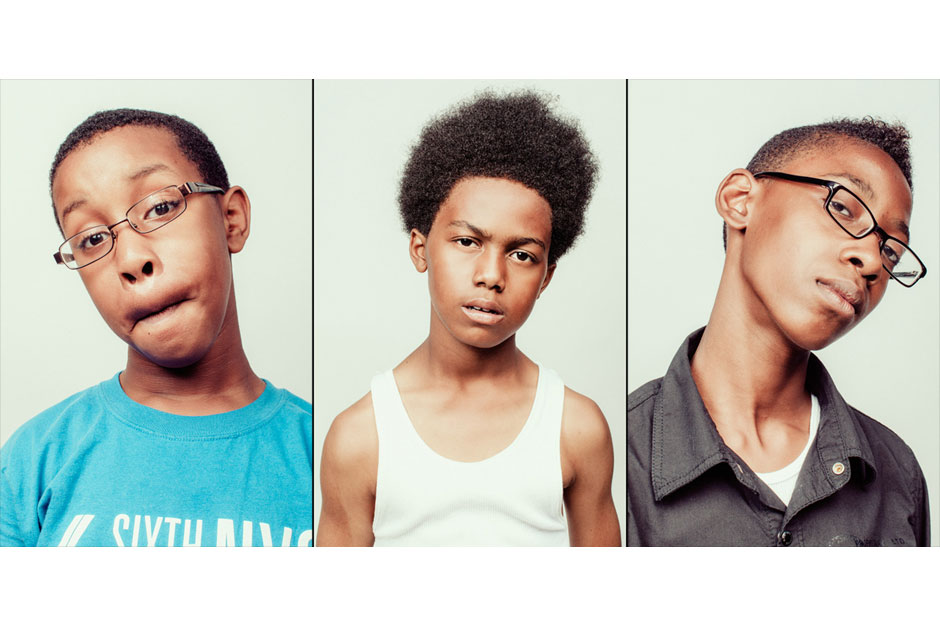 A week later, I leave my Harlem apartment and take the 2 subway train to the last stop, Flatbush Avenue, deep in the heart of Brooklyn. Hopstop says it will take one hour and 26 minutes, and Annette Jackson, Malcolm's mom and the team's affectionately dubbed "MOMager," says she will be in her Honda at the station to drive me the five or so minutes to their home on East 39th Street.
As we pull up into the Jacksons' driveway, older men chat on stoops, a few kids chase each other down the sidewalk — all the usual stuff of near-suburbia Brooklyn. You'd never guess that this is the home of one of the most striking new metal acts in the world, except for the pounding bass and shrieking guitar echoing from the basement. I ask Annette if neighbors have complained and she says, still marveling, "That's the amazing part. Nothing. They've been great."
When we walk into the house, the sound is intense. Annette heads down the stairs to the basement and immediately hands me a packet of earplugs from a candy jar filled with them. All three guys, in full rock-practice mode, also have them on. The basement is dark and there's a strobe going. Whatever they're playing, it's resolutely brutal—Norwegian black metal dipped in another layer of tar, a sort of goth-rock rhapsody that has an unhooky relentlessness. A Metallica poster hangs behind the drums. Other than that, it's a basic suburban kid's rec room, complete with couches and a TV and DVDs and a Playstation. The band finishes up and Annette exits the room when it's interview time.
They're used to this by now.
On Unlocking the Truth's origin story…
Malcolm: "Me and Jarad at a birthday party. Me and Alec were friends since preschool."
Alec: "Jarad and Malcolm met at four, but then hung out really at six. I started hanging out with them again last year."
How did they get into all this?
Alec: "I used to watch Naruto at night. It's an animated show about ninjas. They play this music."
Malcolm: "Me and Jarad used to watch wrestling. And the background music was heavy metal. We caught onto it. Then my dad would take us to wrestling shows. We just liked the music."
What about your first band Tears of Blood (back in 2007, when they were six years old) and the original singer?
Jarad: "I have to tell the truth. Okay. We didn't know anything about copyrights — well, I didn't. So I was watching this show called Wizards of Waverly Place on the Disney Channel and they happened to mention Tears of Blood, a band. And I thought, well, if it's not copyrighted, then I'll take the name. But then when we found out it was copyrighted, we had to change our name."
What about the old lead singer?
Malcolm: "We parted ways."
Alec: "They said he was very difficult."
What about vocals in general?
Jarad: "I have to say, we are starting to sing now."
Alec: "[Annette] thinks our voices are starting to mature. I have to wait till I go through puberty and then I will sing, but right now, I scream."
Jarad: "But a female vocalist sounds more mature than a man to me."
Malcolm: "But nobody pays attention to the rest of the band if you get a girl singer. I'd rather sing for myself."
Jarad: "In two years, I think we should do it. Because people are asking us. The comments are getting, like, more."
Malcolm: "I might get surgery to get the callouses off my throat."
Alec: "I just gotta feel it. I can't just do it for you. I gotta feel it."
So, all of you are writing novels?
Alec: "I have this book about this girl. She killed this girl and then the police arrest her — they got cameras in the bathroom. I made this a long time ago. I have this other book; I've got like two books. And I've got this book about a boy who is a drummer and he has a lot of troubles and he auditions for a band."
Jarad: "And I changed my novel —"
Malcolm: "Yeah, cause it was just like mine."
Jarad: "Yeahhh. So it's about this boy who skateboards. His name is Ryan Lewis — well I don't know his last name. I was going to name it Schenectady or Lewis —"
Malcolm: "Schenectady?!"
Jarad: "Avenue names!"
Malcolm: "You know, Kanye West's son — er, daughter — is called South [sic]?"
[Laughter]
Jarad: "Anyway, he would get picked on because back in the day, you would wear skater stuff and you couldn't find friends to play with or do anything. But then he found another friend that he would skate with and they started skating together and one day they were discovered skating and they opened their own business."
Malcolm: "Mine is that there are people who wear nail polish. They get bullied. They all come together. They become famous. Boom!"
What about black nail polish and being bullied?
Jarad: "I just took mine off yesterday."
Alec: "My mom taught me how to do mine. My school is fine with that type of stuff but outside."
Malcolm: "He almost got beat up by some eighth grader!"
Alec: "He said move and I said your breath stinks and he said what you say and I said you heard me. I had this friend walking with me—her name is Kiana—she scared them off."
Do you have girlfriends?
Malcolm: "I've had lots. I don't know, I don't count."
Jarad: "He's had five. I have one."
Alec: "I have one."
Jarad: "Someone noticed me when I went to the store. She was like…you! It was a regular girl. About your age. She was young. You're 30?"
Me: "Older."
Jarad: "Oh, well, she said, I know where you're from! I seen you somewhere, I just don't remember."
Alec: "We get recognized. We get stalkers on Facebook too."
Malcolm: "She was asking me weird questions. Can I see a picture of your face? I blocked her."
Alec: "I got this other girl; I think she texted me yesterday. She asked if there's anything you need, ask me for it. And I got confused."
What about the fame and fortune?
Jarad: "We've made $1,600 [from performing at Times Square]."
Malcolm: "No, more than that! Two thousand."
Alec: "But we have to pay for gas, McDonald's, hot chocolate, and Tracey would take us to comic-book stores to buy cards or Naruto stuff."
Jarad: "Right now we have 22.2 thousand people who like us on Facebook. It makes me think that I'm signed and I'm not. Until we get signed, I don't consider us famous."
Will you do the band forever?
Malcolm: [Nodding] "But Jarad wants to retire at 70."
Alec: "I think I might open a club! I think I might. Maybe a pirate theme or something, I don't know."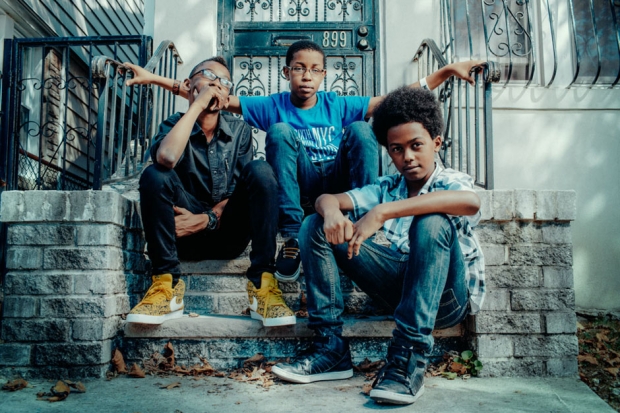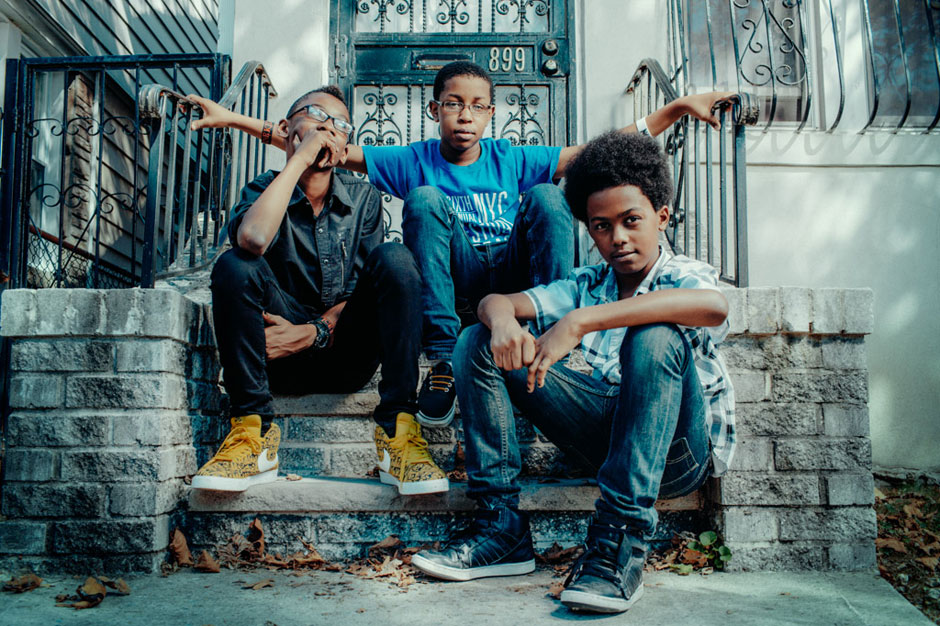 They start to practice again eventually, but it looks like more of a chore. Malcolm seems moody and a bit insecure after all the questions, and now, as he plays, he's watching his reflection more carefully. But when Annette comes in, the vibe changes: They suddenly rock harder, Malcolm goes right to headbanging and jumping, and the energy is back. It's apparent that wanting to do their best for their MOMager is an essential part of the mission here.
MOMager is never an easy sell, though; Annette goes from snap to shout to shriek, in her request for them to stop. "What is that?" she keeps saying and turns to me. "It sounds bad, right?"
Tracey Brickhouse, Malcolm's dad, comes in, but he and I can't hear it. Malcolm also insists it's fine, but Annette is sure one of their amps — a gift from a company — is off. "Just because you're loud," she reminds them, "doesn't mean you sound good!"
Nobody argues with the MOMager, who has become the unquestioned expert on all things Unlocking the Truth. During the day, Annette, 49, is a legal secretary at Ernst & Young, where she's been for more than two decades. Tracey, 51, works in the facilities department of the Open Society Institute. And now, the Brooklyn born-and-raised couple are both managers of a metal band.
They are both prone to saying, "Wow!" when you compliment the kids. Tracey starts a lot of proud sentences with, "Not because they're my kids"; and Annette is most noted for giving the boys a constant play-scowl, "Can you act like you're excited a little bit?"
Neither of the parents had any experience with this kind of music. If you dig enough, Tracey will admit that he liked Rage Against the Machine. Then Annette caves a bit: "I liked Guns N' Roses, Aerosmith, and all that." To clarify, Tracey adds, "But my favorite music was James Brown. I'm a James Brown fanatic." Annette: "Listening to kill-your-mama music, I don't care, just don't make that kill-your-mama music!"
It's Annette who clearly remembers how it all began: "First, they're lonely only children, so it makes sense that this is what they do. And I had enrolled Malcolm in all sorts of programs. Gymnastics, art, tennis, magic, any course you could think of; but the guitar is what stuck. He begged me to get him an electric guitar. And some guy at my work helped me get him a miniature guitar on overstock.com and that was it. There was a point where Malcolm had two guitars and Jarad had made the strings real loose in order to be a bass player. He turned a regular guitar into a bass!"
Then they began performing weekends at Times Square and Washington Square Park and soon they were getting more and more notice. A one minute-long clip of a Times Square performance form last April is at almost 1.5 million views — which is to say, not bad for a band without a record or a label. And per Jarad, they now stand at 21,166 Facebook fans, plus they've gotten tweet shout-outs from Diddy ("These two young men are revolutionaries!!! Using their art to fight back and stand up!! Watch "Unlocking The Truth") and Hayley Williams of Paramore ("Anybody who says the future of music is doomed hasn't seen this #unlockingthetruth #deathtoallbutmetal")."
"A gentleman called us and wanted to have these guys speak in schools," says Annette. "He said in our neighborhoods the only things you ever hear about are the bad stuff. And someone sent me a movie script. I was, like, 'Mister, everybody works. When you're filming August to September, who's gonna be with them?' They're not that big yet. Mommy needs her job. My boss is going to ask me, 'Who do you work for? Me or Unlocking the Truth?'"
Tracey just beams. "One guy was telling me these boys here, they are gonna be icons. Another guy said this is bigger than Beethoven!" He laughs. "He was, like, let me shake your hand — I'm shaking the hand of a millionaire. These kids are gonna be big!" He pauses, and says softly, "I'm such a proud dad." Annette says she had a premonition last year at this time. "I said this time next year, we're not going to be in Times Square any more. I don't know how I knew, but I knew."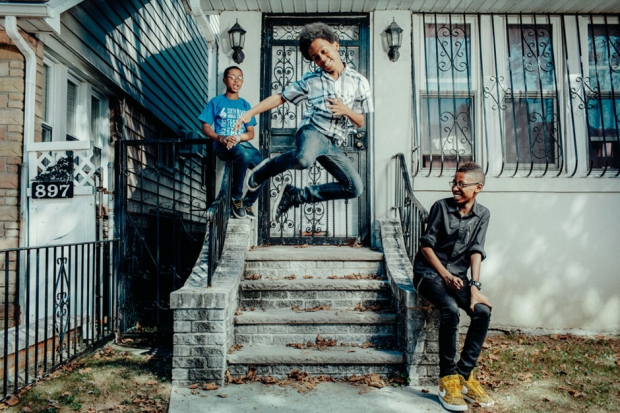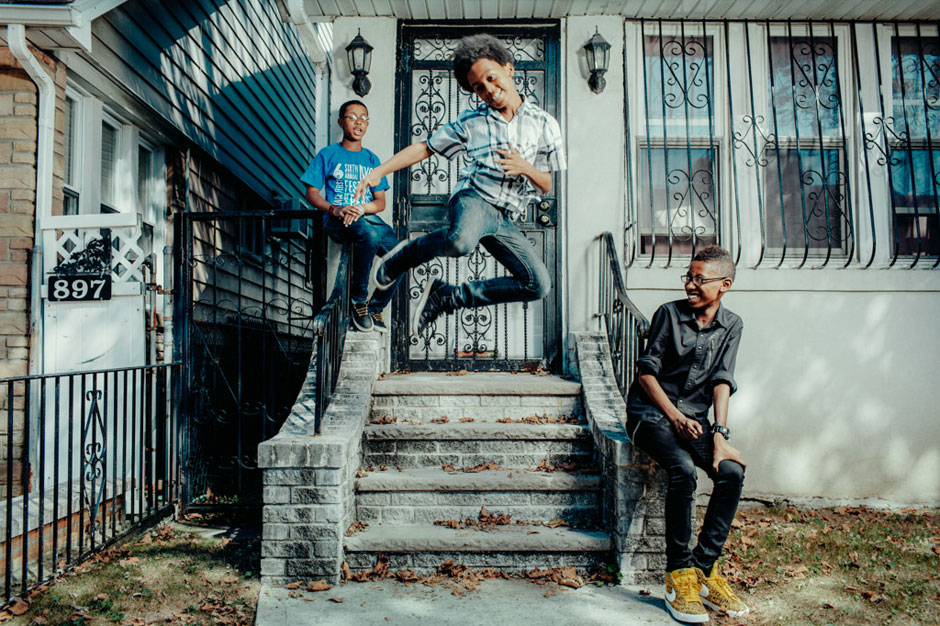 After that first Williamsburg show, Tracey tells me: "I've seen better." And the boys all nod along. So I go to another show. This time it's Webster Hall, end of July, and the guys are opening — not the first opener, but the second after the band Nuse — for Scar the Martyr, Slipknot drummer Joey Jordison's new band. Jordison himself had requested them after he caught their performances online.
This time the audience is all metalheads and it reminds me of my teenaged years hanging out in Los Angeles' Rainbow Room, where everyone either looked like a Guns N' Roses video extra, a Motorhead roadie, or a generic hair-metal ingénue. Almost everyone is white. A lot of beer is being spilled. A lot of blonde hair is flying around — beards, manes, you name it. There are fake-breasted, heavily tattooed women in tiny leather miniskirts straddling big guys in black leather cowboy hats and knuckle tattoos; there are skinny, pierced bald guys in Marilyn Manson t-shirts; there are young people who seem to live in the entirely indoor world that their computers provide. Annette and Tracey are nowhere to be seen, but this time, I meet Alec's grandma, who looks no more than 50 but must be older, shimmying around the crowd, loving every moment. I tell her that the kids call her their biggest fan and she laughs, "I am, I am!"
The show is even better than before. One of the main highlights is what the boys hinted could happen the week before at their house: vocals. Malcolm steps up to the microphone and gives it his all for the chorus of a song titled "Monster":
I am a monster
I am a monster
That's what you told me, baby…

He doesn't sing the rest of the words — which I'm only aware of in the form of a print-out — but what's striking about those unsung lyrics is the odd poignancy of a 12-year-old who seems too young and too well-adjusted for an angsty interior world better suited to my old preteen grunge times of the '90s.
I am self-destruction
I am everything
I am the things you told me
To believe
You are the destruction
But you aren't everything
You told me the things you told me
To believe
I am Frankenstein
Brought from the dead
I let mind control me
The walking dead
I am not a puppet
Under your control
I wish there was a puppet
With all control
I am a monster
I am a monster
That's what you told me, baby.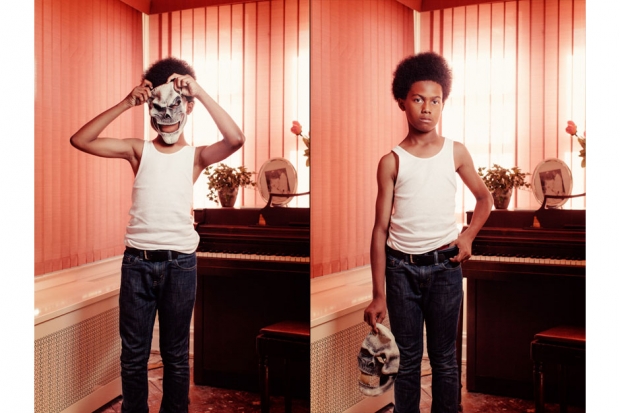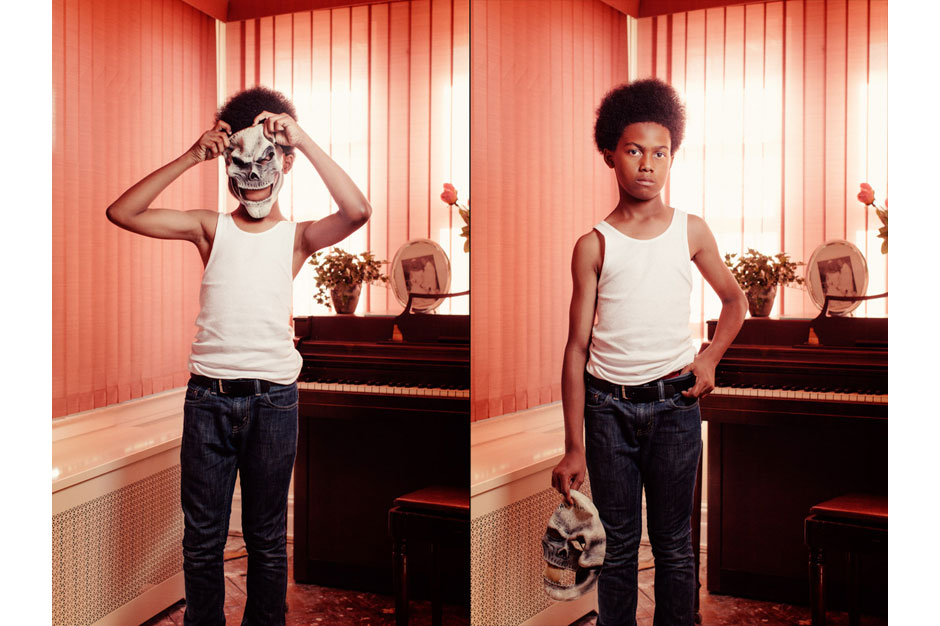 Fairy tales like this are supposed to be soiled by simple tragedies: usually, a Svengali enters and, like dominoes, it all falls flat. Yet in this surreal and concretely charmed tale, the superior who came on the scene was truly a benevolent one, and his role has supplied an essential missing link to their golden narrative.
Right now, that man, Steve Jordan, is producing Unlocking the Truth's debut EP. Jordan, a multi-instrumentalist, composer, musical director, and Grammy Award-winning artist, has worked with a few people in his day — Stevie Wonder, Eric Clapton, Keith Richards, Bob Dylan, Sonny Rollins, Stevie Nicks, Neil Young, Robert Cray, Alicia Keys, Bruce Springsteen, Buddy Guy, Jon Spencer Blues Explosion, John Mayer, Kelly Clarkson, and many, many more. Jordan recalls an autumn day, about a year ago, when he first encountered the band live in Washington Square.
"I was walking down Fifth Avenue, looking forward to going into the studio, and I read my horoscope that day and it said something really fantastic is going to happen to you today. So I cut through the park on my way over to Broadway and I hear this music, and as I get closer, I see these kids playing, and they are playing metal and it's got this extra groove to it. And it was incredible. I couldn't believe what I was seeing and hearing. So I was looking around—trying to spot the hat, the manager or the parent or someone there. I looked directly to my right and saw someone talking to the gentleman to my right and it was Tracey. I said to him, "Are you the father to these kids?" I said, "This is incredible, I'd like to just contribute. I think they are wonderful. I gave him my phone number and I said go online and look me up and give me a call. Obviously, no pressure!"
In a way, Jordan wanted to work with Unlocking the Truth so others didn't. "I could see a bunch of people offering them bizarre, really bad deals — you know, the inevitable. And so I asked them, before you sign anything, just give me a buzz so I could tell you if this is a good thing you're entering or not. There were some things that could have been really catastrophic and they avoided all of them; just because that's the nature of the game. I just wanted to protect them and I think everyone who meets them wants to take care of them, wants to make sure nothing bad happens to these boys — you just want to keep all the riffraff away, all the potentially horrible things that can happen."
Jordan does not harp on the bandmembers' ages or their race, but their sound. "It has the earmarks of metal, obviously, but at the same time, it has a little extra juice going on. It has a little swing to it, as well, a little extra, that little difference there. It's like the difference between rock and rock'n'roll — they got that little roll in there. And then you see them and they're like kids — like whoa. But it's not the age. They're like old souls."
He's working for free, but he doesn't see it as a side project. "I try not to make it my spare time. It's real. I had to be out of the country for five months on tour with Eric Clapton so I couldn't be as hands-on as I wanted, but they were patient and I got back again." He pauses. "I feel very lucky. It was a lucky day for me [seeing them in the park]."
And the list of major music figures who have fallen under the band's spell seems to grow daily. Derrick Green from Sepultura found them on a blog and felt an immediate sense of connection. "When I was growing up, there weren't a lot of black kids listening to metal music or hardcore music. I would get harassed by other black people and questioned all the time about why I liked this style of music and why was I trying to be white. I was told that black people didn't listen to this style of music. Even back then, it sounded just as ignorant as it does now. I didn't hate them for their stupidity, but it only pushed me to be where I'm at today." Of Unlocking the Truth's potential to be a mainstream success, he says: "Kids can do anything. If they believe in something strong enough and have the passion and drive, yes." Keyboardist Joshua Balz, of metalcore act Motionless in White, also recalls seeing the band for the first time — "I remember our manager sending us over a video and telling us we had to watch it because there were kids playing metal in the streets of New York City." But Steve Jordan thinks Unlocking the Truth has caught on so swiftly because of their very essence as much as their output. "It's so honest; it's not contrived. That's what people get. That's why they are affecting so many people so quickly. They're real."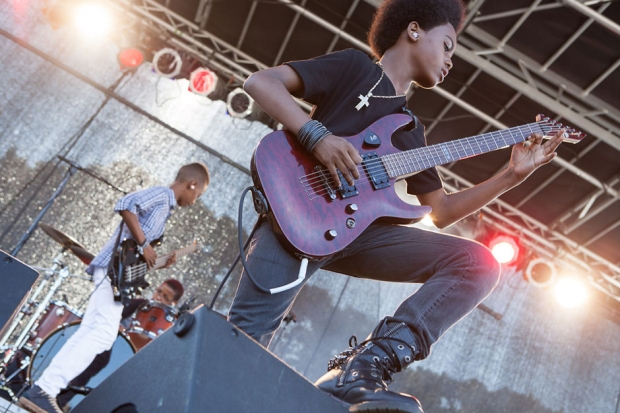 It's late August and the trio is awaiting their biggest show yet, at AFROPUNK FEST in Brooklyn's Commodore Barry Park — they've been talking about it for months. I'm in the VIP tent, and every once in a while, one of the boys dart from backstage past the tent, offering a giddy wave; sometimes, a parent or two walks by. I notice a very smiley tall girl. She's Tara Abdullah-Nri, who went to a summer camp with the boys in the weeks before the gig.
While publicists and website journalists and photographers from my past and present come and go with hugs and chortles, I find my best conversations are with Tara. She reminds me of Malcolm, Jarad, and Alec, wise beyond her years in a way that makes a fool of anyone expecting anything less. She asks me a bit about my work and tells me that she wants to be an entertainment lawyer and how she's also a bit torn because she wants to go into the family music business, as she plays the trumpet and violin And at some point, I find out two somewhat shocking things: Tara is 12 years old, too, and the daughter of Ahmed Abdullah, a noted jazz trumpet player who was a key member of Sun Ra's touring band for years. She continues to shock me with her sophisticated theories on "cool" and "weird."
"So, basically," she says. "I think that everyone is weird, but we're divided by what other people think. I mean, look at any school and you will see that it's divided into groups. Everyone judges you and deems what category of weird you are placed in…"
We're interrupted by the boys' father Tracey, who stops by to say hello and wants to figure out how to get us backstage, but in the end, he fails. Tara and I hang around in VIP, and both lukewarmly nod our heads to Wicked Wisdom, Jada Pinkett Smith's metal group that she's been very passionately fronting since 2002 (the band's most high-profile successes have been an opening gig for Britney Spears' 2004 tour and an Ozzfest slot the following year). The whole reason the boys are performing today (instead of tomorrow as they were originally slated), is that Pinkett Smith tweeted about them and then requested they go on before or after her at AFROPUNK so her whole family could catch them live. And it's the Smith crew — Will, Jaden, and Willow — who the Unlocking boys are hanging out with backstage as if it's no big deal.
Jada is wearing a barely-buttoned faded blue denim shirt with her black bra exposed, and heavy black boots as she struts across the stage, more Mick Jaggerish than James Hetfieldy. She takes swigs of water between sets and spits it out on the stage, like a WWE pro. When she rages, it's a like a theater kid acting out a metal-frontman role — she lacks the lung power for the roaring vocals, but nails the swagger. Backstage, Will and Jaden Smith nod and smile politely, while younger daughter Willow, of "I whip my hair back and forth" fame, indeed whips her magenta-streaked and side-shaved hair back and forth to her mother's music, metal horns in the air the whole time. Yet somehow the family feels like they're acting out a part, masquerading in a scene where they're not meant to be.
Tara highlights the theme, reverting back to her ideology of cool within all this hype: "The cool people are weird too, but they act as if they aren't weird at all, which makes them boring…"
When it's Unlocking the Truth's time, however, the boys once again own the stage, their biggest yet, with seemingly little anxiety. Their energy is at an all-time high; this is the gig they've been talking about for months. Malcolm's focus could light a match, his riffs electric and a little wilder and looser than past performances. He's more frontman than ever, stomping around in his heavily buckled and chained Sinister Soles shitkickers — all MOMager could find in his size 5. Jarad keeps the pulse flawlessly, and Alec, more than ever, seems to grasp how crucial his role is, the middle-man of melody and rhythm, You can feel a new confidence level rise as the trio court the classic verse-chorus tension and resolution.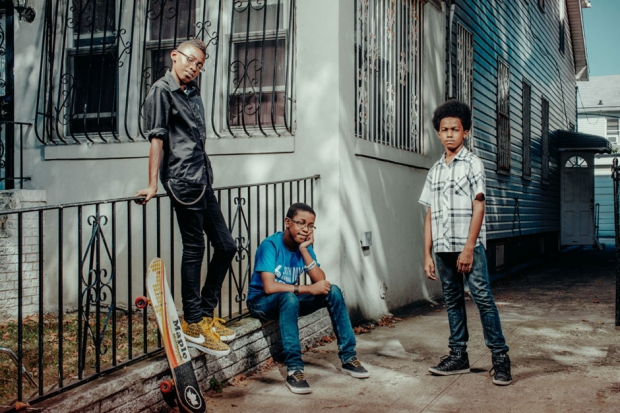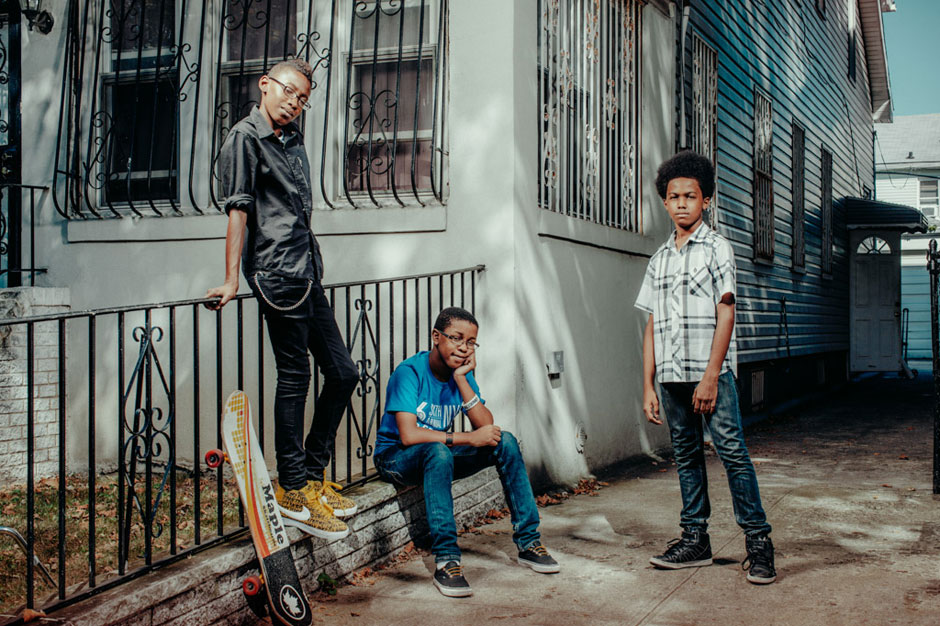 At some point after the set, Alec ecstatically dashes off and Tara and I both struggle to wave at him as he grins and disappears into the crowd. Malcolm comes over to us, trying to figure out ways to get us backstage. He seems surprisingly low. I ask him how he thought he did. He shrugs. "It was boring."
I laugh. "Really? You were great. Why?"
He shrugs again. "They cut our set short."
I ask him why he didn't sing. "I don't feel comfortable." And with that, he's off again. It doesn't entirely surprise me any more, Malcolm's intense perfectionism makes me pretend that he's just another brooding adult rock star who can't get that proverbial satisfaction no matter how hard he tries and tries and tries…
Tara and I smile at each other, amused, as the next metal band revs up. Tara seems less phased by Malcolm's momentary gloominess. It seems like she gets it, that she too is part of this very underestimated culture, this population primed for some future that we can handle envisioning, but whose very relevant present we're just about missing. She goes back to her old-soul truisms: "So, normal is boring, it's the truth. I'd say the [Unlocking the Truth] guys would fall in the 'I will be who I am and no one else' category. They don't really care what other people think of them. That's a good thing because you need to be yourself, especially to be a successful musician. You know?"
And I nod and say I do, when at best I think I do. In a world where we constantly worry about kids growing up too soon and the digital age prematurely speeding up their development, for once the future, their future, looks bright to me — the fortunate ones, at least, are not afraid of the questions or the answers, it seems, less afraid than I was. Whatever can allow these kids the chutzpah to put "the Truth" into their moniker — and then imply they are mystery-solvers of whatever that great unknown is — is also what makes their adolescence worthwhile for them. The cautionary tale, of course, is supposed to enter the picture here, and present a dark ending to this fairy tale, the one with kids growing up too quickly, losing their childhoods, feeling the pressure and strain of the industry at a time when they are not equipped to confront it. When I try to bring this up, Tara doesn't see it for a second — she smiles, again wisely, almost humoring my neurotic pessimism.
It's then I think back to the sentences that Jarad ends pretty much every practice session with, his bottom line, the one his bandmates can't even playfully poke fun at: "I love my life, I love my life so much, I really do."