Chicago house is experiencing an art-pop resurgence entirely separate from whatever warmed-over elements of the sound still sneak into EDM these days. Along with Kanye West's Yeezus, which skronks and fizzles like acid purveyors Phuture (the Chi-town-ian beats provided by French house inverters, Daft Punk), there is Nine Inch Nails' Hesitation Marks, an apocalyptic get-down fueled by rigid, vicious Midwestern rhythms. These releases are reminding keyed-in, geeked-up listeners of just how raw house music can get.
Popular music often seems to mind its own checks and balances, grabbing hold of some ineffable something in the zeitgeist and then breaking that zeitgeist over its knee and starting the next trend before the other trend is even over, so now we're experiencing a kicking back against that recontexualization of house as relentless mean-mug. The highlight of rapper Le1f's Tree House mixtape, released last week, is a track called "Jack" that splits the difference between the hard and soft elements of Chicago house — fitting for an erotic seduction song equal parts explicit and demure. And this week, electronic R&B duo Phonte Coleman and Nicolay Rook, better known as the Foreign Exchange, resurrect the warm, inviting elements of house on their fourth album, Love In Flying Colors.
By coincidence, the Foreign Exchange and Kanye West have released their past three albums close to one another, accidentally enacting a debate about ethics and influence. The result is that F.E.'s albums often feel like mannered, mindful correctives to Kanye's excesses. In 2008, a month before Kanye's 808s & Heartbreak, the Foreign Exchange released Leave It All Behind. Both albums wrestled with relationships via spare electro-soul. While Kanye cruelly mocked his ex's privilege over a Jerry Goldsmith-like movie score music on "Robocop," or just plain called her "heartless," Phonte and Nicolay presented a more quotidian vision of romance in flux — and a more entertaining one, as well. On "All Or Nothing," Phonte enacted a bitter argument with a lover that ended with him declaring, "Fine, I wanted to play X-Box on the big TV anyway." It lightens the mood and pulls back some of the last-word cruelty R&B was mired in, exemplified by 808s.
2010's Authenticity arrived right before My Beautiful Dark Twisted Fantasy, and it too was an apocalyptic romance record. Nicolay's production was John Carpenter-like icy, and Phonte's songwriting nodded to the lonely heartache of country music. It's a more modest fusion than MBDTF, which found room for filmic strings, Bon Iver cries, and James Brown samples, but no less vital. Also: You could've created a sad-sack electronic-tinged trilogy of dudes over thirty, romantically lost and confused, consisting of Authenticity, My Beautiful Dark Twisted Fantasy, and Diddy-Dirty Money's Last Train To Paris.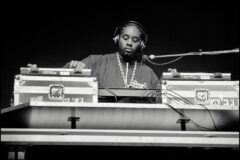 It isn't that these Foreign Exchange albums are "better" than Kanye's output, it's just that the Foreign Exchange have been chewing on the same issues and sonic details for quite some time, and deserve to be part of the conversation. Love In Flying Colors' first five tracks pair house with nods to flute-fried fusion ("If I Knew Then"), quirky quiet storm ("Listen to the Rain"), and commercial soul ("Better"). The second half of the record, beginning with the non-stop propulsive single "Call It Home," imagines some sort of shuffling, skittering Mr. Fingers refix of one of Chicago soul man Donny Hathaway's Debussy-inspired compositions off 1973's Extension of a Man. This is aggressively sophisticated R&B that makes no apologies for its brains or its lost-in-love sincerity.
Listen to the way that "The Moment" glides from minimalist Berlin techno tics to American EDM's bass thumps and synthetic soul claps. Then finally, "The Moment" commits to being a grown-and-sexy anthem that grabs from Michael Jackson's Off The Wall, Billy Ocean's Nights (Feel Like Getting Down), and other post-disco feverish funk. What begins as something with the alienating menace of a Yeezus cut, opens its heart and drops its defenses as Phonte Coleman belts out, "Show me the place where I belong / And show me a love I know is real / Tell me you'll stay by my side for life / Not just a moment." Whereas Yeezus grabs onto house to reflect the paranoia and frustration of the black experience, the Foreign Exchange's latest concerns itself with the communal, even familial elements of dance music — house as church — to ruminate on and celebrate long-term love.