Last week's The Atlantic article, "Did the Decline of Sampling Cause the Decline of Political Hip-Hop?" is just the latest in a never-ending barrage of thinkpieces that attempt to explain where rap went wrong or got ruined or lost its soul and blah blah blah. The piece by Erik Nielson, assistant professor at the University of Richmond with a focus on African-American literature and hip-hop culture, however, places rap's decline on the death of sampling and that's sort of a fresh perspective.
Nielson's thesis is that following the 1991 ruling regarding Biz Markie sampling Gilbert O'Sullivan, which moved hip-hop away from sampling for pragmatic reasons (you could get your ass sued), also explains why rap has become less socially and politically engaged. Sampling "provided an important engagement with social or political history," and so, once sampling became less prevalent, so did rap's conscience.
It's a convenient moving of the "real hip-hop" goal posts, if you think about it. At the moment when "lyricism" seems to be returning to the mainstream or has at least entered the conversation, thanks to a new breed of stars who rap well or at least, try to rap well (J. Cole, Kendrick Lamar, Wale, Big Sean), and the Internet has pushed rap's "undergound" much closer to the surface (Big K.R.I.T., Danny Brown, Earl Sweatshirt), Nielson decides that rap's problem isn't a lack of lyricism (like most people usually posit), but not enough sampling. Typically, the piece has been running around on social media, especially Facebook, where all undercooked, sounds-good-if-you-don't-think-about-them-very-hard declarations get their time to shine.
Look, the story of hip-hop's shift is simple, but hard to swallow: The music turned into the biggest cultural movement on the planet, and as a result, couldn't get away with as much. Record labels and big evil businesses cracked the rap code and were able to locate the sort of pandering rappers they preferred (they weren't stuck with all those New York oddballs), so rap became more streamlined and less messy. But the result of this shift is that rap became more multitudinous and open-eared, as well. West Coast rap, mainstreamed by Dr. Dre's The Chronic, elegantly mixed sampling with live instrumentation. Its backbone is music from the politically furious funk weirdness of George Clinton. That was one year after Biz Markie and Gilbert O'Sullivan's people bumped heads in court, by the way.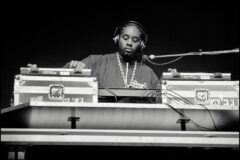 And what to make of Southern rap's arrival, which Nielson relegates to a dismissive reference to spaced-out production innovators the Neptunes and Timbaland? Namely, there is an equally rich tradition of sampling in Southern rap, there just isn't a crate-digger culture to promote it. More importantly, though, Southern rap's specific contributions to hip-hop hinged on live instrumentation and original melodies. To pick the most obvious example, there is OutKast, who mostly created their own beats with a band-in-a-room style, and were certainly not short of social commentary. They're arguably the most successful rap group of all time.
Typically, Nielson's argument goes from sloppy to lazy once he begins dissecting contemporary rap music. He cites challenging, eccentric mainstream rappers like Lil Wayne and Kanye West as examples of rap gone wrong and irresponsible. It's a cheap way of rallying the "real hip-hop" troops, for sure, but it also misrepresents these artists' work and their social engagement, not to mention the way they've engaged with samples, which is what Nielson's concerned with.
Reducing Lil Wayne to his gross and lunkheaded Emmett Till line (though indirectly, it does remind radio listeners of Till's murder, right?) does a disservice to Wayne's more significant, decade-long reminder of the tragedy of Katrina and systematic government corruption. Tha Carter III ends with a Nina Simone-sampling song called "Dontgetit," which finds Wayne tying his own misunderstood, outsider status to Simone's, and ultimately, the outsider status of African-Americans in the United States. His Katrina wail mixtape cut "Georgia…Bush" grabs its beat from Ludacris and Field Mob's song of community celebration, "Georgia," which samples Ray Charles' "Georgia on My Mind," and raps around the Ray Charles sample, taking Charles' "Georgia" shout as a clever way to take the President Bush to task for his failures:
"Man, fuck the police and President [Georgia] Bush / What happened to the levees? / Why wasn't they steady? / Why weren't they able to control this? / I know some folk that live by the levee that keep on telling me they heard explosions / Same shit happened back in Hurricane Betsy, 1965 / I ain't too young to know this / That was President Johnson, but now it's [Georgia] Bush."
Strangely, Kanye West is a target too. Nielson nods to West's complexity by pointing out that he is "as likely to revel in material excess and misogyny" as he is political commentary, and ultimately suggests that Kanye's interest in sampling is primarily a new way of flossing (because samples are very expensive these days). Before we get into this, don't let that misogynistic reference slip by. Since when was Nielson concerned with misogyny? Is he trying to suggest that the Golden Era of hip-hop wasn't rife with misogyny? Did sampling somehow free rappers from misogynistic rhymes? That isn't true. Then again, it doesn't matter because these are just "rap sucks now" talking points filtered through a muddled, if relatively innovative "death of sampling" explanation as to why rap isn't what it was once was.
Taking aim at Kanye and Jay Z's Watch the Throne, specifically "Otis," which samples Otis Redding, Nielson quotes the Washington Post's Chris Richards: "When Kanye sampled Otis Redding on Watch the Throne, music critic Chris Richards probably got it right when he said, 'although West's creation sounded cool, the overriding message was, 'This cost me a lot of money.'" No doubt, Kanye enjoys flaunting expensive samples, but Watch the Throne also contains samples of James Brown, Nina Simone, Quincy Jones, Curtis Mayfield, and Syl Johnson.
In particular, the voice and grunts of James Brown appear throughout much of the album, like a hypeman. And so, on an album where Kanye and Jay attempt to forge a vision of African-American "excellence" and success, attempting to reconcile the radicalism of Malcolm X with the "bootstraps" rhetoric of Booker T. Washington. They surround themselves with black artists of the past, those who set a precedent with their power moves and broke down doors that let them be hugely successful. You can disagree with Throne's well-meaning if self-absorbed thesis, but suggesting that the samples have no deeper meaning just means you're not listening very hard.
Nielson never even mentions Kanye West's most recent record, Yeezus, which reaches for the communal catharsis of Chicago house music with its drum-machine beats, and the noise-rap political moves of Public Enemy and the Bomb Squad's sample-crammed production: "Blood On the Leaves" extensively uses Nina Simone's "Strange Fruit"; or consider "Bound 2," which chipmunks Brenda Lee, of all people, cleverly nodding to Kanye's move away from soul sampling and placing one of the whitest singers of all time at the center of the closing track on an album obsessed with and angered by white supremacy. How's that for social and political engagement by way of samples?
I could keep going, but I won't. Nielson ends with a curmudgeonly kicker about how he'll be "feeding [his children] a steady diet of Public Enemy." Great. Everybody should listen to more Public Enemy. But Lil Wayne and Kanye West are part of a healthy hip-hop diet too. Let's stop pretending that they're only junk food.