Sunday, September 22
5:55 p.m.
As we walk up to Ice Palace Studios north of downtown Miami, a group of pre-teens are loitering outside and guarding boxes of shoes while cursing into their iPhones. We're here for a Dunkxchange event, where sneaker nerds buy, sell and trade thousands of lollipop-colored Nikes. If this sounds ridiculous that's because it is, but the demographic here — males, 12 to 25 — is the precise audience targeted by Rockie Fresh and Stalley, who are performing here later. This is what's called direct marketing.
6:10 p.m.
Rockie takes to the small stage with about 30 boys watching him. Though the Dunkxchange event does bring him to what would be something close to his ideal fanbase, today he is playing second fiddle to the tables upon tables of shoes, nearly all of which are selling for upwards of $150. The small crowd is attentive but unenthusiastic, and Rockie's withdrawn coolness doesn't pull them any closer. He ends with "What Ya Used To," the song that very well may break him. But it won't happen today. This — performing for half-interested onlookers at a shoe convention — is "the grind" rappers speak of, even ones signed to major labels. Before he leaves the stage he reminds everyone to follow him on Twitter: "R-O-C-K-I-E-F-R-E-S-H."
6:45 p.m.
Stalley steps onto the stage. The crowd has not exactly swelled, but it's easy to gauge the slightly increased level of fan interest by the number of phones being held up to his face in an attempt to snap a photo. He is able to hold the crowd longer than Rockie, but it's questionable whether that has anything to do with him, as a rapper, or is simply a matter of his being closer to the center of the MMG circle. As if in tribute, Stalley closes with "MMG The World is Ours," a song of Ross' excellent 2012 mixtape Rich Forever that also features Meek Mill and Pharrell. And as he ends his set, a few kids up in the front row reach out to slap his hand.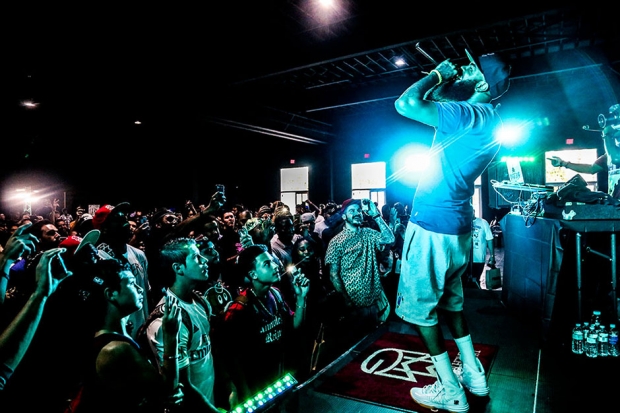 12 a.m.
Dinner tonight is at Prime 112, a renowned steak restaurant at the very southern tip of Miami Beach. As a group of us — mostly label folks — stroll into the restaurant, we pass a white Bentley Mulsanne with a 7-11 Big Gulp cup sitting on the dashboard. Ross and the rest of MMG are already inside in a private room, but soon they get up to leave. On the white-clothed table behind them are the typical accoutrements of fine dining: heavy silverware, wine glasses, shining plates. But there are also stacks of Styrofoam cups and, looming above all, another 7-11 Big Gulp.
2:38 a.m.
"Do LIV on Sunday like a church." — Meek Mill, "Amen"
Sunday night at LIV — a club in the Fontainebleau Hotel, further north up Miami Beach — is currently the biggest club night in rap, having been mentioned specifically in a number of songs including, most recently, on Drake's new "305 to My City." As we pull up to the circular driveway, four Miami Beach cop cars are parked outside to help monitor the crowd, which is trying to wedge itself through a single door being controlled by bouncers. We make our way through the lobby, and as I stand by LIV's entrance waiting for others, Ross walks by in a shimmering silver shirt followed by a small, mostly male posse. They all get patted down — except for Ross — and slip inside. "Pop That" is blaring and its video is being played on the large back wall.
LIV is a big domed structure with an array of lights on the ceiling that give you the distinct feeling of what it might be like inside a UFO. The downstairs dancefloor is packed but no one is really moving, and from my vantage point from above no one really looks like they're having fun, either. Instead it's as if people are just waiting for Something to Happen. This is LIV after all, the club night so great that rappers can't stop bragging about it. But by now — September 22, 2013 — LIV is mostly an assembly line of other people's memories, and where once sparklers used to shoot from champagne bottles they've since been replaced with coiled LED lights. It looks like waitresses are parading around the club holding bug zappers high in the air.
Eventually, Ross moves to the front of the VIP area, which directly overlooks the main floor. He performs the same rotation of new tracks he's been peddling all weekend — not stuff people really came here to hear, but stuff that, for Ross' purposes, they need to hear. Meek is off to the side, looking happy but tired. His chain is reflecting blue, green and pink in the light. The guys who look like they're having the most fun — Omelly, who's standing on a railing next to Stalley, and Young Breed, who's got a determined look on his face like he's on stage at an actual concert — are the ones who have done this promotional song-and-dance the least.
After most of MMG performs, the DJ spins a little. The songs choices are obvious, like a Spotify playlist of the popular rap songs from the last 12 months (minus Macklemore). He also spins "Dreams and Nightmares," the eponymous track off Meek's 2012 major label debut. The song is one four-minute-long verse that switches up in intensity halfway through. As "Dreams and Nightmares" plays, the house lights go all the way down as Meek raps over piano chords about his come-up from nothing. It feels like the first epic, meaningful moment of the night. I also can't see anything.
As the beat flips — "When I bought that Aston Martin y'all thought it was rented" — the house lights go up and confetti falls from the ceiling. I look up and everything feels dazzling for a second, then I look down and see a piece of shredded paper floating in my $11 Corona.
4:15 a.m.
I go outside to hail a cab, which is something only tourists do in Miami. As I get into a car, I see the Atlanta rapper Lil Scrappy, flanked by a few women, also flagging a taxi. Scrappy last had a hit single in 2006, but tonight he's wearing more chains than any other rapper in the place.