Saturday, September 21
2 p.m.
Today, we are going to a pool party at Rick Ross' house. Ross' place — the setting for French Montana's "Pop That" video — is in Davie, a suburb of Fort Lauderdale that is a half-hour northwest of Miami Beach. It is not where you would expect the city's biggest rap star to live: on our way there our bus passes a yellow road sign warning us to look out for horses crossing the intersection.
Ross lives in a gated community full of extremely large houses lined up closely together. His is one of the most ornate, with a long tiled driveway leading up to tall romanesque columns. When we arrive, the following cars are parked outside: a gold and black Bentley Continental GT, a white Mercedes-Benz, a white Ferrari, a white Bentley sedan, a white BMW, two red candy-painted vintage Chevys and a black two-door Benz with its suicide doors lifted up. There's also a white hummer painted with lime green lettering to advertise Wale's recent album The Gifted. By the time we leave tonight, the number of luxury cars will have doubled, and the music will intermittently be stopped as people request that certain cars be moved so others can pull out. Rich rappers: their problems are our problems.
4:15 p.m.
Ross's house was clearly designed with old-money luxury in mind — very old. Replicas of Renaissance statues on short columns are scattered throughout the grounds. Later on, when I would gaze at the party in the pool, I would sometimes see a version of the Statue of David's penis in the corner of my eye. But this faux-historical aesthetic clashes with a sports-lover's fantasies made flesh: outside Ross has a putting green, a beach volleyball court, and a custom basketball court; inside, life-size cut-outs of athletes like LeBron James and Alex Rodriguez are hanging over a few doors.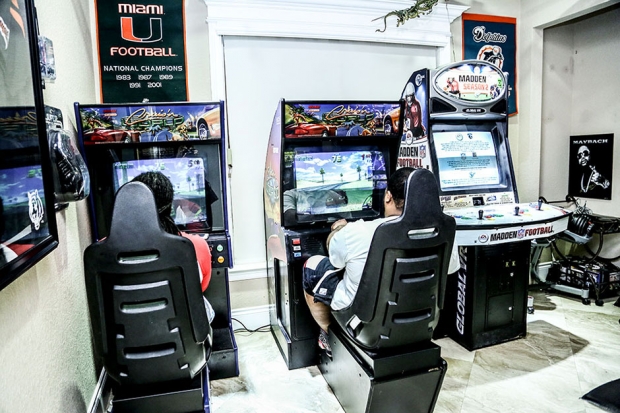 It becomes obvious that Ross won't show up for another few hours, so I wander around the first floor of his home. The office has been turned into what looks like a shrine to action figures and Legos, though it's hard to tell for sure because the room is dark and shrouded by a poster advertising MMG's album. Off of the kitchen is a game room that features a number of arcade consoles and model train tracks that line the walls, a few inches from the ceiling. I play a man named Jerry in NFL Blitz and lose 19-13, which I believe is karmic retribution for my decision to kick a field goal in NFL Blitz. Behind us, two others are sitting in mock driver's seats playing Cruisin' USA. Believe everything you ever saw on MTV Cribs.
6 p.m.
Ross arrives wearing a Louis Vuitton headband and a vintage Milwaukee Bucks basketball jersey that he'll quickly shed. The master of the house immediately performs the same songs we saw last night. Then he walks around the pool taking photos with anyone who asked, many of them radio contest winners. Rick Ross is very personable, or at least good at pretending to be.
6:28 p.m.
There are many women here working the party, all wearing matching black shirts and black thongs. But only one has a temporary MMG tattoo on her ass.
7:08 p.m.
Meek Mill specifically requests a Belaire rosé hookah, which is not something I knew existed. But soon one appears along with a hookah made out of a peach Ciroc bottle.
7:15 p.m.
Ross makes his way back over to the DJ booth that has been set up near the patio doors. The DJ plays the songs from Self Made Vol. 3 intended to break newer artists: "The Plug," again, and "Stack on My Belt," a track with Young Breed that is most notable for sporting an unreleased verse from the jailed rapper Lil Boosie, who Ross earlier told us he will attempt to "do business" with upon his release. A group forms around Ross — including Meek, Omelly, Breed and Rockie Fresh — as they all rap along to the record, jumping up and down in a pack and mugging for the few cameras before them. This would be the most low-budget of ways to shoot a video but it's also a foundational rap visual, and right now it's happening in the shadow of a mansion.
8:10 p.m.
The party has essentially turned into the "Pop That" video. Ross and Meek and others are flirting with, and splashing water on, the women in the pool. Prior to the party I made the decision to not get into the pool, and so I decide walk to a bar area back behind a hot tub at the head of the pool. The hot tub spill-off runs into a moat that separates it from the pool and juts out into a walkway outlining the entire area. In order to avoid the moat, you have to essentially walk in half-circle around it. It is dark now, and the outdoor area is lit dimly by a few lamps and a track of neon blue lights lining the pool. Relatedly, posted on the refrigerator in my apartment back in Brooklyn is an updated prescription for my glasses. These are all excuses for why I inadvertently walk directly into the moat at Rick Ross' pool party, soaking myself up to my knees. A welt the size of a lime bulges on my right shin. Thankfully, I'm able to retrieve ice from a Ciroc Girl.
We all leave the party soon, which at this point is just fine by me.