Friday, September 20
6:45 p.m.
The Mondrian hotel on South Beach is on the edge of the Miami peninsula's west side, a bit of a walk from the actual beach and the glitz that accompanies it. The building is white and faceless from the front, distinguished from the two luxury condos that sandwich it only by its curved architecture. The area immediately surrounding the hotel slants more towards Miami's reality than its glamorous image, as low-slung apartment buildings bulging with cluttered balconies loom over modest one-story homes, tiny office complexes, and mini-strip malls. One day all of this will be razed for buildings that are bigger, prettier, and more expensive.
But inside, the Mondrian looks and feels like South Beach proper. The lobby is gleaming white and leads out to a pool area overlooking Biscayne Bay, which is dotted by islands that hold impeccably beautiful mansions and hilariously large, Bond villain yachts. From the back of the Mondrian you can stare at the most famous of those islands: Star Island, which houses celebrities (Diddy, for one) and other sorts of very rich people. Off to the south you can make out the towering cranes of the Port of Miami, which sits across the MacArthur Causeway from the islands as a permanent reminder that life here isn't just a fantasy.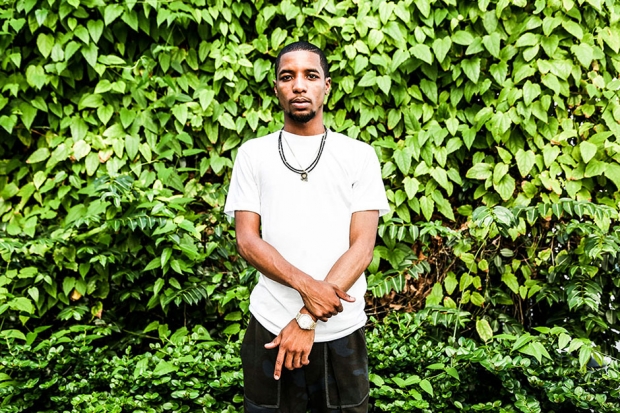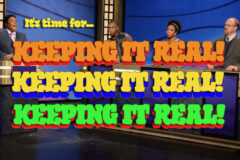 The Mondrian's pool deck is where I'm sitting with Rockie Fresh, a 22-year-old rapper from Chicago who is signed to Rick Ross' Maybach Music Group. We are both here for the first annual MMG Weekend, a series of events in Ross' hometown to celebrate and promote the label's new compilation album Self Made Vol. 3. Rockie, who is wearing a white shirt, grey tailored sweatpants and gold lamé Pumas, is facing the water, being blinded by the sun, which is refracting through a scattered group of empty glasses that once contained various frozen cocktails. Most everyone else has left the table and Rockie and I are making small talk, though I don't remind him that we once had a fleeting Twitter beef. His publicist mentions that I used to live in Chicago, though I have to clarify that I actually grew up here in Miami. It is then that he reveals himself as a rapper who appears to be living the good life with just one minor caveat:
"You got a weed connect out here?"
8:45 p.m.
The first official event of MMG Weekend is at Circle House Studios, a renovated home/recording space in a residential neighborhood across the water that has become a common stop for artists tracking in the city. We're ostensibly here to hear Self Made Vol. 3 — a record that leaked over a week ago — but right now everyone is hanging around as we wait for Ross and others to show up. The first to appear is DJ Khaled, who walks past platinum plaques hanging in the dining room for artists he helped break (Flo-Rida, Ace Hood) and onto the patio, where small groups are idly lounging. The album is playing, but that doesn't stop Khaled from switching to Ross' new single "No Games," a booming team-up with Future that is supposed to kickstart his forthcoming solo album Mastermind.
The song keeps skipping, so Khaled messes with the iPod dock, eventually moving it from atop a speaker to an adjacent chair. Then he cranks the volume to a level that is obviously too loud and starts performing the song to no one in particular, rapping along to Ross' verses while tracing a small circle with his feet. Watching Khaled walk into a party and immediately draw attention to himself is an obvious illustration of the type of shamelessness that has allowed him to ascend from a radio personality to one of the most well-connected executives in rap music. But it also illustrates why artists must love him so much: Even if only momentarily, he has hijacked a promotional party for Self Made in order to push Mastermind via impromptu karaoke. As a dozen of us on the patio look on baffled but amused, an MMG executive comes by and glares at Khaled while turning the volume down. After she walks away, he turns it back up.
9:15 p.m.
Ross walks out onto the patio, and the party immediately separates like oil and water into two groups: people who want to say hello to Rick Ross, and people pretending to be too cool to want to say hello to Rick Ross. The former group is much more sizeable, though, and it takes Ross about 20 minutes to make it through ten feet of well-wishers: This person wants Ross to do a shout-out; that person has cigars he wants to share. Everyone wants a photo.
9:45 p.m.
A group of us are huddled in a wood-paneled studio in Circle House's main building to hear Rockie Fresh play some tracks. Being that this is a rap studio, SportsCenter is playing on mute on a TV above the mixing board. Among us are journalists and label personnel, but the targeted audience is the DJs who have been flown in from some of rap's most important cities — New York, Memphis, Atlanta. Rockie's career is still very much in its infancy, and despite being signed to a major label he is still looking to break into clubs and onto radio stations across the country. This portion of the evening is an informal introduction to the rapper for the type of people who can help make a movement happen.
Rockie first plays "What Ya Used To," a song off Self Made Vol. 3 produced by frequent Kanye West and Jay Z collaborator Hit-Boy. It is Rockie's most high-profile collaboration outside of the MMG family, and the beat represents a new look for him: its synthetic string riff and hard kick drum recall the moneyed rap of Puff Daddy's '90s New York. It even features keyboards that mimic the sampled guitar riff in "It's All About the Benjamins." The track's chorus — which circles back to the refrain "This ain't what you used to" — is plainly catchy and conceptually strong. For anyone in the room who is unfamiliar with Rockie, this is easily one of his best songs and thus makes for a very strong first impression. He then plays a new song that liberally samples the British singer-producer Jai Paul's "Jasmine," which judging by simultaneous grooving in the room seems to get the best reaction of all. (Rockie will later play the song in front of Ross, who, referring to Paul, asks "Who's that on the hook?")
Though this — getting the unfiltered ear of people who can help introduce his music to the masses — is the crucial moment of the weekend for Rockie, it's hard to discern how much of an impact its making. Everyone in the studio is vibing to each song and telling him that each track is dope. But in this situation that's to be expected — this is not a forum meant for criticism, even if it would be constructive. Selling yourself is an ultimately bewildering process, and if Rockie sees the benefits it won't be for months or years down the line.
Showing yourself off is also not easy. Rockie, though he is funny and easily likable, does not have the personality of a natural pitchman — this is what makes me like him as a person, but it could be a hurdle for him as an artist. Towards the end of the session, someone reminds him to introduce himself a bit, to deliver the sell. "I'm into '90s shit, rock music…" he says, gathering his thoughts. "But a nigga still got hard shit." Everyone laughs, the tension broken.
10:20 p.m.
I slip out of the studio and walk across the hall to a larger studio where the kings of MMG are holding court: Ross, of course, as well as Meek Mill and DJ Khaled, whose wife is sitting beside him and will intermittently rub his belly throughout the night. Befitting the star power in the room, this one is even more crowded than the last, with a mixture of management, friends and DJs crowding around tables and standing on the studio's black leather couch. We'll be here for hours, and eventually the air will be choked with cigar and blunt smoke and the tables splashed with Ciroc and Belaire rosé.
I catch the very end of a new Ross track before he moves into "No Games." 2013 has been a weird year for the Teflon Don. Mastermind was originally supposed to be led by the single "Box Chevy," a track in the vein of the grimy, minor-key bangers he has pumped out since he reinvented himself with the songs "B.M.F. (Blowin' Money Fast) and "MC Hammer." But "Box Chevy" came and went with no fanfare, and it will now be lucky to be included even as a bonus track on the album. "No Games" works off the same template, but sports a hook from Future, who alone has powered a number of hits for other artists (Ace Hood, Rocko, Lil Wayne) this year. But "No Games" has seemingly already been eclipsed by the buzz of "FuckWithMeYouKnowIGotIt," Ross' starring feature on Jay Z's Magna Carta Holy Grail.
Still, Ross and his people are excited by "No Games." We'll hear the song about 50 times over the weekend and see various people wearing navy blue shirts stamped with #NoGames on the front and a massive drawing of Ross' face on the back. When he plays it in the studio, he raps along excitedly while Khaled nonchalantly plays hypeman. When it's over, Meek begins to speak. He is wearing slim red sweatpants with big leather pockets, a half-nylon, half-cotton black windbreaker with the hood up and a relatively understated platinum chain with diamonds that look coated in raw sugar. He is blissfully stoned with an easy megawatt smile and comes off as the coolest and richest person in the room. "That's automatic," he shouts of "No Games." "You gotta disrespect 'em in the video." Everyone agrees.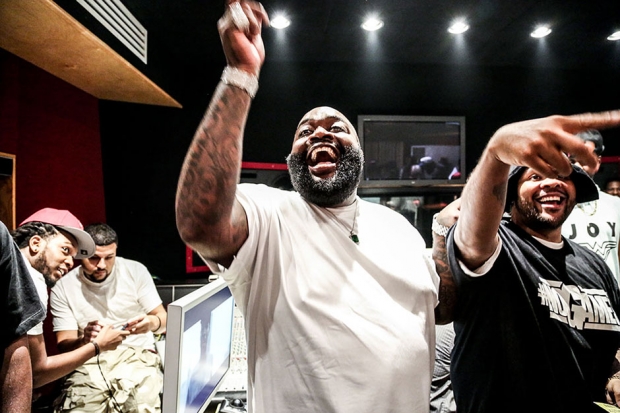 Ross soon turns the spotlight over to some of the lesser-known rappers in attendance. The boss queues up the Self Made Vol. 3 track "The Plug," a song by Meek that features two rappers named Omelly and Young Breed. Omelly is an old friend of Meek's from his hometown of Philadelphia who was recently released from prison and does not have much experience rapping. He and Meek are clearly close: Meek has shouted him out on a number of songs, and the two will stay near each other for much of the weekend. The burly Omelly, who is standing directly next to me, is wearing a platinum watch and Dream Chasers (Meek's label) chain, both of which are covered in diamonds. He raps along to his verse with a practiced MC's hardened composure, but soon succumbs to the moment, flashing a wide grin. Young Breed, meanwhile, is shorter with thick dreadlocks pulled back behind his head and gold teeth. The gruffness of his rapping matches his look, and he performs with pointed aggression. After the track is over, Ross speaks like a proud mentor. "Those records mean that much more to get young niggas on their feet."
As the night rolls on Ross continues to put the focus on his other artists. Rockie Fresh comes through and plays the same tracks he'd touted a few hours earlier. Stalley, a rapper from Ohio with a long beard whose music sprouts from the lushness of classic Southern rap, slips in and plays a handful of songs. Ross, brimming with energy, looks excited to be showing off music by one of his pupils. While Stalley plays his tracks, he and Ross speak into each other's ears. Cutting through Ross' own beard is a grin that will stay plastered on his face.
Eventually Stalley has played all of his best songs. A few people in the room are drunk, sloppily pouring drinks out of an unending supply of liquor bottles. Wings from one of Ross' Wingstop franchises have been shuttled in and quickly consumed. A delightfully hammered MMG team member addresses the DJs in the room, honing in on the night's theme: everyone — from artists to DJs — should show each other love. As a bit of inspiration to rally around Ross and his crew, he illustrates Meek's loyalty by telling a quick story of the Philly rapper snubbing 50 Cent — the top Ross adversary — at a radio concert, which Meek punctuates by relaying what he told 50: "I'm MMG, nigga."
Earlier when he was playing "No Games," Ross stopped the track after the final line of his first verse: "Heard your shit keep flopping / and your crib got foreclosed." Years ago Ross triumphed over foes that endangered his career by questioning his credibility in the wake of revelations that he once worked as a corrections officer. But tonight he stopped the party to draw focus on this line. "That" — your life in shambles, your house foreclosed — "is all they" — the naysayers, always lurking — "are waiting on in this life."