Wu-Tang Clan's Sunday night performance at the Rock the Bells festival may have resurrected Ol' Dirty Bastard, but the gig ended with the hip-hop legends promising fans they'd never see a show like it again.
Fuse reports that the New York crew's San Bernardino set was so plagued with technical difficulties that Method Man actually walked offstage out of frustration. The concert started off strong, despite the fact that Ghostface Killah and Raekwon were no-shows, but about 10 songs into the show, the sound started to cut out. Eventually, the music stopped entirely, prompting Method Man to freestyle and crack some jokes. Quickly, though, the rapper became irritated.
"Two more minutes and I'm walking out of here, hologram or not," he said, referencing the much-anticipated "virtual" appearance of the late Ol' Dirty Bastard. He continued, saying, "I'm tired of this shit. This shit doesn't happen at rock'n'roll concerts."
After a 10-minute wait, the music resumed, but less than a minute into the next track, the group and audience realized the tempos weren't right. To appease the crowd, crew members reportedly hustled to summon the hologram of ODB, presumably ahead of schedule. A projection of the deceased MC did materialize, a la HoloPac at Coachella 2012, and joined the members of Wu-Tang to perform 36 Chambers highlight "Shame on a Nigga," as well as Ol' Dirty Bastard's 1995 single "Shimmy Shimmy Ya," which featured an assist from ODB's son, Young Dirty Bastard.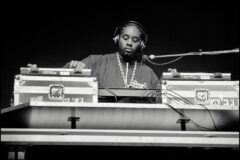 Once the hologram faded, the sound issues persisted. Wu-Tang affiliate DJ Mathematics spun a sped-up version of GZA's "Duel of the Iron Mic" instrumental that moved too quickly for the Clan to keep up with. Audience members started to leave, following the lead of Method Man, who walked offstage. The 42-year-old rapper returned near the end of the 70-minute set to run through a pair of tracks. RZA attempted to explain the problems, saying, "It's a Sunday night and we had some technical difficulties," while Method Man offered a more, ahem, straightforward apology. "And I promise you," he said to fans, "You will never see a fucking show like this again from us. Trust me."
For the record, Wu-Tang are currently scheduled to play several more dates for the Rock the Bells' 10th anniversary tour throughout September and October, with HoloODB in tow.
ODB's "revival" came just one day after another deceased hip-hop legend, Eazy-E, took the stage by way of hologram. The fallen N.W.A member, who died in 1995 from complications related to AIDS, shared the stage with his one-time protégés, Ohio hip-hop crew Bone Thugs-n-Harmony, on Saturday night (September 7). Scroll down to see them play a medley of N.W.A's iconic "Straight Outta Compton," E's own "Boyz-n-the-Hood," and Bone Thugs' "Foe Tha Love of $."
To witness part of Wu-Tang's troubled set and see Ol' Dirty Bastard's virtual appearance, watch the video above.
//www.youtube.com/embed/6aOP1YYAg_c