Nine Inch Nails has spent the last two months bouncing from country to country, from festival to festival, setting up and breaking down an incredibly elaborate stage setup, while cramming what little free time they have with press (to wit, SPIN's latest cover story). Back home in Los Angeles with the night off, of course they booked themselves a show at the Troubadour (capacity 400), where they played for nearly two hours straight, because why-the-hell-not. Oh, and…
"I almost forgot," said Trent Reznor. "We have a new record out today." Hesitation Marks, of course.
At that point the band had already played at least 10 songs — all killer, no filler with barely a word of banter spared and nary a wild LED backdrop to be seen. It was just Reznor and his carefully curated wrecking crew: guitarist Robin Finck, bassist Josh Eustis, keys and effects-man Alessandro Cortini, and drummer Ilan Ruben (each earning an "etc." to his title). There was one other announcement of note.
"Our heads are kind of spinning. We're all jet-lagged," said Reznor. "So we're gonna fuck around and play some stuff we feel like playing tonight."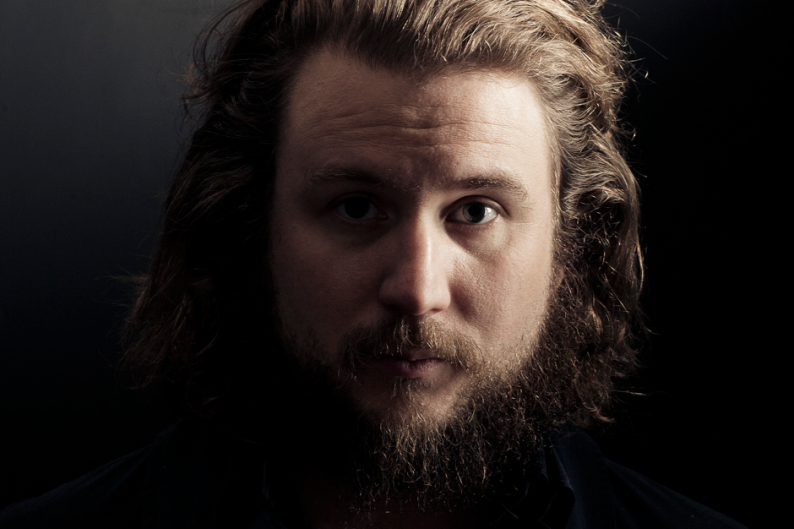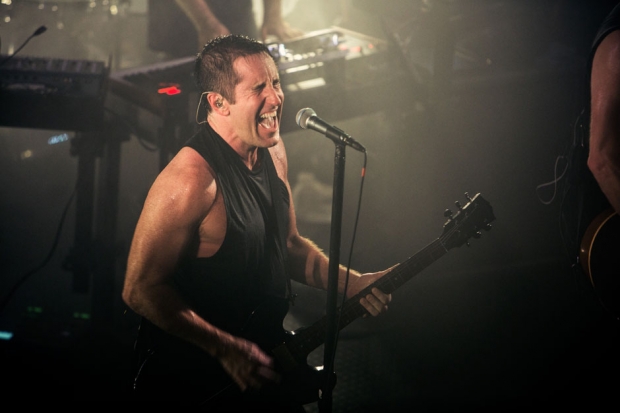 What immediately followed was a time-tripping mix of luxe brutality: "I'm Afraid of Americans" (no David Bowie appearance, drat); Broken thrasher "Gave Up"; Pretty Hate Machine's bass-driven slitherer "Sanctified"; and the techno-fried "Disappointed," one of the live highlights from the new album, which finds Eustis and Finck raising whirring hell on strange stringed instruments.
They'd opened the night shrouded in black skronk and white fog, wielding The Fragile's "Somewhat Damaged" like a finely tuned cudgel. Year Zero's "The Beginning of the End" was next, it's slick chug an apt showcase for Nine Inch Nails' insane onstage tightness. The band plays perfectly, and their leader's delivery is flawless from whisper to scream. The came 1989's "Terrible Lie," topped off by "March of the Pigs," whose cyberpunk shit-storm filled the sweltering room with the threat of internal combustion.
Despite an environment that seemed to double the day's 90-degree weather and 50 percent humidity, the adults amassed at there the Troubadour were at least twice as excited as the neon kiddies we witnessed at Electric Daisy Carnival. Grown men in black, ecstatic to raise their hands above their heads and clap in time to Reznor smashing a tambourine over his.
"I'm kinda freaked out because normally we have a place to hide," Reznor joked, referencing the moving walls NIN's been using. "We have secrets… Like, you saw that I had lyrics [printed up] for 'I'm Afraid of Americans' because we can never seem to get that right. It's not just me — he fucks it up every time too… Normally at this part of the show, we've been replaced by robots and I'm backstage catching up on Breaking Bad."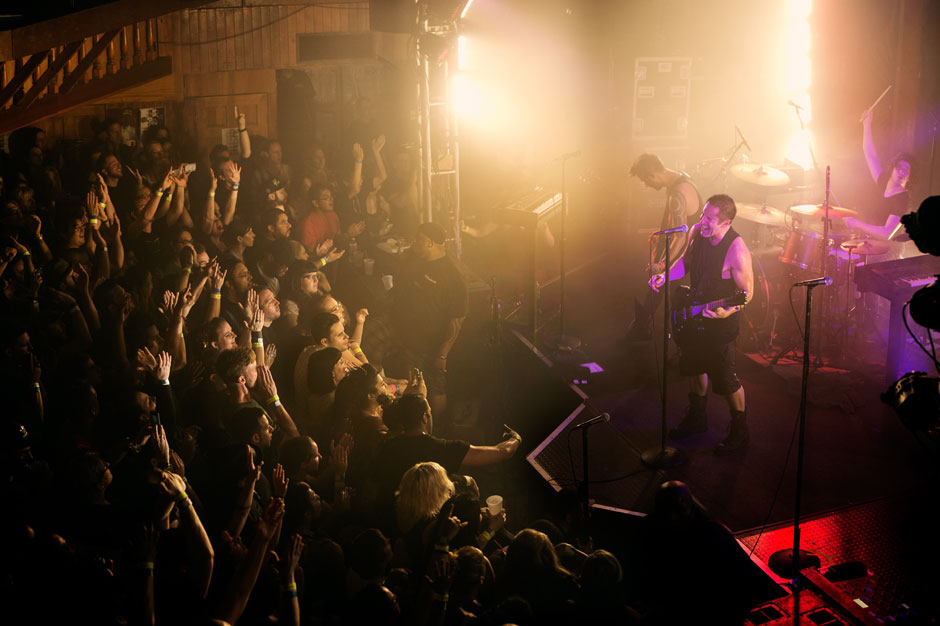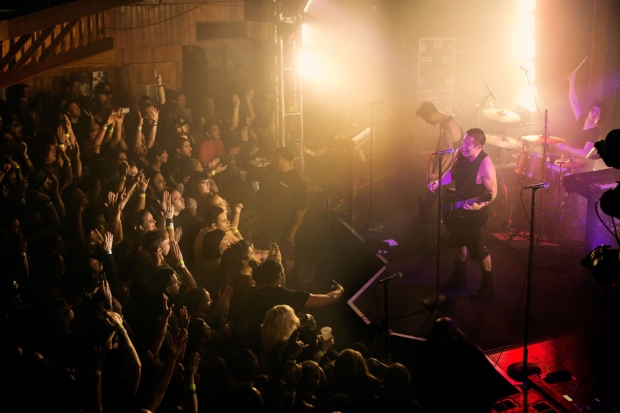 It was a rare bout of intimacy from the leader of the incredibly professional outfit, who manage the synchronization of a marine corps march while never seeming like lockstep soldiers. They are highly weaponized though — the trick of Nine Inch Nails songs is that they're as visceral as they are sharp as they are sensitive as they are angry as they are beautiful as they are universally understood. When his voice creaks on "Hurt," we feel it all.
Nine Inch Nails Troubadour setlist:
"Somewhat Damaged"
"The Beginning of the End"
"Terrible Lie"
"March of the Pigs"
"Piggy"
"The Frail"
"The Wretched"
"I'm Afraid of Americans"
"Gave Up"
"Sanctified"
"Disappointed"
"The Warning"
"Find My Way"
"Came Back Haunted"
"Wish"
"Survivalism"
"Burn"
"The Hand That Feeds"
"Head Like a Hole"
Encore:
"La Mer"
"Hurt"