Nicki Minaj Wows at Private Alexander Wang Fashion Week Show, But the Clothes Underwhelm
Minaj looks more stunning than ever, but Wang's wares don't fare so well
Say what you want about fashion week, but one thing is true: not much else could persuade Nicki Minaj, Lady Gaga, and Ciara to play small-to-mid-sized New York City shows in the same weekend. Granted, they were private, but that's what happened: on Sunday, Ciara performed at the afterparty for Prabal Gurung's Marilyn Monroe-influenced collection, while Saturday was stacked with an ARTPOPPED Lady Gaga appearance at Le Poisson Rouge (complete with her bare-butt, seapunk Venus de Milo look) and Nicki Minaj at Alexander Wang's afterparty.
We were there for Minaj, which was held in the giant mall at South Street Seaport, a venue which prompted our South Brooklyn-born companion to reminisce about the days when the mall was poppin (and there was a Sharper Image). As it stands, the three-story mall is a tourist trap in a far-flung crevice of lower Manhattan, but the Wang party wreckin cru did its best to transform it for the occasion. The theme befitting our Harajuku-jacked guest was "Tokyo," a party directive which was hammered home with free glow-in-the-dark sake and strawberry Pocky, Hello Kitty paraphernalia, papier-maché cherry blossom trees, and a free manicure station set up to look like a sushi bar.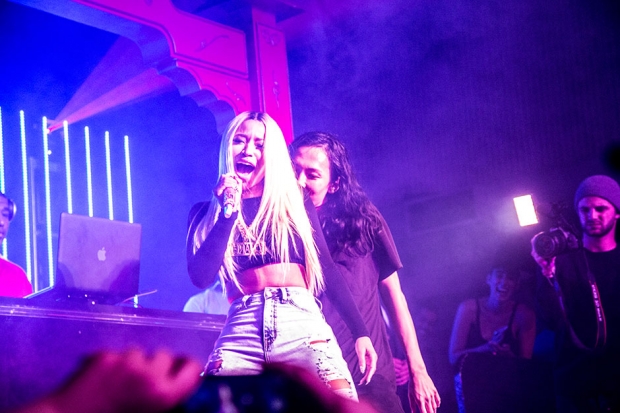 The Wang party is always the hottest ticket for Fashion Week as far as mainstream designers go, mostly because he seems to be the most in tune to interesting/underground culture, and this time around frequenters of NYC's Ladyfag-produced Shade party were invited, leaving underground club kids to mingle with icy fashion editors. It was oil and water, even when Mess Kid DJ'd dancefloor uniters like Slim Thug's "Still Tippin'" instrumental… but if anyone can unite a crowd, it's the Harajuku Barbie.
Minaj emerged in her new, toned-down, glam blondie weave, looking less Tokyo than ever but more stunning. Dressed in a simple black, long-sleeved crop top, a pair of light wash jeans with holes up the leg á la 2006, and—stunner—the same Chanel nameplate necklace that wowed us on Rihanna's 777 tour, it really underscored her style transformation. The tracks spanned her hits—"Moment for Life," "Starships," "Superbass," all with a DJ—but the true lose-your-mind moment came when she performed her voracious verse from Kanye's "Monster" totally a cappella. Never, ever say she's not a formidable rapper — she comes with bared teeth.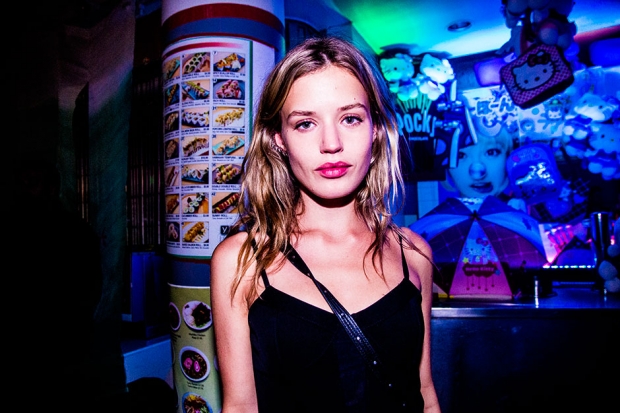 Oh, the clothes? They did not fare so well. Alexander Wang resurrected the "Parental Advisory" logo a few years after the streets, and while they were embossed on prettily iridescent oversized tops (some with quite literal strategic cut-outs), it felt like a kowtow. That, plus the new collection from DKNY (which closed with gorgeous singer Rita Ora) seemed to be paying close attention to the logomania invoked by hipper lines like Hood by Air, KTZ, and Pyrex Vision, as well as the status-symbol 1990s. DKNY fared better because it's got a legacy (and has been reissuing '90s archival pieces in collaboration with Opening Ceremony), but the asymmetrical cuts and deconstructed clubwear in Wang's Spring 2014 looks screamed Hood by Air Fall 2013. Designer $hayne Oliver has been enjoying the ultimate in high-level hip-hop cache, of course—A$AP Rocky, Rihanna, and Le1f are frequent proponents—but it remains astonishing how often HBA seems to get… not jacked, per se, but winked at, by designers with bigger names and bank accounts.
That might change soon, though—Kanye appeared front-row at this season's Hood by Air show, and Oliver's rising profile is based not on his associations but his total innovation. This season, he showed looks influenced by Spring snow sports, with rocky mountain digital prints and models in Nike snowboard boots with makeup made to look like goggle sunburns. In a time increasingly influenced by athleticwear, Oliver flipped the trend and reversed it, coming out of left field with innovative but eminently wearable designs, as usual. Dibs on the shredded denim skirt, y'all.