UPDATE: Set times for Mexican Summer's five-year anniversary festival have been announced, and can be found below.
Brooklyn-based record label Mexican Summer turns five this year, and to celebrate, the company has drafted Spiritualized, Ariel Pink, No Joy, Fresh & Onlys, and more for a two-day festival. The upcoming showcase will take place on October 11 and 12 at the Pioneer Works Center for Art and Innovation in the Red Hook section of Brooklyn. Other artists set to perform include Tamaryn, Quilt, Lansing-Dreiden, Co La, Bobb Trimble's Flying Spiders, and, in what will reportedly be her first New York City show, cherished '70s folk singer Linda Perhacs.
The label that's brought us releases by Best Coast, Kurt Vile, Washed Out, and Oneohtrix Point Never will bring a pop-up record store to the fall event — a small outlet run by local music shop Co-Op 87. Food and drink will also be available courtesy Prime Meats, Frankies Spuntino 457, and Brooklyn Brewery (which will provide open bar services for portions of the fest). Tickets for the first day of birthday gigs currently cost $25, but will fetch for $30 day-of; regarding day two, advance tickets will set fans back $35, while passes sold at the door have a $40 pricetag. Two-day access are $50 until September 26, and they'll be $60 after.
Mexican Summer will also drop Mexican Summer: Five Years, a 250-page book limited to 1,000 copies. Designed by longtime label collaborator Dan Schechter, Five Years collects previously unseen photos and ephemera, including written contributions from several artists on-roster. The book will be accompanied by a 10-inch containing exclusive collaborative tracks from Bay of Pigs (Spiritualized, Soldiers of Fortune, and Neil Hagerty), Jorge Elbrose (Jorge Elbrecht and Ariel Pink), Autre Ne Veut and Fennesz, Quilt and Bobb Trimble, and the Lonely Sailor and Renée Mendoza Haran (featuring members of Total Control, Lace Curtain, and Ashrae Fax).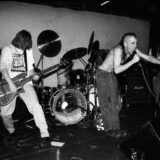 Scroll down to watch a trailer for the forthcoming celebration, followed by a full list of confirmed talent.
//www.youtube.com/embed/tI6acR0P-Pw
Mexican Summer: Five Years festival lineup:
Friday, October 11:
Ariel Pink – 12:15 a.m.
Tamaryn – 11:15 p.m.
The Fresh & Onlys – 10:15 p.m.
Mike Wexler – 9:30 p.m.
Bobb Trimble's Flying Spiders – 8:45 p.m.
Home Blitz – 8:00 p.m.
Saturday, October 12:
Spiritualized – 12:15 a.m.
No Joy – 11:30 p.m.
Connan Mockasin – 10:45 p.m.
Lansing-Dreiden – 10:00 p.m.
Co La – 9:15 p.m.
Lilacs & Champagne – 8:30 p.m.
Happy Jawbone Family Band – 7:45 p.m.
Linda Perhacs – 6:45 p.m.
Quilt – 6:00 p.m.
Weyes Blood – 5:15 p.m.
Soldiers of Fortune – 4:00 p.m.