Made in America Festival 2013: The 15 Best Things We Saw
The second annual Budweiser Made in America festival took over Philly's Fairmount Park over Labor Day, with Beyoncé, Nine Inch Nails, Calvin Harris, and Kendrick Lamar getting love that was much more than brotherly. Ostensibly curated by Jay Z (here's hoping he had to say the words "Diarrhea Planet" in a meeting), last year's fest was a poignant, Obama-endorsed "We Built This" statement in an election year. But politics were in short supply at this year's fest (though the always-confrontational Public Enemy threw up a "Free Mumia Abu Jamal" banner — in Philadelphia!) instead focusing on, uh, other American values. Boasting an audience of 60,000, the festival sold out a space that could comfortably hold many fewer people — recycling bins got trampled, food lines stretched to obscene lengths, and, in some spots, it was easier to get a Budweiser Black Crown than a water. Still, it was a great and wildly diverse weekend of music. Here are the 15 best things we saw ... —CHRIS WEINGARTEN
1.Made in America Festival 2013: The 15 Best Things We Saw
1/16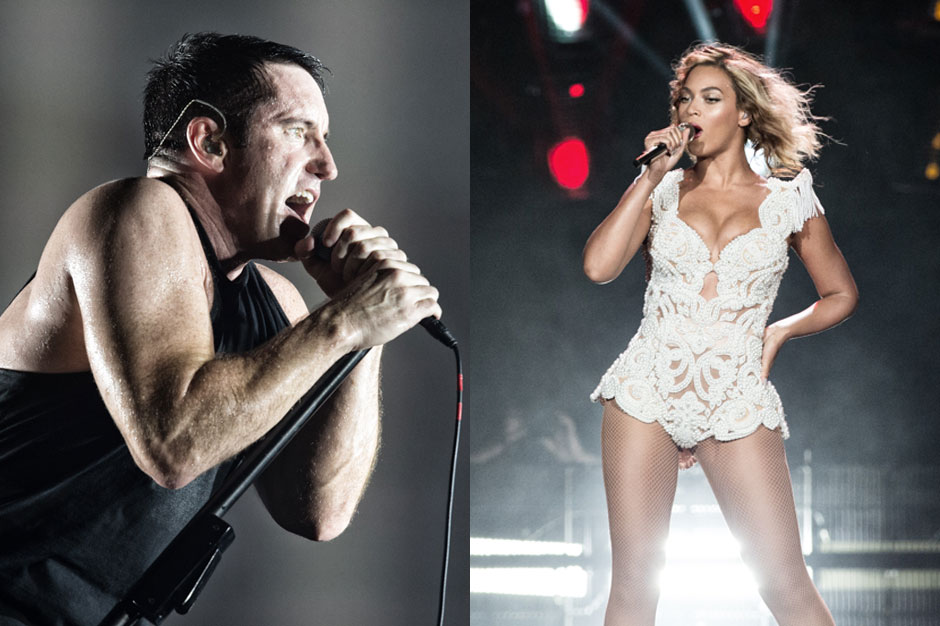 2.Best of the Fest: BEYONCÉ
2/16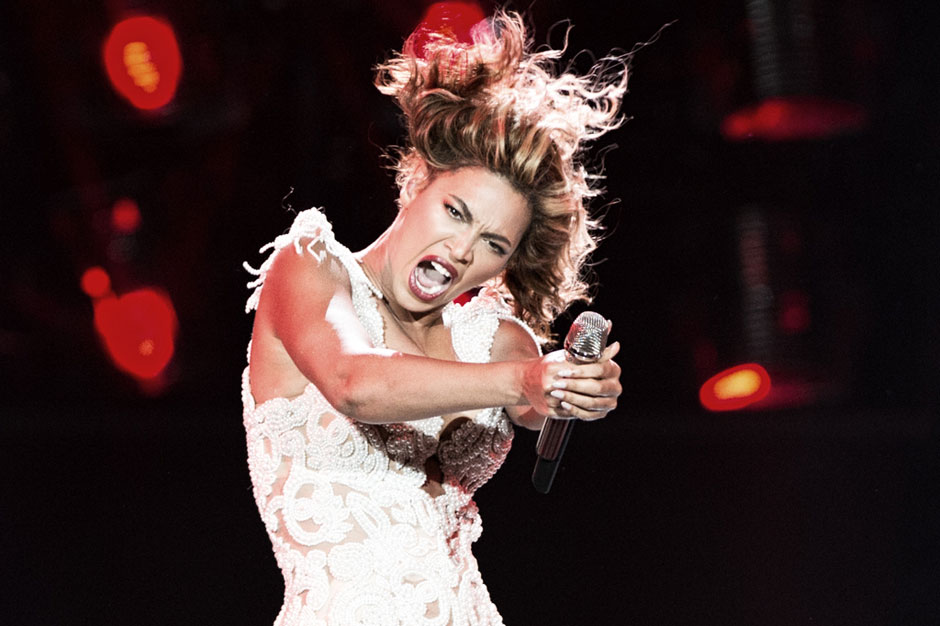 Sasha was at her fiercest, bringing everything short of Destiny's Child: tympani rolls, pyro, fireworks, walls of sparks, a 10-piece band ("and they just happen to be all-female"), SunnO)))-levels of smoke, and the kinetic dance duo Les Twins. She's married to Picasso Baby, and wasn't going to let Gaga out-ARTPOP her on an event being live-streamed around the world — the costumes and videos were like Matthew Barney meets Darren Aronofsky, complete with silver tears. With costume changes galore (casual Björk, A$AP Catwoman, 24k Tina Turner), it all had the feel of the Las Vegas Single Ladies revue, especially when she drove the point home with blinking lights that read VEGAS and dancers sporting showgirl feather-fans. "Single Ladies (Put a Ring on It)" itself had enough bells and whistles to carry anyone's show: Beyond including this generation's "Thriller" dance, there was a detour into the Jefferson's theme, a trip to New Orleans with some second-line brass, and gold confetti. But at one point, even Bey couldn't distract from the cheers coming from V.I.P. — in the middle of the song, a gentleman got on his knee and pulled out the ring in question for a proposal. (It looks like she said "yes.")—C.W.
3.Best History Lesson: NINE INCH NAILS
3/16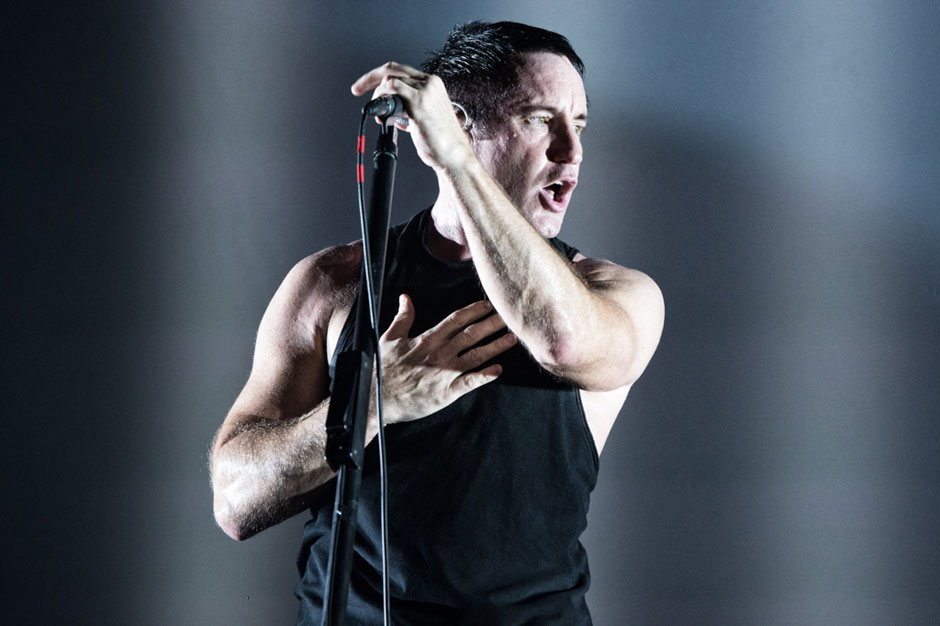 Give or take a few songs, Sunday headliners Nine Inch Nails played the same shadow-soaked, Stop Making Sense-gone-Lawnmower Man set that was the best thing we saw at Lollapalooza. But at Made in America, the context was different. Unlike Lolla's multi-gen deep dish, this fest gears towards a younger audience, which meant one of the biggest draws of the weekend was Calvin Harris bleating out syrupy pop-EDM euphoria minutes before Nine Inch Nails took their guitar-tossing, strobe-fucked performance to the main stage. Since Reznor is promoting the skeletal, minimal, void-gazing Hesitation Marks, he starts off on stage tweaking knobs on a tiny gear table (maybe a mixer?). His band joins him playing only the sparest of gear — electronic drums pads, teeny keybs. Playing the acid-fried art-house from Marks (and a Phuture-shocked rearrangement of 1989's "Sanctified") Nine Inch Nails breaks down the giant light-up podiums, smoke machines, and animatronics that Harris, Deadmau5, and Nero were hiding behind. This is where the electronic music billowing from these giant amps was in the '80, and '90s, from little more than wee machines and ingenuity. Maybe next year someone will go up against Skrillex with circa-1950s synths when they were the size of refrigerators.—C.W.
4.Best Hands-On Experience: PHOENIX
4/16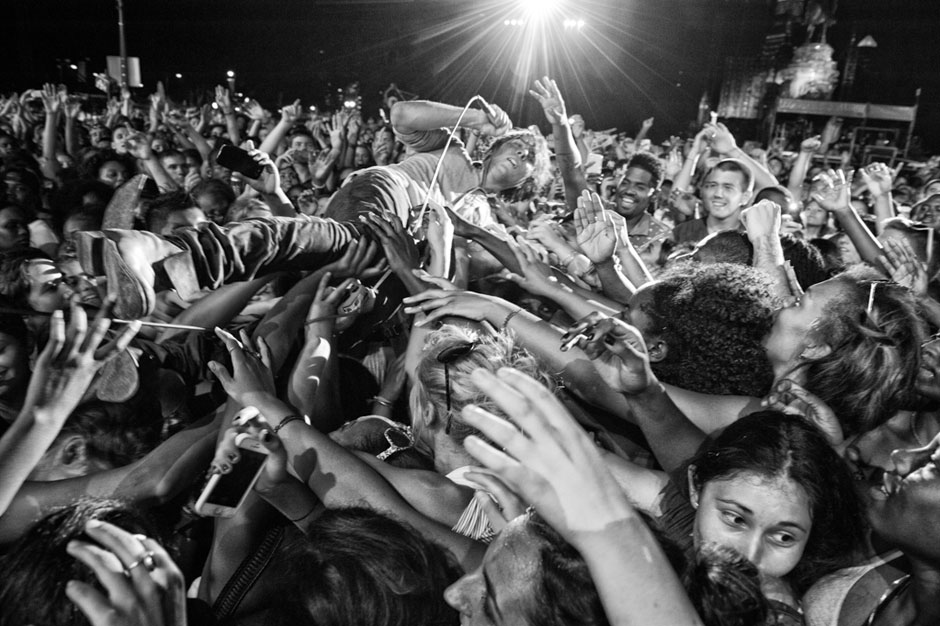 About 10 minutes into Phoenix's hour-long Saturday-night set, wiry frontman Thomas Mars introduced his European band as outsiders from France and asked, "America, are you with us or what?" That would be just transcontinental patter anywhere else, but here amid the manifest-destiny frat-rave fashion of Old Glory booty shorts and Team USA basketball shirts, the question seemed genuine: Can you dig some guys from Versailles? The answer came in ebullient spurts, from the buoyant reception to 2009's "Lisztomania" to the apeshit screaming-and-bouncing singalong to "1901." After the somersaulting vowel nonsense of "Rome," Mars disappeared into the crowd, dropping the microphone once it became a leash. For a minute, it seemed like Mars might try to scale the George Washington statue — the symbolism alone would've been terrific. Instead, he re-emerged, crawling atop the audience on his stomach, then rolled onto his back and let the hands return him to the front, where he was safely deposited. America was with Phoenix after all.—CAMILLE DODERO
5.Best Fuckin' Problem: KENDRICK LAMAR
5/16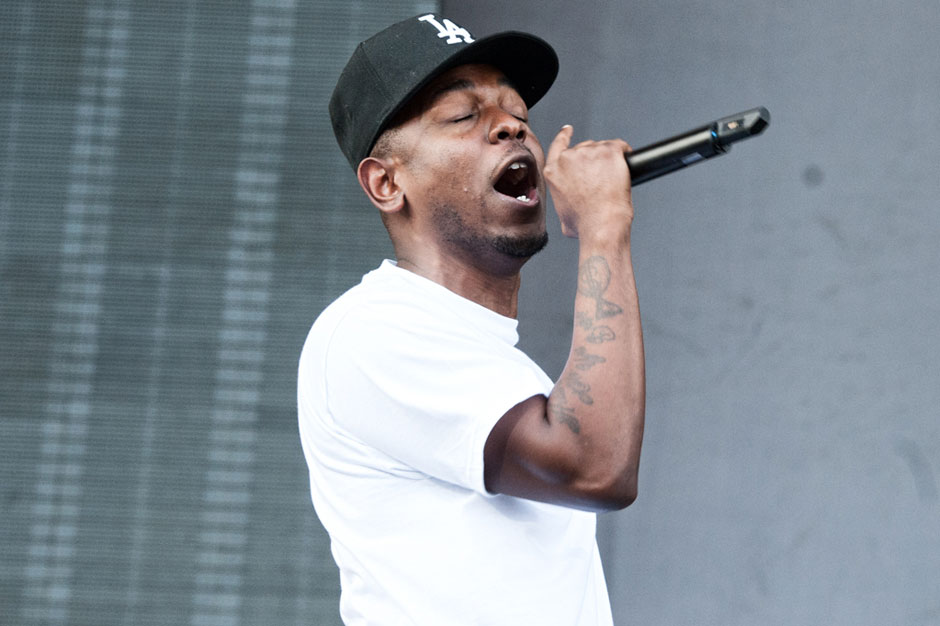 Though A$AP Rocky performed "Fuckin' Problem," and 2 Chainz sort of performed "Fuckin' Problem," Kendrick Lamar's performance of "Fuckin' Problem" meant delivering the most memorable rap verse at the festival that wasn't part of "Thrift Shop." And he knew it, so he went the extra step and performed it twice, almost as if it were its own song. The audience was in full force for Kendrick, rapping along his verses, adding Schoolboy Q's "Yawk! Yawk! Yawk!"s and generally going berserk. "I don't care if you got good clothes, your new hairdo, I don't care," he said. "Sweat that shit out."—C.W.
6.Best Tantrum: QUEENS OF THE STONE AGE
6/16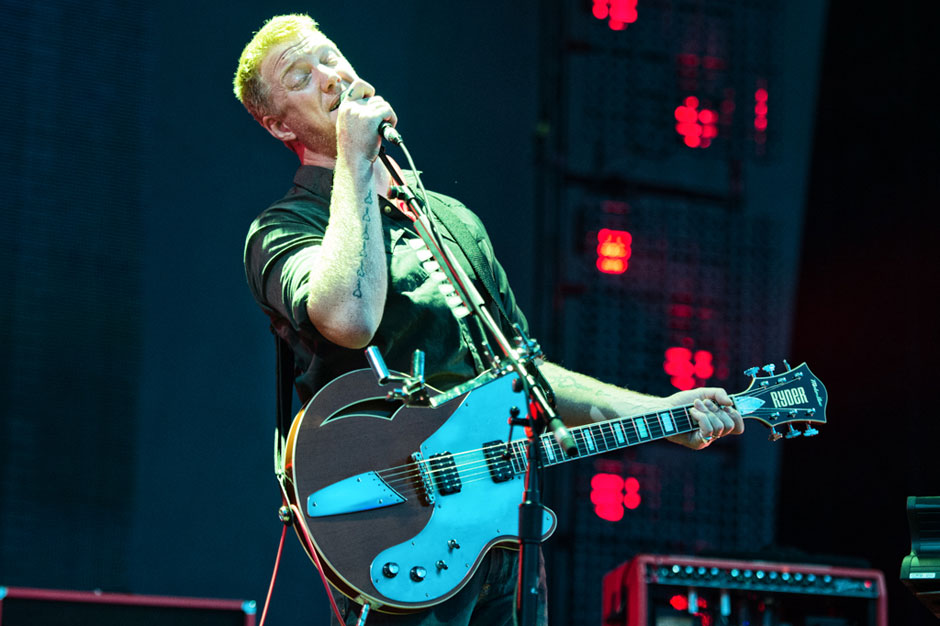 … Well, as much as you can call anything from perpetually cucumber-cool QOTSA frontman Josh Homme a "tantrum." Playing their workmanlike set to a fraction of the crowd for, say, Kendrick or Calvin Harris (welcome to rock music in 2013, grown-ups), Homme had his work cut out for him to get the party started. So when security made someone get off a dude's shoulders in the middle of the snakily sexy "I Wanna Make it With You," he launched into (very chill) attack. "Take the rule book and shove it up your ass. Get up on each others' shoulders. What is this, your parents' house? Let's fuckin' party!"—C.W.
7. Best Fuckin' Sing-A-Long: 2 CHAINZ
7/16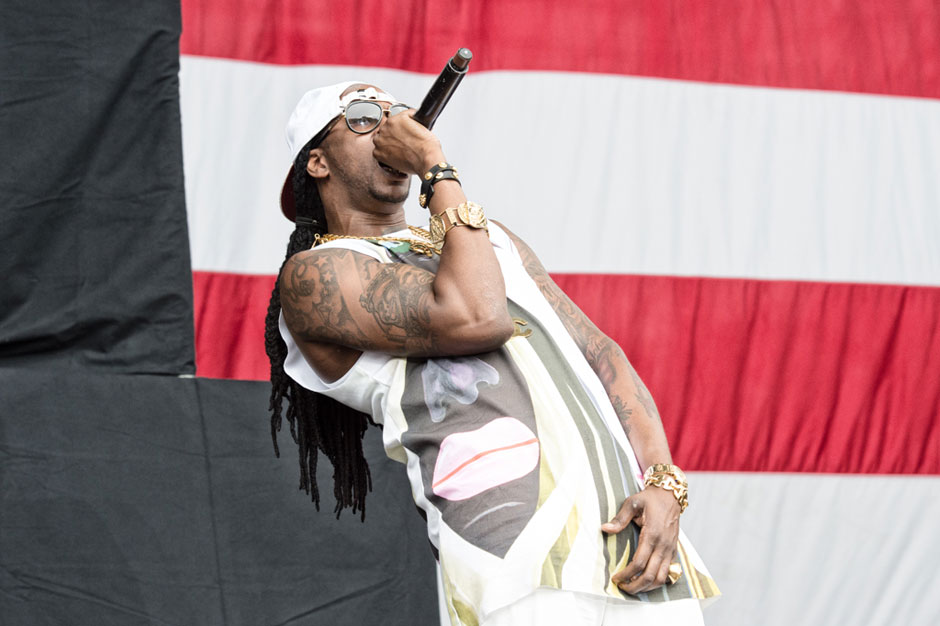 While his performance at Lollapalooza
was a riot, he was still the token mainstream hip-hop act on a 2013 festival that called the Cure a headliner. At Made in America, he followed A$AP Rocky and Public Enemy, and a hip-hop crowd was clearly in attendance, since they were pretty much singing the whole set for him — the final lines of "Mercy," the Ice Cube line in "I Love Dem Strippers," the "So I call her big booty" in "Birthday Song," filling in Wayne's verses in "Rich as Fuck," and rapping entire sections of Playaz Circle's "Duffle Bag Boy," which would kind of be like singing "The Letter" at a Big Star show or something.—C.W.
8.Best Accident Waiting to Happen: MIGUEL
8/16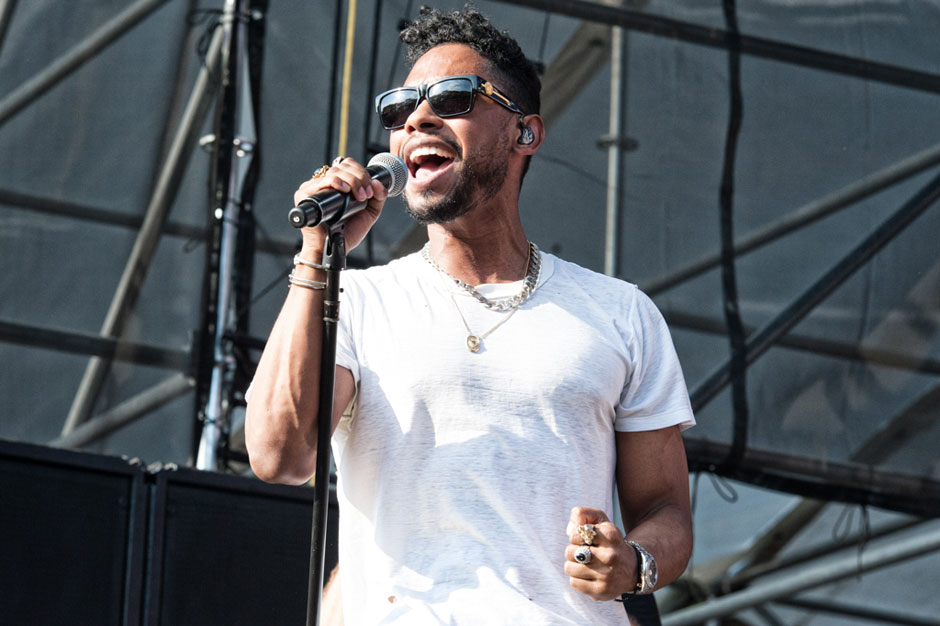 His falsetto is golden and clearly reliable, so Miguel felt free to fling around the rest of his body — something that's already had disastrous consequences. When he slides across the stage like its a freshly waxed floor, your mind starts wondering if he can safely pull off those moves — bursts of MJ, dropping to his knees, plopping on his back, generally leaping around — without hazard. To complete the illusion of lack of control, he brought a genuine rock band (Led Zep and Suicidal Tendencies shirts abounded) including a bonkers drummer who magnificently overplayed on everything.—C.W.
9.Best Stand-Up: HAIM
9/16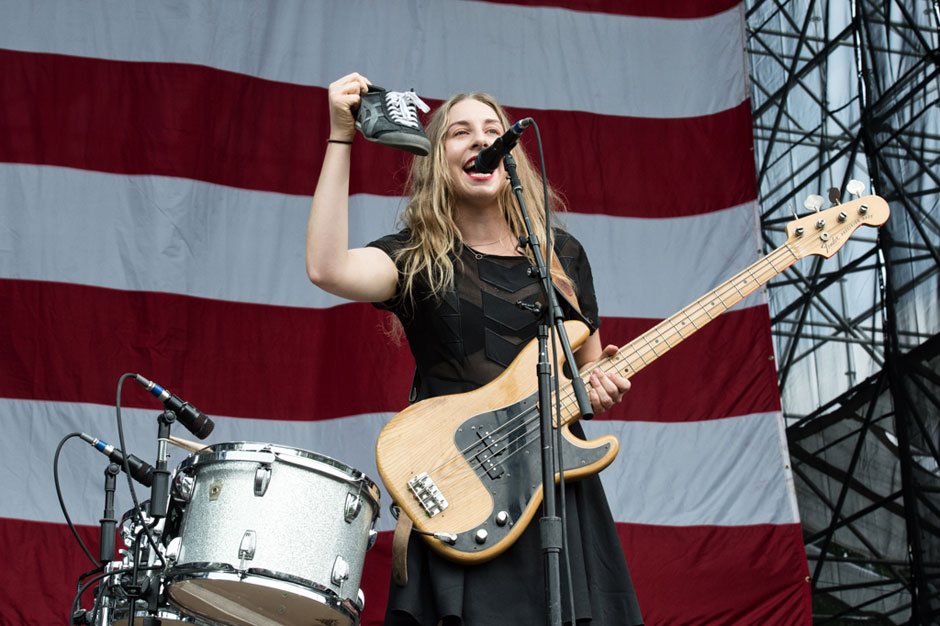 Less geeked 'n' spewing nervous-energy than at their star-making Lollapalooza set, Haim settled into a tight, masterful, well-practiced 45-minute blast — going absolutely Ha[i]m on the Neurosis-style tom outros and swinging instruments around like light sabers. Since they've got rock-star swagger, they still keep things super-friendly with in-between banter which often turns this almost-famous band into affable improv comics: i.e., "She lost her shoes, so we had to think on our feet." Once the audience selflessly responded by throwing their shoes (one hit a tom-tom), Este Haim ended up playing a song with a pair around her neck. "They smell really nice," she said. "Good job, champ."—C.W.
10.Best Punk Rock Set: A$AP ROCKY
10/16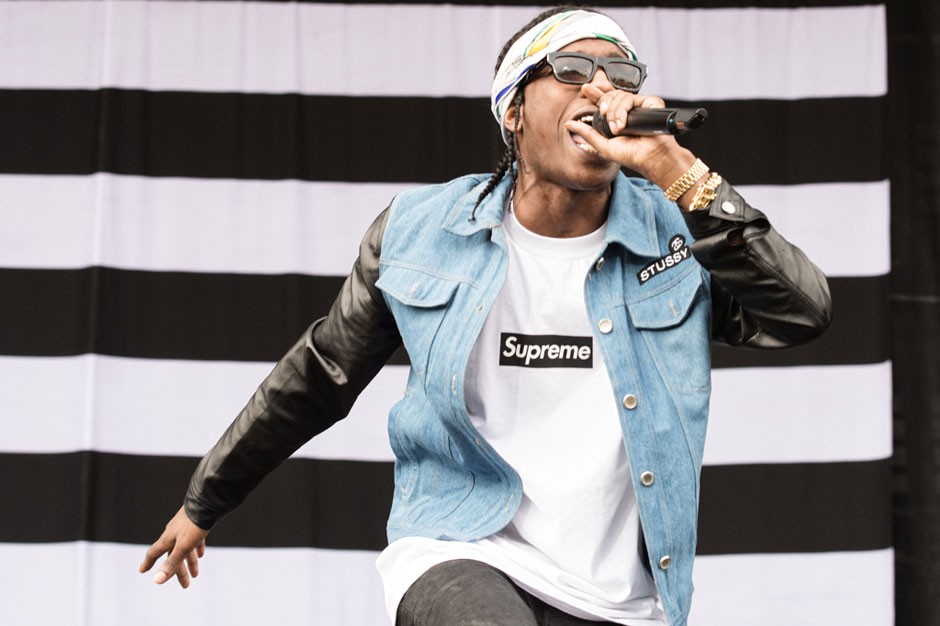 First off, he brought a giant upside-down American flag at the most patriotic music festival this side of Stagecoach. Secondly, he has the audacity to call himself "A$AP Rocky" and then show up 23 minutes late to the Rocky Stage. He said, "Not a lot of time, so I'm gonna try to turn this bitch up as quickly as I can." Which brings us to thirdly: He played a 16-minute set that was all energy, shouting over his pre-recorded tracks with near-Method-Man-level gusto. "I need to see some festival… Woodstock shit." There was no mosh pits (too hot) but it was definitely wild for the afternoon, fuck being polite.—C.W.
11.Best House Party in the Woods: RUDIMENTAL
11/16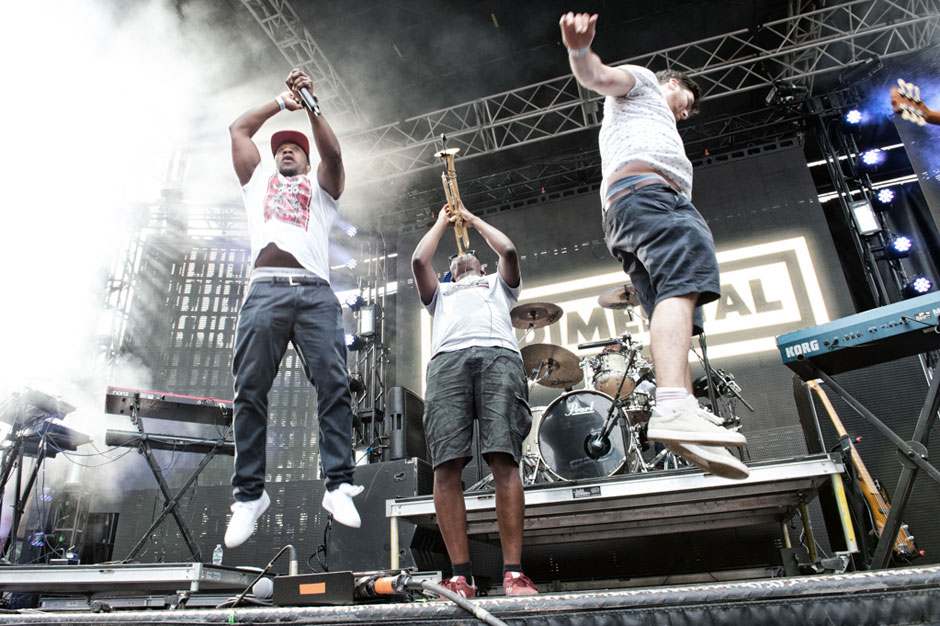 For a band that sounds like the future — EDM, drum'n'bass, contemporary chart-pop — England's nine-piece Rudimental sure gave us vibes of the type of band that would play a wildly diverse house party in a mid-'80s comedy (think Oingo Boingo, B-52s, or Fishbone). Of course this party's ground zero was before the EDM-centric Freedom Stage really heated up, leaving a cheery, chill vibe where DJ Locksmith can proudly say "I absolutely love to spoon! I'm a big spooner! You know when it's a very late night and you got your pillow?" With grooves that were both chill and loud, it was like Massive Attack for the age of New Sincerity. Frampton-y talk box solos, trumpet blasts, a Philly soul breakdown in "Hell Could Freeze" for a Philly audience too young to really connect with it. That all is until the ferocious d'n'b grooves and diva-swooping chorus of "Waiting All Night."—C.W.
12.Best Evidence That DJs Will Never Be Rock Stars: DEADMAU5
12/16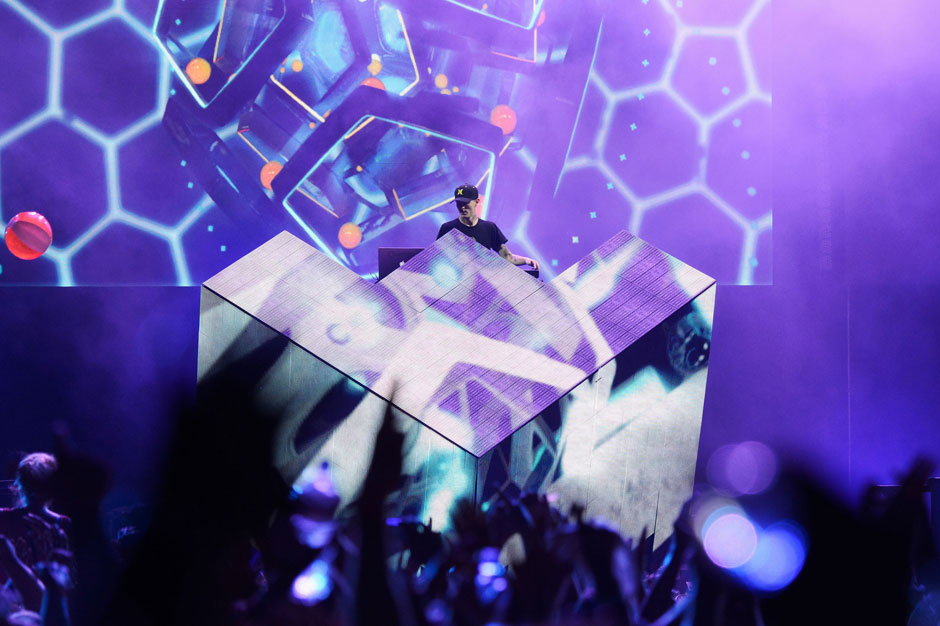 When Deadmau5 took off his signature mouse mask, there wasn't the type of cheers you'd expect for a big "human after all" moment. In fact, he wasn't giving the audience a whole lot to work with anyway. It's hard not to think the Mau5man has some slight contempt for his own audience after the "we all hit play" Tumblr screed. So his non-committal wiggling, loose-limbed clapping, and huge breaks of Terry Riley-esque beatless gurgles seemed almost like a rock star 'tude in the one genre where "making the audience happy" is job number one.—C.W.
13.Best Nine Inch Nails Pre-Game: FEED ME
13/16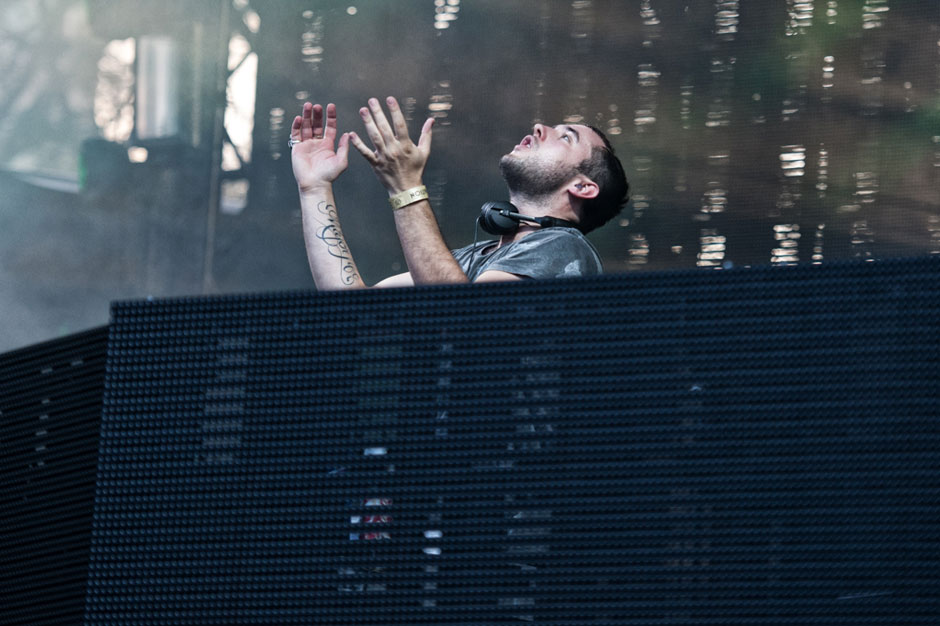 Like Lollapalooza 2013, Made in America booked fellow '90s alt-rock survivors Queens of the Stone Age to warm up for Nine Inch Nails' epileptic light show. But just an hour earlier at the Freedom Stage, you could catch British toonstep producer Feed Me, who was a chest-caving reminder of how much the melodies of this generation's post-Skrillex dubcore is owed to Trent and Co. The crowd was younger and happier and more neon — a Pikachu backpack, a T-shirt that said HIGH AS FUCK, a blinking pacifier, a Guy Fawkes mask — but Feed Me's corrosive electronic textures and high-volume hooks were a perfect warm-up for folks that made it to both sets.—C.W.
14.Best Beyoncé Hands (Non-Beyoncé Edition): DIARRHEA PLANET
14/16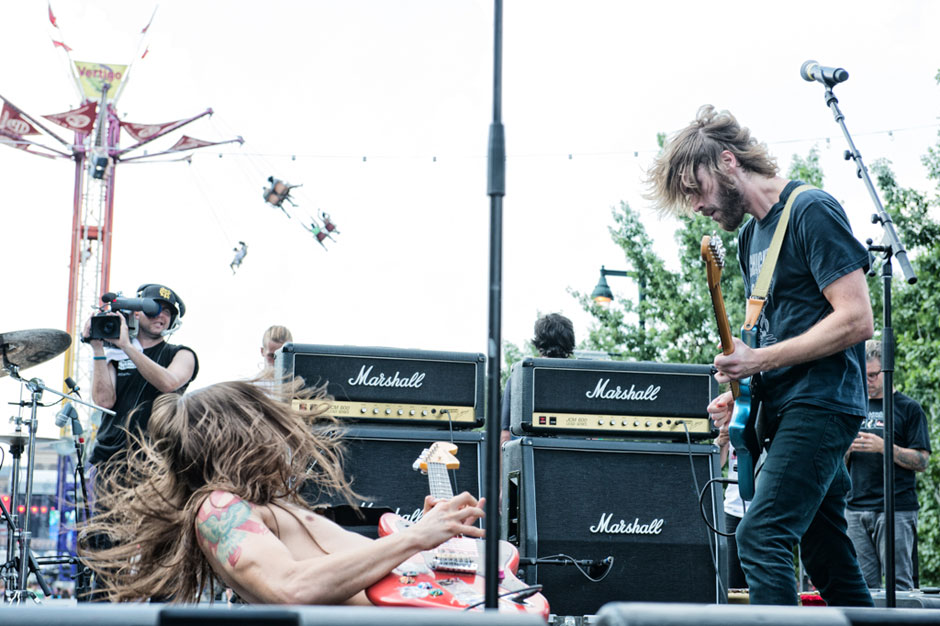 Sometime in the middle of their raucous 4 p.m. set, one of the four guitarists for pop-punk mischief-makers Diarrhea Planet decided to do the little "put a ring on it" motion from the pervious evening's headliner. It was just one of many hilarious moves from the type of not-quite-rock, not-quite-punk band that remembers that Jackyl and Nirvana were both on The Beavis and Butt-Head Experience. There was some genuine cock-rock moves walking the line between catharsis and irony — especially the C.C. Deville-style guitar penis —unleashed by dudes who look like they work at a computer lab.—C.W.
15.Best Hipster-Fried PLUR: PORTER ROBINSON
15/16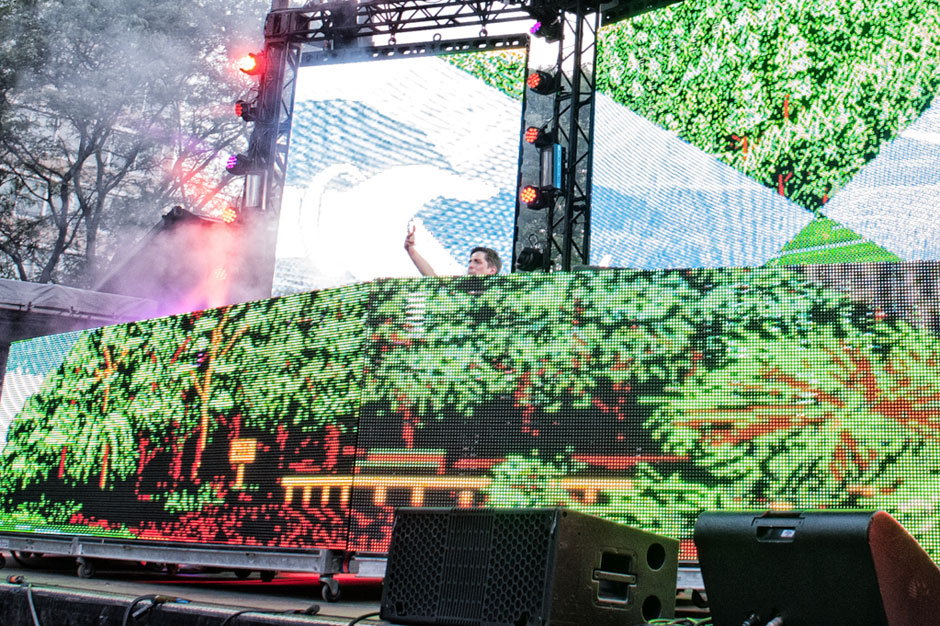 Skrillex associate Porter Robinson may call his music "complextro" — a newish breed of ADD house with dubstep's glitching edits and electro's bowel-liquefying pulse — but this may have been just the most expensive Fuck Buttons show. With walls blasting pixel mountains, Nintendo hands, and sad-happy animes galore, it's almost like this enormously popular EDM DJ was reading the same tape-label Tumblrs that produced Alt-J. And musically he was the Hüsker Dü to Dog Blood's Metallica, all uplifting, wobbly, tape-damaged noise that turns sawblade grind into happy house (complete with snatches that sound like Bel Biv Devoe snares, Mario coins, and "Show Me Love" synths).—C.W.
16.Best Artist That Almost No One Saw: DUO KIE
16/16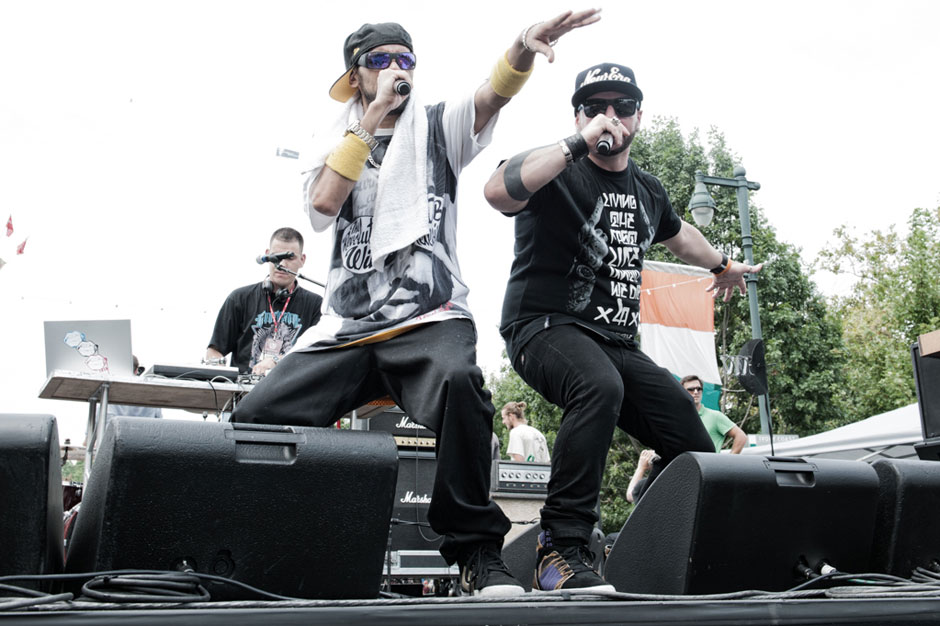 No one was really at the Skate Park Stage at 2 p.m. to see Duo Kie, a pair of motormouthed rappers from Madrid, but their deafening trap beats, Redman-style flows, and occasionally bold choruses ("Charlie Fuckin' Sheen!") would slowly pull people into their orbit — moshing bros in basketball jerseys doing quasi-ironic "rap hands," a circle of women dancing, a tall dude who told us (unprompted), "I like this better than Lil Wayne." They rapped almost entirely in en español and apologized for the English in their banter. "We learned from the MTV rap videos in the late '90s," one of them said. "I suppose you don't understand shit we're saying. It doesn't matter. Feel the vibration."—C.W.