In 1987, Lou Barlow recorded a song named "Poledo," a spectral, six-minute tangle of ukelele and noise-abetted moans that had very little in common with the rest of the landmark album it called home, Dinosaur Jr's You're Living All Over Me. But that song caught the ear of Kathleen Billus, then a student at Smith College working as a DJ at the on-campus radio station. An interview blossomed into a romantic relationship that would eventually result in two children and a marriage of more than 20 years, with Billus inspiring a number of songs written and recorded by Barlow under the banner of Sebadoh, the highly influential, highly therapeutic post-Dinosaur Jr. project which "Poledo" had portended.
It is both fitting and saddening that Sebadoh's first full-length offering since 1999, this month's Defend Yourself (Joyful Noise), was inspired in part by the dissolution of Barlow and Billus' marriage. While the album is a gloriously discordant return to mid-'90s form for Barlow, drummer Bob D'Amico, and fellow songwriting contributor Jason Loewenstein, it's also an effort very much in tune with where the legendarily confessional Sebadoh leader has been, and, as he explains below, with what he's learned along the way.
Just do it.
I didn't imagine that Dinosaur making another record would ever happen. I figured the band was so resistant to change in general, almost like an immovable object. But once the idea to make a record was floated, J started to churn out new material. And the response was good. It was basically the band doing it for itself and for its fans, as opposed to worrying too much about the big picture, or worrying about whether it was going to be critically dismissed. We just did it. So that was very inspiring. Sebadoh did it in the same way. Like, "Let's set up some time and let's sit down and record some songs." That's what we did. We were exposed to a lot of pressure, but we just did it for ourselves, first and foremost.
Make no apologies.
Most of the times that I've written break-up songs it's been different, because I was always trying to get back to something, get back to a situation or talk my way or sing my way back into the relationship. There's a way of trying to make amends, trying to understand, just trying to win somebody back, basically. This time, I'm not trying to. This is not about wanting someone back, it's about saying, "I've made a decision." There's no apology, there's not a lot of guilt. While the other stuff was really driven by guilt and apologies and just a desire to get back and to make amends, [Defend Yourself] is much more cut and dry. That's where the title of the record comes in. It's just, at some point, rather than just figuring out all the things I did wrong, and what I needed to do to make it right, I was just like, "I need to do what I feel I want to do, what's right for me, and what's right for the future." Making those kinds of apologies and stuff was just not the way I was gonna do it this time.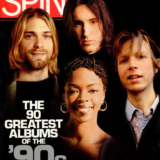 Face the elephant in the room.
Coming back to Dinosaur Jr. and actually writing songs for the band was really intense for me. I didn't think I was going to be able to do it, because I could barely talk around J because I was very paranoid about his reaction to anything. He was always this incredibly judgmental figure in my life. For me to bring songs to him was really scary at first. I was just like, "I don't know if I can do this, this is gonna be really hard." But I did it, and for the first record, getting that done, I was really thrilled with the results, and that was really empowering. The second record was much more difficult because J and Murph were so much more resistant to my ideas. That was really difficult, but I did it, anyway. And then for the third record, I took what I had learned from the previous two and I really challenged J alot, really tried to get in his face, really tried to engage him. And, it worked. I think that was a really big thing for me to overcome, a big part of my development and my personality, everything. And at the same time, there was all this stuff happening between Kathleen and I that I had to face as well. So when I faced that crossroads with her I was empowered by what went on with the band, by what went on and the challenges and fears I had faced with J and Murph.
Be direct.
The lyrics on "Defend Yourself" didn't come until I had left Kathleen. I just sat down and started writing and they all just came, almost immediately. It's almost like I had to actually leave her for me to be honest — these songs were all pressing on me, but I needed the bigger theme to the songs, and I couldn't continue. For years, I had really written my way around the situation, and I had never been able to address it directly, because basically I wouldn't have been married to her anymore if I had. So I decided to face them and it actually took some changes in my life to start finishing songs. I always feel like, in order for us to go out and play live every night, I need those lyrics right on my tongue. I've learned by experience that, if I get too clever with lyrics, or if I'm not totally embodying my own wants and needs in the songs, I can't remember them. I have to write them from a very direct place in order to make them things that really for me work live. They've just got to be right there.
Getting older's not so bad.
With Sebadoh it's amazing because when we play shows, there's a lot of positivity. It's kind of great being older. We did our time as a young band that was fighting for attention, and people would come to our shows with real attitudes, like "OK, impress me, motherfuckers." There was a lot of tension with that in the early days, when you're trying to win an audience. Now, we've been around for so long, the people that did come to see us play are there to hear us and have a good time. It's a total refuge. It is a sanctuary from that young-band thing. Young bands are so angry. There are young bands that are so incredibly successful, getting incredible reviews, and they are totally angry. When I found out that the guy from My Morning Jacket was pissed off about Band of Horses, I was like, "What?!" You realize when you're young, and in that competitive zone, it's just like Keith Richards being angry about T. Rex in the early '70s, you know? It's a funny thing, and I'm so grateful to be older and have these bands that, when we go places, the people who do show up are there with a pretty good attitude.
Always try to understand.
I felt very strongly about [1999's The Sebadoh]. It was another intense, kind of transitional time, and even though it was the kind of record that I wanted to make for a while, it was really poorly received. We were dropped from Sire within a week of the record getting released. Sub Pop made it clear that they didn't want it. And at the same time, it made sense, because it wasn't like what you would label indie rock at the time, whether it was the rise of Modest Mouse or Death Cab for Cutie and a lot of stuff that was regional to Seattle and Portland. Things were really changing and Sebadoh were playing shows to a fraction of the people that we were at our height in the '90s. So there was a message there: The little group of hipsters that listen to your music are now older; they're not hipsters anymore and their lives have taken over. There's a new batch of young kids who want new bands who sound a little different. I can be very precious about my own material, but once it's out in the world, I have to make that separation and go, 'You know what, I can't be bitter about stuff like that.' I have to let it go, move on to the next thing, and hope for the best. It's scary, but it's always been that way. My goal is just not to be an asshole and not be bitter about it.