When it came, the wave of cognitive recognition was brief but intense. The scene was the end of Station to Station, a self-proclaimed "nomadic happening" (or "public art project made possible by Levi's," depending on which piece of printed matter you've read) that came to pop-up life at Brooklyn's Waterfront Studios on Friday. We were watching the two septuagenarians of Suicide scare a few strapping Brooklyn beardos out of their fashionable stupors, by performing haranguing synthetic noise-bursts before artist Doug Aitken's backdrop of film projections of commercial signage, while standing next to acclaimed gallerist, curator, and disbarred museum director, Jeffrey Deitch. (He was smiling.) The moment had all the elements that STS aspired to all evening long — a mix of star-power, cultural insider heft, cherry-picked influencer audience, and a staging that borders on the dangerous — viscerally succeeding in a way that all cultural performances (be they, art or music) try to. It was a fleeting but actual cool, not the aesthetically familiar aspiration of brand hipness that'd been on display for much of the evening. To its credit, STS swung freely to both sides.
Over the last few years, as the digital landscape has upended both remuneration for creative work and consumption of advertising, a new kind of event has been birthed, conceived by the funding of smart multi-nationals, meaningfully trying to combine the free-for-all spirit of artistic occurrences, and the expectations of marketing exercises. Beyond the mass festival model (Virgin Mobile's FreeFest or Budweiser's Made in America) and the myriad of sponsored invite-only superstar one-offs that have leaped off the SXSW and Fashion Week calendars to become yearlong occasions, lies something else: the brand event that aspires to cultural meaning. And despite the expectant naysaying of critics and other cultural gatekeepers, some have actually worked. (Full disclosure: I have contributed to a few such programs, including the Red Bull Music Academy and the Creator's Project, both of which I judge to be examples of excellence in this nascent category.) One reason they worked is the sense of chaos they provide, the impression that they're operating without a net, situations corporations aren't comfortable with, but that art demands.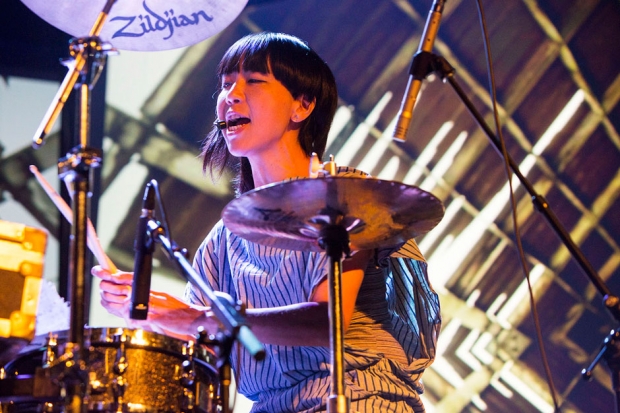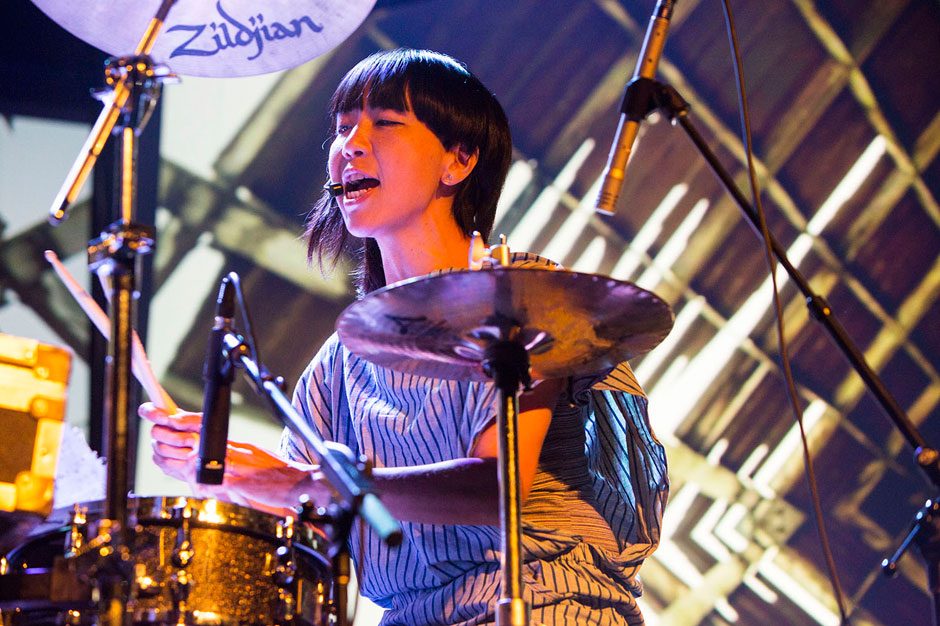 STS fits squarely in the category. Conceived by Aitken, an artist whose work with Fluxus-style art happenings and grand-scale video installations (often music-related) has won him much acclaim over the past 20 years, it is set to be a month-long train caravan of artists staging events across the country (mostly, at city train stations) to benefit future multi-media art programs at large cultural institutions; with Levi's on board to foot the bill and showcase its brand in a way that approximates the gathering's energy.
So, what is that energy? Well, at Riverfront it was an artful leisure, the outdoor lot cast as a set for a variety of yurts that housed immersive installations by art world A-listers such Ernesto Neto and Carsten Höller, among others; and a T-shirt giveaway care of conceptualist Rikrit Tiravanija. On a lovely autumnal Friday night, framing a great view of Manhattan, the setting was that of a wonderfully organized cocktail party, starring a beautiful first-world creative crowd, with all the immediacy that such a scene implies. To get truly involved, one had to venture into the cavernous studios.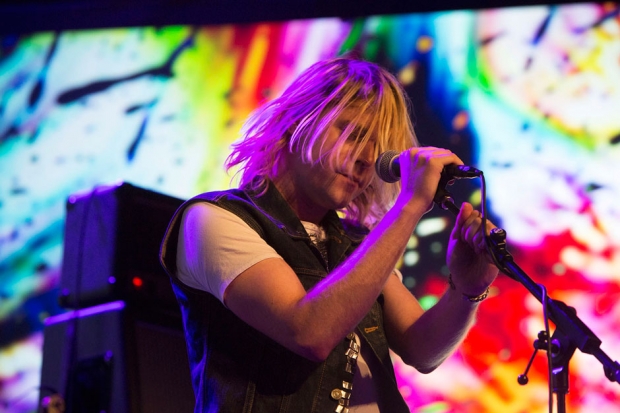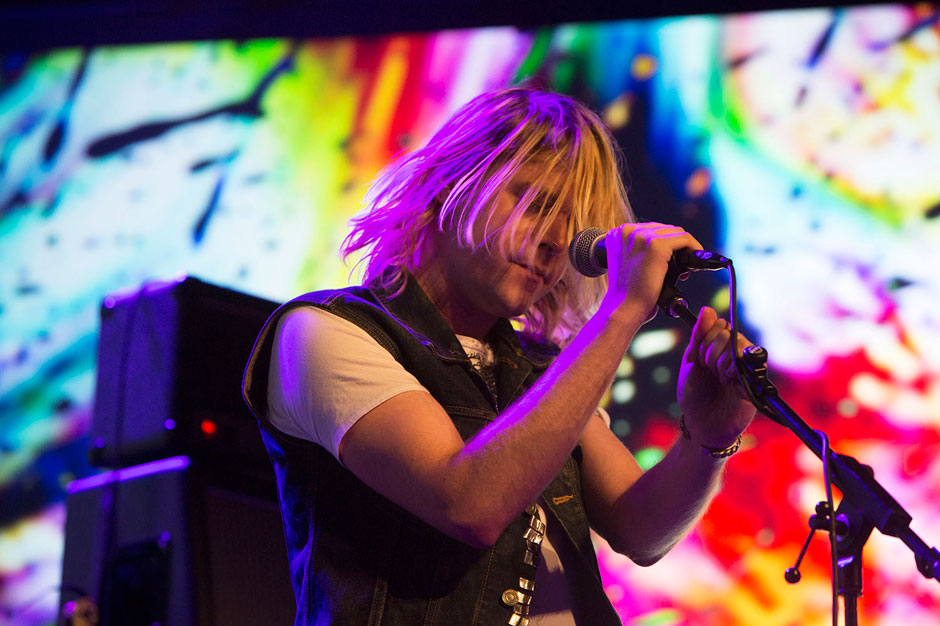 There, a few curatorial choices offered sustained engagement, programming surprises and a point-of-view. First off was Aitken's excellent and diverse choice of short films, videos, and projections between the musical performances: Raymond Pettibon excerpts ("Sir Drone," starring Mike Watt and recently passed artist Mike Kelley), Stephen Shore's photo projections of quintessential American locales, Kelly Sears' lightly animated take on Joy of Sex illustrations, among many others, turned the supposed downtime into one of the evening's recurring highlights. As did the performance-art vignettes: The young black kids in the Kansas City Marching Cobras marching band raised the roof before flawlessly passing the baton to a No Age guitar squall. And in a wonderfully choreographed moment, a pair of auctioneers emerged amidst the audience to wrap their monologues of rising bids around each other like two instrumentalists, while a man with a pair of whips used them to snap a rhythm above the audience heads, before the whole scene blended wonderfully into a musically improvised opening by the trio of Yoshimi from the Boredoms, Hisham "Soft Circle" Bharoocha and Brooklyn scene drummer Ryan Sawyer.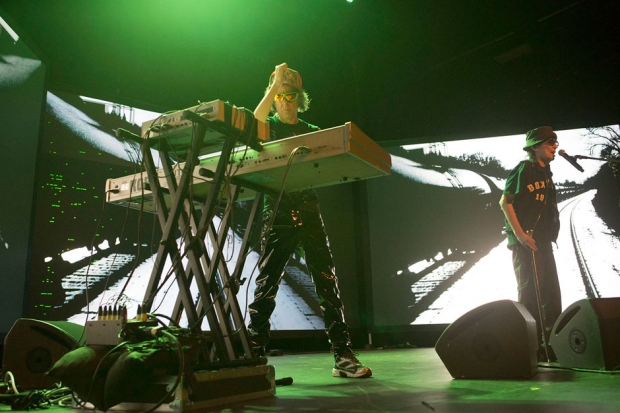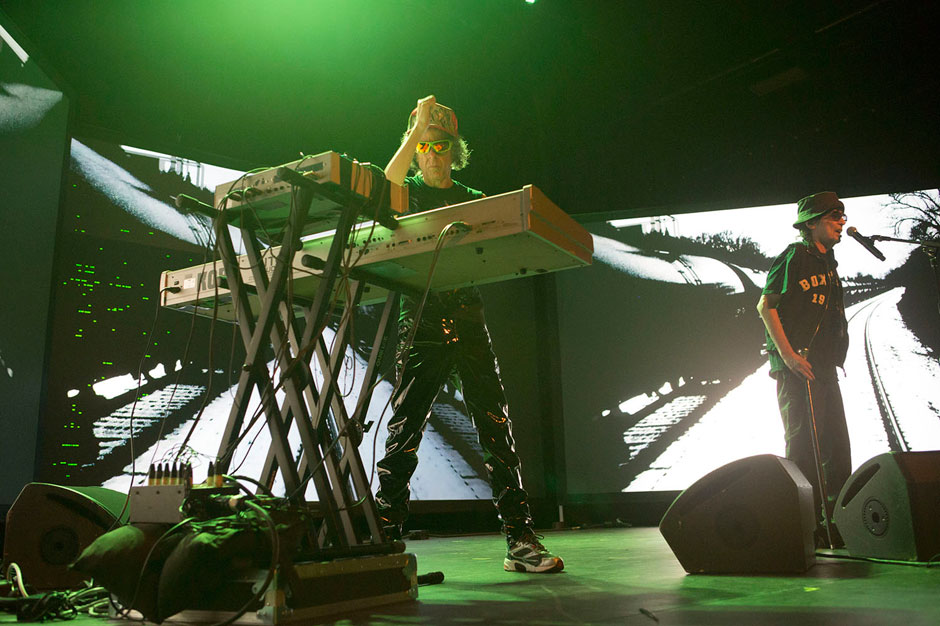 The idea that one community's niche Americana, when reframed by the right eye, is another community's avant-garde, painted STS as a sibling to David Byrne's True Stories, and reinforced how this train-ride through the country's vastness might create more of these juxtaposing possibilities. Just as Suicide dropping sonic bombs at what had previously been a, by and large, peaceful affair, crashed a few generations' takes on the New York art-world into one another. They hinted at all the things that Station to Station aspired to be — and that, despite itself, was actually becoming.