SPIN cover star Kurt Vile will soon revisit his Essential Wakin On a Pretty Daze album with an expanded deluxe edition featuring a brand new EP. On November 19, Matador Records will release the tongue-twisting Wakin On a Pretty Daze: Deluxe Daze (Post Haze), a two-disc package that pairs the latest LP from Philadelphia's favorite folkie with the it's a big world out there (and i am scared) EP.
The seven-track short-player includes two new songs (the finger-picked "Feel My Pain" and the bedroom-psych tune "The Ghost of Freddie Roach") and new versions of three Wakin highlights: "Never Run Away" has received a "string synth" makeover, "Snowflakes Are Dancing" has been reprised as "Snowflakes Extended," and "Air Bud" has been reworked and renamed "Wedding Budz." Though it comes with Deluxe Haze, the it's a big world EP will also be available separately as a 12-inch vinyl. Both releases feature new artwork from Steve Powers (ESPO) — find those images at the bottom of the post, after the track listings.
Vile announced the upcoming gems via a very lengthy Facebook post, which also packs in a link to an exclusive mixtape the singer-songwriter made while recording Wakin On a Pretty Daze. "[I] would say i made it mainly to pump myself up," he wrote. "[And] then my bandmates, extended bandmates, producer, etc… but also to get all my friends that were involved (at least subliminally) on my wave-length when i needed it most… i don't want to dissect all my favorite music for everyone. but i sent this mix to my friends involved in my record for the purpose of loose/good vibes. and then i sent it to some other friends and loved ones. some of whom complimented it, and of course i was flattered cuz i did work hard on it like a total dork, hah… i didn't just throw it together."
Stream the nearly 80-minute mix — which boasts tracks from Tom Petty and the Heartbreakers, the Byrds, Big Star, Prince, Lou Reed, and more — below. Also, check out Vile's note on Facebook and be sure to read SPIN's in-depth cover story Kurt Vile: Lost In the Stars?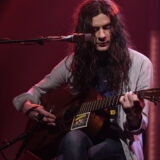 Wakin On a Pretty Daze: Deluxe Daze (Post Haze) track list:
1. "Wakin On A Pretty Day"
2. "KV Crimes"
3. "Was All Talk"
4. "Girl Called Alex"
5. "Never Run Away"
6. "Pure Pain"
7. "Too Hard"
8. "Shame Chamber"
9. "Snowflakes Are Dancing"
10. "Air Bud"
11. "Snowflakes Are Dancing"
12. "Gold Tone"
Bonus Disc, a.k.a. it's a big world out there (and i am scared) EP:
1. "Never Run Away (string synth)"
2. "NRA Reprise"
3. "Feel My Pain"
4. "Snowflakes Extended"
5. "Wedding Budz"
6. "The Ghost Of Freddie Roach"
7. "(reprise reprise)"