The Killers' best songs have always sounded destined for a greatest hits compilation, and on November 11 that destiny will be fulfilled. The Las Vegas foursome have announced the imminent arrival of Direct Hits, a "best-of" that culls tracks from the band's four studio albums (2004's Hot Fuss, 2006's Sam's Town, 2008's Day & Age, and 2012's Battle Born). To sweeten the deal, "Mr. Brightside," "Spaceman," and "Miss Atomic Bomb" will be joined by two brand new tunes: "Just Another Girl," produced by longtime Killer collaborator Stuart Price, and "Shot At the Night," a synth-opera helmed by M83 mastermind Anthony Gonzalez.
Given both acts' proclivity towards '80s bombast and neon-purple tones, the team-up makes sense. In an interview with Radio.com last month, Killers guitarist Dave Keuning said the pairing came at the suggestion of their label, Island Records. "There was a mutual thing like, 'Yeah we think he's good. We'll try him out,'" Keuning said. "It's something we finally agreed with our label on."
BBC Radio 1 premiered "Shot At the Night" on Monday (September 16), a day before it hits iTunes. Admire the space-age jewel — with its sparkling electronics, chest-thumping chorus, and "Midnight City"-reared percussion — via the above video.
Scroll down for the cover art and track list to Direct Hits. Aside from its standard 15-track format, the upcoming collection will also be available as a deluxe edition that features Battle Born's "Be Still," a demo version of "Mr. Brightside," and Calvin Harris' remix of "When You Were Young," and also comes with a documentary DVD. The vinyl edition of Direct Hits will be spread across five pieces of 10-inch wax.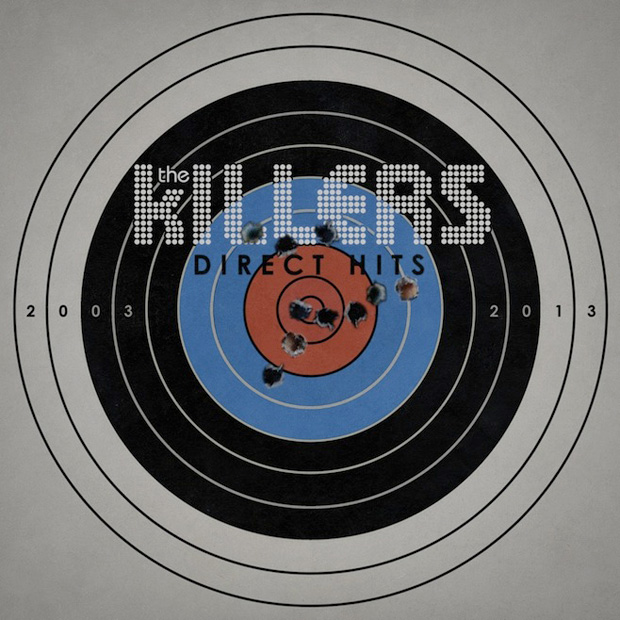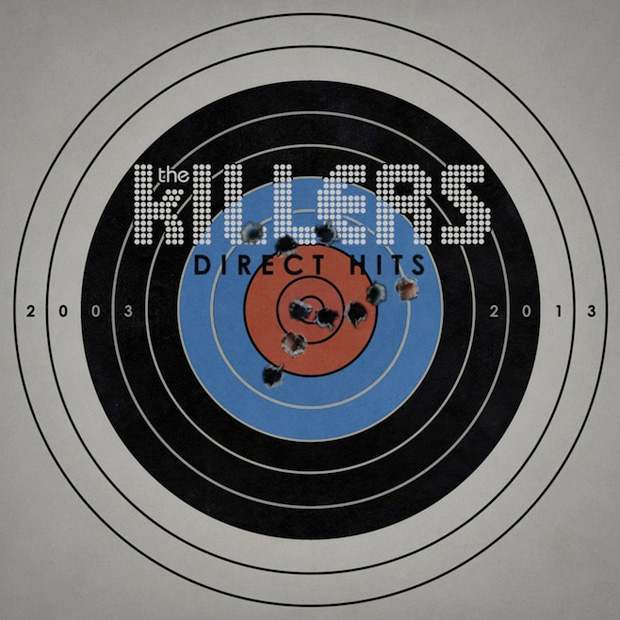 The Killers, Direct Hits track list:
1. "Mr. Brightside"
2. "Somebody Told Me"
3. "Smile Like You Mean It"
4. "All These Things That I've Done"
5. "When You Were Young"
6. "Read My Mind"
7. "For Reasons Unknown"
8. "Human"
9. "Spaceman"
10. "A Dustland Fairytale"
11. "Runaways"
12. "Miss Atomic Bomb"
13. "The Way It Was"
14. "Shot At the Night"
15. "Just Another Girl"
16. "Mr. Brightside (Original Demo)" *
17. "When You Were Young (Calvin Harris Remix)" *
18. "Be Still" *
* = Deluxe version only