Judging by Kanye West's latest Twitter rant, his beef with Jimmy Kimmel is no stunt. After the talk show host's parody of Kanye's BBC interview, Kanye's subsequent freakout, and Kimmel's revelation that the rapper called to yell at him, Kanye is back on Twitter, keeping the feud's flame lit. What's even weirder is that this latest incident came less than 12 hours after West had another run-in with paparazzi in his driveway.
Rather than rant in his own words, Yeezy opted to link to a Slate piece titled "Kanye West Is Right: Jimmy Kimmel's Sketch Was Ignorant and Stupid," and then post, in piecemeal fashion, a comment from Jibril Durimel. The tweets, in order:
– COMMENT FROM JIBRIL DURIMEL: "I'm really Against what Jimmy K. did with that parody."
– "Like Kanye said – Finally someone speaks some inspirational and real words that haven't been exposed in a while and JK comes out with this"
– "It's simple, mediocre dreamers think this is humorous but all Kanye is pretty much saying in the interview is to dream to be the best."
– "A god". But then he's made out to be ridiculous for wanting to be at an even higher level of self confidence."
– "Exactly what he meant by "SELF HATE!" I don't want to dick ride KANYE just saying that if more people actually listened"
– "they'd grow wiser after listening to the interview."
– "Jimmy K. is the EVIL guy trying to keep people in a box and not want more out of themselves. He does this by making fun of real dreamers."
– "THE NEW ROCKSTARS! 😉 No but really please think about what i'm saying."
It's unclear where West found this comment by Durimel, who appears to be one half of an L.A.-based, fashion-loving set of twins. Given the lack of original Kanye quotes in this rant, it might be time for Kimmel to just move on, until West offers up some more better material. There has to be a Matt Damon joke he can make, right?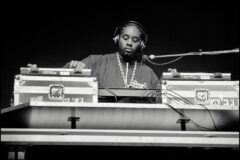 West also retweeted music mogul Irving Azoff, who wrote, ".@jimmykimmel your low blow comment was uncalled for and shows that you still don't understand the big time." We're guessing Azoff is not referring to the innocuous sketch where Kimmel had West's own words recited by children.
Meanwhile, Kanye's latest paparazzi incident was much tamer than the one that left him facing battery and theft charges. In a video obtained by TMZ, a photographer confronted West at 4 a.m., asking him if he's still mad at "Jim Kimmel." Despite Kanye's repeated admonishments, the paps continue to ask him questions as he and wife Kim Kardashian get ready to go on a trip. According to the gossip site, they were heading to the airport to fly to Paris. If that's true, that means West had hours of time in the air to cool off before resuming his anti-Kimmel tweeting.