For the love of humanity, let's hope this is all another "Worst Twerk Fail Ever." The eponymous host of Jimmy Kimmel Live! recently revealed that viral sensation was just a hoax he orchestrated with his team. So far, Kanye West's Twitter freakout over a gentle Kimmel video parody shows every indication of being all too real. Grumpy Kanye face.
West didn't only lash out against Jimmy Kimmel publicly, the late-night comedian said in the opening monologue of his September 26 show (above). The Yeezus rapper called Kimmel, the host said, and offered him two choices: either "apologize publicly," or… "And that was really the only choice," Kimmel quipped. "The other choice he gave was 'my lfe … your life is going to be much better if I apologize,' and then he started tweeting today. And I don't even know if I've seen some of these because they're happening as we speak." Kimmel then showed the tweets on the air and cracked wise about them.
The phone conversation with West, though, must've been — well, see our headline. Kimmel said on his show: "And by the way, he told me on the phone — and I swear to God this is true — 'I am the most powerful voice in media. I am Pac.' He said 'Pac' a few times to me. I guess he means Tupac." More Kimmel-quoting-West: "He said, 'You will never be able to show your face at a 14-year-old's high school football game and be cool again!' He really is Pac. I mean that's right out of the Tupac playbook, isn't it?"
What Kimmel called his "hip-hop feud" with West would've been hard to predict a few days ago, fueling hopes this is all somehow as made-up as Manti Te'o's dead girlfriend. West recently gave a four-part interview to BBC's Zane Lowe. Kimmel aired a spoof showing child actors repeating West's most self-aggrandizing statements. West responded on September 26 in a series of all-cap tweets, calling Kimmel "OUT OF LINE" for trying to "SPOOF IN ANY WAY THE FIRST PIECE OF HONEST MEDIA IN YEARS." He also posted juvenile images mocking Kimmel and insinuated the TV host has perhaps not experienced as much "GOOD PUSSY" as West.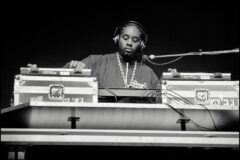 It's all enough to make you pine for the days when South Park lampooned West's thin-skinned humorlessness and the brash maestro responded that "IT'S PRETTY FUNNY" but "IT HURTS MY FEELINGS."