Art-Twerk: Diplo Brings Multimedia Installation 'Blow Your Head' to Los Angeles
Mad Decent founder, with filmmaker Shane McCauley, debuts globe-trotting "musical journey"
"Blow Your Head" is an interactive art exhibition created by DJ/producer/Mad Decent founder Diplo and New York-based photographer/filmmaker Shane McCauley. Combining music, photography, and video, it's billed as a "musical journey." The exhibition opened last night (September 4), complete with an artist Q&A (more on that later), and runs through October 6.
What awaits gallery visitors? A large, beautiful, monochromatic room — dark wooden floors, white walls, and a ceiling layered with blackened acoustic foam. Visitors can select songs from Diplo's favorite music blogs via music blog aggregator Hype Machine. Each song then plays out of Sonos Playbar speakers throughout the gallery, triggering wall projections of photos and videos from Diplo and McCauley's travels in Jamaica, Brazil, New York, and South Africa.
Given that McCauley's regional black and whites change every second, the experience can be dizzying at times. But the speed works fairly well with Diplo's eclectic yet always high-energy music choices. In any case, the experience is much more visceral than one might have at a traditional photography exhibit.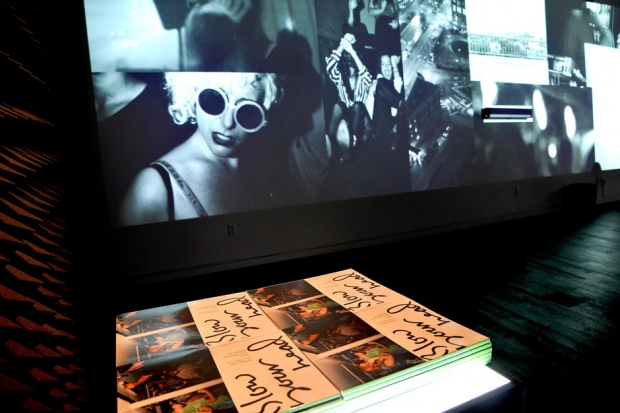 After roughly an hour of music and hundreds of images, all came to a halt for a brief Q&A hosted by London Photographic Director Emma Reeves. Reeves analyzed the artistic merit of the project's respective mediums (music and photography), and Diplo and McCauley elaborated on the travels and music that inspired the work. The duo then took audience questions.
What turned out to be the final question came when an audience member with the microphone, after stating his affinity for Diplo's music, asked the artist how he feels about being thought of as a "culture vulture" by some critics. Diplo responded by saying he cares little about said critics, and the Q&A ended immediately thereafter. Then Diplo jumped off stage, took a quick photo, and made his way to the door.
Yes, Diplo left. Just under halfway through the opening night of his collaborative exhibit. It was unclear where he went and why.
The night ended with a DJ set sans Diplo. Still, gallery visitors continued to drink and dance, enjoying the "journey" until the festivities ended.