"Bill, can you make some mountains?"
A great wind is rolling through Bill Callahan's home, toward a bare corner room that he's made his office. On the wall, just above a small trampoline, he's hung a dry-erase board detailing a daily regimen — neti, meditate, bounce, sing for 20 minutes — as well as reminders to get a haircut, hit the gym, and go for a run a couple times a week. Sitting at the foot of a desk stacked with drawings and notebooks and errant pages, Callahan extends his body into a near-yogic pose, reaching out over a wrinkled bed sheet that covers the middle of the floor like a pool of mayonnaise, pinching and pulling it to create the illusion of rugged terrain.
"That good?" he asks, the old floor fan in the hallway pushing cloud-like vapors from a tray of dry ice past his face. Hanly Banks, the filmmaker responsible for last year's sublime Callahan tour vignette, Apocalypse, watches the new peaks take shape in the LCD display on her camera. "Yeah," she says gently. "That's perfect."
It's a hot August afternoon in Austin, Texas, and both Banks and Callahan have spent the better part of the day preparing to shoot this homemade visual for "Small Plane," a stunner from Dream River, the 47-year-old singer-songwriter and former Smog mastermind's fourth full-length under his own name. Consisting almost entirely of his earthen baritone and two weightless guitars, it's extraordinary in the way Callahan's best songs are: deceptively simple, naturally beautiful, and anchored by language that is at once exacting and slightly inscrutable, capable of blowing your heart out a line at a time. "I never liked to land, getting back up seems so impossibly grand, " he sings. "We do it with ease." With packing tape, they've affixed dark blue sheets to the walls and in the room's lone window, augmenting the moonlit feel provided by a gooseneck lamp clipped to his desk. With dry ice and the fan, they've attempted to create swirls of cloud cover through which Callahan, using his right hand, will guide a small white plane the two found in a toy shop.
"I like it when you make the plane dip a little bit, that looks cool," Banks tells him as it glides across the frame. Callahan lets the plane bank toward the camera so we can see stars and stripes across its six-inch wingspan, has it shave a nearby mountain range before making a slow ascent toward her lens. They both giggle as it crashes into the camera. She hops over to show him what they just shot, their foreheads touching for a moment, like magnets, as they watch.
"It's going to be black-and-white," he says of the video during a short break in the living room. "Like a silent movie, with a flickering screen. It's about a man and a woman, and they're trying to forge . . . they're just on the verge of a . . . they both like each other." He sketches out the plot: Using a high-powered water jet capable of slicing through metal, the woman has attempted to fashion a sign to tell the man how she feels. "But as she's making it, her boss tells her she has to stop before she can finish. She only gets, 'I Love Yo.' That's about it."
"That's not it!" Banks cuts in, laughing, urging him to continue. "Keep going."
"Well," Callahan says, reluctantly, "she decides, 'Oh, I'm going to give the sign to him anyway, you know, because, I don't know, that's the only way I can express . . . myself.' He misunderstands it and thinks she's just trying to say that she likes people who say, 'Yo.' The man goes home, ponders the sign, tries to figure out what it means, and, when he falls asleep that night, he has this dream about the plane."
There are, Callahan promises, "a whole lot of laughs in there, too," a departure from visuals past. But after two decades of writing and recording and offering creative direction of his own, "Small Plane" marks the first music video whose treatment he has written for someone else to film. Like his early work in the '90s and early 2000s under the now-defunct Smog alias, Callahan is not especially fond of any of his music videos. "I hate almost all of them," he says. "You try to collaborate with someone or even just give yourself over completely . . ." His voice trails off again, deeper now than it was then. "And I don't know. I just never like anyone's ideas."
"Let's try this again," says Banks, suggesting we return to the set. "But this time, let's make the mountains even prettier."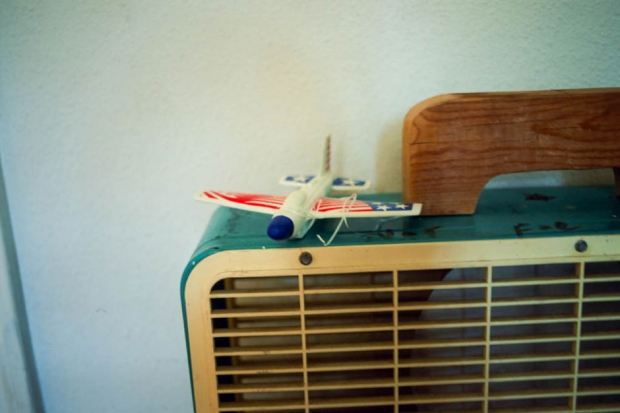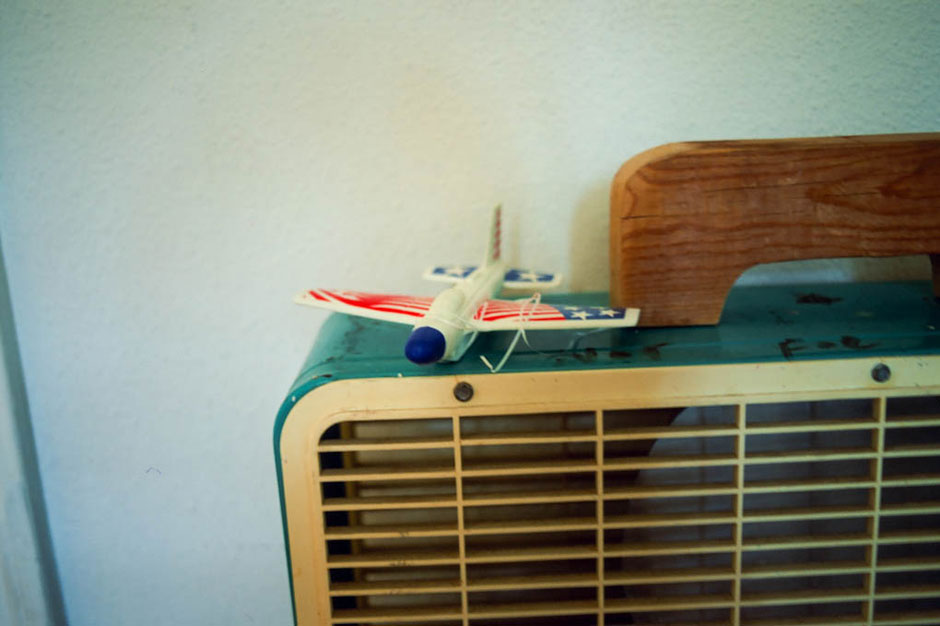 In the spring of 2011, not long after the announcement of his last album, Apocalypse, Callahan received a letter from Banks, a then-26-year-old NYU Film School graduate and Houston native who was working as a videographer in Manhattan at the time. Though it was yet another proposal for a tour documentary, her approach was distinct, Callahan says. "Some people have tried to do something similar in the past, and it's never worked out," he notes. "I get a lot of request letters, formal letters, and it's usually really obvious from reading whatever they write that it's not going to work. But Hanly wrote three to five sentences, five at the most. It was very concise. She didn't try to sell herself or flatter me or anything like that; she just said what she wanted. No one does that. I knew it would be fine."
It was. Over the course of two improbable weeks on tour that summer, Banks blended in well enough that Callahan's discomfort in front of the camera all but disappeared. The result was a film as striking as any one of his songs, replete with voiceover material Banks acquired several months later after moving home to Texas to focus on post-production. Together, the two would sit down with a recorder as Banks collected impressions from Callahan more intimate than any journalist had yet managed to pull from him, further developing a trust still felt today.
"It's kind of rare to meet someone that doesn't bug you," Callahan says. "But everyone liked her right away, just the way she is. She's nice to be around. I think she likes life, that she's happy to be alive. I think that's part of it."
In addition to the video for "Small Plane," their ongoing work together appears in the form of still portraits she's still shooting, several of which, including Dream River's striking official press photo, find the famously taciturn artist doing something totally unexpected: smiling.
The two are engaged to be married next year.
Brevity and understatement have been hallmarks of Callahan's 23-year career, both in conversation and song. He grew up in Silver Spring, Maryland, in a house his parents — both of whom worked for the National Security Agency — rarely filled with music. At night, when the lights were out, he'd cuddle with a transistor radio in bed and "explore the world that way," each station a link to other planets in the solar system, or so he thought. By his teens, he mostly turned the dial to WHFS, a progressive radio station that played reggae and hardcore punk, the latter a happening he'd seek out at local VFW halls. "To see classic rock, you had to go to an arena," he says. "But punk was happening everywhere, even in little towns in the middle of nowhere in Maryland. I'd drive out to places I'd never been, just to go and see it."
He liked "the stuff that was really weird and loose," he says, "SST stuff like Black Flag, Dinosaur Jr., and Minutemen, stuff that people were calling punk even though it wasn't." And though he wouldn't go on to write or record anything quite like it, hardcore's DIY ethos quickly shaped Callahan's creative worldview, as evidenced by Disaster, a mid-'80s zine that he wrote and distributed and would prefer not to discuss, as well as the cassette recordings he included with several issues. He tried to "go the square route," tried to "go to school and get a job," even enrolling at the University of Maryland for a few semesters. "But I couldn't do it, because I was so unhappy," he says. "So I just stopped and made my first record. Now I'm happy."
That first record was 1990's Sewn to the Sky, an experimental, crudely recorded effort that — under his newly christened Smog alias — found him relishing the process, with little regard for form or the guitar he was still learning to really play. "A lot of it was the excitement of having a tape recorder and making noise and listening back to the way that the microphone and the tape heads would change and distort that sound," he recalls. "It was about the texture of sound."
Callahan would grow as an artist throughout the '90s and '00s, taking a greater interest in his instrument and his arrangements, evolving from screeching enigma to minimalist anti-poet to a songwriter and singer whose ear for scale, nuance, and economy has often approached brilliance. After spending the '90s bouncing up, down, and between both coasts, he relocated from Chicago to Austin in 2004 for its "warmer weather, relaxed nature, and easy parking," in a concerted effort to make changes he'd been considering for a while. "I wanted to live in a house," he says. "I wanted to have a place where I could record at home, all of these things I'd wanted to do for years. I was finally like, 'Fuck it, I 'm going to do it. This is my new life.'"
A year later, Callahan released A River Ain't Too Much to Love, the last LP adorned with the four letters that had come to define him. "I realized that it's a really ugly word," he says of Smog. "I realized I'd been going so many years without even thinking about it. I realized I didn't want to be associated with this thing that doesn't even exist. Because a name is a pretty strong thing, right?" He wanted the album to be the first under his name, only to relent and eventually agree with his longtime label, Drag City, that the transition hadn't been properly planned.
The music, however, represented a clear break for Callahan. With the introduction of fingerpicking (a development that has made for fluid, far less claustrophobic arrangements) and a newfound respect for his voice (whose increasing richness lends every song an immediate sense of gravity), his recordings began to favor clarity and detail. While his output was once marked by obfuscation both sonic and aesthetic, his work now bears a polish and calm belied only by willful lyrical abstraction. "It's partially about defining things," he says of his writing now. "Defining the smallest little aspect of life that gives you pleasure."
Loose, comfortable, and decidedly less insular than anything he's recorded in years, Dream River sounds like an album that Callahan took genuine pleasure in making. It is surprisingly direct and, at times, deeply romantic in ways that he couldn't have expressed as skillfully 15 years ago. "I feel like there's already a written narrative going on everywhere," he says of life entering his work. "All the different situations and realities you're in, like words floating by. It's something that I didn't start thinking about until recently, but you can hitch that ride, that narrative that's already been created. You just have to read it and write it down."
"It's like the ugly duckling becoming the swan," says Lou Barlow, bassist for Dinosaur Jr. and chief songwriter behind Sebadoh, the equally influential (and recently revived) home-recording project that found him touring alongside Callahan in the early '90s. "Bill had these incredibly beautiful songs, always, even if they were placed in the ugliest frames — whether it was awful instrumentation or the clumsy, really awkward energy he had at the time. But he kept going, kept doing it, and now, every record has these moments of perfection. It's like he's trying to crack the perfect song, and I've watched every single step, note by agonizing note, marveling the whole time, thinking, 'Oh my God, he's going to become a classic.' I wish I had that determination."
Callahan, predictably, is more modest. "My first records are integral because I made them, you know, and I'm going to learn from those mistakes," he says. "I can't wait until I write a masterpiece. I have to make a bunch of mediocre things first. I think they get a little better each time. That's just the way that I work — in steps."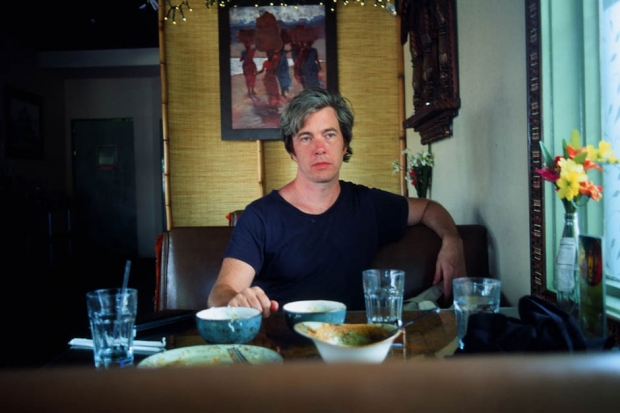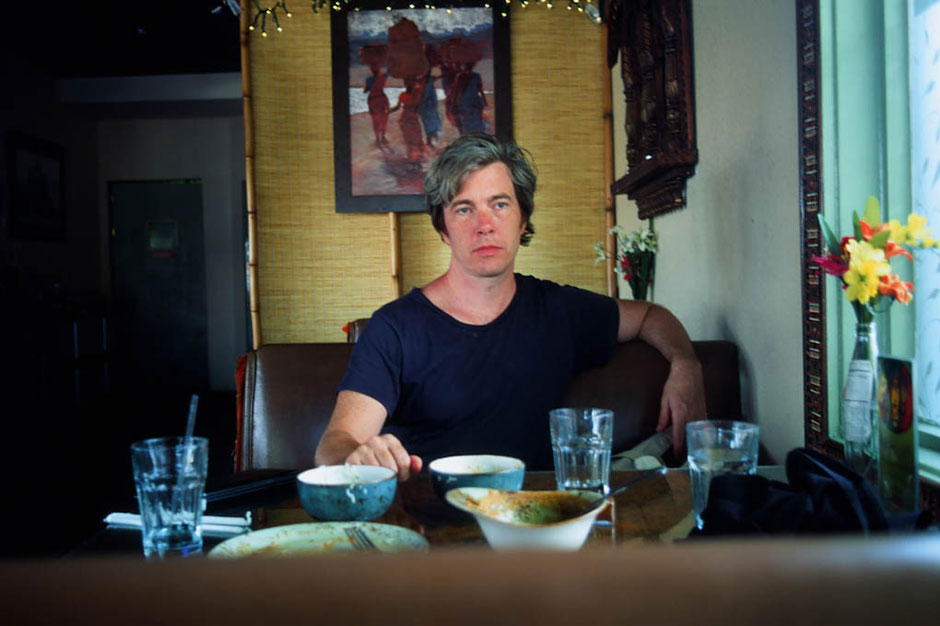 In the evening, as a storm gathers itself above Austin, Callahan's band meets him in a backyard shed he's converted into a rehearsal space. A reel-to-reel tape machine sits naked along the back wall beside cube shelves stuffed with books and boxes of old recordings. Everyone is seated as they quietly await instruction from Callahan, who, with the help of a pocket light he's placed on a pile of lyric sheets in front of him, leads the group through each of Dream River's eight songs, and an assortment of standouts dating back no further than 2005.
There are no false starts or restarts, nor is there tension of any kind outside of the songs themselves. When Callahan can't place a lyric halfway through "Say Valley Maker," everyone laughs softly as they continue to play, gently feeding him his line and helping him find his way. This is an exceedingly polite band practice: The silence between songs is punctuated only by the shuffling of papers, the squeaking of live strings, and the occasional pop of a Lone Star as it's opened. When Callahan leaves for a moment to use the bathroom, I ask the room if they ever wonder what he's singing about. "I always wonder," says guitarist Matt Kinsey with a grin, cutting himself off and pulling himself together as Callahan returns, his silver hair wet with rain.
For the past few months, Callahan has been inviting bassist Jaime Zuverza to come over to record live with him in this shed, a reprisal of some unlikely post-soundcheck guitar improv they'd been enjoying on tour. Every night, the pair would keep at it after their bandmates had all left; years later, they'd admit to each other that they both loved to play together like that, an opportunity Callahan, not known for his collaborative spirit, seized on.
"I'm so used to being the leader," he says. "After making a certain amount of records and being largely in charge, I've become interested in taking some of the pressure off of myself or learning to really learn from others, and trust that they or we will bring something to its ultimate form. I've taken lots of input from people, sure, but never really felt that feeling of collaborating from the ground up. I'm curious to see if that is something I can be good at."
Though he describes his openness to collaboration as "a phase," it's not difficult to be reminded of it as tonight's band now eases into "Small Plane," a song whose narrator finds comfort in sharing a cockpit — and its controls — with another. During an ambling rendition of Percy Mayfield's 1950 blues ballad "Please Send Me Someone to Love," lightning strikes and thunder shakes the walls of the shed as guitarist Matt Kinsey embarks on a series of crispy solos, prompting him to ask the rest of us if we'd seen it after the song is finished. "That was me," Callahan deadpans. "I bring the thunder."
After three hours, he asks the other guys if there's anything else they'd like to work on again. Adam Jones, a young drummer who's only been playing with the band for the past few months, raises his hand: "Could we play 'One Fine Morning'? I don't have that much to do on that song, but it'd be good to just get more comfortable with it, if that's okay."
Callahan obliges, without question. The closing statement on Apocalypse, it's a perfect song with which to end the evening, a breathtaking, nine-minute crescendo that begins with Callahan on his own until, one by one, each member of the band follows him into the fray. Tonight, for the song's first 90 seconds, you can see that Jones is visibly moved as he sits behind the drums, eyes closed and his facial expression that of someone in the middle of an exceptionally sweet dream. All that we can hear is Callahan and his guitar, the rain hammering on the roof above us.
The next afternoon, Banks and Callahan travel to nearby Mansfield Dam to have a swim and take some photos. Together, we clamber down the side of the canyon to the water, past enormous cubes of crumbling limestone. With the exception of a tanned and tank-topped man sitting patiently with a fishing rod on a nearby boulder, this part of the lake is ours for now.
Banks has packed some sliced pineapple and dried fruit for snacks, as well as a floating mattress and shark-shaped inner tube that Callahan is now working to inflate. When finished, he drops it at her feet and walks into the blue water, stirring up the minnows that light up the shallows. He puts his head down into a freestyle stroke until he's on his own a hundred yards out, Banks paddling after him with her camera and inner tube in tow. For the next half-hour, she photographs him in the water and on the rocks, the acoustics of the canyon carrying their every laugh back to shore.
"Did you see me jumping off the rock?" he asks, as they dry themselves off with our only towel. "Must have been like, 30 feet high."
"Bill jumped off his first high rock a couple of weeks ago, at Hamilton Springs," Banks says proudly.
"Yeah," he says. "I wanted to get over my fear of dying."
"Are you afraid of heights?" I ask.
"I think everyone is afraid of heights," he says. "But when you jump, it's this time when nothing exists for one, free second."
I ask him how high the rock was.
"It wasn't that high," he says with a laugh.
"It was only about five or six feet high," Banks adds. "But he didn't know what was underneath."
"I did," he says, smiling. "There was water."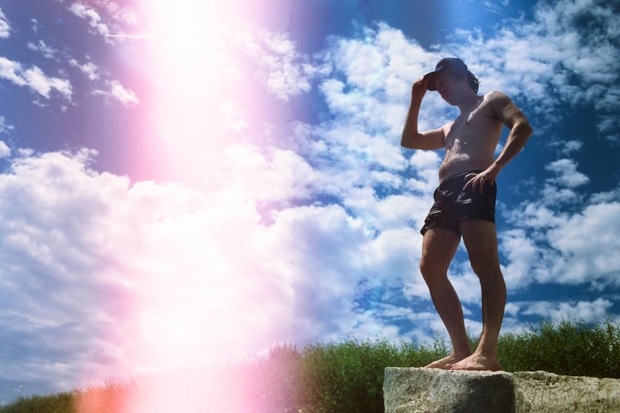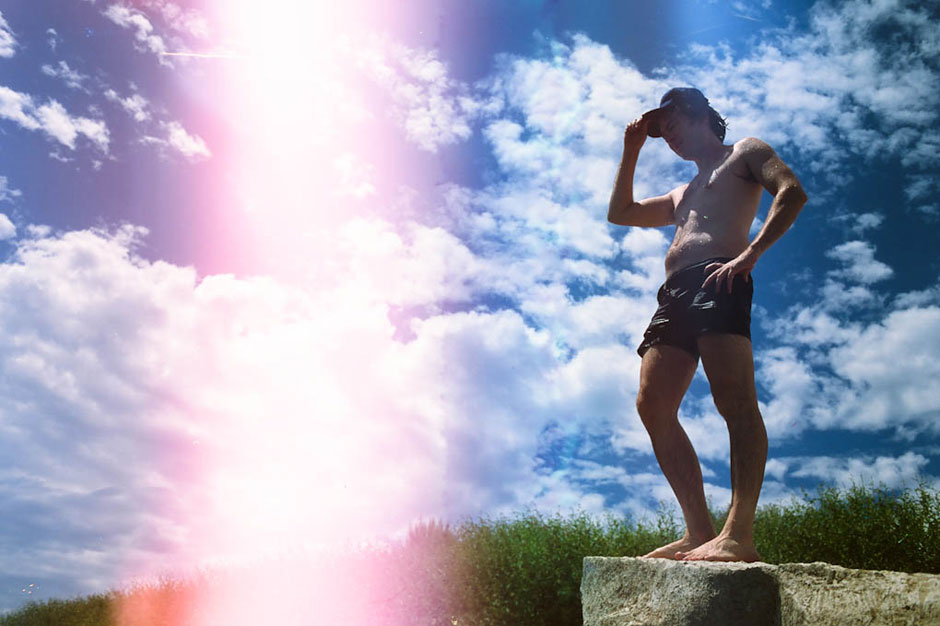 Callahan says he starts every album with an idea in mind, a concept with very specific guidelines. "I'll make a record," he says, "because it's something I want that doesn't exist." Apocalypse was meant to be an exercise in organics and cohesion, an ensemble effort so alive "you could feel and hear what the musicians were thinking as they played off of each other." Dream River is a different animal entirely.
Each night, Callahan says he needs anywhere between 20 and 40 minutes to fall asleep. It's a process he likens to a NASA launch, a ritual in which he — an astronaut, in this particular analogy — must flip a battery of switches before lift-off is possible. It's made all the more absurd, he says, when he looks over at Banks, who, "at the drop of hat," will sleep soundly and contentedly. "She's always laughing in her sleep."
In August of last year, Callahan began writing what he imagined as "the last record you could listen to at the end of the day, before you go to bed, around midnight." He didn't want any jarring transitions or sounds or thoughts or tempos. He just wanted it to be "smooth and relaxing, the perfect end to a person's day." To accomplish that, though, he knew that he'd also need to change the way he worked.
"Things can get ugly when I'm making a record," he says. "With Apocalypse, I stopped bathing and shaving and eating. It gets intense, because you're onto this thing, so you want to work on it for 18 hours a day, until you crawl into bed." But for Dream River, he wanted the writing experience to be pleasant as well. He started allotting himself time to write each day, to accomplish what he could in that time frame before stopping until the next day. "There was really no difference," he says with a laugh. "I was still writing songs, I just looked much better."
I ask why this particular moment felt like the right time to make that change. "Just to be different," he says. "You sort of dread it, knowing you have to go into the abyss, because it gets more and more intense, and as the boulder gets bigger and bigger and heavier and heavier, the harder it is to let go. I wanted to see if I could have more of a life, to do other things while I'm making a record. I pretty much did."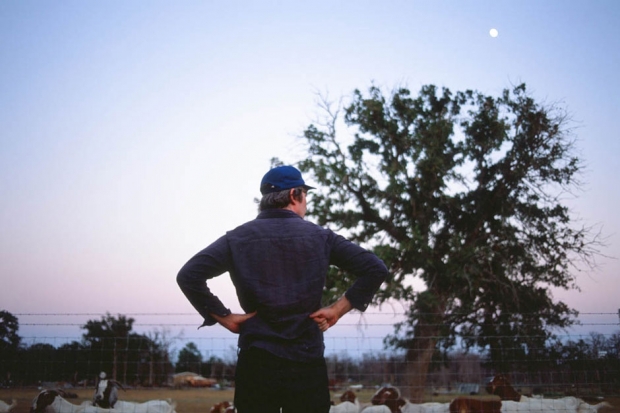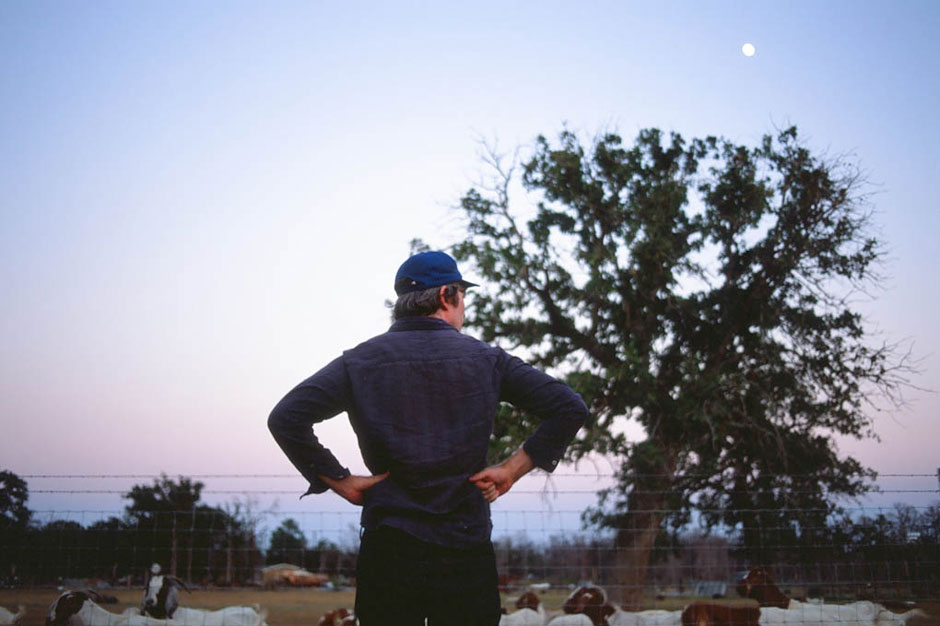 An hour before dusk, we climb back into Banks' Prius to make the drive to Bastrop, a tiny resort town 30 miles southeast of Austin. Two years ago, before wildfires charred much of the surrounding area, the two had shot B-roll here of Callahan interacting with a goat whose head was stuck in the roadside fence. Today, Banks has arranged a return visit with the goat farm's owners; because her film's running length is just four minutes shy of the minimum required for wide, feature-length DVD distribution, Callahan has suggested he help her complete it by performing a song to the goats out here, an idea that Banks refined by asking him to play "Free's," the one Apocalypse cut not included in her film of the same name.
As we pull off the highway and onto a dirt road leading to the farm house, the sun is disappearing quickly behind the stubbled horizon. Banks is rushing to unpack the microphones she rented, tensing up as Callahan takes a seat on the grass next to the fence and begins to warm up. The goats are on the far field and, once called, will need a few minutes to migrate to where we're standing. As the sky slowly turns violet, Banks starts to openly doubt the quality of light left. "I think we're going to have to come back tomorrow," she says. "It's going to look terrible if we do this now."
"What if we just tried?" Callahan asks, concerned. "It can't hurt, right?"
"I just know it's going to be a waste if we do," she says, clearly upset. "I'm really sorry. If we had another half hour of light, we could do it. And I know it looks fine right now, but the footage will end up looking really grainy."
Callahan thinks for a moment. "What do you say again, to get the goats to come over here?"
"I think you just have to shout at them and they'll figure it out," she says.
"C'mon!" he shouts over the crickets, curling the "n" back on itself with a drawl.
Banks begins to giggle and relax. Callahan smiles as he notices.
"C'mon!" he shouts again.